Why the Azores should be your next holiday destination
*affiliate links: find out how we are funded and why this helps us remain free to use.
The Azores* seem like a semi-mythical destination that most people have heard of but few are able to pin on a map. This is one seriously mysterious Macaronesian hideaway.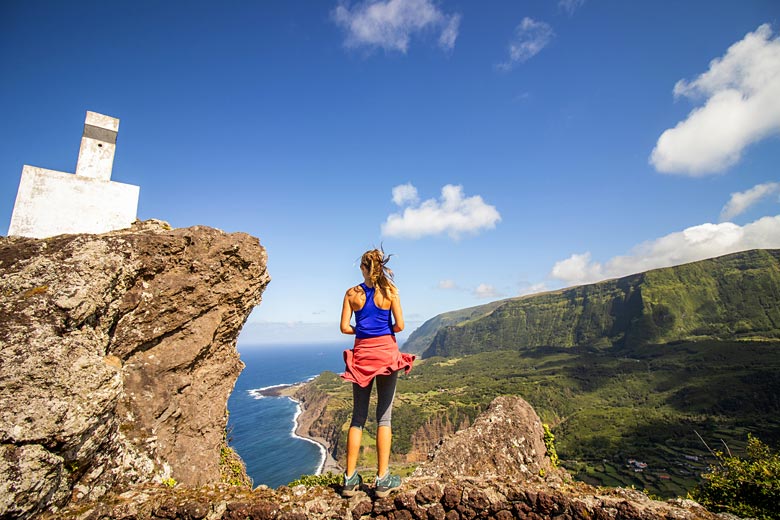 Yes, we know the Azores are in the Atlantic Ocean, but that is a mighty body of water. And it certainly feels like it in this archipelago, set adrift in that vast cobalt ocean almost 2,000 km from mainland Portugal*.
And that is a huge plus on holiday. It is very much Azores plural as you have nine glorious islands to choose from. Each island boasts its own charms and with ferries and flights running between them, island hopping is a viable option.
There are myriad reasons to visit this beguiling Portuguese archipelago. Here, we've pulled a handful of them together to help you start planning your Azores adventure. What are you waiting for?
Getting to the Azores: you can fly direct to the Azores with British Airways*, which departs weekly from London Heathrow. Be sure to check out the latest savings on holidays with British Airways*, too.
It's jaw-droppingly dramatic
The nine islands of the Azores were blasted into existence by volcanic action, each one a giant leviathan that surged up from the ocean.
These volcanic isles have since been carpeted in a rich blanket of greenery, whose fertility and lushness are helped by a plentiful supply of rain. Those hulking volcanoes linger on, the most dramatic is Pico on the eponymous island, Portugal's highest peak.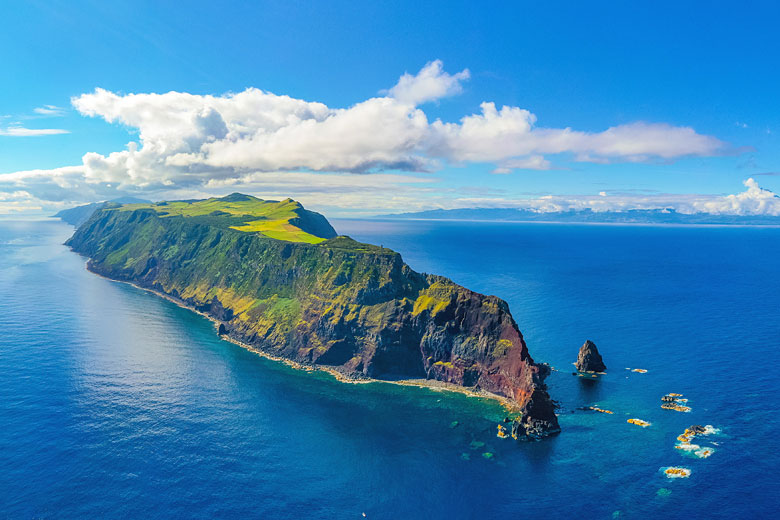 The Azorean mountains roll down forested slopes towards a strikingly rugged coast; en route are lakes and plentiful fields separated by stone dykes, a surreal sort of Yorkshire on a volcano in parts.
The entire archipelago is recognised as one giant UNESCO Geopark and protected as such given its diverse flora and fauna.
World-class wildlife
While the Azores look more like Jurassic Park than a theme park, it is in the Atlantic waters where the most compelling action is. Deep water trenches swirl around the islands, with all manner of marine mammals surfacing to feast on the bountiful local fish and plankton.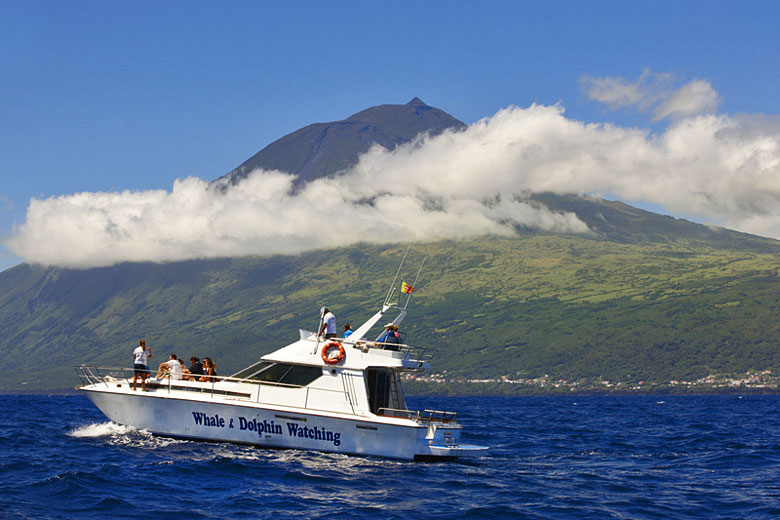 You'll spot dolphins skipping around here on most boat trips and unusually whales too. They get them all in the Azores from pilot whales through to hulking humpbacks and on to sei, minke and sperm whales. Even orcas have been seen patrolling these waters.
Swim in the wild
Ok so we're not talking about those lovely white sand beaches you'll find further south in the Canaries. What beaches there are in the Azores tend to be of the modest black sand variety.
A real joy are the pools created by Mother Nature, carved by lava flows, that you can hop in to cool off on a hot day. Inland lakes tempt and you can bathe in some of the volcanic pools too.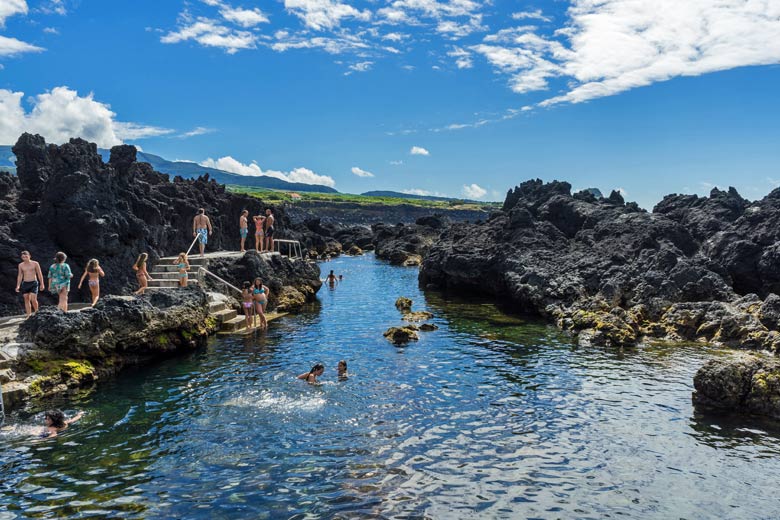 It's a gloriously reviving experience bathing in the fresh water under a tumbling waterfall: like starring in your own shampoo ad.
Churches & festivals
The quarter of a million souls who live out here tend to be a devout bunch, unsurprising given that they see the elements at their most dramatic and awe-inspiring.
The archipelago is alive with a sweep of churches of all shapes and sizes, often pieces of art in themselves. Religious festivals abound and tend to be at the heart of community life with lavish festivities and colourful parades. If you get the chance to witness one, you must.
Creative cuisine
As a staging post during Portugal's great Age of the Discoveries, exotic spices and mysterious new delicacies such as tomatoes and sweet potatoes flowed into the Azores, literally spicing up the local cuisine.
Swirl in strong Portuguese influences and the local cuisine is creative and eclectic. Given the location the seafood is unsurprisingly superb; highlights include boat-fresh tuna and 'lapas', little firm clams best served smothered in garlic like French snails.
The local milk is much prized too and the Azores conjure up great cheese. Don't miss the tangy hard Queijo Sao Jorge and the creamy cured Queijo do Pico.
No longer not a drop to drink
Sailors used to seek sanctuary in the Azores when they were in desperate need of water on their epic Atlantic voyages. You'll suffer no such privations today. Wine is cultivated here and you can try it in the local bars and restaurants, the best vintages are from the island of Pico.
Pico Wines is a renowned wine-producing co-operative you can visit. It's both the largest and the oldest official wine producer in the archipelago. You can also visit what is surely the closest tea plantation to Europe, Gorreana. They grow coffee beans in the Azores too.
Sweet-toothed heaven
Yes, you get those glorious little Portuguese pasteis de nata custard and cinnamon tarts in the Azores, but so much more on an archipelago that has a collectively very sweet tooth.
With your local tea or coffee munch on Dona Amelia cakes, which come laced with molasses, raisins and cinnamon. Try Especies de Sao Jorge, delicious cookies flavoured with herbs, black pepper and cinnamon. You'll find pastelarias all over the archipelago so tuck in!
Heavenly hiking
You just need to look at photos of the Azores to realise that this a seriously fine natural playground for hiking.
The range of options is impressive, from coastal hikes that tease their way around the rocky shores, to inland affairs that snake through the forests and wrap themselves around the lakes.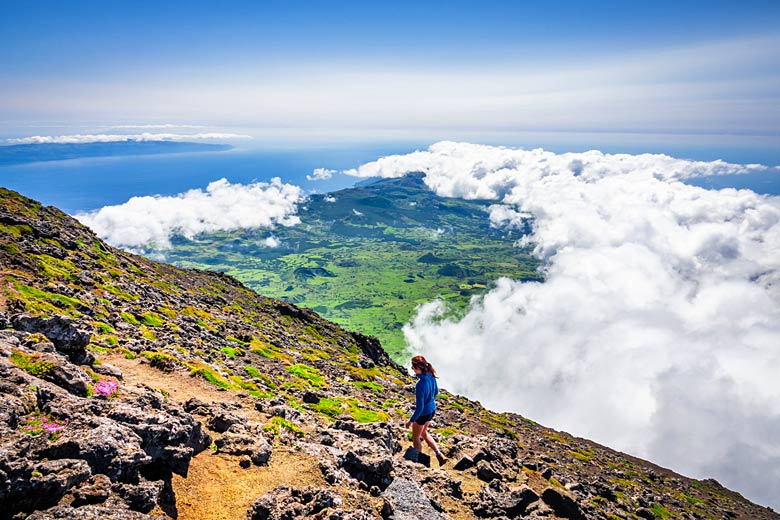 Then there is Pico, ah Pico, quite simply 'the Peak'. This inspiring, unmistakable mountain dominates many views in the Azores, soaring 2,351 m out of the Atlantic with Godzilla-esque drama.
Tackling it is no easy task and only suitable for the well-equipped who plan ahead. The feeling of being on top of Portugal is hard to beat; the views on a clear day though are even better. Climb Pico if you can.
Weather in the Azores
| | Jan | Feb | Mar | Apr | May | Jun | Jul | Aug | Sep | Oct | Nov | Dec |
| --- | --- | --- | --- | --- | --- | --- | --- | --- | --- | --- | --- | --- |
| Maximum daytime temperature °C | | | | | | | | 25 | 24 | | | |
| Hours of sunshine (daily) | 3 | | | 5 | | | 7 | 7 | | 5 | | 3 |
| Days with some rainfall | | | | | 14 | 14 | 12 | 12 | | | 20 | 20 |
| Sea temperature °C | | | | | | | 22 | | | | | |
The above guide shows the weather in Ponta Delgada. Find out more about conditions across the island in our complete guide to the weather in the Azores.
Ready to discover the Azores? Check out the latest offers on flights and holidays with British Airways.
More about the Azores
Jan Feb Mar Apr May Jun Jul Aug Sep Oct Nov Dec
Explore holidays in the sun for less
Be inspired
Get your weekly fix of holiday inspiration from some of the world's best travel writers plus save on your next trip with the latest exclusive offers
We promise not to share your details
Related posts