What to do in Marrakech, Morocco
*affiliate links: find out how we are funded and why this helps us remain free to use.
Marrakech isn't a city you just visit: it's a place you live, breathe and feel. It's a colourful hive of nose-twitching spicy scents and vibrant people with so much to offer those willing to experience it. The hardest thing is working out what to do in Marrakech on a short trip, as the list of possibilities is a long and full one.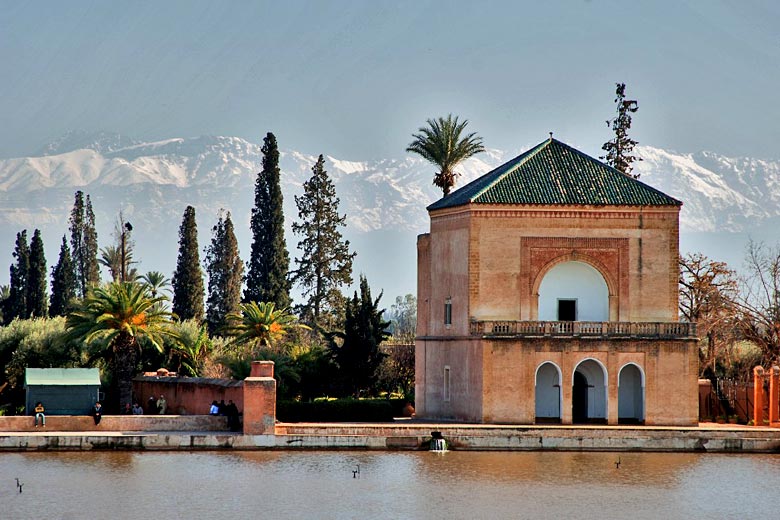 Marrakech: a rich history
Marrakech has a past to rival some of the oldest cities in the world. It's seen its capital city status come and go over the centuries, along with its wealth, prosperity and influence.
Although today it's firmly established as a cultural destination and for many a window into Morocco, Marrakech has plenty of relics and restored places of interest ranging from the 11th to the 19th centuries. Some Islamic sites are closed to non-Muslims, but all are worth admiring for their ornate architecture.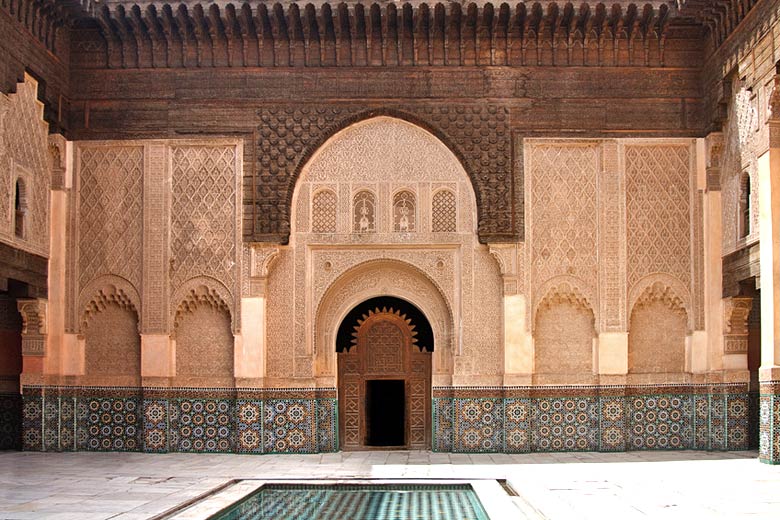 City highlights
Ben Youssef Madrasa
This is one of the most popular attractions for a good reason. Founded in the 14th century, this Islamic school housed 900 students across 130 dorms at its peak and was for a period the largest madrasa in North Africa.
Its carved cedar, colourful geometric mosaics and lattice balconies are magnificent, as is the peaceful courtyard, a wonderful place to draw breath and contemplate your surroundings.
Marrakech ramparts
The 12th-century ramparts stand five meters high and circle 19km around the Medina. Built from mud brick, they fortified the town although these days they make a delightful walk or place to watch the world go by.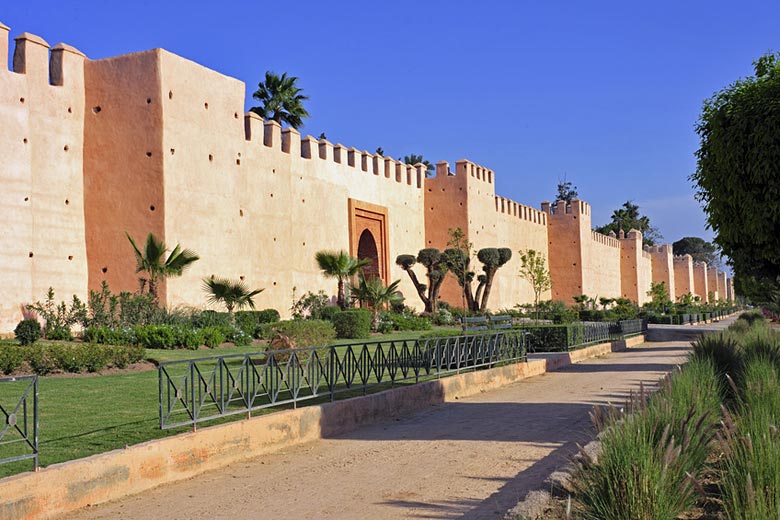 El Badi Palace
Unlike some of the more preserved sites, the 16th century El Badi Palace - once paved with gold - is an expansive ruin, stripped of much of its former glory and home to resident storks. Much work is now being done to restore the palace's grounds and pools, however, it's still a great place to simply sit and absorb its understated charm.
The YSL Museum
This high-class, high-fashion museum opened in 2017 in celebration of the life work of Yves Saint Laurent. The French designer fell in love with Morocco in the 1960s, returning regularly and buying property. Here, you'll see a collection of sketches, clothing and accessories that epitomise the enduring success of this beloved Haute Couture designer.
The great outdoors
Marrakech is a playground for the active with cycling, swimming, hiking, golf, and horse riding just some of the things available. If the dry heat gets too much, or you just want a quiet spot to gather your thoughts, head for one of the ancient calming gardens.
Jardin Majorelle, an Art Deco period house and garden donated to the city by Yves Saint Laurent in 1964, is a spectacular sight: the cobalt blue Museum of Islamic Art blends with the greens of numerous cacti, yellow pots and tiled fountains.
The 12th-century Menara Gardens, a UNESCO site, with a backdrop of the Atlas Mountains and its pretty green-tiled pavilion, are perfect in the early evening, as the sun sets across the olive grove lined pools.
The walled Agdal Gardens, also a UNESCO site, continue to serve as a ceremonial parade ground, however, its vast fragrant orchards of lemons, oranges, pomegranates, figs and more make it irresistible.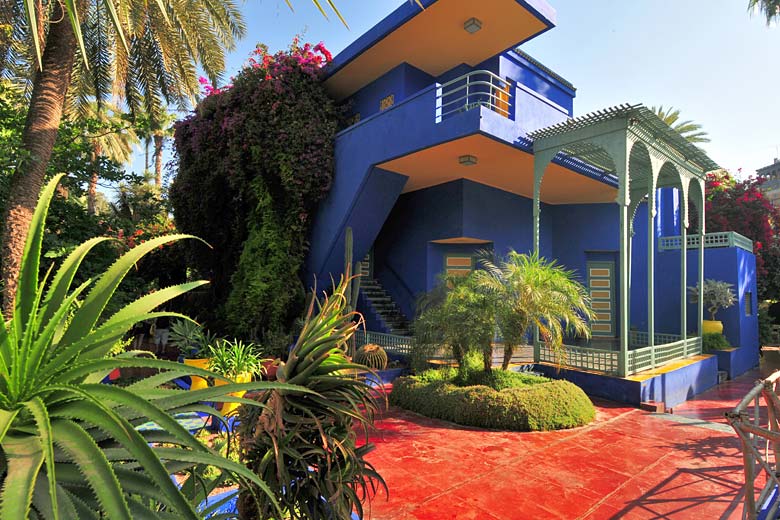 Delicious dishes
Moroccan cuisine has a worldwide reputation, and Marrakech is a great place to dive in. Fabulous tagines - slow-cooked meat and veg served with couscous - are a must and widely available. Get sampling to find your favourite - chicken, lemon and olive ranks top for me.
Then there's the bustling Jemaa el-Fnaa, which has been the beating heart of Marrakech since the 11th century. Today it's best at night, when those peddling chained apes and promising to charm snakes for a fee retire, and food takes over. An experience not to be missed, grab a seat and a memorable bite to eat among the organised chaos of the aromatic stalls.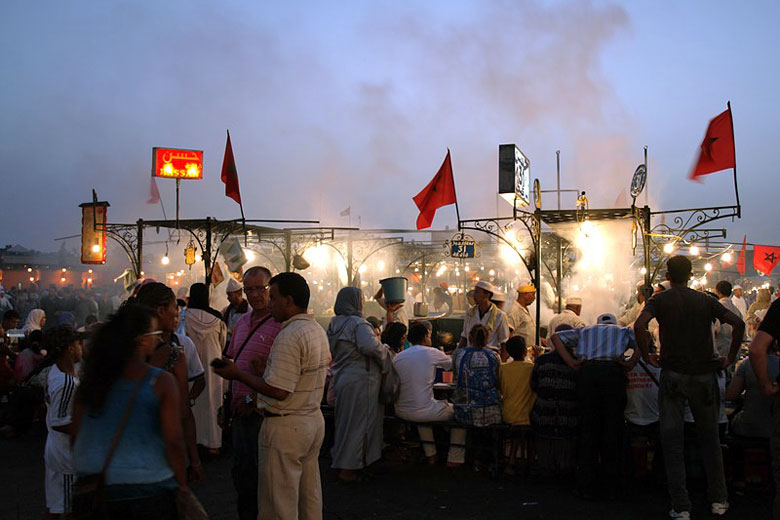 Strolling the souqs
A wander round the tiny shops and crowded streets of the six main souqs is a guaranteed winner. Revel in the hot and heavy atmosphere while flitting between sequined slippers, twinkling lanterns and handmade crafts. Still divided roughly by discipline (leather, metalwork etc) as they have been for centuries, they're full of character even if you aren't in the market for a carpet.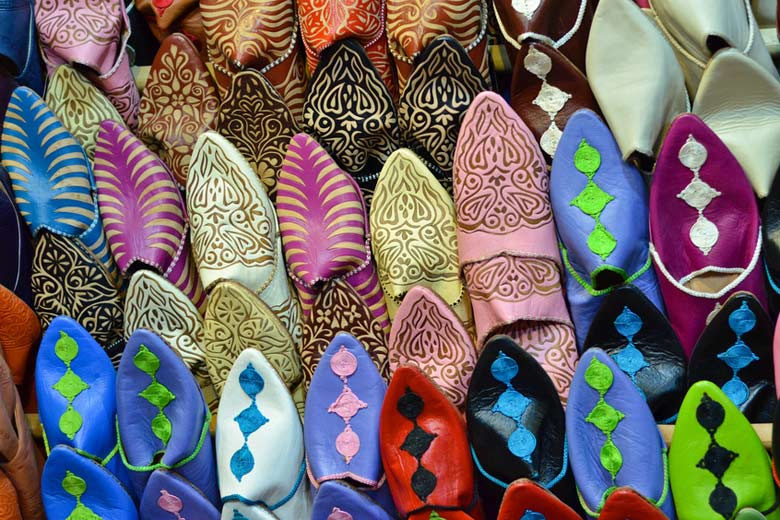 What to do in Marrakech: top five tried and tested tips
Dress conservatively: you'll enjoy your trip without any added hassle and it shows respect.
Maps are essential, however, as road signs have been known to mysteriously disappear, a compass is an added bonus.
Saying that, don't mind getting lost! Lose a few hours exploring the maze of the medina.
Remember to haggle: whether in the souq or sorting a taxi, agree on a price and stick to it.
You'll never forget staying in a secluded riad. Finding it is half the fun!
Marrakech gives an unparalleled glimpse of what Morocco has to offer, and this is just the tip of the ras el-hanout spice pyramid. Its proximity to Europe yet contrasting culture is what cements its appeal as a top destination.
When it comes to planning what to do in Marrakech, don't forget an open mind and a good pair of walking shoes go a long way.
More about Marrakech
Marrakech by month
Jan Feb Mar Apr May Jun Jul Aug Sep Oct Nov Dec
Explore holidays in the sun for less
Be inspired
Get your weekly fix of holiday inspiration from some of the world's best travel writers plus save on your next trip with the latest exclusive offers
We promise not to share your details
Related posts