Tips for visiting Sacred Monkey Forest, Bali
*affiliate links: find out how we are funded and why this helps us remain free to use.
Sacred Monkey Forest is one of Bali's most enthralling attractions for all ages, as it lets you get you up close and personal with its much-loved tree-dwelling residents. Located in Ubud, the relaxed and creative heartland of the popular island, it's a hit year-round.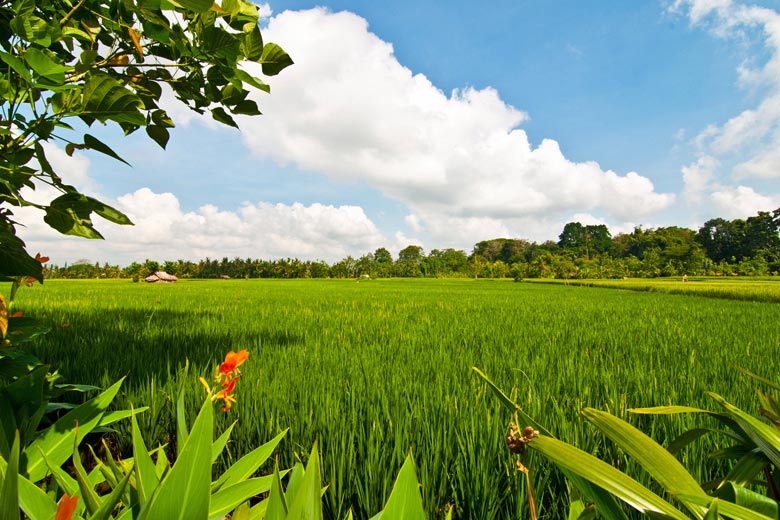 Surrounded by rice paddies and incredible Indonesian architecture, Ubud is known as the cultural capital of Bali, and it's where you'll find plenty of craft stores, galleries and artists' workshops, as well as yoga retreats and many markets.
Sacred Monkey Forest: Conservation and education
Ubud is also home to Bali's Sacred Monkey Forest, an ancient temple site that has to be seen to be believed. It's a set of three crumbling Hindu temples that have slowly been taken over by the forest and local monkeys, as over 600 Balinese long-tailed macaques (made up of four monkey troops) call it home. It's hard to tell the difference between the troops but you may occasionally see a macho conflict between the alpha males, so stay away from these big guys.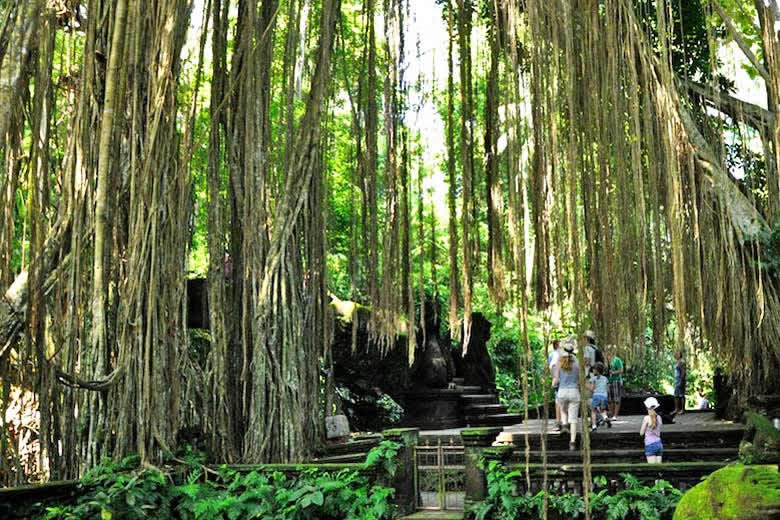 Ancient Balinese tradition believes that inanimate objects and elements of the natural landscape could possess souls. It's believed that the Monkey Forest possessed both human and animal spirits, and this is what led it to be such a sacred place. The temples within the forest are Pura Dalem (Death Temple), Pura Prajapati (Funeral and Cremation Temple) and the Holy Bathing Temple.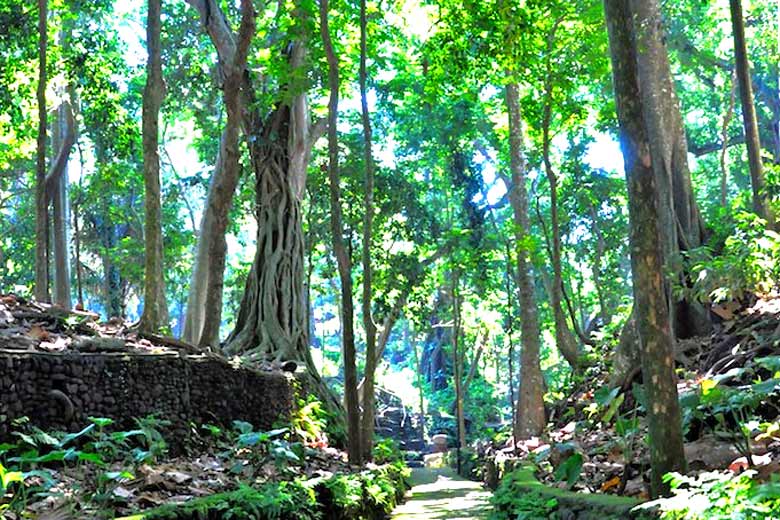 Each is sacred, and the combination of the temples, woodland and monkeys is thought to protect the area and keep away evil spirits. It's possible that there were many more temples and shrines within the forest that have since been destroyed. Most of the structures are built from soft volcanic rock, so they are regularly restored for religious ceremonies and therefore aren't nearly as old as they appear, but the forest still has an ancient and mystical feel about it.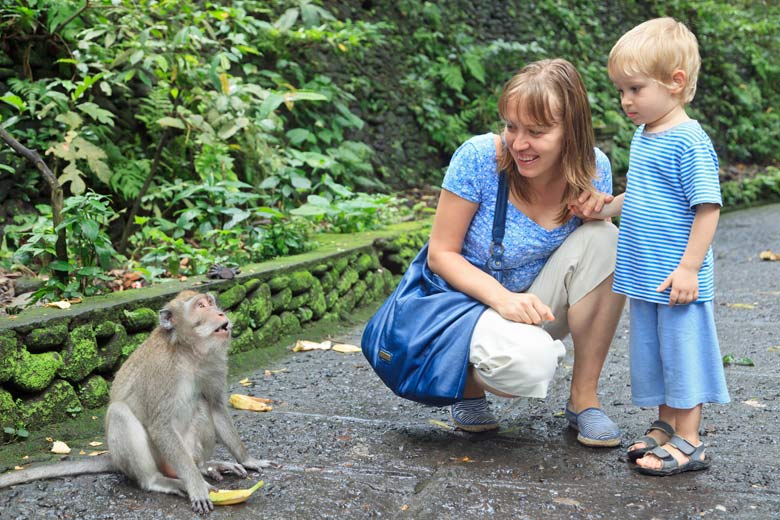 Sacred Monkey Forest is also about education and open to the public in a bid to enlighten both tourists and the local community about the preservation of buildings, culture and wildlife within the forest environment.
You can buy fruit to feed the monkeys but you need to be careful as many of the monkeys are extremely tame, meaning that while they're unperturbed by humans, some can also be aggressive, and on occasion may bite or climb onto you.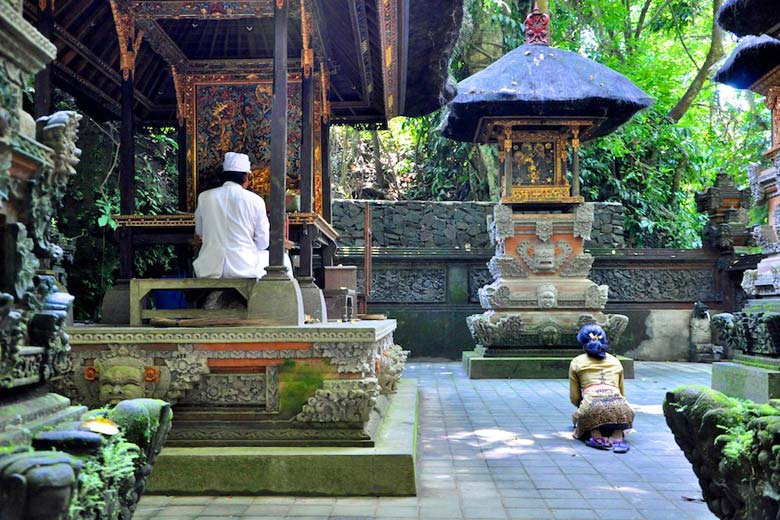 There are many priests within the forest helping to keep the monkeys are under control and you within the appropriate boundaries. They're also driving the conservation project and working to ensure that the increase in visitors does not affect the local wildlife.
Tips for visiting Sacred Monkey Forest:
Buy some treats to feed the monkeys but never tease them with it. Stay away from the alpha males and, whenever possible, try to feed the females and the babies who are less likely to be aggressive.
Be careful around the babies as the older monkeys will be very protective over them.
Never drop any litter, as it will be difficult to get it back from an inquisitive monkey.
Cover your shoulders when you visit the forest. This is partly out of respect as it is a sacred site but also in case a monkey decides to jump on your shoulder.
Take photos from a distance and never use the flash.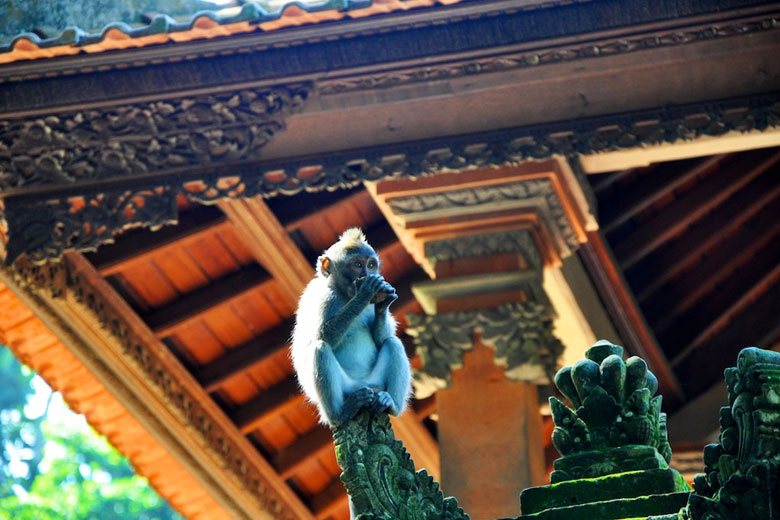 If you feel inspired to visit Sacred Monkey Forest in Bali, Indonesia, check out the latest travel deals from British Airways and lastminute.com to help get you on the way to your very own experience with the macaques.
More about Bali
Bali by month
Jan Feb Mar Apr May Jun Jul Aug Sep Oct Nov Dec
Explore holidays in the sun for less
Be inspired
Get your weekly fix of holiday inspiration from some of the world's best travel writers plus save on your next trip with the latest exclusive offers
We promise not to share your details
Related posts