10 top tips for making the most of Sandals Grenada
*affiliate links: find out how we are funded and why this helps us remain free to use.
Sandals Grenada* is the southerly outpost of the famous luxury five-star all-inclusive Caribbean couples' getaway.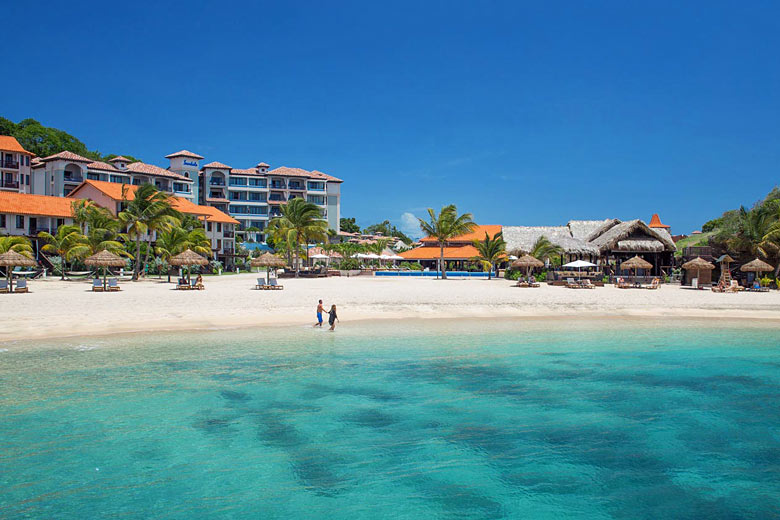 Just minutes from the airport on this small, volcanic island with its black sand beaches, it has two sizable pools, 257 rooms, 69 butler suites and 12 high-end restaurants. There's a lot on offer, so here's a handy guide to help you make the most of your holiday at Sandals Grenada.
Battle a Samurai
The Samurai is the signature cocktail at Soy sushi restaurant. Each restaurant boasts its own, but this is the winner. Vodka, check. Watermelon. Check. Sake. Sure, why not? Scotch bonnet Caribbean red pepper? Ouch.
Scotch bonnet peppers have a heat rating of 80,000 to 400,000 Scoville units. For comparison, most jalapeno peppers have a heat rating of just 2,500 to 8,000, so make of that what you will, whilst taking your first sip.
You'll discover that there's a reason it's called a Samurai, and that reason is that it immediately picks a fight with your mouth. And it doesn't lose. Delicious.
Meet 'The Lonely Correspondent' & friends
Grenada's famous underwater sculpture park (the first of its kind in the world) is a must-see. The good news is that you can 'must-see' it in a variety of ways; from scuba diving and snorkelling to a trip in a glass-bottomed boat.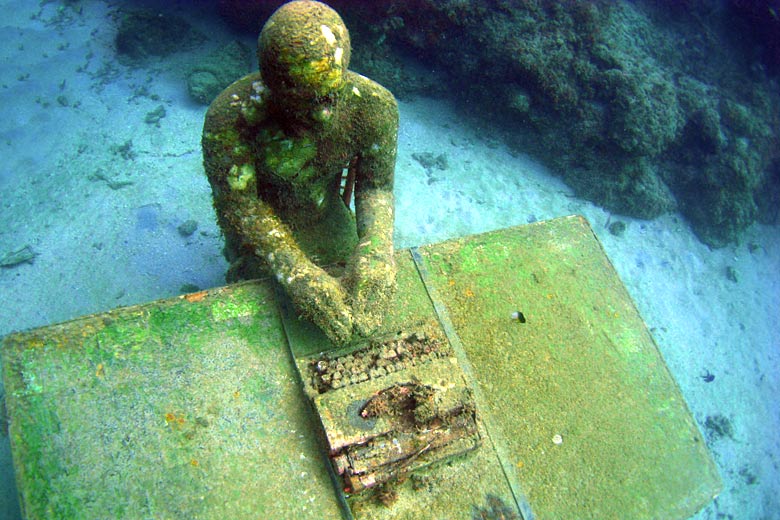 However, if you want to really get up close and personal with the eerie figures that lurk beneath the waves you'll need a PADI certificate. The Lonely Correspondent himself is a statue of a writer, sitting at a coral-encrusted typewriter forever churning out words into the vast nothingness of the ocean. I know how he feels.
Created by artist Jason deCaires Taylor, the 65 sculptures make for a totally unique experience, and it's only 20 minutes by boat direct from the resort. Jump in, the water's spooky.
Try swinging
We're talking hammocks, not that attractive couple you've been eyeing up at the bar. Sandals is a couples' resort, not a swingers' one, so if you must swing, then bag yourself one of the many hammocks slung artfully around the beach.
The one to aim for is on the beach just to the left of the entrance to the romantic over-water walkway. The sound of the waves will lull you to sleep, where you can dream of that attractive couple in the bar without actually bothering them.
Employ a butler
A butler comes as standard with the pricier end of the room choices but it's totally worth it if you've got the cash. Your every whim is catered for by your very own servant, available 24/7 on the end of a resort-supplied mobile phone.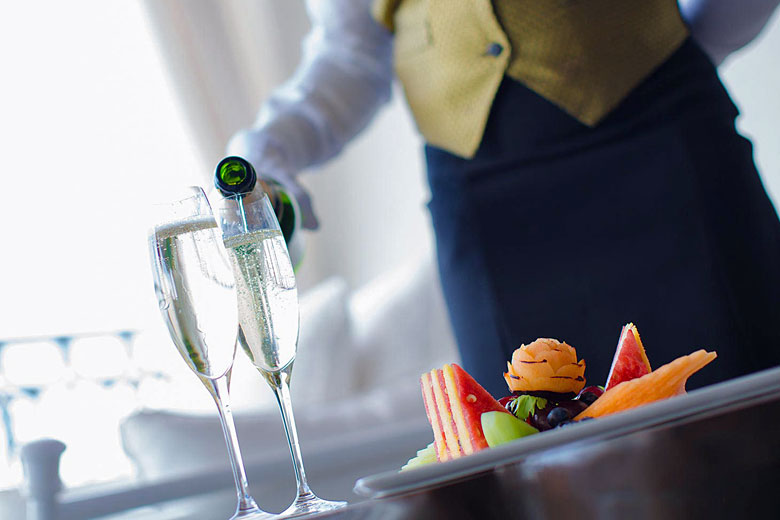 Dressed in formal attire, they will take care of everything from unpacking your suitcases to bringing you drinks in the pool. To be clear, you have to swim to the side to pluck them from the silver tray yourself, they don't swim to you in their butler suits. Although they probably would, if you asked nicely.
Choose a room
This is tricky and will be according to your budget. However, all of the rooms are of the luxury high standard* you'd expect and, given its romantic hideaway status, whichever level you choose will come with its own sensual touches.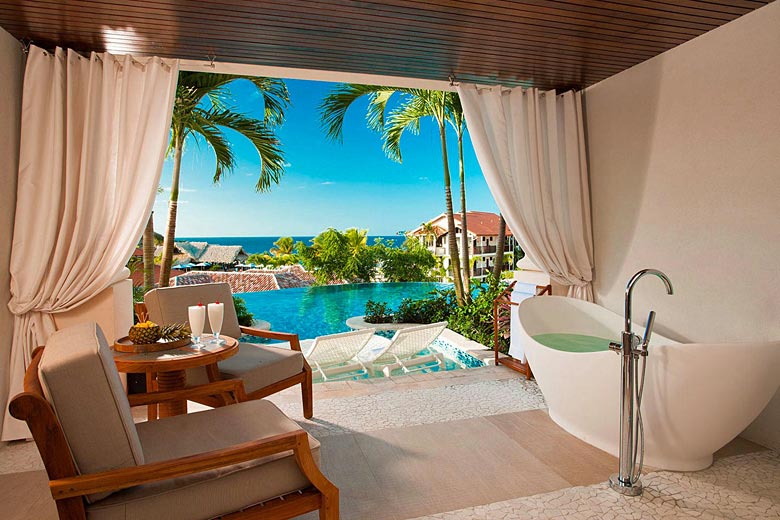 High-end rooms have private plunge pools and 'tranquillity bathing tubs for two' on the balconies (you can draw curtains if discretion is your thing), but even the basic rooms (which are still five-star-smart) have a special 'sliding picture' on the wall which, when pushed sideways, reveal a window straight into the shower...
Lunch?
Neptune on the beach has the sea views, fish and burgers, the traditional English pub - The Tipsy Turtle - has chicken wings, and there's always the buffet.
But Dino's Pizzeria is the place. The jerk chicken Caraibica is the one to go for. Tastes like no pizza you've had before. Goes well with the local Carib beer on tap. And you don't even need to leave your swim-up bar stool.
Seek out a surprise spot
Head away from the beach and you can both say hello to the wild iguanas roaming around the pond near the fitness centre and then gawp at the enormous Boeing 777 that's landing directly in front of you.
There's a reason the resort is minutes from the airport and this is it. It's kind of thrilling, but the really clever thing is that when stepping away from the spot, the design of the land screens the sound, so once you're back at the pool, you won't even know it's there. But you'll return because it's addictive.
Dinner?
Two words. Butch's Chophouse. Despite having a name like a dodgy 80s straight-to-DVD horror movie, this is one place you need to make reservations for. It's five-star service, world-class wine and a menu that's almost impossible to choose from. If you need help, go for the crabcakes and the surf and turf. You will not regret it.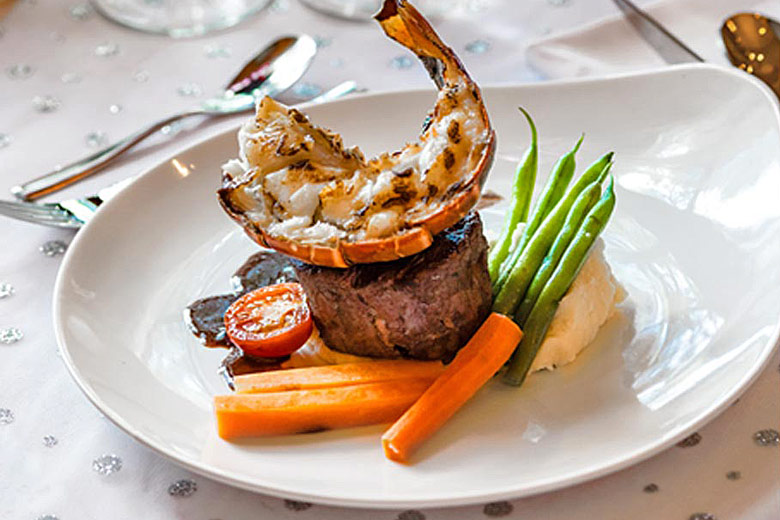 Go nutty
Not for nothing is Grenada known as the 'Spice Island'. Nutmeg, one of its signature spices, is used by the chefs to make ice cream. Nutty, creamy and er, 'meggy', it's offered with desserts in restaurants or you can just pop to the French patisserie and spoon dollops of it into your mouth all afternoon. You'll also want to leave room for...
...chocolate buffet night
Every Thursday at 9.00 pm, the gardens are transformed into a chocolate wonderland. Tables heave with treats and, if chocolate is your thing, then you'll be like a kid in a, er, sweet shop.
Chocolate to the left of them, chocolate to the right of them, into the valley of the shadow of death-by-chocolate rode the (almost) 600 guests. It's also the evening when guests are encouraged to dress all in white. Chocolate everywhere and everyone dressed in white. What could possibly go wrong..?
Weather in Grenada
| | Jan | Feb | Mar | Apr | May | Jun | Jul | Aug | Sep | Oct | Nov | Dec |
| --- | --- | --- | --- | --- | --- | --- | --- | --- | --- | --- | --- | --- |
| Maximum daytime temperature °C | | | | | | | | | | | | |
| Hours of sunshine (daily) | | | | | | | | | | | | |
| Days with some rainfall | 14 | 9 | 10 | | 13 | | 20 | 18 | | | 20 | 18 |
| Sea temperature °C | | | | | | | | | | | | |
The weather in Grenada is reliably hot and sunny all year round. There's increased rainfall during the second half of the year but not enough to put you off visiting this glorious Caribbean island. You can also see when we think is the very best time to go to make the make of any stay at Sandals Grenada.
Book your break to Sandals Grenada: tempted to put these top tips to the test? Browse our collection of online offers and deals on Sandals holidays for 2023/2024.
More about Grenada
Grenada by month
Jan Feb Mar Apr May Jun Jul Aug Sep Oct Nov Dec
Explore holidays in the sun for less
Be inspired
Get your weekly fix of holiday inspiration from some of the world's best travel writers plus save on your next trip with the latest exclusive offers
We promise not to share your details
Related posts