10 things to tempt you to Los Cabos
*affiliate links: find out how we are funded and why this helps us remain free to use.
The holiday resort of Los Cabos, at the very southern tip of Mexico's Baja California Peninsula, has long been on the radar for US travellers but less so for people from the UK. That, however, is set to change with the launch of winter sun holidays in 2019 from TUI.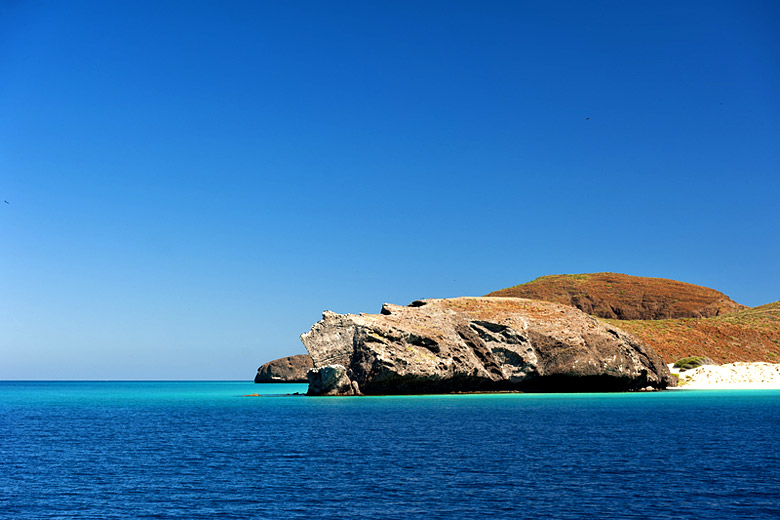 The subtropical climate is another big draw: Los Cabos sits just north of the wetter tropical regions of the Caribbean, which means it's really very dry - in fact, quite similar to the Red Sea, if a touch cloudier. However, there's far more to experience than simply wonderful weather. Read on to see what else might tempt you to give Los Cabos a try.
Getting to Los Cabos: TUI's new route to Los Cabos will kick off from November 2019. Get planning your exotic beach break today with the latest deals on breaks to Mexico's Pacific coast*.
1. Scenic kayaking
Los Cabos is wonderful for water sports, with the deep blue sea and crystal clear waters all beckoning. A popular spot to kayak to is the rocky feature known as El Arco, or The Arch.
This natural arch, also called Land's End, is at the very end of the peninsula, where the Pacific Ocean meets the Sea of Cortez. You can also take boat trips out to see it, or to enjoy the beaches either side.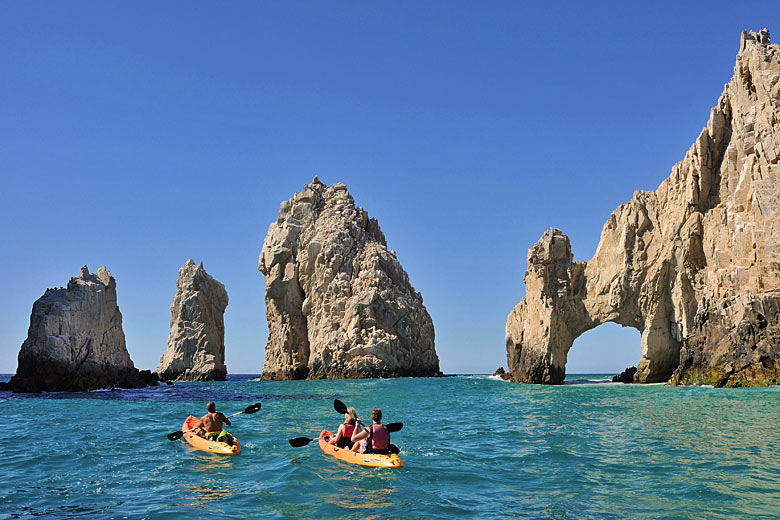 Lover's Beach is on the Sea of Cortez side and is the more popular, as the one on the Pacific side tends to have rougher waters - not to mention it's rather off-putting name: Divorce Beach!
2. The fantastic food
Mexican food is among the tastiest on the planet, and the large numbers of visitors make for a thriving restaurant scene. There's everything from fine dining to cheap and cheerful holes in the wall, and, as Los Cabos is the birthplace of the Baja fish taco, you have to try them at least once.
Fresh fish naturally dominates menus, and even lobster is more affordable here. Another local speciality is the chocolate clam, so-called because of the colour of its shell, not its taste. If you're a real foodie you might want to plan ahead and book a cookery course. There are plenty to choose from.
3. Swimming with sharks
Yes, really. The waters here have plenty of harmless sharks that you can see when snorkelling or swimming without needing the safety of a cage.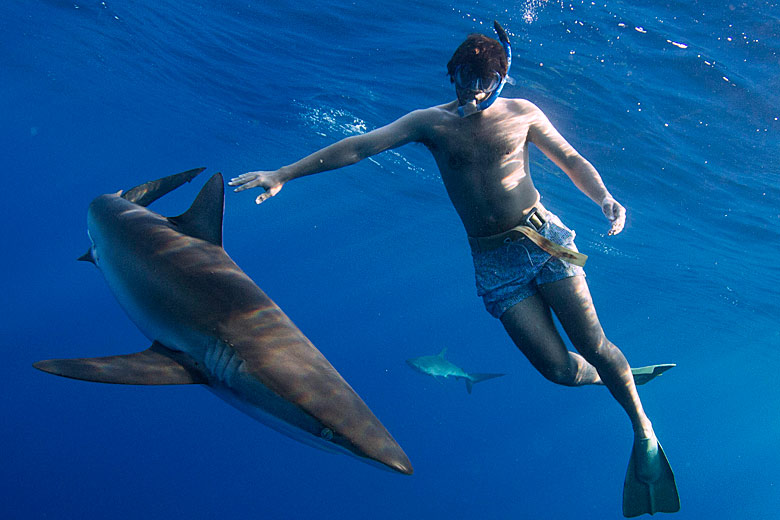 You might get lucky and see dolphins as well, or maybe sea lions and even whales. You should book a trip through a reputable company such as Cabo Shark Dive with PADI-certified instructors, who will know where the best spots currently are.
If you don't like getting in the water, you can stay in the boat and watch from above as the waters are very clear.
Planning a trip to Los Cabos? Find out everything you need to know about the weather in the two resorts that make up Los Cabos, Cabo San Lucas* and San José del Cabo*, including sea temperature, sunshine hours and daily highs, plus when we think is the very best time to go.
4. The warm water
From January to May the average sea temperature hovers around the 22°C to 23°C mark, and that's as cold as it gets! From then on it gets warmer, rising to 29°C from August through to October.
5. Swathes of beaches and beautiful bays
Los Cabos is the overall name given to the neighbouring towns of Cabo San Lucas* and San José del Cabo*, separated by about 20 miles (32 km) of coastline.
Between them they have dozens of beaches, with everything from busy stretches packed with people to out-of-the-way coves that you can only get to by water taxi, which reduces the crowds.
A word of warning, though: in places, there are strong currents and you can't swim at every single beach. Still, there's always the hotel pool!
6. Pro golf courses
Of Mexico's top fifteen courses, as chosen by a golf magazine, seven of them are in the Los Cabos area.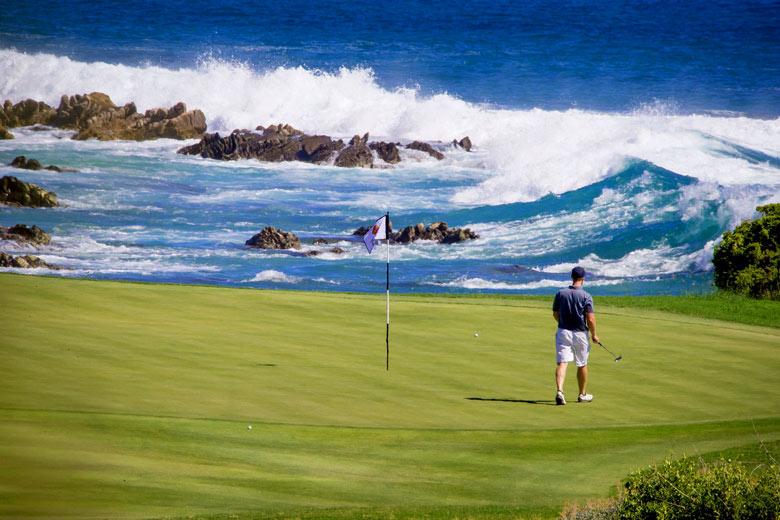 There are a dozen championship courses around here, including three designed by Jack Nicklaus, and with more courses on the way. You can play right by the sea, and on courses that incorporate nature's bunkers: natural sand dunes.
7. The art scene
Los Cabos isn't all souvenir shops. In San José del Cabo, in particular, there's a booming arts and crafts scene, with an art walk on Thursday evenings when galleries lay on snacks and drinks, including margaritas, and street performers turn out in force.
You should also head to the art district of the old town if you want to shop for crafts such as jewellery, ceramics, beads, clothing and other items that are as colourful as Mexico itself.
8. Tequila!
Los Cabos is a long way from true tequila country, in the state of Jalisco, but spirits' aficionados will find that plenty of it ends up in Los Cabos.
It's a chance to learn that good tequila is for sipping not slamming, that it works well with tonic, and to discover two of Mexico's other spirits, the whisky-like mezcal and the surprisingly smooth sotol.
Top tip: ignore any bottle that has a worm in it. It isn't a tradition, purely a marketing gimmick.
There are several bars which will give you a lesson in what to look for with both tequila and mezcal, and which offer creative cocktails which show there are many more exciting Mexican drinks than a margarita.
9. For the epic fishing
We're not talking tiddlers, either. This is one of the best deep-sea fishing areas in the world and there are lots of companies prepared to take you out there to chance your luck.
You might catch marlin, swordfish, tuna and any number of the other giants that lurk beneath the waves. For an angler, there's no greater challenge than to reel in a fish that's bigger than you are.
10. Whale watching
The Sea of Cortez is where thousands of whales like to spend the winter before it starts to get too hot for them and they head north up the Pacific coast.
From December till about March is the whale watching season, when there are lots of companies offering boat trips out to see them up close. And sometimes that can be very close.
Plan your winter sun escape: whether you go for the fishing and whale watching or the tequila, don't miss the selection of great value holidays to Los Cabos in 2019 with TUI.
More about Cabo San Lucas
Cabo San Lucas by month
Jan Feb Mar Apr May Jun Jul Aug Sep Oct Nov Dec
Explore holidays in the sun for less
Be inspired
Get your weekly fix of holiday inspiration from some of the world's best travel writers plus save on your next trip with the latest exclusive offers
We promise not to share your details
Related posts