Top places to visit in Jordan: Petra, Wadi Rum & more
*affiliate links: find out how we are funded and why this helps us remain free to use.
"Jordan has always been a buffer zone" sighed my self-appointed guide around Kerak Castle, the huge stone fort built by the Knights Hospitaller in the 12th century.
Quite apart from occasional invading Crusaders, it already has difficult neighbours: motorway signs point to Riyadh, Tel-Aviv, Damascus and Baghdad, close by in Saudi Arabia, Israel, Syria and Iraq. However, among the surrounding chaos of the region, Jordan remains a safe and friendly country with some truly fascinating places to visit.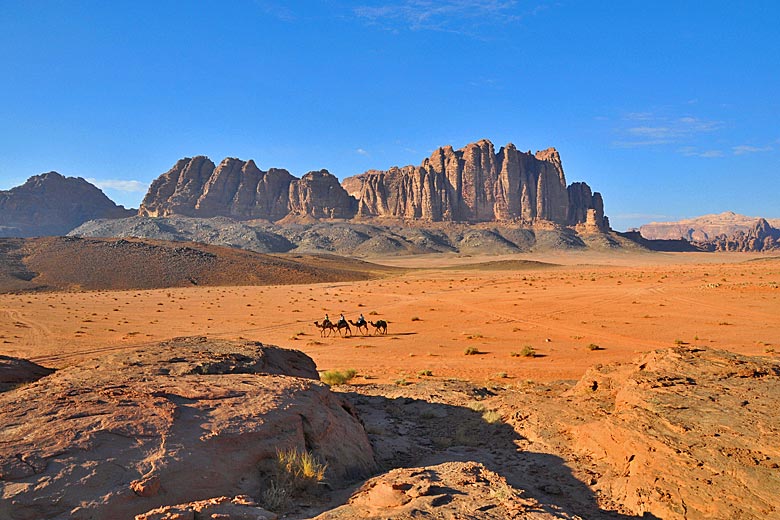 Top places to visit in Jordan: five of the best sights
Headline news from the area sadly keeps tourists away, and many of this tranquil kingdom's highlights are eerily deserted. In reality, however, Jordan is calm and hospitable, and now is a perfect time to visit. Take advantage of this peace and quiet, and make the most of these five top places to visit in Jordan before the crowds return.
1. Petra
A day trip to the Rose City, carved into the living rock by Nabateans in 300 BC, is certainly not enough; leave three days clear at least.
Once you've passed the spectacular façade of the Treasury, immortalised in The Raiders of the Lost Ark, there's a whole city to be explored. It's big enough to get lost in, a mountainous maze spread across mountains and valleys, packed with amphitheatres, temples and tombs. For longer distances - and steeper paths - there are donkeys and camels to hire.
What came as the biggest surprise were the colours - the sandstone ripples with shades of pink, grey, blue and purple. Some of the rooms carved into the rock are sheer Jimi Hendrix, rippling with the tints of sixties flower power immortalised across millennia.
Petra was at the heart of the ancient civilisations but under Roman rule, from 106 AD, sea routes took over from the traditional caravan transports, and for thousands of years this rock-hewn treasure was largely forgotten.
Beautifully preserved by the desert climate it came to western attention in 1812 when a Swiss traveller rediscovered the site, and it was immediately recognised as one of the world's greatest wonders.
Visiting is seasonal. Through the winter months, snow can make access difficult, even impossible, while the summer temperatures make exploration a challenge, with 4 am starts required. Spring and autumn are ideal times to go.
2. Wadi Rum
Jordan's perennial Hollywood favourite is Wadi Rum, a dramatic desert region with spectacular rock formations. Its name means 'Mountains of the Moon' and it was most recently used as the alien backdrop in The Martian, the latest in a long line of other-worldly film locations.
There are Nabatean temples here, and petroglyphs dating back to Thamudic times, but the main attractions are natural ones such as the sandstone arches and mountains rising sheer from a sandy desert plateau.
Activities include rock climbing, camel trekking and desert drives in Bedouin-chauffeured Mercedes estates. Accommodation is under the stars, around open fires under a blanket of stars, with Bedouin tents against the sudden night-time cold.
3. Kerak Castle
These days a desert highway speeds across Jordan's flatlands. In earlier times, invading armies and trade caravans would take the so-called 'King's Highway' that threads through the fertile highlands, a longer route but with less chance of starvation or thirst.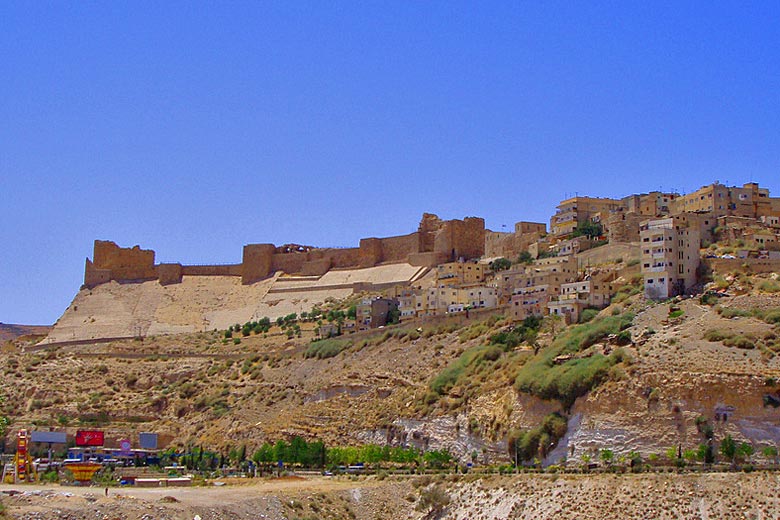 Amongst the mightiest of all the fortifications left by ancient armies is Kerak, towering over the small farms and fields that lattice the landscape. This is a great place to stroll around the battlements, imagining a previous era of knights in dusty armour and ravaging hordes on horseback.
4. Madaba
This rural town is a good introduction to Jordan, if only because it's easy to reach from the airport without going into Amman. This becomes suddenly relevant if you've come off an international flight and rented a car: the capital is a daunting metropolis with most signs in Arabic while Madaba is a sleepy provincial town (on the King's Highway route) with just a couple of hotels to choose from.
The floor of an unassuming town church is the major draw for tourists: the Byzantine mosaic map of the Holy Land clearly marks the towns of Sodom and Gomorrah. The biblical destruction that followed must have been pretty complete as you won't find the towns on the ground and there's no longer much debauchery on offer.
5. The Dead Sea
They still sell 70s' era postcards of swimmers reading newspapers as they bob about in the waters of the Dead Sea, and even now the waters are buoyant enough to risk your iPad to read while you swim.
It's also still true that most bathing ends in tears. The first time you use your salt-wet hands to sweep the hair from your eyes they start to sting and just get worse. The most macho bathers rush for fresh water to salve the pain.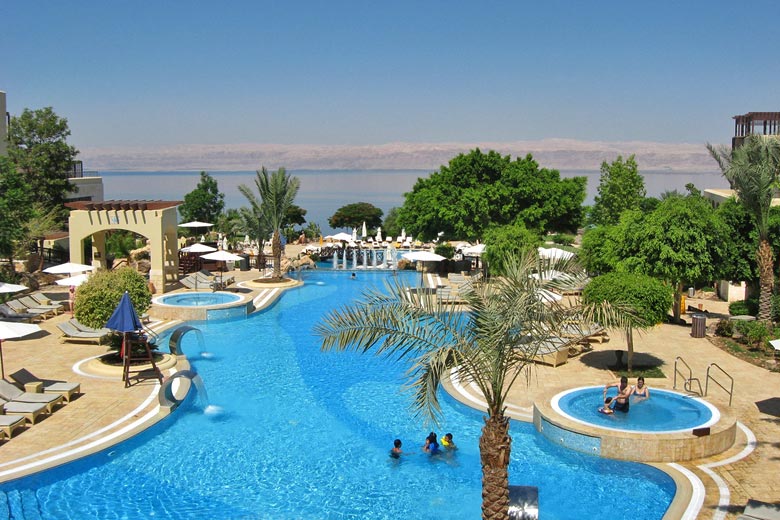 Perhaps, for this reason, most Dead Sea resorts also offer lavish spa facilities so you can lounge in luxury, using salt in moderation, while the lights of Israeli settlements twinkle from the opposite bank.
There's a great deal to see in this beautifully compact country, and with the problems of the Middle East scaring off tourists now is a great time to visit. It's approachable, driveable, hospitable and friendly - not to mention eerily empty. Go now.
If you fancy exploring Jordan for yourself, British Airways offers direct flights from London, while deals on holidays can be found via Mercury Holidays and G Adventures, among others. For even more savings on breaks to Jordan, check out our complete collection of travel deals and discounts.
More about Jordan
Jan Feb Mar Apr May Jun Jul Aug Sep Oct Nov Dec
Explore holidays in the sun for less
Be inspired
Get your weekly fix of holiday inspiration from some of the world's best travel writers plus save on your next trip with the latest exclusive offers
We promise not to share your details
Related posts