Tried & Tested: Mark Warner's San Lucianu Resort, Corsica
Please note: travel restrictions remain in place owing to the coronavirus pandemic. Be sure to check the latest travel advice and explore current covid rules and regulations by country.
San Lucianu Resort is Mark Warner's only home on the oh-so Mediterranean island of Corsica. Here, the hot summer weather, warm waters, pine clad mountainsides, and French flair set the scene perfectly for this beloved family-friendly, activity-filled resort. In this tried and tested review of everything that San Lucianu Resort has to offer, we will show you why it's a great value option for your next family holiday.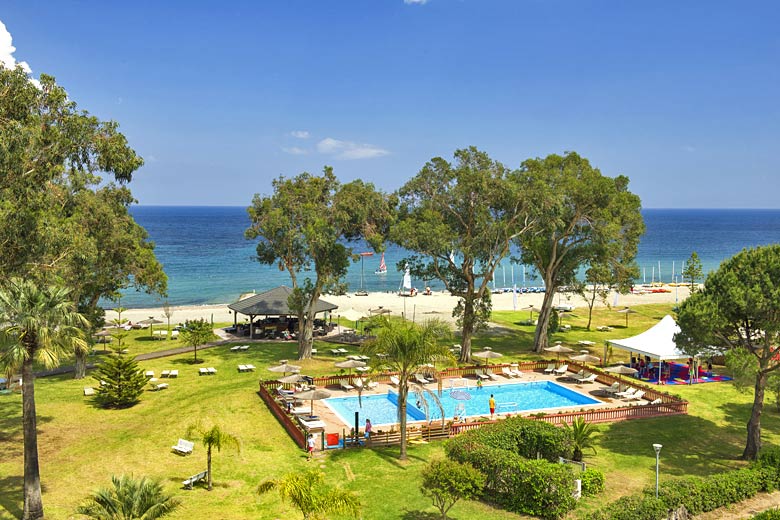 What makes San Lucianu Resort special?
What sets this resort apart is the family-friendly, laid back atmosphere. The low level building leads you through to a garden-like space, where you will wander below the rustling eucalyptus trees and enjoy endless sea views, before watching the lively staff mix up a cocktail storm in the beach hut bar. The warm and welcoming vibe is somewhat infectious, and you'll quickly feel right at home in Mark Warner's San Lucianu Resort*.
Unlike some beach resorts, where activity schedules can be rammed down your throat, at San Lucianu it's all about doing what you want, when you want, be it a day on the waves or sat behind the pages of your book. The choice of things you can do is very impressive with a huge array of activities for all ages included as standard. Whether you want to just have a go at the likes of sailing or leave with a Royal Yachting Association (RYA) certificate underarm is entirely up to you.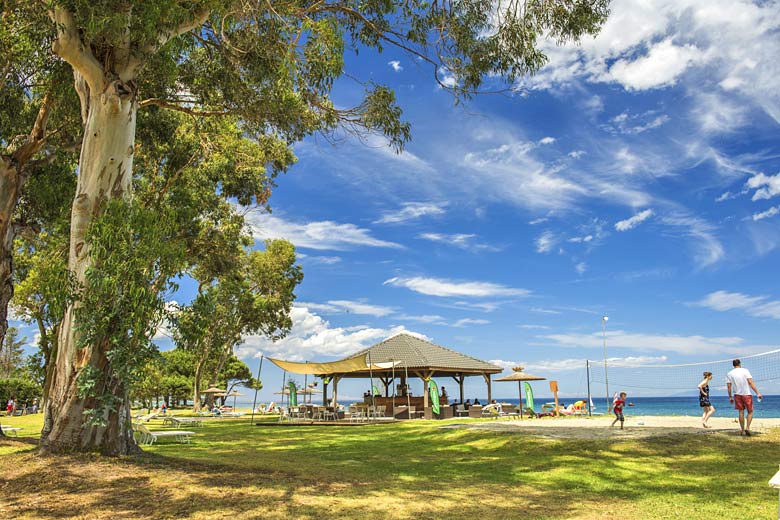 Most people on a Mark Warner holiday sensibly opt for the all inclusive option, which removes any concerns about paying surprise bills at checkout. Set sail in that kayak or sip your evening G&T (well, G&Ts - if it's all inclusive, why not?) safe in the knowledge that all has been taken care of in advance. You can select a full board holiday however, all inclusive gives you more to enjoy and less to worry about.
What are the rooms like?
San Lucianu is a resort of two halves when it comes to the accommodation*, as around half of the rooms have been refurbed. The original, older rooms tend to face towards the mountain and are perhaps a little tired although they do offer great value. Meanwhile, the swanky new neutral toned, tiled-floor rooms with walk-in showers come with sea views and balconies. There appears to be an understandable difference in price depending on what you go for, so if you have particular preference, it's definitely worth getting in touch with Mark Warner on 0845 485 7392 to find the right room for you at San Lucianu Resort.
There are twin options available (which can be booked for single occupancy in June and September only), and catering specifically to families, there are some good accommodation options for you to choose from in Corsica. The superior interconnecting rooms see the joining of a spacious room with a king size bed (i.e. the grown up room) and a twin room, both with their own bathrooms. Another great option is the superior family suite, a comfortable and roomy space with splendid sea views and a lounge area.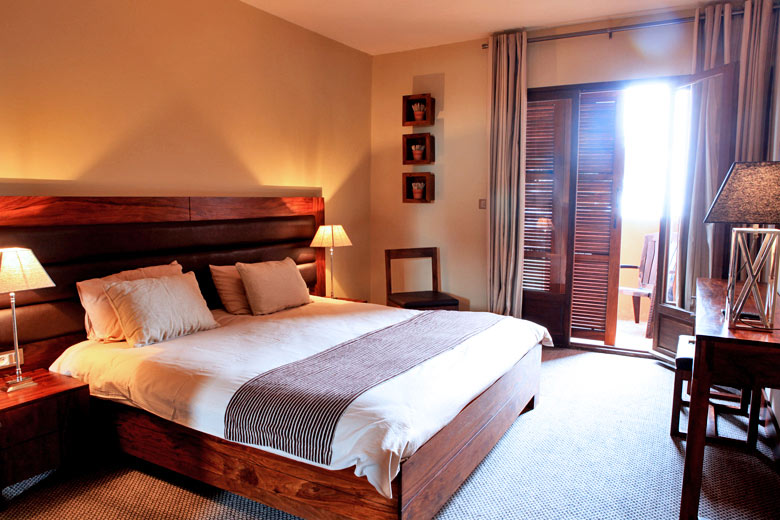 When it comes to in-room facilities, this again depends on whether you are in an original or a superior room. All rooms include shower gel, while superior rooms have extras such a hairdryer, safe deposit box, and a mini bar. None of the rooms include tea or coffee making facilities. While there may be variations in the decor, view, and mod-cons available, overall, and for a three-star resort, the rooms at Mark Warner San Lucianu Resort are clean, comfy, and good value for your holiday - just remember to pack what you need - more about this below in our tips section.
What's the food like at San Lucianu Resort?
At San Lucianu, there is a real emphasis on giving guests good value. Bearing in mind that it's a three star resort, it does indeed deliver variety and good quality food, with lots of choice at breakfast, and either a select a la carte option or a buffet in the evening. The a la carte tends to include three options for each course, and the resort makes an effort to offer exciting and international flavours.
The highlight at San Lucianu has to be lunchtime, however. As well as a good selection of salads, mains, and light desserts including plenty of fruit, it's also when the local son of the resort's owner pops by and fires up the pizza oven. A whizz with dough and toppings, you won't find any more creative pizzas on the island - turns out camembert and honey is a truly killer combo - who knew?
All in all, the food at San Lucianu is always changing, reliably fresh, and great value - perfect for filling your boots before and after a day on a sailboat.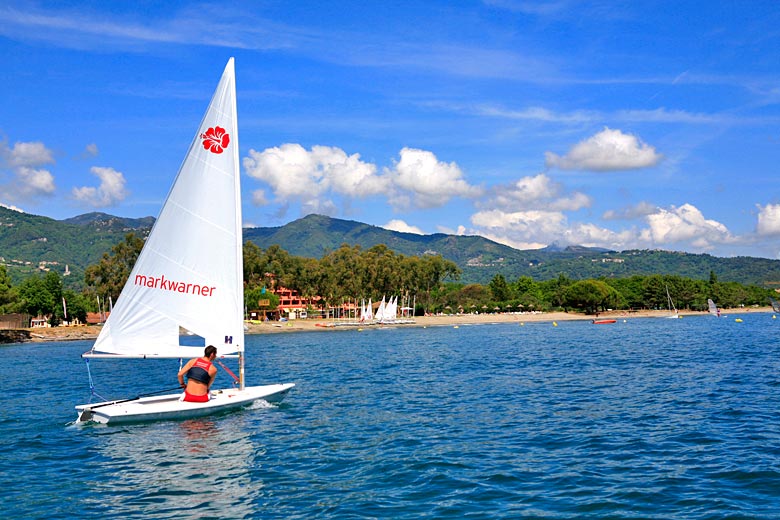 What activities are on offer at Mark Warner's San Lucianu Resort?
The variety of activities available at San Lucianu Resort* is really what sets it apart. Sport and fitness lie at the heart of Mark Warner's appeal, with watersports playing a huge role* in attracting families. Sailing, paddleboarding (or SUP), and kayaking are just some of the things to do for water babes in Corsica. While every Mark Warner holiday includes basic intro sessions to the likes of sailing and windsurfing, you can book RYA accredited courses for you or your children to complete during your stay.
Find out more: Top watersports & activities to try on a Mark Warner holiday
Tennis* is another sport in which you can gain a certificate, as all instructors at San Lucianu Resort are Lawn Tennis Association (LTA) accredited. Then there's road biking* if you want to see the island on two wheels.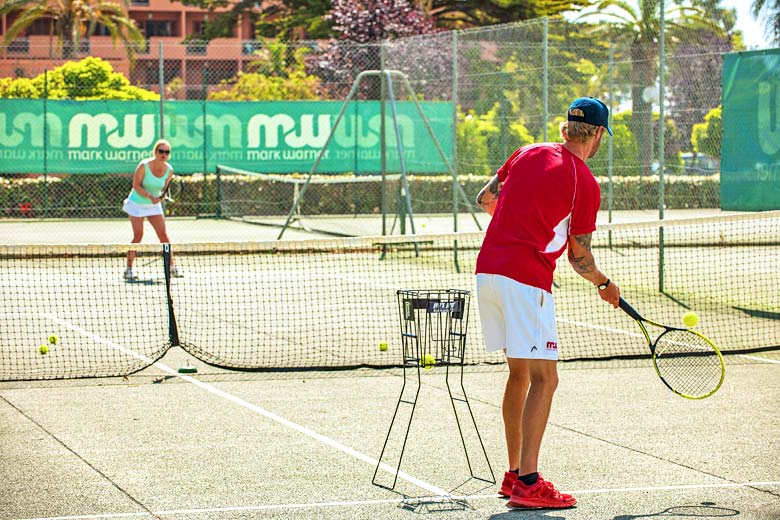 Corsica begs to be explored, and a great way of doing so is by getting out hiking. There's an easy walk from the resort to the Ucelluline waterfall (or Cascade de L'Ucelluline), where you'll find a natural emerald green plunge pool - the perfect reward for a walk in the Corsican sun. Ask at the front desk for suggested walking routes, maps and directions to the waterfall, and remember to take your bathers!
Other activities available at San Lucianu Resort include the beach volleyball, a weekly pub quiz, nightly happy hour at the beach bar, spa, and chance to hire a car to get out and experience Corsica for yourself.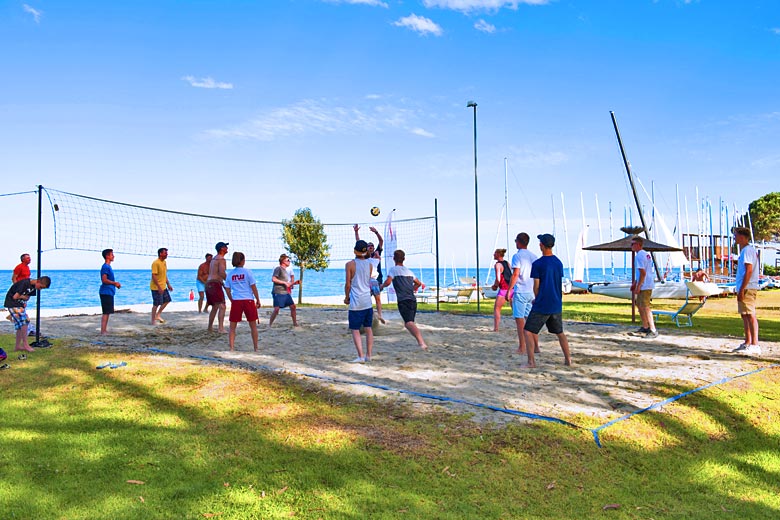 Tried and tested tips
As touched on above in the accommodation section, it's good to bring what toiletries you can. The shower gel provided is fine but not sufficient for washing your face, hair and body for the duration of your break. You may also want to check whether or not your room includes a hairdryer. As for beach towels, these can be rented or bought at the resort, so, again, you may prefer to bring your own beach towel.
Given the sporty nature of the resort, you may want to pack any appropriate clothing for you and your children. The beach is both hot and stony as you enter the water, so beach shoes are invaluable. While helmets and life vests are provided, you may also want to take t-shirts for swimming in to avoid too much exposure to the sun, and sunglasses that are either attached via a band or inexpensive in case you lose them at sea. And of course, make sure you're there for the lunchtime pizzas!
San Lucianu Resort FAQs
Where is San Lucianu Resort?
Mark Warner's San Lucianu Resort is on the Mediterranean island of Corsica. When you book your holiday, it includes return flights from London Heathrow to Bastia*, roughly two hours in duration. The resort is a short and easy 30-minute transfer south from Bastia Airport in the northeast of the island.
Yes, there is free wifi throughout San Lucianu Resort, however it is not the strongest connection. The best signal is found in the downstairs lounge area.
Can I book activities in advance?
Yes, and it is highly recommended. If you know what activity you or your child will want to do, secure the space on a watersports or tennis course as soon as possible. You can also book extras such as childcare in advance as well.
Is San Lucianu Resort just for families?
There's no doubt that San Lucianu Resort is geared towards families with all the considerations in place for children. However, it is also a popular beach resort for those who love the great outdoors and want to challenge themselves with watersports, cycling, and courses.
If you're looking for an action packed, family-friendly holiday that's great value and good fun to boot, then Mark Warner's San Lucianu Resort in Corsica is the place for you. The summer season offers fabulous weather in Corsica, and we have the latest deals on holiday for 2018/2019 right here, including exclusive Mark Warner discount codes and online only offers.
Weather2Travel.com stayed as a guest of Mark Warner at San Lucianu Resort in June 2017. All opinions are those of the editor.
More about Corsica
Jan Feb Mar Apr May Jun Jul Aug Sep Oct Nov Dec
Be inspired
Get your weekly fix of holiday inspiration from some of the world's best travel writers plus save on your next trip with the latest exclusive offers
We promise not to share your details
Related posts
*affiliate links: find out how we are funded and why this helps us remain free to use.