5 ways to do Dubai differently
Check the latest travel advice and current Covid-19 rules and restrictions by country.
There are so many ways to 'do' the desert-playground city of Dubai. Maybe you're going for the glorious weather and wild fun of the water parks; perhaps you're planning to hit the malls, explore the theme parks or want to learn more about the region's heritage.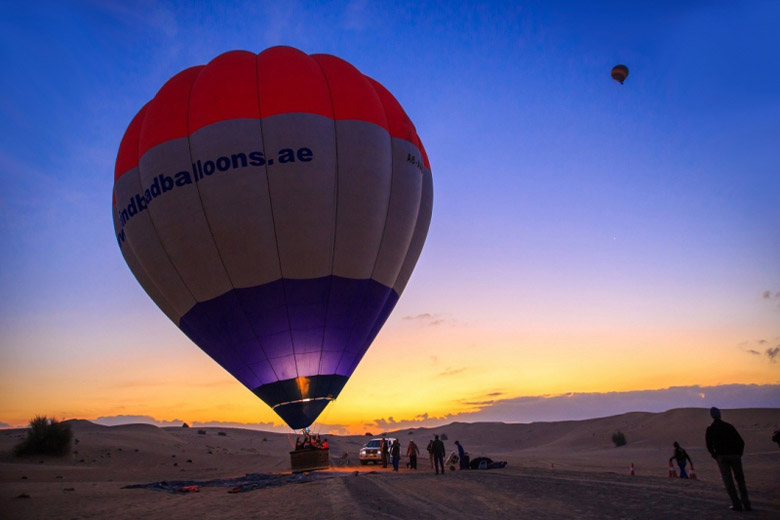 Whichever Dubai you want to get to know, Viator*, the leader in day trips and activities, has so much choice, not to mention great savings when you book any tours or tickets online, in advance.
To help you make the most of your time in Dubai, we've looked at some of the most exciting things you can do to ensure you have a memorable - if not once-in-a-lifetime - holiday, from a sunrise hot air balloon ride and fascinating city tour to thrilling excursions.
1. Fly high at sunrise
If anything warrants a 3.30am alarm, this is it. Unlike an antisocial flight from some inconveniently located airport, however, this rude awakening is for an early morning ascent with a difference.
Your hot air balloon experience* starts with a 4.00am pick-up, when you're whisked to the edge of the Dubai Desert Conservation Reserve, some 54 km to the southeast of the city.
Tip: worried about heights? In Dubai, hot air balloons cruise at a maximum height of 4,000ft. The basket is sturdy, lined and you're securely harnessed in.
You're also given a safety briefing with simple instructions for landing. It will come down to whether or not you feel this is something you could/would want to do!
Stepping into the dark expanse of desert, you're treated to breakfast, a simple but perfectly formed selection of teas, coffee, fruit and pastries, while the balloon-wranglers wrestle your ride upright in the pre-dawn light.
After clambering into the small but sturdy wicker basket with the burner roaring overhead, you're given a quick pep-and-safety talk, and before you know it, you're swiftly and silently soaring upwards, quietly climbing, leaving the helping hands far below.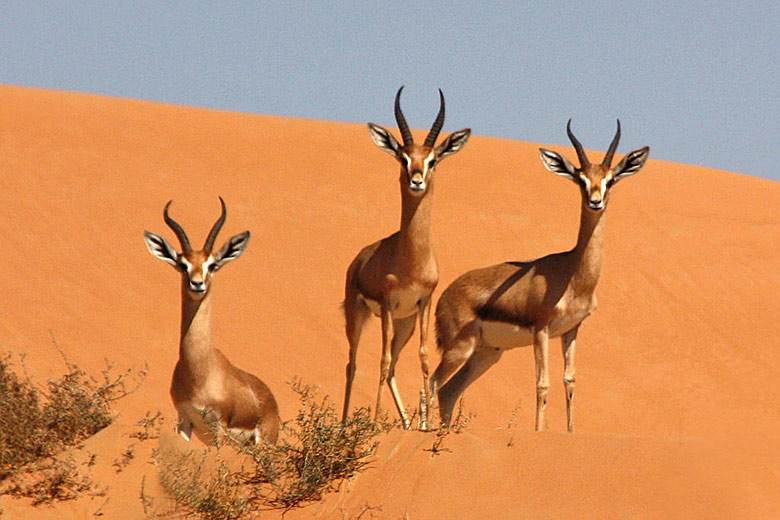 Settle in as you glide silently, drifting over the waves of the desert reserve, a protected area where you're likely to spot a variety of antelope including oryx and gazelle, as well as hares, foxes and possibly even reptiles scampering below.
Tip: starting in the desert at dawn, it's not what you'd call warm, even in summer. You're also ascending in an open basket, so take a layer or two, which you can easily shed as the sun and temperature climb.
On a clear, calm morning, the sunrise from the confines of the floating basket is nothing short of magical. The moon fades into the abyss behind as the sun emerges ahead, setting the desert haze ablaze. Bright orange bleeds from the neon pink hump on the horizon, before popping out and lighting up the vast sandscape stretched out beneath you.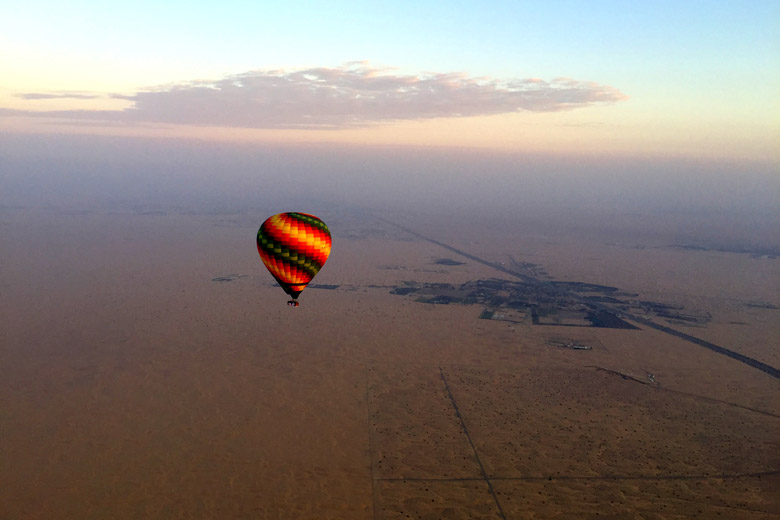 Your balloon escapade will last anywhere from 30 minutes to one hour, weather depending and you'll be bouncing back on terra firma in no time; it's a firm bounce, so hold on tight!
2. Take a scenic city tour
A guided city tour* is an easy win for anyone looking to discover more about Dubai. Sit back in the comfort of your air-conditioned bus while your knowledgeable guide regales you with tales and tidbits of history, explaining how Dubai evolved from humble beginnings, the role of oil and what the future looks like for this wealthy Emirate.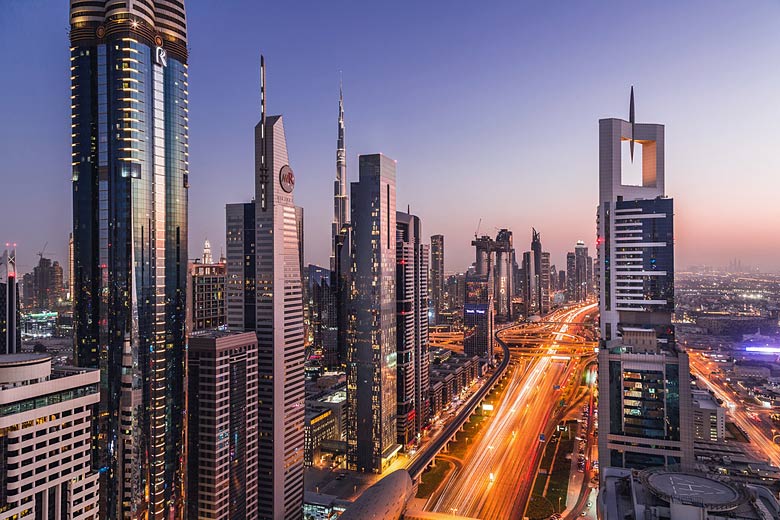 Craning your neck at piercing skyscrapers and admiring the likes of the Jumeirah Mosque and Al Farooq Omar Bin Al Khattab Mosque (also known as the Blue Mosque) get things started, before taking a ride on a puffing abra - the traditional wooden boats used to ferry people across Dubai Creek.
Stops at the Gold Souk and Spice Souk give you plenty of opportunities to practise your haggling and pick up some souvenirs (fresh loose-leaf tea, local dates and bags of spices make great gifts!).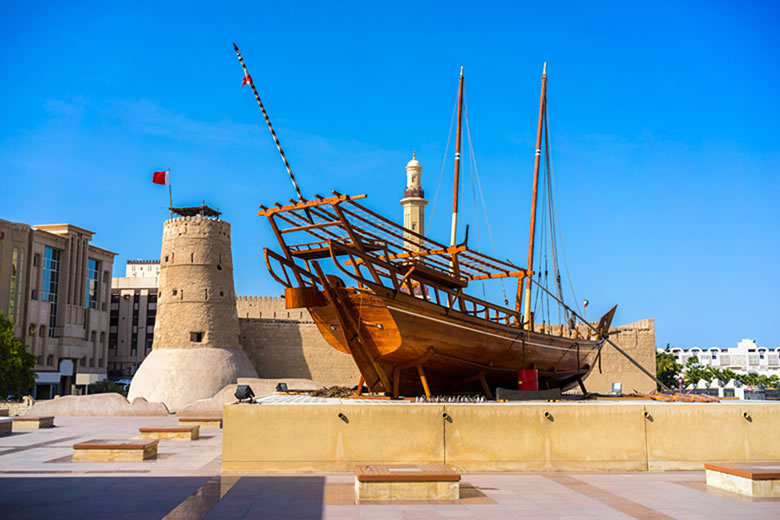 The highlight, however, has to be Dubai Museum, housed in the late-18th-century Al Fahidi Fort. Enter through the imposing doorway flanked with canons into a dusty courtyard, where the museum's horde of weapons from various periods, musical instruments and traditional dress are displayed in adjacent rooms.
The real treat awaits below, where a brilliant series of well-thought-through galleries explains the history and evolution of Dubai pre- and post-oil. Everything from archaeological finds to showcasing the Bedouin way of life can be found in this informative collection. So much so, you may want to return independently for a longer visit.
3. Adventures in sand
You can't go to Dubai and not do the desert. Just how you do it, though, depends on how adventurous you're feeling.
From traditional camel treks and camping overnight under the stars to challenging rides in vintage Land Rovers and bouncing around on dune buggies or quad bikes, the Arabian Desert is yours to experience any which way that suits you and your budget.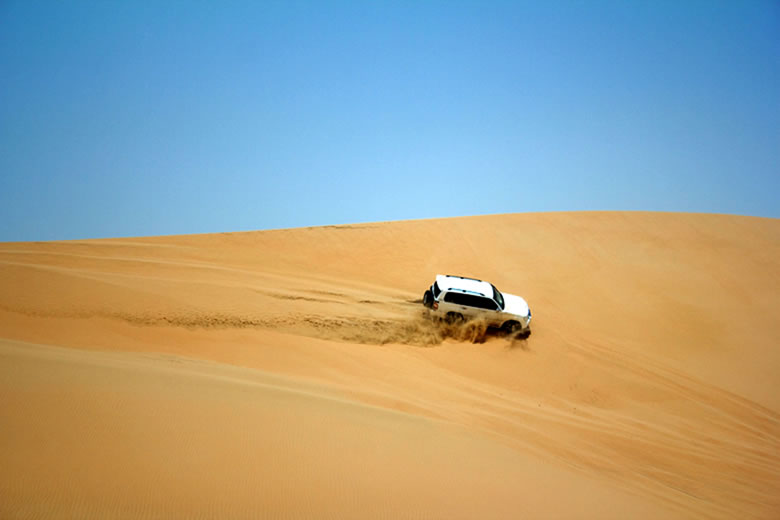 One of the most popular ways of riding the dunes is by taking a 4x4 desert safari. Prepare to soar up and down near-vertical slopes in the hands of expert drivers who know how to handle shifting sands.
You'll soon realise that what might look like a gently undulating sea of sand is one seriously tough landscape. What's more, many of Viator's desert experiences* include stops for tea, a BBQ, falconry, even sunset views.
4. Tantalise those taste buds
Being Dubai, there's a way to dine for everyone. You could go large with a slap-up dinner at a Michelin-starred number or hit the brunch scene for bottomless fizz and the freshest sushi in town but why not try something different?
Viator has a mighty fine collection of foodie tours in Dubai* that will help you dive into something a little more local. Take advantage of the strong Indian influence with a tour of Little India*, which includes tastings at beloved Indian canteens and a foray into a busy Indian supermarket.
Then there's the Middle Eastern Food Pilgrimage*, which has you sampling no fewer than 10 dishes from local favourites to Egyptian and Iranian delicacies.
Meanwhile, the Street Food Tour* will set your senses alight in the city's Spice Souk with the likes of shawarma, punchy ice cream, and delicious local dates all included.
5. Get to know the capital
Dubai is the go-to destination for most people seeking Arabian sun, sea and sand. However, the nation's capital, Abu Dhabi, has so much to offer that it deserves at least one day trip, if not more.
Abu Dhabi sits around 130 km southwest of Dubai along the shore of the Persian Gulf and the two metropolises remain closely linked. You'll find all the glitz and glam of Dubai (think mega malls, six-star hotels and theme parks) as well as some serious sights for culture vultures.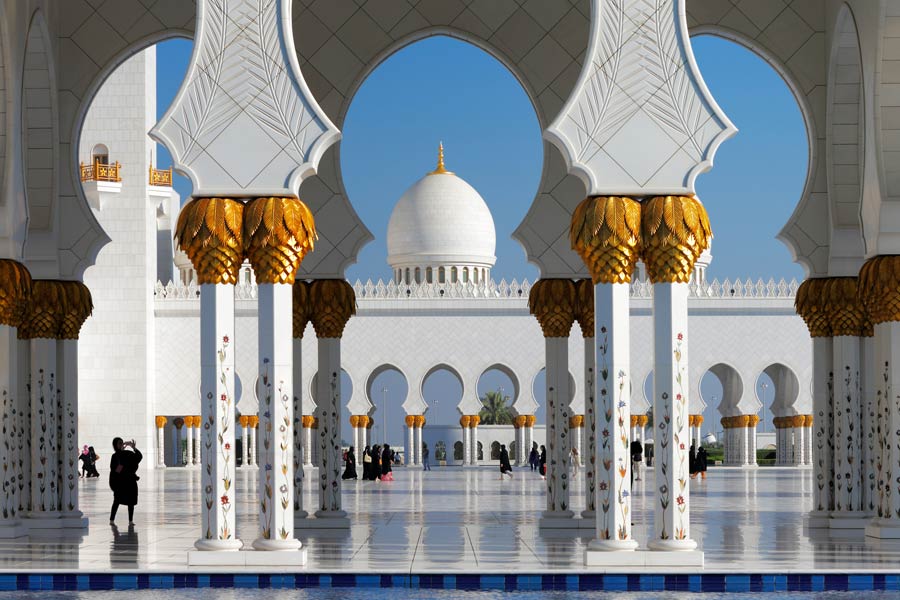 Chief among them has to be the Sheikh Zayed Grand Mosque, a gleaming monument to the late and revered Sheikh and founding father of the UAE. It's a blinding white marvel offering a modern take on a traditional place of worship decked with a list of record-breaking interiors, from its chandelier to the enormous handwoven Iranian carpet.
In addition, there are so many museums and galleries to peruse starting with the impressive Louvre Abu Dhabi, fascinating Qasr Al Hosn fort and informative - if a little staged - Abu Dhabi Heritage Village. The seafront promenade makes for a lovely stroll if you have the time.
You'll find plenty of day trip options to Abu Dhabi from Dubai*, some including many highlights in one, while others let you pick and choose attractions.
Other destinations to consider from Dubai include excursions to the historic border town of Al Ain* with its famed camel market, the majestic mountain of Jebel Jais in neighbouring Ras Al Khaimah*, not to mention a glorious dhow cruise in Musandam, Oman*.
When to go to Dubai
There's no getting away from it - Dubai is HOT in summer, with daily highs typically surpassing 40°C. This is simply too hot for most to enjoy, not to mention dangerous when you consider the risks of sunstroke and heat exhaustion.
| | Jan | Feb | Mar | Apr | May | Jun | Jul | Aug | Sep | Oct | Nov | Dec |
| --- | --- | --- | --- | --- | --- | --- | --- | --- | --- | --- | --- | --- |
| Maximum daytime temperature °C | 24 | | 28 | | 37 | 39 | 41 | 41 | 39 | 36 | | 26 |
| Hours of sunshine (daily) | | | | | 11 | 11 | | | | | 9 | |
| Days with some rainfall | | 4 | 4 | | | | | | | | | |
| Sea temperature °C | 23 | 22 | 23 | | 29 | | | | | | 28 | |
With this in mind, we recommend going to Dubai at almost any time of year except between June and September. Winter sees the coolest temperatures and least ferocious heat and humidity, while spring and autumn are delightful if still a little too hot for some.
Make sure you check out our summary of the weather in Dubai to ensure you visit at the right time of year for you.
Fancy doing Dubai differently? Don't miss our selection of deals and discounts on tickets and tours with Viator.
Please note: Weather2Travel.com experienced activities in Dubai with Sinbad Balloons and Orient Tours courtesy of Viator. All views expressed are those of the writer.
More about the Dubai
Jan Feb Mar Apr May Jun Jul Aug Sep Oct Nov Dec
Be inspired
Get your weekly fix of holiday inspiration from some of the world's best travel writers plus save on your next trip with the latest exclusive offers
We promise not to share your details
Related posts
*affiliate links: find out how we are funded and why this helps us remain free to use.