A guide to Egypt's Red Sea Riviera: Hurghada, El Gouna, & Marsa Alam
Thinking of flying south to the sunny shores of Egypt for your next holiday? This guide to Egypt's Red Sea Riviera covers everything you need to know about the sandy stretch of the Egyptian coast on the western shores of the Red Sea that's made for relaxation.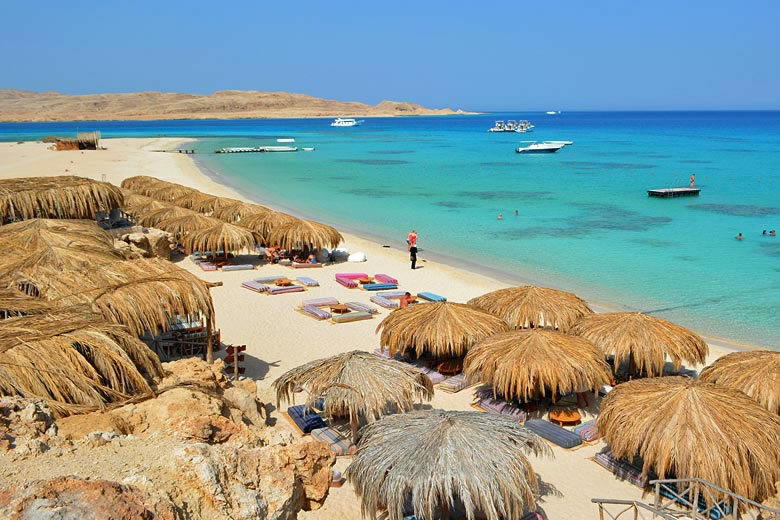 Let us help you plan your perfect holiday to Egypt's Red Sea Riviera with the lowdown on the area's different resorts and activities. Here, we look at everything from excursions to customs - and even get you talking like an Egyptian. Ready to leave for the Land of the Pharaohs? Y'alla! - that means let's go!
Considering a break to Egypt? Book an all inclusive trip with First Choice* and you'll be enjoying life under the Egyptian sun in no time.
Egypt's Red Sea Riviera: why go?
Egypt's beach resorts have been enticing Brits for years with their unique combination of white sandy beaches, year-round sunshine and warm seas, just a short five-hour flight and a two-hour time difference away.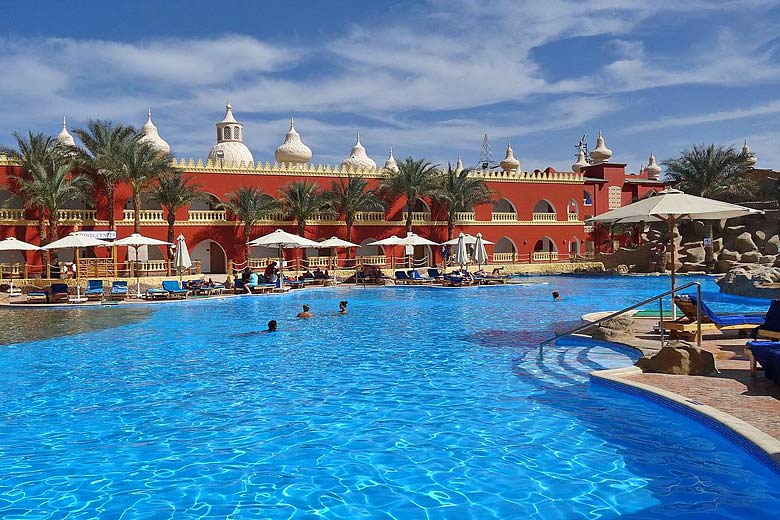 Egypt is also a shopper's paradise where you can stock up on exquisite alabaster, have hieroglyphics etched on papyrus or ogle oriental lamps and leather goods while taking in the aroma of exotic spices.
If you're an adrenaline junkie you'll find some amazing activities to check off your bucket list here; how about a day diving with sharks, driving into the desert on a quad bike or taking a camel ride, before tucking into a full Bedouin feast?
Did you know? Sharm el Sheikh has been out of bounds for some time but the ban on flights and travel to this area was lifted in late 2019. As such, 2020 is set to see the reintroduction of great value holidays with First Choice* to this beloved Egyptian resort.
Which resort is right for you?
So, where exactly should you go on your Egyptian beach holiday? Egypt is four times the size of the UK and blessed with a Mediterranean Sea coast to the north and a stunning stretch along the west coast of the Red Sea. It's here that most of the country's popular beach resorts can be found.
With lots of different areas offering sun-soaked Red Sea beach breaks, such as Hurghada, El Gouna, and Marsa Alam, it can seem rather confusing but don't worry, Egypt is a pretty straightforward holiday destination once you understand the differences between each resort.
Hurghada
Hurghada is the largest resort town on the Egyptian mainland, and a popular place for Egyptians to holiday even before Europeans cottoned on to the gorgeous sandy beaches, balmy days, and lively nights on offer here.
Unlike many of the well known Red Sea resorts, Hurghada is also an urban centre with history and culture in abundance, making it a great place to enjoy a taste of the real Egypt. So, while Hurghada offers the lion's share of well-equipped resorts, you'll probably want to explore a little at one of the local markets or eateries.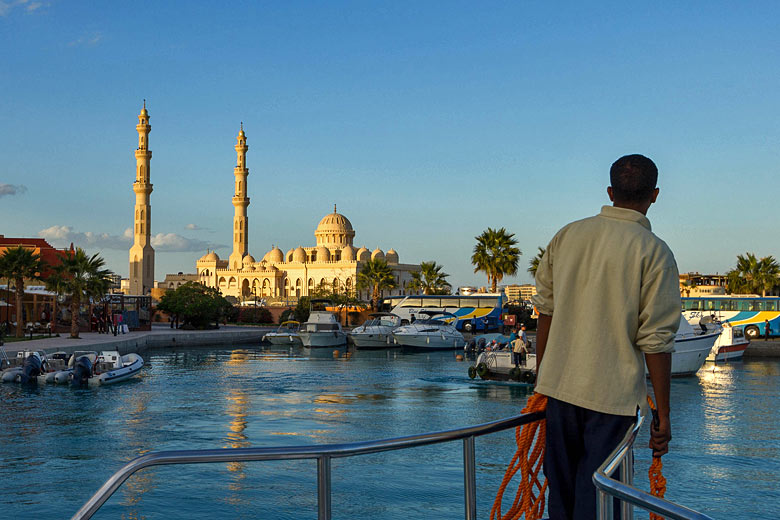 You can also find plenty of things to do in Hurghada for families from water parks to bowling alleys, and as the biggest and busiest of all the Red Sea Riviera resorts, Hurghada undoubtedly has the most vibrant nightlife.
This is also a watersports paradise for everyone from the complete novice to the most accomplished expert; snorkel right off the beach, hire a jet ski, or go windsurfing or paragliding; you'll be spoilt for choice. Boating is an option too with glass-bottomed boat trips and the opportunity to go fishing or to take a day trip out to one of the nearby islands.
Hurghada is large enough to be split into distinct areas and within the greater Hurghada area you'll find:
Dahar: the authentic local heart of downtown Hurghada, this is the place to seek out bazaars and bargains, and see another side of the city.
The Promenade (Village Road): in Arabic El Memsha, this 5 km long stretch is home to large hotels, malls, shops and restaurants.
Sekala: meaning the marina or boardwalk in Arabic, this is the oldest part of Hurghada, and you'll find a bustling centre for shopping, local life and tourism.
Soma Bay: the farthest south of Hurghada's resort areas and the closest to Luxor, Soma Bay is a luxurious enclave consisting of a golf course and a handful of luxury hotels.
Makadi Bay: an informal resort area with plenty of family-friendly hotels including the fun of Makadi Bay Water World, about half an hour south of Hurghada itself.
Sahl Hasheesh: a highly exclusive and tranquil resort 18 km south of Hurghada airport, the gorgeous curved sandy bay attracts a discerning clientele.
El Gouna
Styled as the 'Venice of Egypt', it's not surprising that El Gouna has a different and more European feel compared to the rest of Egypt's Red Sea Riviera resorts. For a start, there's a 'no haggling or hassling' rule in place.
So, despite being just 22 km north of Hurghada and served by the same airport, El Gouna has carved a special niche for itself when it comes to attracting tourists to the Egyptian Red Sea Riviera.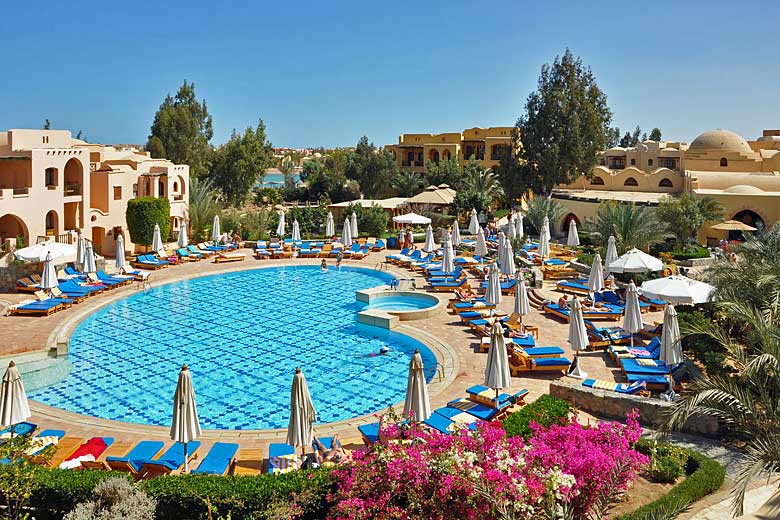 Those looking for an upmarket and chilled-out holiday vibe with laid back nightlife to match may find El Gouna the right fit. Plus there tend to be more bed and breakfast or half board options at hotels in El Gouna, which are set around a manmade marina and set of islands.
There's also a sporty side to El Gouna with world-class golf courses and special facilities for kitesurfing, wakeboarding, and waterskiing on top of all the usual Red Sea Riviera attractions.
Marsa Alam
Marsa Alam* is a haven for nature lovers, outdoor enthusiasts, and sun-worshippers alike, and boasts the highest temperatures on this part of the coast, as well as the warmest winter evenings in the whole of Egypt.
Around 270 km south of Hurghada along Egypt's Red Sea Riviera, Marsa Alam has been welcoming tourists for around 15 years and is served by its own international airport ensuring the perfect combination of accessibility and tranquillity.
As the newest region on the Red Sea Riviera to attract tourists, Marsa Alam still feels like the traditional fishing village it once was while building a reputation for pristine beaches, fishing, diving and cruises, and offering a more convenient base for exploring Luxor compared with Hurghada.
Only the protected nature reserves and national parks of Wadi el-Gemal and Elba lie between here and the Sudanese border, so if your idea of a great day out on the Red Sea Riviera is to experience picturesque coral reefs, marine reserves and unspoilt paradise bays, then the biodiversity of Marsa Alam is ideal for you.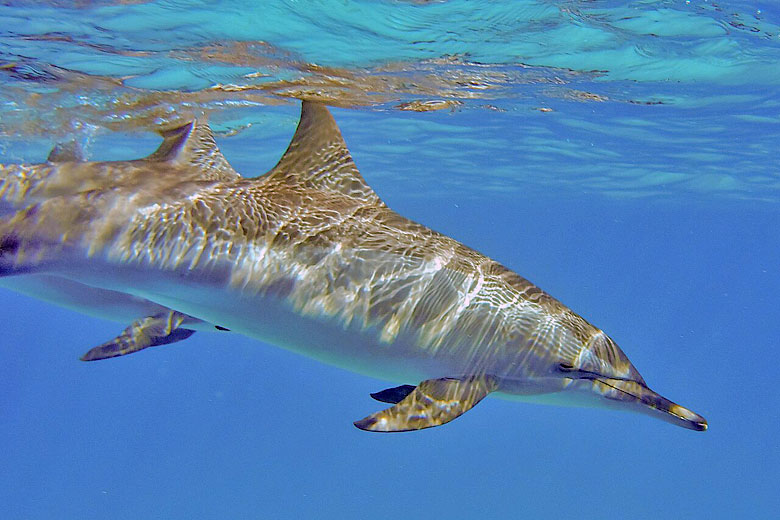 Divers here have the opportunity to explore shallow wrecks and meet hammerhead sharks at the world-class Elphinstone Reef, and you can even swim with dolphins and snorkel with sea turtles and dugongs. As an understated and marine-focused destination, nightlife outside the resorts here tends to be low key but Port Ghalib is where you can find a relaxed bar scene.
Stay up to date: keep an eye on the FCO website for the latest travel information regarding holidays to Egypt.
Excursions from Egypt's Red Sea Riviera
Most people choose a holiday on Egypt's Red Sea Riviera to enjoy the perpetually warm waters and guaranteed sunshine but once your batteries are recharged you can soak up some of the country's historic culture too.
Cairo & The Great Pyramids of Giza
Today the Pyramids at Giza are the only wonders of the ancient world to remain standing, and you can take a day trip to Cairo to marvel at the Great Pyramid as well as those at Memphis, Dahshur, and Sakkara.
You'll also experience the unforgettable throng of Egypt's largest metropolis, Cairo, and come face to face with the Sphinx and the golden mask of Tutankhamun.
Luxor & The Valley of the Kings and Queens
One of the benefits of choosing to base yourself at a Red Sea resort is that you're close to Egypt's world-famous archaeological treasures at Luxor. You can easily take in the Valley of the Kings and Queens on an organised day trip from your hotel.
Cleopatra's Emerald Mines
Just outside Marsa Alam in Wadi El Gamal National Park, Cleopatra's Mines are thought to be the first emerald mine in the entire world. Named after the Egyptian queen who had a love of fine jewellery, the gold, emeralds, and semi-precious stones found here were so important they were used throughout the Roman Empire.
Vital info for visiting the Red Sea Riviera
Flight time from the UK: around five hours, making it the shortest flight time from the UK for consistent winter sun, as well as the closest destination offering year-round snorkelling and diving.
Currency: the Egyptian Pound, which is currently great value for Brits travelling to Egypt, making it a very affordable holiday destination.
Tipping: it's helpful to keep small denominations of Egyptian Pounds, such as 10 EGP, for use as tips. Tipping for good service is customary in Egypt, and if you tip your waiter, barman or driver, you'll find not only is it much appreciated, but it will result in great service for you next time especially in a resort environment.
Visas: you can apply for an e-visa via Visa2Egypt in advance or buy one on arrival for US$25 payable in dollars, pounds or euros.
In an emergency: the emergency numbers in Egypt are different from those in the UK, with unique numbers for each service. These are Police 122, Tourist Police 126, Ambulance 123, and Fire 180.
Voltage: Egypt runs on 220v using a two-pin socket like those in mainland Europe, so British appliances should work with an adaptor.
10 essential phrases for your holiday
Egyptians are warm, friendly, and welcoming to foreign tourists, and while many speak good English locals really smile on those who try their hand at a little Arabic. These Egyptian phrases could help you barter as well as banter, snagging a souvenir for a bargain:
Yes - Eye-wa
No - La'a
Come on / let's go / hurry up - Y'alla
Thank you - Shukran
You're welcome - Afwan
I don't want it - Ana Mish Ay'za (female) / Ana Mish Ay'is (male)
Excellent - Meya Meya (literally means '100, 100')
Wait here - Estanna hena
How Much? - Bikam?
Where Is...? - Fein...?
When to go to Egypt's Red Sea coast
One of the best things about a holiday in Egypt is the guaranteed year-round dry climate with masses of sunshine. Along the Red Sea Riviera in winter there is never less than nine hours of sunshine a day on average, rising to 13 hours a day in summer, and it very rarely rains, even in winter when rainfall is more likely.
It can be very hot in summer with daytime maximum temperatures rising into the mid-thirties but the lack of moisture in the air means that this can feel quite tolerable, so heat and humidity levels are moderated somewhat.
If you travel in the winter months, temperatures in the north of the Red Sea Riviera can fall below 10°C at night so you will need an extra layer or two for the evenings. This is typical for a desert climate where the heat of the day is quickly radiated back into the upper atmosphere. The effect is less pronounced in Marsa Alam in the south, which is always that bit warmer but winter evenings are still cool.
As for sea temperatures, again a little bit warmer in the south but generally ranging along the whole Red Sea Riviera from 22°C in winter to a warm 28°C in August and September.
With such warm and sunny weather conditions, it's not hard to see why the Red Sea Riviera is such a popular choice for British holidaymakers, especially in winter.
Weather along the Red Sea Riviera
Above you'll see the climate in Marsa Alam. For more information on the weather in Egypt, you can visit our guides to Hurghada and El Gouna, and see when we think is the best time to go for ultimate beach holiday conditions.
Ready to discover Egypt's Red Sea Riviera? If this sounds like your kind of winter sun destination, check out the latest deals on all inclusive beach holidays from First Choice.
More about Egypt
Jan Feb Mar Apr May Jun Jul Aug Sep Oct Nov Dec
Be inspired
Get your weekly fix of holiday inspiration from some of the world's best travel writers plus save on your next trip with the latest exclusive offers
We promise not to share your details
Related posts
*affiliate links: find out how we are funded and why this helps us remain free to use.