Why Antigua is the right Caribbean island for you
*affiliate links: find out how we are funded and why this helps us remain free to use.
If you're planning a holiday to the Caribbean, consider Antigua, aka the 'land of 365 beaches'. The island consistently rates highly with couples but with plenty of fun outdoor activities, it's an equally great spot for families, too.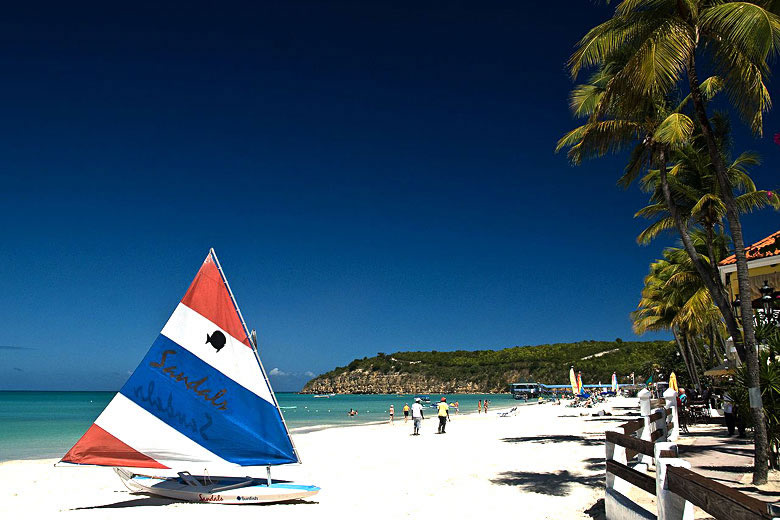 If it's beach, beach and more beach you're after, then Antigua's Robinson Crusoe-worthy shores, which are both legendary and luscious, will fully live up to every white-sand-and-clear-water cliché you could dream of.
There are, however, plenty of other attractions. Step back in time to the age of Nelson, rent a car to explore the palm-fringed coast or take to the ocean where you can strap on your snorkel, go sailing or even meet a stingray.
Getting to Antigua: Check out the latest deals on breaks with Sandals* to see if you could enjoy a little luxury for less than you might expect.
Dive into history at Nelson's Dockyard
One of Antigua's most picturesque and perennial draws is Nelson's Dockyard. As the only British Caribbean island to be blessed with a good natural harbour, Antigua historically served as the dockyard for all shipping in the entire British West Indies, and Nelson himself was based here in the 1780s.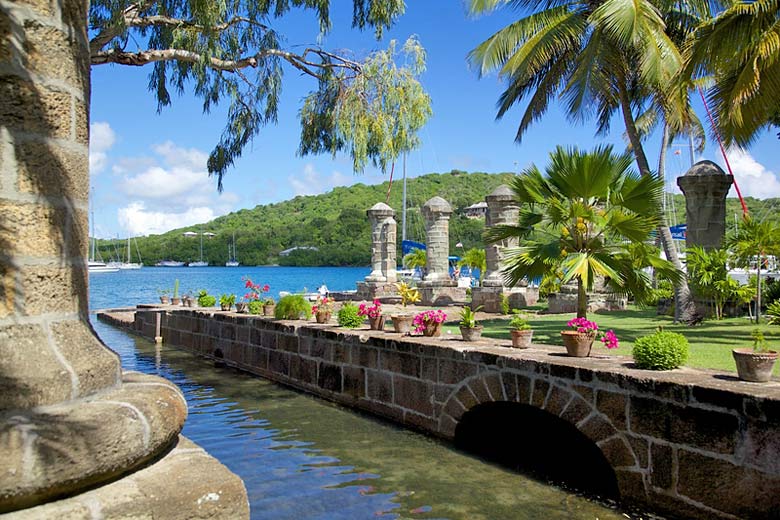 The UNESCO site is now the only surviving Georgian naval dockyard in the world. The marina makes a pretty place to explore even if you're not a history buff. It's important to mention the role the naval base played in the slave trade, something that's addressed in the museum at the docks where you can learn more.
When to go to Antigua: don't miss our bespoke Sandals weather guide to see when to visit Antigua for the best weather.
Spend time at a sugar mill
Antigua's large-scale sugar cultivation, which flourished under the barbarity of slavery, was introduced by the British and led to the creation of some 150 sugar cane mills dotting the verdant landscape. Almost 100 of these recognisable stone towers remain, many converted into shops or restaurants.
A visit to one is a must for both historical context and modern curiosity. Try The Old Mill at Harmony Hall, which is now an upscale Italian restaurant or visit Betty's Hope, the original sugar estate set up in the 1600s, which is now a museum where visitors can see the fully-restored sugar mill in action.
Try your hand at fishing
You can fish all year round in Antigua, whether inshore or offshore, as conditions can be breezier than in other locations thanks to those all-important trade winds. Fishing here attracts some real aficionados (or should that be afishionados? Sorry).
The effort certainly pays off if you want to try something a little different like fishing for tarpon, permit, snook and bonefish.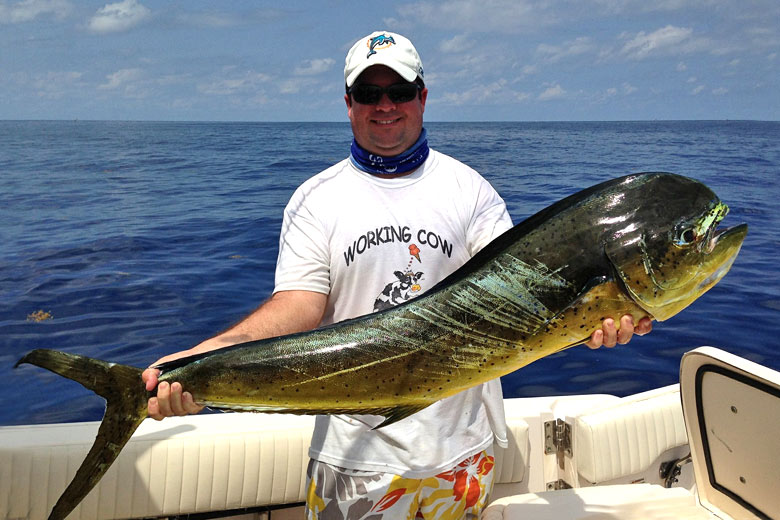 Local operators can help you discover the relaxed side of fishing with charters or introduce you to float tube fishing in mangrove lagoons and secluded bays where the fish like to hide out, as do discerning tourists.
There are numerous deep-sea charter operators based in and around Jolly Harbour in the west or Falmouth and English Harbour in the southeast.
Join Antigua's Carnival
Carnival is huge in Antigua and, with more than 60 years of experience laying on the perfect street party, visiting during carnival dates in July is guaranteed to make your holiday a memorable one.
This colourful 10-day festival packs in calypso music, food fairs, parades, talent shows and, of course, plenty of dancing.
If you're not around to experience the biggest party of the year, you'll be glad to know there is a weekly alternative: while Antigua isn't a revellers' paradise the Sunday night bash at Shirley Heights offers the most celebrated opportunity to let your hair down on the island.
Sample the island's edible delights
Antigua is a very laid-back place where you're more likely to frequent a beach bar and sample the local Wadadli beer with your feet planted in the sand than sip on Champagne in formal surroundings.
However, there are some choice upmarket options for a special evening like Sheer Rocks, which is in an unparalleled cliffside location to see the sunset at Ffryes Bay while dining on exqusitie local cuisine.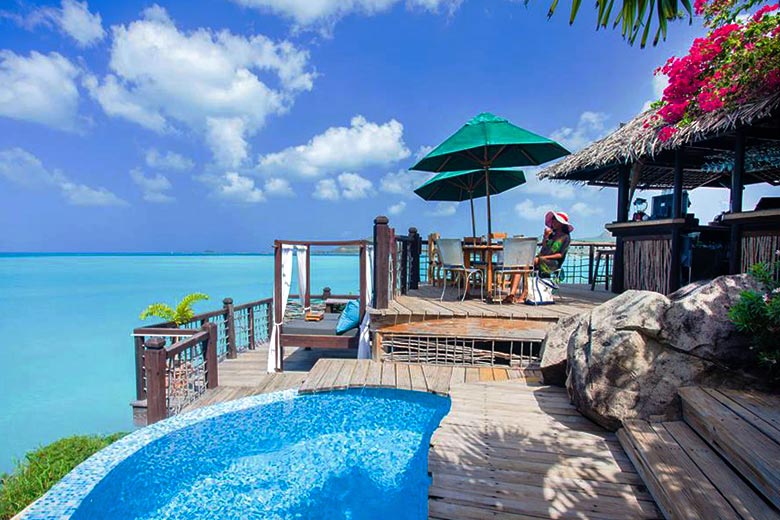 Other not-to-be-missed local nibbles and tipples to feature in our guide to Antigua include Cavalier Rum, which you'll find just about everywhere, and the abundant local seafood, which features in Antigua's signature dish, the Pepperpot; a hearty stew with vegetables.
If you want to explore the most varied aspects of the restaurant scene in Antigua head to St. John's, the island's capital where there are lots of international options or try the other well-stocked area at English Harbour.
Then there's Barbuda...
A trip to Antigua is the perfect time to pop over to neighbouring Barbuda, as the pint-sized island is only accessible by flight and ferry from its big sister, and can't be reached directly from any international destinations.
Barbuda is even smaller than Antigua (just over half the size at 160km square) and has the enticing airport code of BBQ, a great reflection of the mega laid-back nature of the scene on offer here.
The main airline serving the two islands (as well as Montserrat) is Montserrat Airways but you can also take a 90-minute ferry with Barbuda Express or splash out on a Caribbean helicopter charter if you're feeling flush. The choppers also serve as a stylish way to reach the neighbouring islands of Nevis, St. Kitts and Anguilla.
Antigua essentials
If you're planning a holiday to Antigua, you'll need to know some of the basics, which include:
Flight time from the UK: the flight time from London is around eight and a half hours.
Entry, exit & visas: Brits, EU nationals and most Commonwealth citizens don't need a visa to enter Antigua and departure tax is included in the airfare so you won't be faced with any extra costs.
Currency: like much of the Caribbean, the US Dollar is the unofficial currency and widely accepted; you'll find very few places where a dollar bill will be denied. However, the official currency of the island is the Eastern Caribbean Dollar - EC$ - and you can withdraw this from cash machines on the island.
In an emergency: as a former British colony, you can dial 999 for Fire, Police or Ambulance as well as 911.
Voltage: most of the island runs on 110v like the US and Canada but some hotels also have European-style 220v power; this is something you'll need to investigate and plan for before your trip to Antigua by bringing an adaptor and possibly a power converter with you.
Sun care: even if you're familiar with tropical destinations you'll need to be especially careful of the strong sun in Antigua. With the cooling trade winds year-round it is easy for even a seasoned holidaymaker to underestimate the effects, so it's important to use a strong SPF, stay hydrated and seek shade during the hottest times of the day - read more about staying safe in the sun.
Weather in Antigua
| | Jan | Feb | Mar | Apr | May | Jun | Jul | Aug | Sep | Oct | Nov | Dec |
| --- | --- | --- | --- | --- | --- | --- | --- | --- | --- | --- | --- | --- |
| Maximum daytime temperature °C | | | | | | | | | | | | |
| Hours of sunshine (daily) | | | | | | | | | | | | |
| Days with some rainfall | | 13 | 12 | 11 | 14 | 14 | | | | | | |
| Sea temperature °C | | | | | | | | | | | | |
The weather in Antigua is consistently good with warm-to-hot temperatures and low rainfall year-round; it's especially popular for those seeking some winter sunshine.
As with many Caribbean and tropical destinations, the weather forecast can scare you off with threats of clouds and thunderstorms but, in reality, this tends to mean short-lived rain showers or passing clouds.
There is the slim chance a hurricane may affect the weather in Antigua in some way during the peak season, especially in September, though these months tend to offer lower rates and far fewer tourists too.
Ready to book your break? If a trip to Antigua sounds like your idea of a luxurious Caribbean holiday, don't miss the latest offers from Sandals.
Discover more about Sandals
More about Antigua
Antigua by month
Jan Feb Mar Apr May Jun Jul Aug Sep Oct Nov Dec
Explore holidays in the sun for less
Be inspired
Get your weekly fix of holiday inspiration from some of the world's best travel writers plus save on your next trip with the latest exclusive offers
We promise not to share your details
Related posts