6 ways to experience the world's finest coffee cultures
*affiliate links: find out how we are funded and why this helps us remain free to use.
Whether you like it short and black or tall with milk, coffee is a deeply personal thing. We all know how we like ours, and getting your perfect coffee abroad can often prove challenging.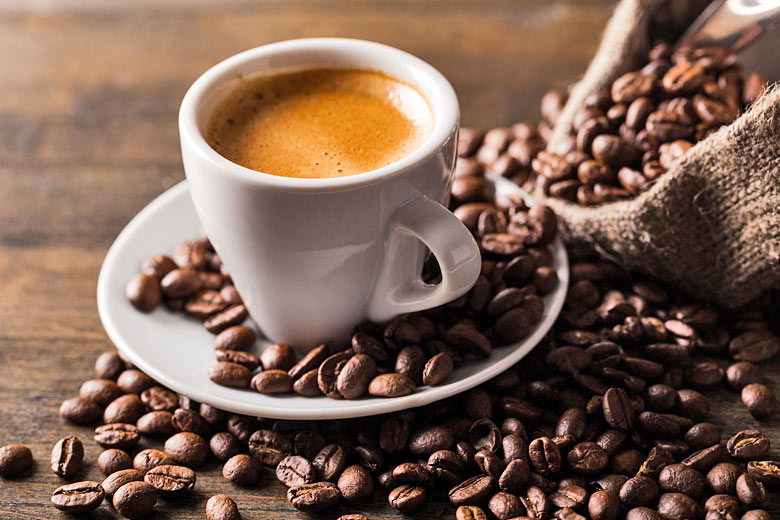 But it doesn't just have to be about your morning caffeine hit, and opening your mind (and mouth) to some of these interesting coffee cultures around the world could see you come home with a new favourite blend.
These are the places you'll find more than just a 'cup of joe' - where coffee is a social tool, a sign of good hospitality or part of an entire ceremony.
Visit world number one: Brazil
The obvious first choice for a coffee-centric holiday is Brazil: the world's largest producer, which accounts for over 30% of all coffee produced globally. Coffee plantations cover more than 2 million hectares of land throughout the country and over 3 million tonnes of the stuff is produced each year.
It's hard to miss the plantations on a tour of Minas Gerais - the province north of São Paolo and the largest coffee region in the world. But a brilliant way to get to know this country's coffee culture and understand its economic importance is at the coffee museum in Campinas, an hour or so northwest of São Paolo.
Set in a small plantation, the museum walks you through the history of coffee production in Brazil and the story behind this farm. You'll come to learn the production process, and walk away with a new-found appreciation for what goes into your cup.
In São Paolo itself, you can take a tour of the city's best coffee shops with an ex-coffee plantation worker.
Stay on a working farm in Colombia
The world's third-largest coffee producer, Colombia, should be on any coffee lover's bucket list. The mild, well-balanced beans produced here grace cups the world over, and the production region is so special that UNESCO declared the 'Coffee Cultural Landscape of Colombia' a World Heritage Site in 2011.
The ultimate experience here is a stay at Hacienda Venecia, a farm just outside Manizales in prime coffee-growing country. You can stay in the main house, a pretty whitewashed building with a red-painted porch, or the Coffee Lodge, which overlooks the farm.
Spend a day touring the plantation and learning about the entire process from bean to cup, then sign up for a barista workshop to brush up on your coffee-making skills.
Visit a community-led farm in Vietnam
Coffee perhaps isn't the drink of choice for many in Vietnam - tea is actually more popular among locals here - but the country is still the second-largest producer of coffee in the world.
The French introduced coffee to Vietnam in the 1920s, and since then the K'ho tribespeople have been growing arabica coffee in the central highlands. Today you can visit the family-run K'ho Coffee to learn more. Opt for the day tour and you'll take a packed lunch and hike all the way into the hills to see where the best beans are grown.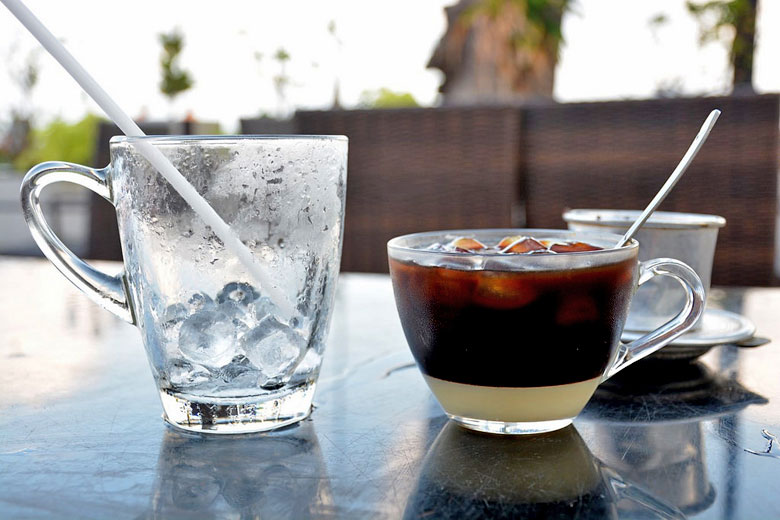 Coffee production has taken its toll on Vietnam's countryside, but K'ho Coffee is trying to minimize impact and ensure profits are passed onto the local growers. Opt for a classic Vietnamese drip coffee served over ice in their café.
While you're in Vietnam, don't miss the variety of unique coffee styles on offer in the major cities, such as a fruity, smoothie-style coffee blended with avocado and banana, or an egg coffee, made with egg yolks and condensed milk.
Fancy trying one of these coffee experiences for yourself? Check out the latest deals on flights and holidays to coffee hotspots around the globe.
Visit a kissaten in Tokyo, Japan
Few travellers come to Japan in search of a solid coffee and instead seek fresh sushi and sake. But a little-known part of this country's culinary history is its relationship with the dark stuff by way of the kissaten.
Kissaten are Japanese tea and coffee shops, traditionally serving hot drinks and sweet snacks, and they were plentiful in the 1960s when hundreds catered to varying niches. There were jazz kissaten, phone call kissaten (where people would literally go to talk on the phone and drink coffee) and even kissaten specifically for business meetings.
Today, they're few and far between. But find one in Tokyo and you'll be rewarded not just with great coffee - serving coffee is an art form here - but also an atmospheric pit stop where locals young and old come to relax, catch up and refuel.
Monozuki, in the Nishi-Ogikubo area of the city, is all dark wooden beams with antique clocks on the walls, and Shibuya's cosy Satei Hatou has its vast collection of beautiful tableware on display behind the counter - don't miss the chiffon cake here.
Experience tradition in Ethiopia
Often lauded as the birthplace of coffee, Ethiopia has had a relationship with the world's favourite drink for hundreds of years. It's where the coffea arabica plant originated, the drink is ingrained in the country's social culture and it's now the seventh-largest coffee-producing nation in the world, making these beans essential for its economy, too.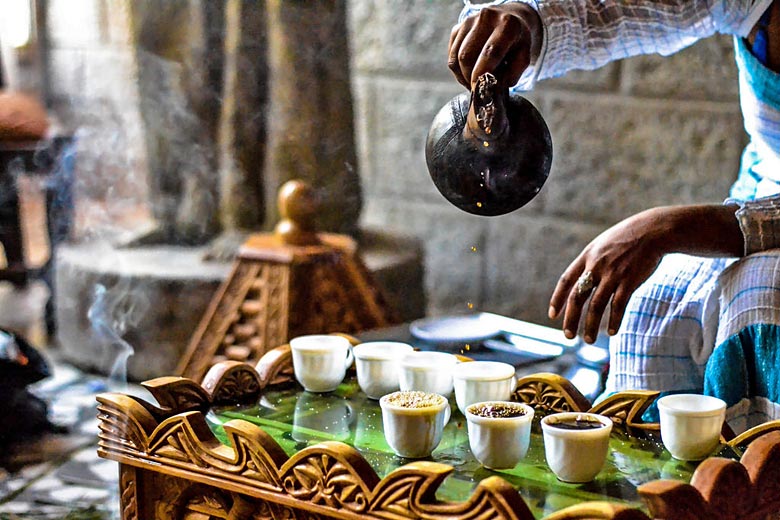 An unmissable experience in this East African nation is the bunna maflat: the coffee ceremony. Usually performed by a woman in a traditional, all-white dress, your host will roast the beans on a pan over hot coals and then grind them in a pestle and mortar. The powder is then boiled with water in a black, long-necked coffee pot (jebena) and poured into small cups from a height.
Many restaurants and bars throughout the country offer coffee ceremonies, but if you fancy a more modern coffee experience, stop for an espresso at Tomoca - the oldest coffeehouse in Addis Ababa - where you can also buy arabica beans and have them ground and sealed to take home.
You can visit a plantation with Coffee Origins Travel, which run trips across the country in search of a strong brew.
Sip espresso in Turin, Italy
No list of coffee-centric destinations would be complete without Italy - most of the coffees we see on menus today are, after all, named in Italian.
It's here that the espresso was invented, so make your coffee pilgrimage to Turin where Angelo Moriondo created the machine that would serve 'instantaneous' coffee using steam and water.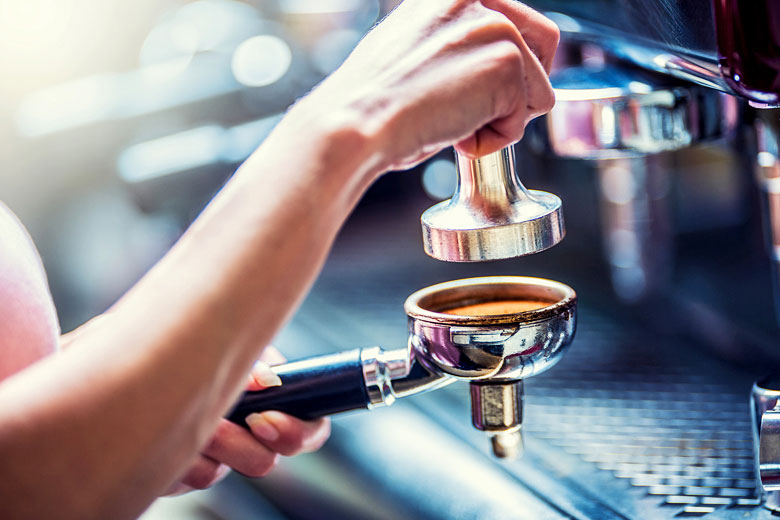 While you won't find the original coffee-making device, you can enjoy a strong espresso in some spectacular cafcafés, including Baratti e Milano, Caffè Torino and Caffè Mulassano.
Don't miss Caffè San Carlo, where a shot of the good stuff will cost you just €1 in a seriously grand setting - think gilded pillars, a marble-fronted bar and an enormous chandelier.
Lavazza is the brand of choice in this city, as the company has its main roasting plant just outside Turin.
Explore holidays in the sun for less
Be inspired
Get your weekly fix of holiday inspiration from some of the world's best travel writers plus save on your next trip with the latest exclusive offers
We promise not to share your details
Related posts