Mesmerising Mauritius: how to make the most of the island's wild side
*affiliate links: find out how we are funded and why this helps us remain free to use.
Mauritius is celebrated for its sugar-white sand shores, the striking Indian Ocean that surrounds it and its mountainous interior of rainforest, tea fields and sugarcane plantations that sway in the breeze.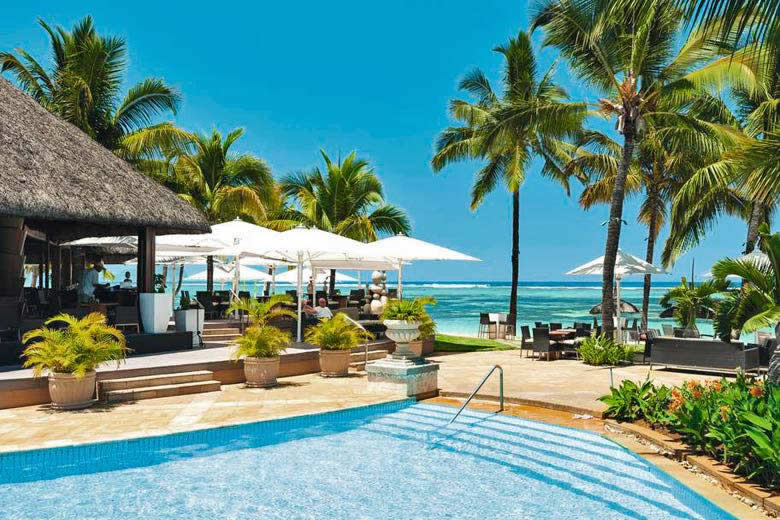 Amidst forested mountains lie tumbling waterfalls, meandering hiking trails and an abundance of indigenous wildlife. Once home to the dodo, it's this pocket of wilderness that Mark Twain once likened to heaven on earth.
This island is easily explored too, with countless ways to revel in the environment from spotting the native birdlife within a national park to hiking to the top of the main summit.
With the wildest pockets of land tucked into southwest Mauritius, we take a look at the most outstanding natural wonders to seek out on this side of the island, and what to do while you're there.
Getting to Mauritius: choose from a number of options on great value luxurious breaks to Mauritius with TUI*.
Hike up Le Morne
The island's horizon is undoubtedly defined by the iconic peak Le Morne Brabant, which rises up to 556 m from the peaceful southwest coast.
Situated within a vast swathe of private land, this mountain has long benefited from careful preservation and, in 2008, it was designated as a UNESCO World Heritage Cultural Landscape for its history of Maroons.
Throughout the 18th century and into the early 1900s, runaway slaves escaped to this peak and its isolated caves to form settlements with the safety afforded by the location. Due to this history, Le Morne is considered a symbol of the slaves' fight for freedom.
A wealth of wildlife and flourishing vegetation thrives on these protected slopes, making hiking here especially fulfilling. A three to four-hour guided trek to the top is rewarded with breathtaking views of the island and out across the sparkling Indian Ocean.
Venture into the largest national park
Spread across a vast 6,754 hectares, Black River Gorges is the island's biggest national park with a deep gorge carving a path through forested mountains where waterfalls cascade from great heights.
This wilderness is home to a diversity of wildlife species, including a thriving population of giant fruit bats as well as endemic plants that are in bloom from September to May.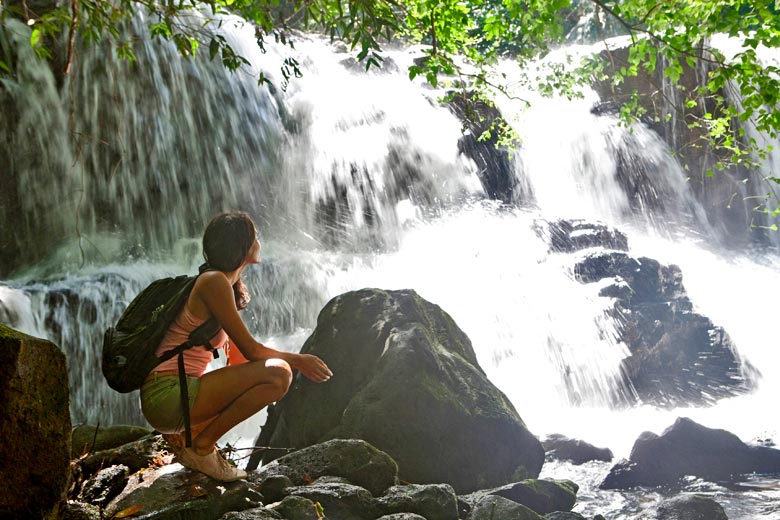 Wild boar, macaque monkeys and deer are at home within the forest too, having been introduced to the reserve.
All of this wildlife can be seen on guided hikes leading visitors along sections of the 50-km trail through the forest with viewpoints taking in the spectacular gorge and surrounding mountains along the way.
Swim at Tamarind Falls
Pouring down from a height of 300 metres, Tamarind Falls is the highest waterfall in Mauritius and as spectacular as you'd imagine.
These seven cascades can be reached by following hiking trails through the forest with a guide with the chance to swim in the pools at the base of the falls when you arrive. Local guides lead both full-day and half-day hikes.
Fly over the underwater waterfall
One of the island's most unique natural wonders actually lies off of its coast and is a sight that can only be appreciated fully from the air.
As sand and silt are pulled down a steep drop-off in the ocean by the current, an illusion of a giant underwater waterfall is created; one that many people believe to be real until they discover the geological truth.
Scenic helicopter flights take passengers over the underwater waterfall, as well as passing over the summit of Le Morne and the captivating landscape of rainforest, waterfalls and sugar plantations that unravels before you.
Be dazzled by the dunes
Another of the island's unique geological feats that garners international attention is the coloured earth of Chamarel, a formation of sand dunes in seven distinct colours: purple, violet, green, blue, yellow, red and brown.
These colours appear in layers and are attributed to molten volcanic rock cooling at different temperatures with the hillside's undulating surface created by weather erosion.
As one of Mauritius's most visited sites, it's well set up for the purpose and incorporated into most tours encompassing the southwest of the island.
Visit the botanic garden
Towards the north of Mauritius you'll find the Sir Seewoosagur National Botanical Garden. This exceptionally diverse creation is widely considered to be among the world's best gardens of its kind not to mention the oldest in the southern hemisphere, having been established by the French Governor around 300 years ago.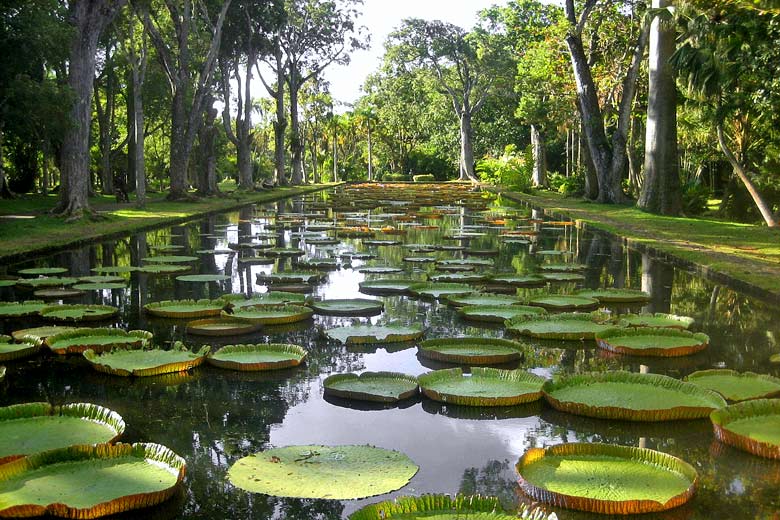 The vast expanse of land the garden is sprawled across encompasses an astounding array of plant life including baobab trees and an abundance of spices.
But the focus undoubtedly falls on the garden's giant water lilies, along with its collection of around 85 varieties of palm trees. For the most fulfilling experience, the gardens are best explored with a knowledgeable local guide.
Weather in Mauritius
| | Jan | Feb | Mar | Apr | May | Jun | Jul | Aug | Sep | Oct | Nov | Dec |
| --- | --- | --- | --- | --- | --- | --- | --- | --- | --- | --- | --- | --- |
| Maximum daytime temperature °C | | | | | | | | | 26 | | | |
| Hours of sunshine (daily) | | | | | | | | | | | | |
| Days with some rainfall | | | | 16 | 14 | 13 | 15 | 15 | 12 | 13 | 12 | 16 |
| Sea temperature °C | | | | | 26 | | 24 | 23 | 23 | 24 | | |
The above guide shows the weather in Mauritius. With a tropical climate, Mauritius is enjoyable almost all year round although some months are better than others for perfect holiday conditions, whether you're hiking or beaching.
Ready to discover Mauritius? Check out the latest deals with TUI.
More about Mauritius
Mauritius by month
Jan Feb Mar Apr May Jun Jul Aug Sep Oct Nov Dec
Explore holidays in the sun for less
Be inspired
Get your weekly fix of holiday inspiration from some of the world's best travel writers plus save on your next trip with the latest exclusive offers
We promise not to share your details
Related posts