7 brilliant experiences unique to Lanzarote
Check the latest travel advice and current Covid-19 rules and restrictions by country.
There is something about Lanzarote. Well, there must be. As a travel writer, I choose to keep heading back out to this beguiling Macaronesian outpost.
It's a spectacular island that ticks all the boxes for a year-round fly and flop holiday - I've enjoyed those here with and without my kids, but there is so much more to this island and its surroundings.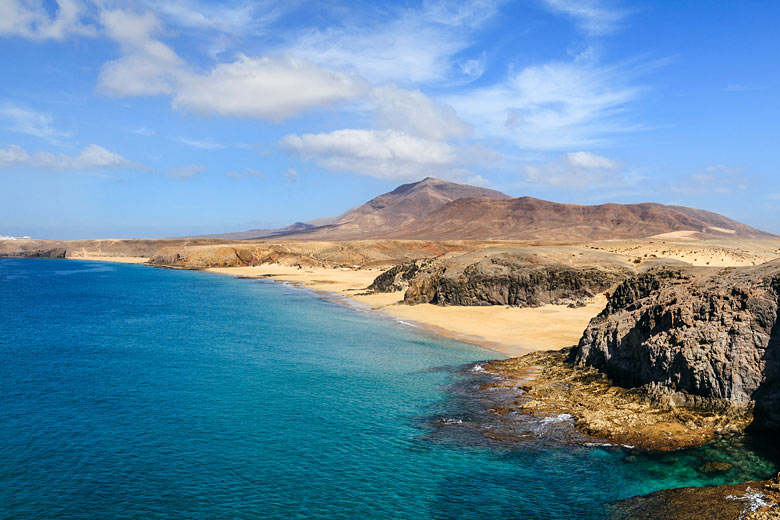 Lanzarote is genuinely unique. Join me now as we break away from those lovely beaches and discover seven experiences you can only savour on Lanzarote and the glorious isles that sparkle just offshore.
Getting to Lanzarote: don't miss the latest offers on holidays to Lanzarote with TUI*, which departs from airports across the UK.
Join Robinson Crusoe where the tarmac ends
There are no tarmac roads to the wildly beautiful beaches of Papagayo. You can hike out from the increasingly slick resort of Playa Blanca in the south, but I prefer to make someone else make the effort sailing out of Puerto Calero with the crew aboard the Catlanza.
These guys have yonks of experience in giving you a brilliant half day. Think a perfectly paced soundtrack that soothes you down to Papagayo, along with local goat's cheese and a yoga session on the catamaran's nets.
Then there is a delicious vegetarian lunch followed by proper time swimming in the aquarium-clear waters. There are kayaks and SUP boards to take out, or you can just sit and enjoy drinks from the free bar.
As well as welcoming families they do adult-only sailings. You might want to hike back to Papagayo on another day so use this cruise to pick out the perfect beach to head back to as you sail by them all.
Enjoy intimate wine experiences
You can get corralled through mass wine tours all over the world, but they prefer the personal touch here in Lanzarote. Wine Tours Lanzarote takes a maximum of eight guests on very special tours that open up small family-run producers like the artisan winery La Bodeguita del Tablero.
I also love that they don't miss the best of the big guys too; my most recent tour also took in the oldest winery, El Grifo, and Stratvs, which re-opened in 2021 after years of legal wrangles.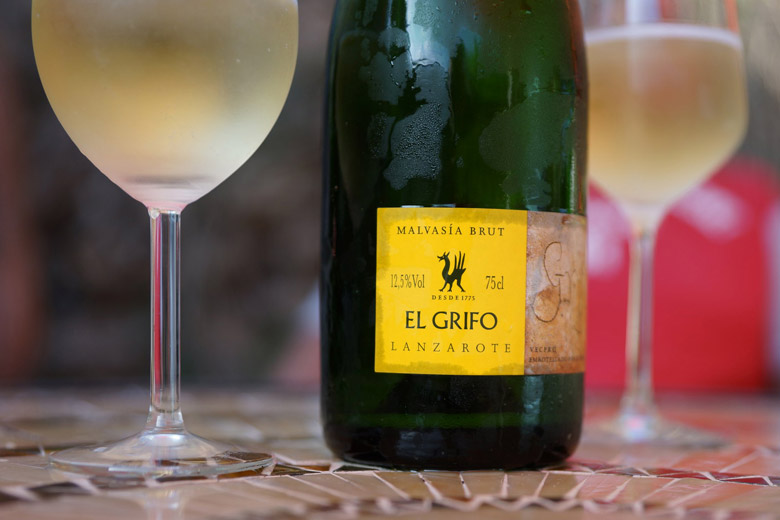 The latter is a must to head back to for dinner, a tour inside and also the shop stuffed with its produce, including salmon the team smoke themselves.
As well as the classic bone-dry Malvasia, look out for local grape Listan Negro, which a number of vineyards are now spicing with Shiraz (Bermejo's tinto is amazing), superb sweet Muscatel from Rubicon and a startlingly good Malvasia champagne-method from El Grifo.
Visit Caleta de Sebo
Ok, this little charmer isn't actually on the island of Lanzarote; it is, in fact, the only year-round settlement on the forgotten eighth Canary Isle of La Graciosa. You can take posh catamaran guided tours to the island from Lanzarote, but I prefer just hopping over on the local ferry from Orzola.
There are no tarmac roads, no hotels as such and just one church in a village with just over 700 residents. Just stroll the sandy 'streets' popping into the wee cafés and snatching glimpses of a life so very different to most of ours in the 21st century.
The world's smallest museum adds even more colour. A lovely sandy beach tempts just on the southern fringes of Caleta del Sebo. If you want to explore more there are a sprinkling of bike hire outlets, so head out across the sands, being careful to stick to the newly proscribed routes to protect the fragile environment.
Go hiking among the volcanoes
Most visitors' experience of visiting the famous Timanfaya National Park is a quick swirl around the visitor centre and a bus ride around its sinewy tracks. To get really stuck into Lanzarote's breath-taking volcanic scenery head out with Blackstone Treks & Tours.
They only ever take small groups and head man, José, really knows his stuff on those volcanoes, as well as the unique local flora and fauna. Yes, he will take you on the narrow coastal strip that you're allowed to tackle actually in the National Park, but he'd much prefer to help you explore the less known and much more spectacular corners of Lanzarote.
Discover the Isle of Wolves
Sounds scary, but they 'were' actually only monk seals. The seals may be no longer on Isla de Lobos, but you can easily head out here from Lanzarote's south.
It's actually part of Fuerteventura and closer to Corralejo, hence why visitors to Lanzarote presume it's not a day trip option for them. It very much is, especially if you're based in Playa Blanca, though it's easy to get here from Puerto del Carmen and Costa Teguise too.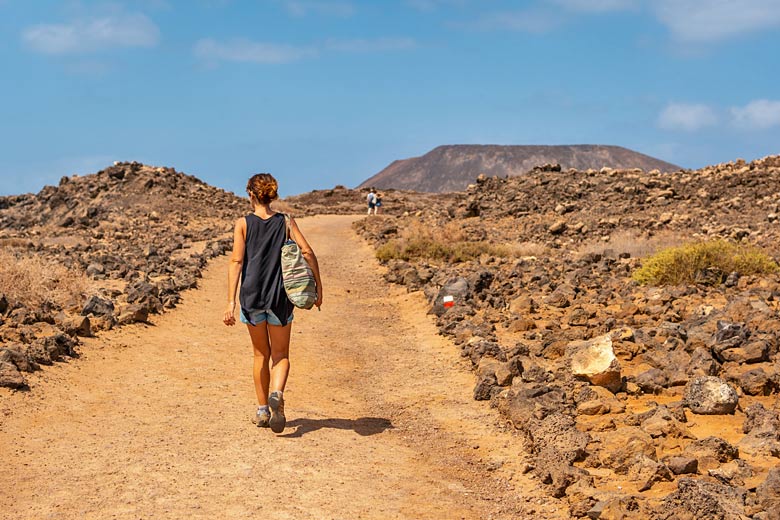 This uninhabited islet has some secluded beaches with wee lava shelters to sunbathe in. I'd recommend heading off to explore the old lighthouse and also hiking up to the highest point, the volcano of Montaña La Caldera. It's only 127m high, but there is a great view that will have you very excited about the rest of your time on Lanzarote!
Marvel at Manrique
I've written about the better-known joys of legendary Canarian architect César Manrique, the man who single-handedly stopped ugly high rise hotels on Lanzarote and graced the isle with his modernist architecture, here before.
These include the Jardin Cactus, Mirador del Rio, Jameos del Agua and his Volcano House. But his graceful hand is everywhere so break away from the crowds and the obvious - think outside the box.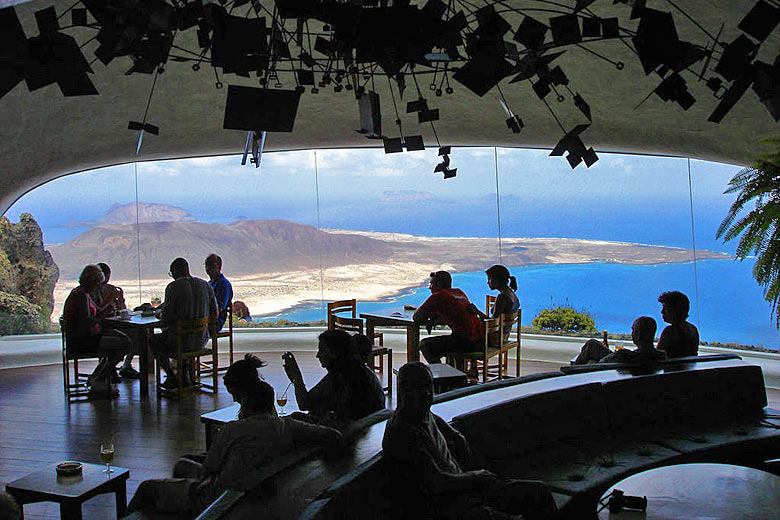 The logo on El Grifo wines look familiar? Yup, that's Manrique. How about the weird sculpture at the roundabout at the Casa-Museo del Campesino? Yes again, it's Manrique's Monumento al Campesino, crafted in 1968. Manrique even designed a whole luxury hotel, the spectacular Meliá Salinas*.
Or how about dining with Manrique? At Arrecife's MUAC you can. He brilliantly redesigned the Castillo de San José into a glorious cultural centre that now has a restaurant with an Atlantic view.
In his 'Nature Art', the natural and the human worlds are always in harmony. Manrique dabbled with projects on some of the other Canary Isles, but his work on Lanzarote is everywhere!
Escape to Chinijo National Park
How many people holidaying on Lanzarote have a clue that they are right next to Europe's largest marine reserve? The Chinijo Archipelago comprises the island of La Graciosa, and the uninhabited isles of Alegranza, Montaña Clara, Roque del Este and Roque del Oeste.
It's a Special Protection Area for birdlife, with large numbers of white-faced petrels, Scopoli's shearwater, western ospreys and Eleonora's falcon. In the water, divers can spot grouper, spiny lobsters and limpets, alongside myriad colourful fish. To get an overview of the whole archipelago, you can take a day boat trip from Lanzarote.
Weather in Lanzarote
| | Jan | Feb | Mar | Apr | May | Jun | Jul | Aug | Sep | Oct | Nov | Dec |
| --- | --- | --- | --- | --- | --- | --- | --- | --- | --- | --- | --- | --- |
| Maximum daytime temperature °C | | | | | | 25 | 27 | 28 | 28 | 25 | | |
| Hours of sunshine (daily) | | | | 8 | | | | | | | | 6 |
| Days with some rainfall | 4 | | | 2 | 1 | | | | 1 | 2 | | 4 |
| Sea temperature °C | 19 | | | | 19 | | | | | | | |
Ready to discover Lanzarote? See the latest deals and sale offers on holidays with TUI.
More about Lanzarote
Jan Feb Mar Apr May Jun Jul Aug Sep Oct Nov Dec
Be inspired
Get your weekly fix of holiday inspiration from some of the world's best travel writers plus save on your next trip with the latest exclusive offers
We promise not to share your details
Related posts
*affiliate links: find out how we are funded and why this helps us remain free to use.