7 reasons Lanzarote is the coolest island in the Canaries
Please note: travel restrictions remain in place owing to the coronavirus pandemic. Be sure to check the latest travel advice and explore current covid rules and regulations by country.
If you've never been to the fabled Canary Islands* you might imagine that they are just about great beaches, big resorts, and sun, sun, sun. If that's all you want, you will find it in abundance on the seven glorious islands that make up this oasis, which lies just off the coast of Africa, but there is so much more to this archipelago. Whisper it, but these days the Canaries are cool too...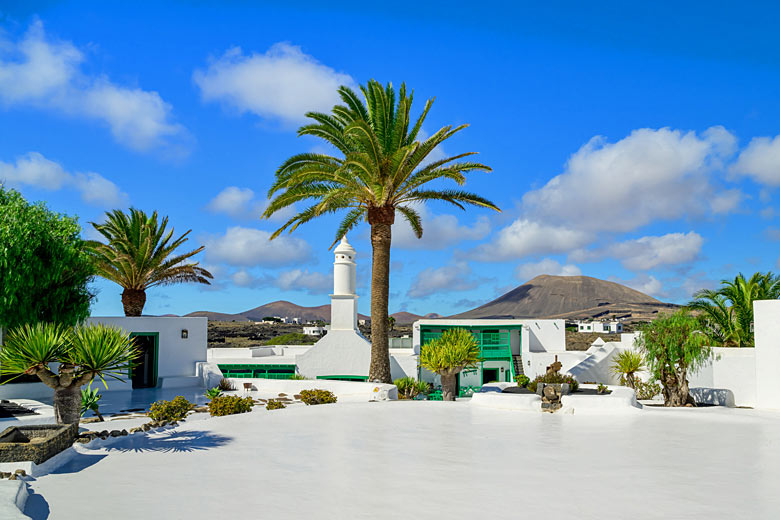 The fourth largest Canary Island, Lanzarote is a firm favourite with holidaymakers who rely on its year round sunshine, good value and accessibility. For an all inclusive base from which you can scope out the island's super cool attractions, check out the latest deals to Lanzarote with First Choice*, which promises holidays for all party sizes and budgets.
And now I'd like to share my reasons Lanzarote* is the coolest of the Canaries with you. Don't worry, we're not just talking trendy fashion cool. We're talking world class wines, chic architecture, and funky places to eat, plus a wee offshore island without tarmac roads that is a real life Treasure Island.
1. Cesar Manrique's glorious pad
Cesar Manrique is the mercurial architect and designer who pretty much forged the way that much of the built environment on Lanzarote looks today. His unique architectural style is on show all over the isle (he had a major hand in stopping high rise hotels being built too), nowhere more so than at the Volcano House he fashioned for himself.
He lived here from 1968 right through to 1988. It is right in the heart of the island's volcanoes, a 3,000 sq m oasis that is brilliantly blended into the landscape.
Many of his trademark flourishes are here, from the whitewashed walls and massive floor to ceiling windows, through to the subtle and creative use of lighting, both natural and artificial.
The lower floor swings around five 'bubbles' connected by tunnels through the lava. You can see the studio where this luminary once worked and the pool he dipped in too.
2. Cesar Manrique's magical creations
It was not just fantastic buildings that Manrique forged. He was a visionary who constantly interwove the natural world and the manmade. You can find his creative genius outdoors too at the mirador viewpoints he fashioned. My favourite is, Mirador del Rio.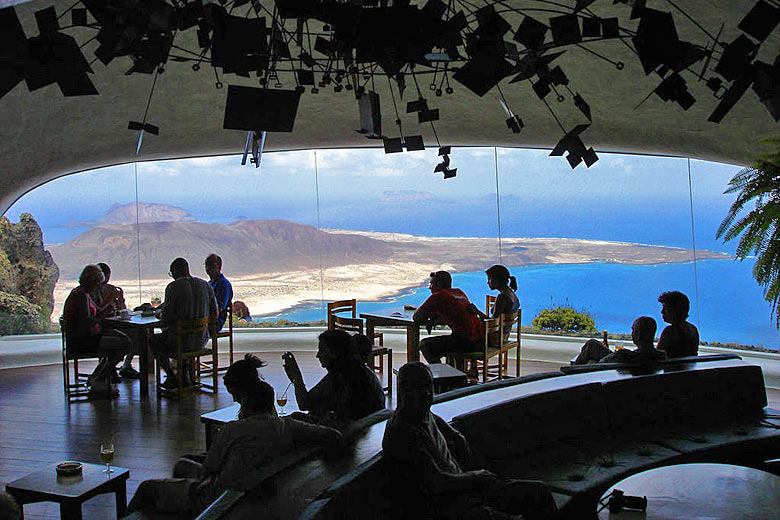 Perched at an altitude of 400m it gazes out over the El Rio channel to the isle of La Graciosa and the Chinijo Islands National Park. Enjoy a coffee or local wine with a view.
Don't miss the Jardin Cactus either. Even if you're not normally a fan of touring gardens as such this is a seriously cool retreat. His final work brought cacti from all over the world to Lanzarote - there are now thousands of cacti flourishing here, hundreds of species. The old windmills above seamlessly weave together the manmade and the natural.
3. World class wine
It's not that Lanzarote produces world-class wine - and it most certainly does with its crisp volcanic Malvasia white in particular winning numerous awards in recent years - but it's the style with which it creates it.
This makes wine touring a pleasure in the compact winelands. Look out for the wee craters that some winemakers still use to grow individual vines in to protect them from the wind and capture moisture. Many wineries are open to visitors and are works of art in themselves, built into the landscape that conjured up the divine wines.
I recommend touring a few - Bodegas Vega de Yuco, Bermejo and El Grifo are all excellent - with tastings available.
Try the rich reds and delicious rosés too, as Lanzarote wines really are top notch these days. Take a funky bottle (the slim neck, tall blue Yaiza ones are beautiful) to a friend's house when you get back for serious cool cachet.
4. Cultural cool
The Jameos del Agua are gloriously unique to Lanzarote. This snaking network of natural underground tunnels were converted by Manrique, who created a space ideal for culture in its myriad forms. Think James Bond crossed with Jurassic Park.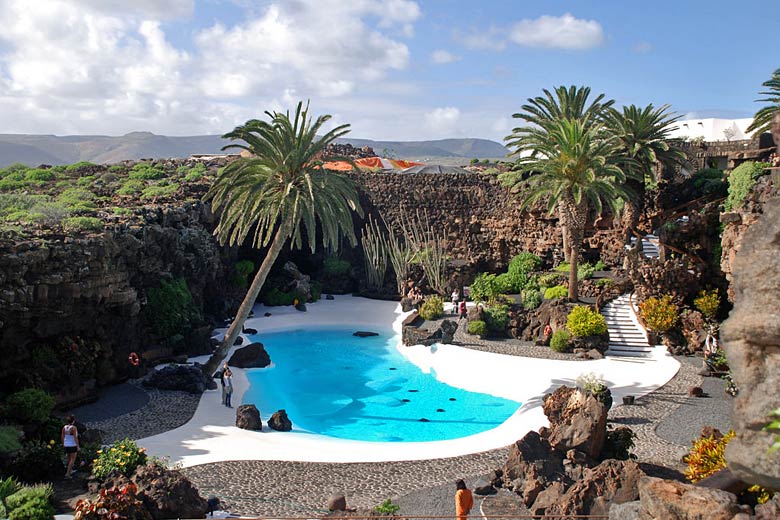 The pool here is also home to a rare species of blind crab. You can enjoy dinner in their cave restaurant, a snack bar with an ocean view or a drink in a bar that overlooks those crabs.
5. Chic capital
The cruise ships have started to discover the island capital of Arrecife, and it's no wonder they come as this laidback coastal charmer offers a soporific slice of Canary Island living.
There are wee independent shops to delve into and similarly indie cafés, plus a picturesque lagoon, the Charco de San Gines.
The coolest building in town is the rugged Castillo de San Jose Manrique, an old fortress with an interior that was refashioned by the Fundación Cesar Manrique to house a modern art gallery and a swish waterfront restaurant.
6. Underwater cool
How about a museum that lies underwater, one that you're going to get seriously wet walking around? I'm serious here! That's exactly what you will find at Lanzarote's Museo Atlantico, which lies 12m below the ocean and is only accessible to scuba divers and snorkellers.
No mere gimmick, the striking sculptures created by Jason deCaires Taylor that lie on the floor of the Atlantic take on a collage of contemporary themes, from refugee issues through to selfie culture. They have been designed to attract aquatic life and are set to become a living reef in their own right.
7. La Graciosa
We've all dreamed of that Treasure Island with endless sands and no roads. Well the good news is that you've just found it - how cool is that? La Graciosa may just lie a few miles offshore from Lanzarote, but it may as well be an ocean away.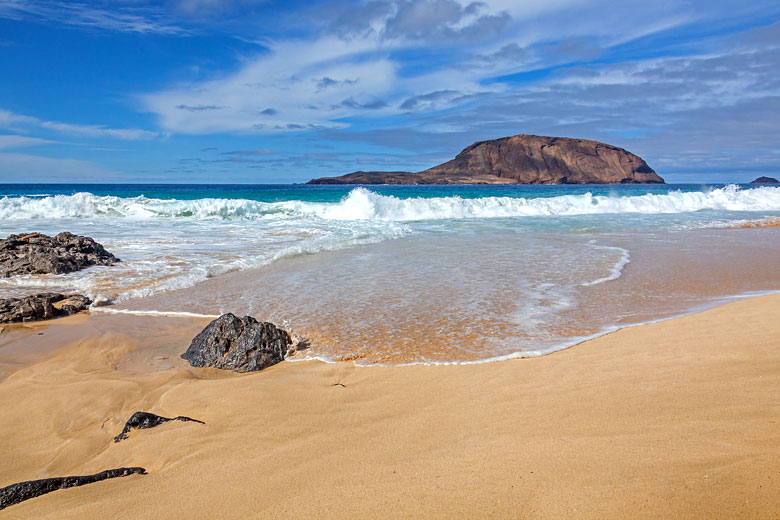 There are no roads as such and few people, the residents use four wheel drive vehicles and bikes to get around. The local fisherman do get out in their boats so you can enjoy a seafood feast before heading off hiking or cycling. After you venture away from the ferry dock you probably won't see another soul, cool or otherwise.
Much like the other Canary islands, Lanzarote is really very easy to get to, and there are loads of options when it comes to deciding how to holiday on the island. A great way to ensure you have a well-catered base is to book an all inclusive break with the likes of First Choice, and then experience the various attractions as and when you want to leave your lounger. First Choice departs for Lanzarote from airports across the UK, from Belfast to the East Midlands, Liverpool to Cardiff.
You can also find out more about the weather in Lanzarote and see when we think is the best time to go for wonderful weather to explore the island's coolest charms.
More about Lanzarote
Jan Feb Mar Apr May Jun Jul Aug Sep Oct Nov Dec
Be inspired
Get your weekly fix of holiday inspiration from some of the world's best travel writers plus save on your next trip with the latest exclusive offers
We promise not to share your details
Related posts
*affiliate links: find out how we are funded and why this helps us remain free to use.