Dubai excursions: Explore the Emirates and Oman
*affiliate links: find out how we are funded and why this helps us remain free to use.
Of the seven emirates that make up the UAE, Dubai is by far the most celebrated, well known for its glitzy shopping, skyscrapers and big city buzz.
The city is also a fantastic base from which to take Dubai excursions exploring the surrounding region, including other emirates and over the the border to the Sultanate of Oman, without requiring an overnight stay.
Dubai excursions: tips and practicalities
Buses run regularly from Dubai to neighbouring emirates, especially nearby Abu Dhabi, and there's no shortage of tour companies offering excursions from Dubai.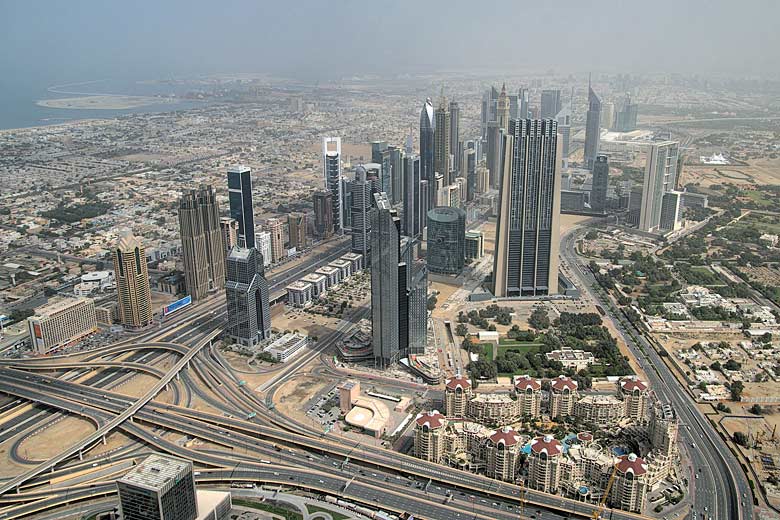 If you're travelling in a group or as a family it makes sense to hire a taxi for the journey meaning you can stick to your own timetable and choose exactly where you want to go.
Alternatively you can opt to hire your own car for your Dubai excursions: distances are relatively short here, fuel is cheap, and the highways are in excellent condition.
Abscond to Abu Dhabi
The capital city and largest emirate (occupying 85% of the land), Abu Dhabi is directly south of Dubai, making it easy to access for an excursion. There's a mix of traditional and modern on offer here, including these two very different options:
Scope out the Sheikh Zayed Mosque
Taking an excursion from Dubai to the UAE's largest and most impressive mosque, designed to accommodate a staggering 40,000 people, will give you a great taste of local culture to contrast with the hedonism on offer elsewhere in the emirates.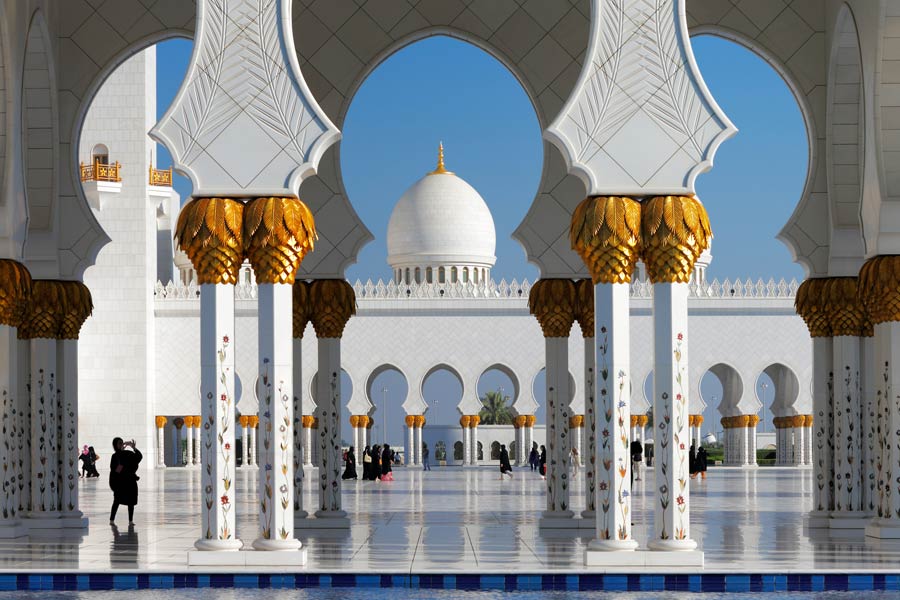 Though a place of worship, the Sheikh Zayed Mosque (or Grand Mosque as it's also know) is about as flashy as it gets - even compared to downtown Dubai; marvel at the seven Swarovski crystal chandeliers - the heaviest of which weighs in at nine tonnes - and take in the beauty of the world's largest marble mosaic and biggest hand-knotted carpet woven by 1,300 artisans.
Travel time from Dubai: around one and half hours
Cost: admission is free
Opening hours: open daily from 9am - 8pm (except Friday mornings when it is for worshippers only). During Ramadan the Mosque closes to the public at noon. Tours daily at 10am, 11am and 5pm, Fridays at 5pm and 7:30pm and Saturdays at 10am, 11am, 2pm, 5pm and 7:30pm.
Drive yourself wild at Yas Marina Circuit
A must for Formula 1 fans, Abu Dhabi's Grand Prix Circuit at Yas Marina, which plays host to the annual F1 racing event each November, makes a great day trip from Dubai all year round. Try your hand at some unforgettable driving experiences, such as getting behind the wheel of Aston Martin GT4 or giving drag racing a go.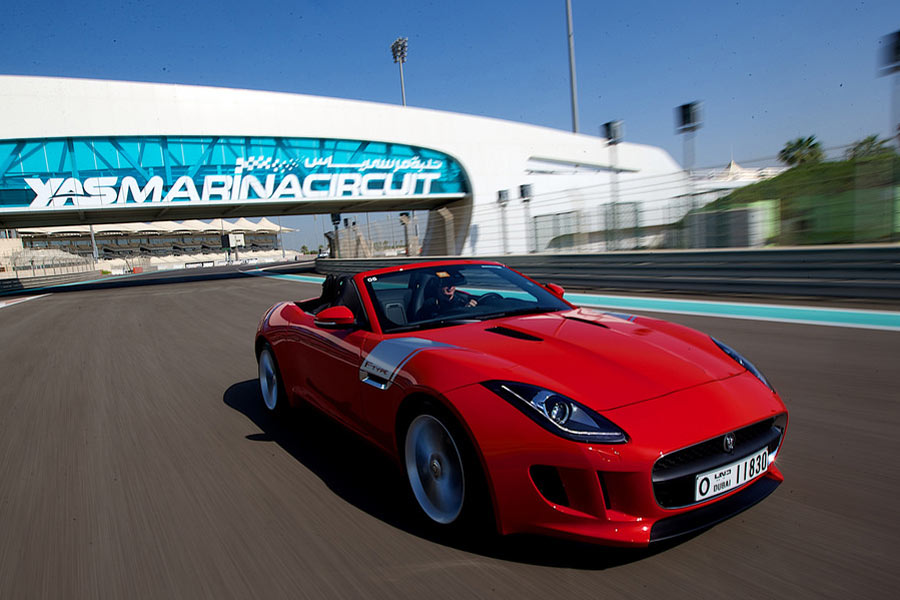 You can take a tour of the track daily (carried out by bus to save you from the high temperatures), and on Tuesday and Wednesday evenings the facility is open to visitors who fancy running or biking on the famous tarmac.
Travel time from Dubai: around one hour
Cost: tours start from 120 AED, drag racing from 100 AED, and driving experiences from 1,500 AED
Opening hours: 9am until midnight
Get haggling at Fujairah's Friday Market
Dubai is synonymous with shopping, but if you want a change from the air-conditioned shopping malls and well-known shopping spots of downtown Dubai, head out to the bargainous bazaar that is neighbouring Emirate Fujairah's traditional Friday Market.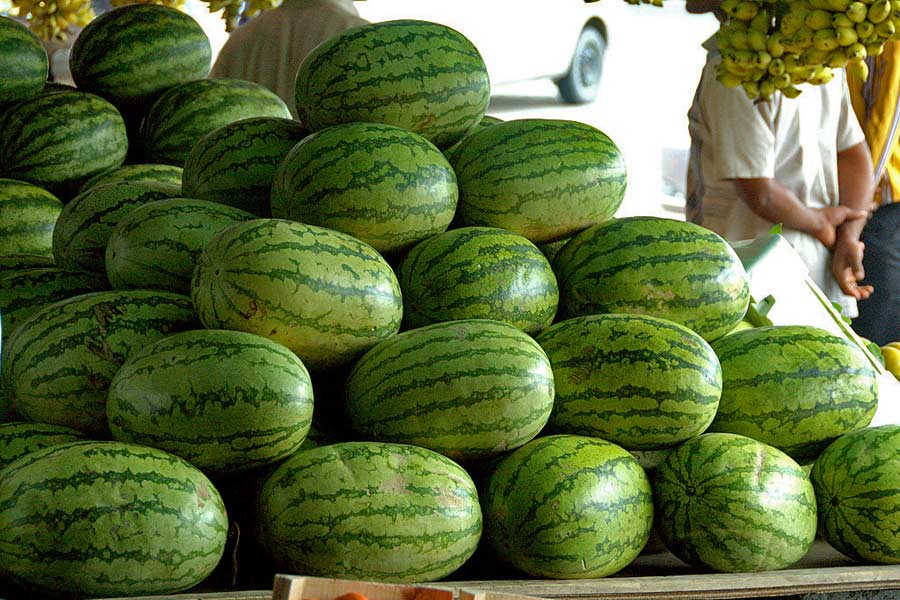 The Friday Market, also known as Souq al Juma or Masafi Market, is, despite its name, actually open every day of the week and the perfect place to pick up souvenirs on a Dubai day trip.
Here you'll find crafts from the region such as carpets, pottery and antiques set against a mountain backdrop which is sure to delight photographers.
If you're planning on staying in Fujairah for the entire day, the kids will get a kick out of a visit to Snoopy Rock, a popular off-shore snorkelling spot whose island silhouette resembles the famous Peanuts' character.
Travel time from Dubai: Around 45 minutes
Opening hours: 8am until 10pm daily
All aboard in Al Ain: white water rafting at Wadi Adventure
Given the UAE's dispensation to fashion fun of every kind in the middle of the desert, it's fitting that lesser-known emirate Al Ain's Wadi Adventure is the first facility of its kind in the entire Middle East.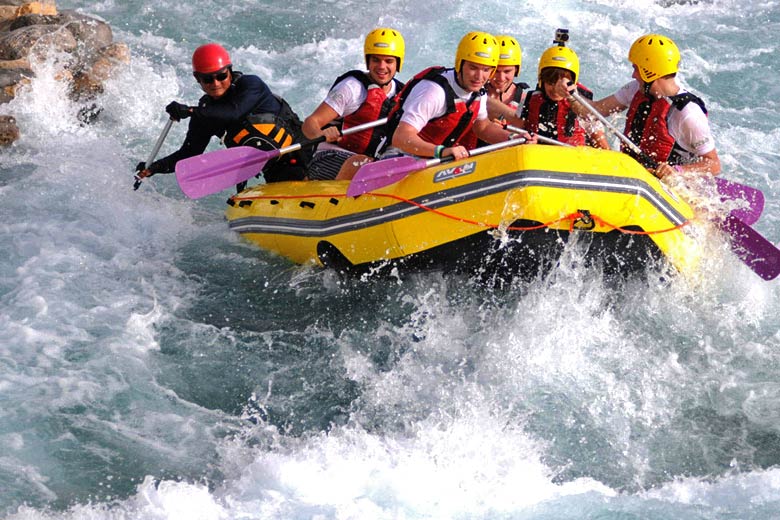 Here you can kayak, surf and white water raft as well as play on zip lines and rope swings, making it a great adrenaline-filled family day out.
Travel time from Dubai: two hours
Cost: park entrance is free for infants, 25 AED for children and 50 AED for adults, while a family pass is 100 AED; activities start from 25 AED with rafting priced at 100 AED, and kayaking and surfing lessons starting at 150 AED
Opening hours: The park is open from 11am until 8pm daily, apart from Fridays and Saturdays when it opens at 10am
Make it to Oman
If you're looking for excursions in Dubai and are willing to venture further than the UAE for the day, a picturesque option is a trip into the Sultanate of Oman's scenic Musandam Peninsula. Situated southeast of the UAE on the Arabian Sea, a trip to Musandam is one of the most popular Dubai excursions.
The coastal drive from Dubai is stunning in itself and on arrival you board a dhow alongside local fishermen, snorkel with dolphins and take in the fjord-like scenery of the canyons and cliffs of the Western Hajar Mountains, giving it the nickname 'The Norway of Arabia'.
Travel time from Dubai: around two and a half hours
Cost: like most excursions in Dubai the cost varies depending on what's included - everything from fishing, lunch and boat rides are available, but budget a minimum of 450 AED per person
As blissful as it is to lie by the pool or hit the beach, it can become a little tedious, especially if you're interested in exploring your destination.
Hopefully this mini guide to Dubai excursions has given you a flavour of what's out there so you never tire of your hard earned holiday in the UAE's sun.
If you're looking for more things to do in Dubai, check out the latest deals from the likes of Isango*, Viator*, and Get Your Guide*.
More about the Dubai
Dubai by month
Jan Feb Mar Apr May Jun Jul Aug Sep Oct Nov Dec
Explore holidays in the sun for less
Be inspired
Get your weekly fix of holiday inspiration from some of the world's best travel writers plus save on your next trip with the latest exclusive offers
We promise not to share your details
Related posts