8 brilliant beaches on Fuerteventura
*affiliate links: find out how we are funded and why this helps us remain free to use.
It can be tricky with eight Canary Islands* to choose from, but if it's beaches you're after there really is no contest. It has to be Fuerteventura*, which boasts not just the best beaches in the Canaries, but some of the finest stretches of sand you'll find anywhere in the world.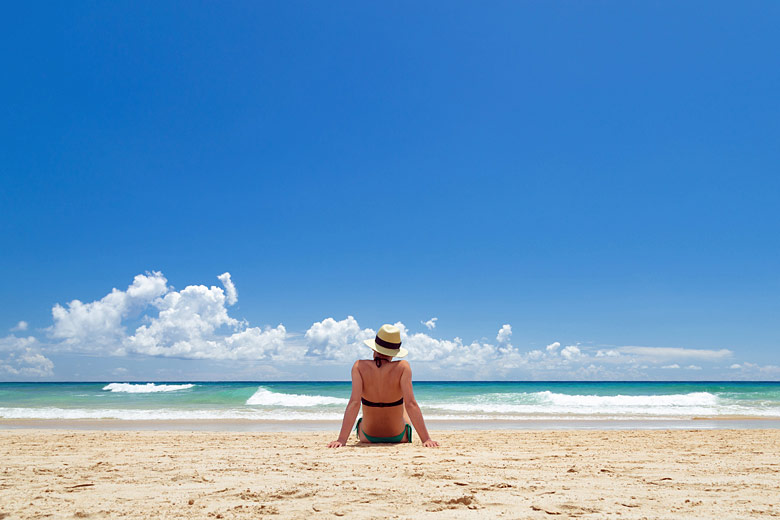 We're talking everything from resort strips with all the frills, through to protected nature reserves blessed with starched white sandy beaches and on to wild and wildly beautiful remote spots where no cars go.
Getting to Fuerteventura: don't miss the latest offes on holidays from TUI*.
Playa de la Concha
There are dozens of beaches in and around the old fishing village (now turning into a resort) of El Cotillo out west. This EU Blue Flag gem is the most famous with good reason.
Forget sun loungers and cocktail bars though; you are here for waters so clear you won't need a mask for snorkelling and sands that are dazzlingly white. The waters are also quite sheltered by the striking volcanic rocks.
It's no wonder this bijou beauty pops up on lists of Europe's best beaches. The superb seafood restaurants of El Cotillo await within strolling distance after a dip.
Parque Natural de Corralejo
The locals just called this oasis 'Las Dunas'. That's an apposite nickname for a remarkable swathe of brilliant white sand dunes that undulate for mile after mile and lead down to the aquarium-clear waters.
I recommend parking/starting in Corralejo and catching the bus or taxi out to Playa Alzada. Then you can hike the five miles back or so along the beaches, stopping off at the isolated informal shacks in the dunes for a beer or bite of seafood, and choosing the best spots for a dip. Beware, in some sections, clothes are a rarity.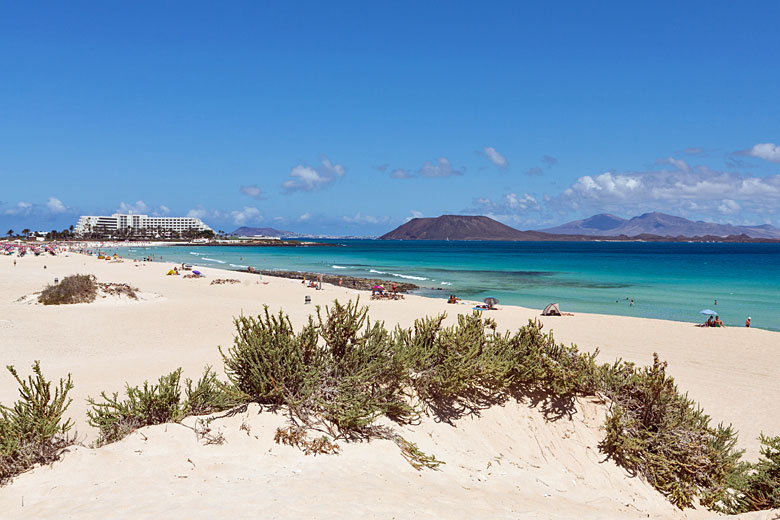 Eventually you'll reach the RIU hotels and then it's on through the kiteboarders to Corralejo. If you just want to drive out to chill there is parking at Playa Alzada and Playa del Moro.
Pozo Negro
If you like your sand black and your beaches dramatically set beneath rugged hills, this is the spot. You will feel like you are on the road to nowhere and you sort of are driving or cycling out here.
But you'll wish you'd discovered the joys of nowhere sooner when you spot this lovely wee fishing village and its seafood restaurants serving boat-fresh fish and shellfish.
It's quite the scene, the gaggle of gleaming white houses fronted by those black sands and topped with colourfully painted fishing boats. If you're a painter, bring your brush. Alternatively, just idle here a while and draw this beach on your own mental canvas.
Playa de la Mujer
The tarmac runs out before you get to the promised land of this western Fuerteventura beach. The effort is worth it bashing along the dirt tracks, though think twice before risking it with a hire car.
The reward is an otherworldly wonder, a strip of golden sand set amongst the rocks, one of which lends the beach its name, resembling the figure of a woman. The surf is often up here, so you'll find more surfers than paddling toddlers. It's a life-affirming spot to simply hang out - just ask the chilled souls who gravitate here to meditate or practice yoga.
Playa de la Barca
Part of the southern strip of Sotavento beaches that stretch on for an improbable 17 miles. This coast is famous for surfing, windsurfing and kiteboarding, but head here at high tide if you're looking for the chance to swim as the ocean handily forms a lagoon.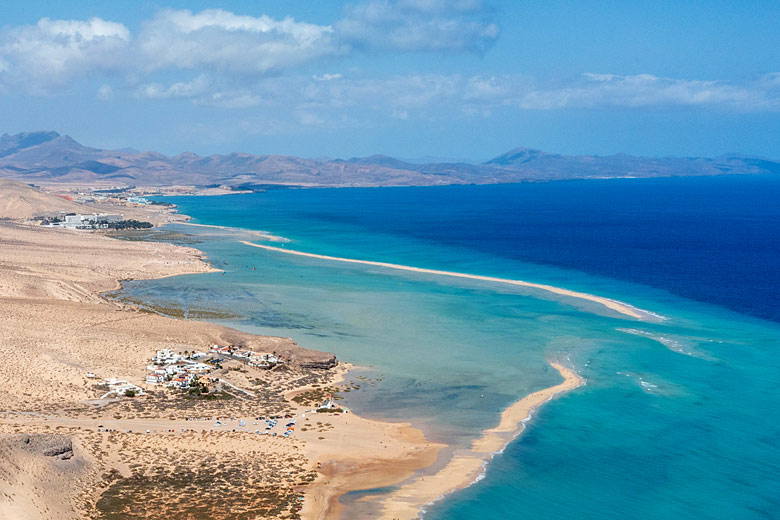 Watch out, though, as the tides move fast. Facilities are at a minimum here despite the popular beach, so you might want to bring a picnic. I suggest some crusty bread, tomatoes and Fuerteventura's absolutely delicious majorero goat's cheese.
Playa de Cofete
It's quite an adventure to eke all way out west here to the tiny settlement of Cofete on Fuerteventura's southern reaches. It's more about watersports and sunbathing as the surf tends to rage.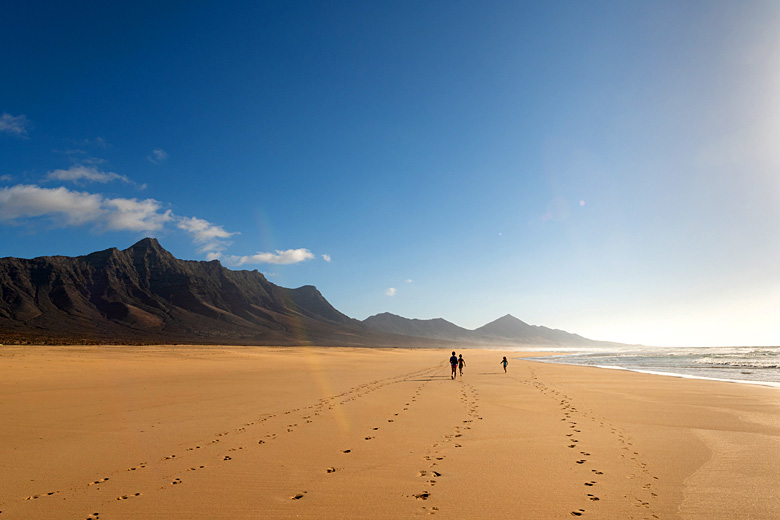 In a very dramatic way, that, paired with the turquoise waters, big skies and mountain backdrop lends Cofete a cinematic quality as it surges along for eight miles. Turtles do come ashore to nest.
Don't just coo and snap a shot for Instagram if you see one though, let someone local know as sightings are meant to be reported so they can keep an eye on their welfare. One rather ghoulish 'attraction' is the old cemetery that lies half-buried in the shifting sands.
Corralejo
Ok, I'm cheating slightly here, but that's because I'm a huge fan of the resort of Corralejo; in fact, it's my favourite resort in the Canaries. This chilled northern oasis is fringed by a glorious string of little white sand beaches.
Lava rocks dot the sands, while sand sculptors conjure up their creations to the delight of families. Corralejo is no purpose-built resort, so the winding promenade works its way around the beaches, disappearing into the sands at points before picking up again.
The waterfront is dotted with bars, cafés and restaurants, all with great views and all within touching distance of those sands, while tour boats and surfers patrol the waters.
Framing the scene is the outline of the uninhabited isle of Lobos just a short boat trip away, which boasts beaches of its own.
Caleta del Fuste
This is the sort of beach that most people usually conjure up when they think of the Canaries. It's a large sweep of sand in a protected bay, which makes it ideal for paddling toddlers.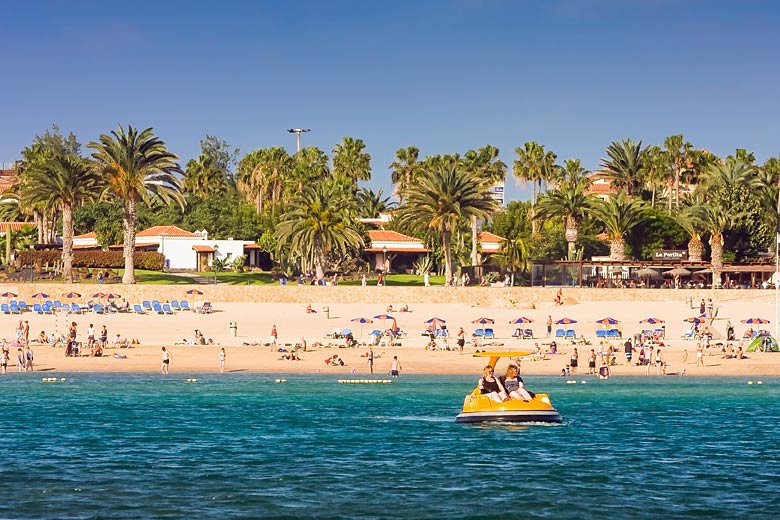 It's backed up by a resort strip with cafés, hotels and restaurants, though nothing like on the sky-scraping scale of Tenerife's southern resorts. For families, this is a superb choice and it's hard to fault with enough space for everyone when it's busy.
It's only a 15-minute drive from the airport too, so works well if you have a late flight and don't want to hang around at the airport after checking out your hotel.
Weather in Fuerteventura
| | Jan | Feb | Mar | Apr | May | Jun | Jul | Aug | Sep | Oct | Nov | Dec |
| --- | --- | --- | --- | --- | --- | --- | --- | --- | --- | --- | --- | --- |
| Maximum daytime temperature °C | | | | | | 24 | | | | 25 | | |
| Hours of sunshine (daily) | | | | 8 | | | | | 8 | | | 6 |
| Days with some rainfall | | | | 2 | 1 | | | | 1 | 2 | | |
| Sea temperature °C | | | | | | | | | | | | |
Ready to book your beach break? Check out the latest deals on holidays with TUI today.
More about Fuerteventura
Fuerteventura by month
Jan Feb Mar Apr May Jun Jul Aug Sep Oct Nov Dec
Explore holidays in the sun for less
Be inspired
Get your weekly fix of holiday inspiration from some of the world's best travel writers plus save on your next trip with the latest exclusive offers
We promise not to share your details
Related posts