A beginner's guide to Mexico's Caribbean coast
Check the latest travel advice and current Covid-19 rules and restrictions by country.
If you're looking for the perfect combo of beach vibes, local culture, lively entertainment and wonderful wildlife then our beginner's guide to Mexico's Caribbean coast will give you the overview you need to plan your very own dream holiday to Mexico. Discover which resort is right for you before booking with TUI*, which departs from airports across the UK including Birmingham, Glasgow, Manchester and London. So don your sombrero and become one of the 32 million tourists who'll choose to spend their holidays sipping margaritas in Mexico - aribba!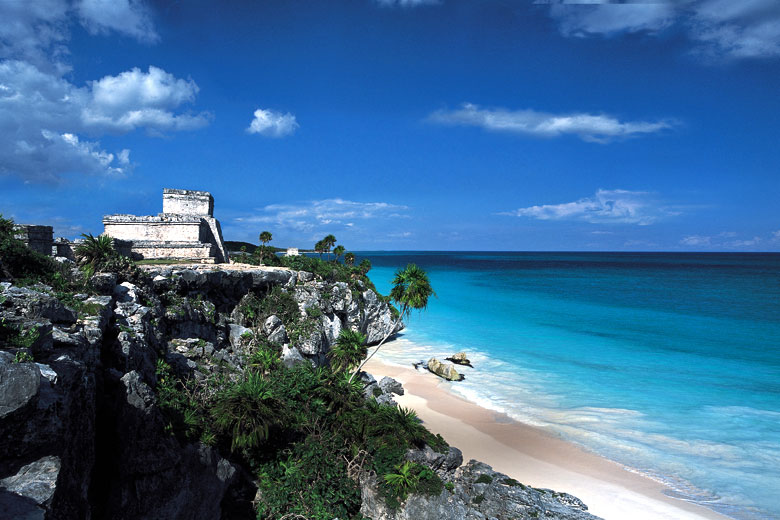 Guide to Mexico's Caribbean coast: getting started
One of the first things you'll notice when you're planning your trip to Mexico's Caribbean coast is that the region seems to have quite a few other names - the Yucatan Peninsula, Quintana Roo, and the Mayan Riviera are all mentioned in most holiday guides to Mexico's Caribbean coast, but what do they all mean? It can be quite confusing for anyone who's new to Mexico, until you have a chance to wrap your head around the area's unique geography and understand the variety of atmospheres and activities on offer along the coast for different types of holidaymaker.
A mini Mexican geography lesson
Mexico is a vast country; it's 15 times bigger than the UK. Unless you're off to explore Mexico City or one of the handful of popular inland destinations, you'll find the main tourist resorts in Mexico are understandably sprinkled along the country's beautiful coastline. If you're swimming in the sea at one of the glitzy resorts on the westernmost side of Mexico (think Cabo San Lucas or Puerto Vallarta) you'll be paddling in the Pacific Ocean, but if you've decided to holiday on the Caribbean side you'll be on Mexico's Yucatan Peninsula - that's the bit that juts out into the Gulf of Mexico.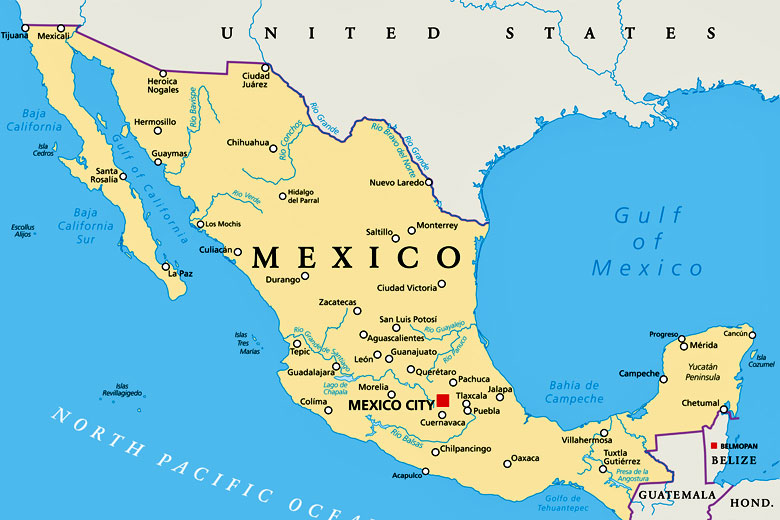 This is home to two different Mexican states - Yucatan (which actually has it's own northern beaches called the Emerald Coast) and Quintana Roo, home to the entire length of Mexico's Caribbean coastline. It's often called the Mayan Riviera because of its historical connections with the ancient Mayan people, and many of the excursions on offer to travellers focus on exploring Mayan civilisation. There's also a newer tourist region a little further south along Mexico's Caribbean coast towards the Belize border known as the Costa Maya; this includes natural wonders such as the Sian Ka'an Biosphere Reserve making it perfect for eco-lovers.
Which resort is right for you?
Most of the famous places you've heard of in this part of Mexico are strung in a line down the eastern stretch of shore. From Puerto Morelos to Tulum, these include Playa del Carmen, Cancun, and Akumal beach.
Cancun, at the northern tip of the peninsula, is the jumping off point for almost all new arrivals heading to the Caribbean coast, and is the second most popular place to fly into in Mexico after the capital city. Most transfers drive down Highway 307, which also serves the palatial all-inclusive beachfront resorts that enjoy private stretches of sand, and this same road goes all the way to Belize.
Cancun
While Cancun is the location of many of Mexico's biggest resorts the city is technically not part of the Mayan Riviera itself and has a slightly different vibe. It's a large and lively place where as well the fantastic beaches, the clubs, bars, restaurants, and shops are a big draw.
Cancun has a reputation for being the party town of Mexico's Caribbean coast, and the restaurant scene undoubtedly serves up some of the best and most diverse cuisine in the entire country but you're equally likely to enjoy a casual taco in a low-key cantina.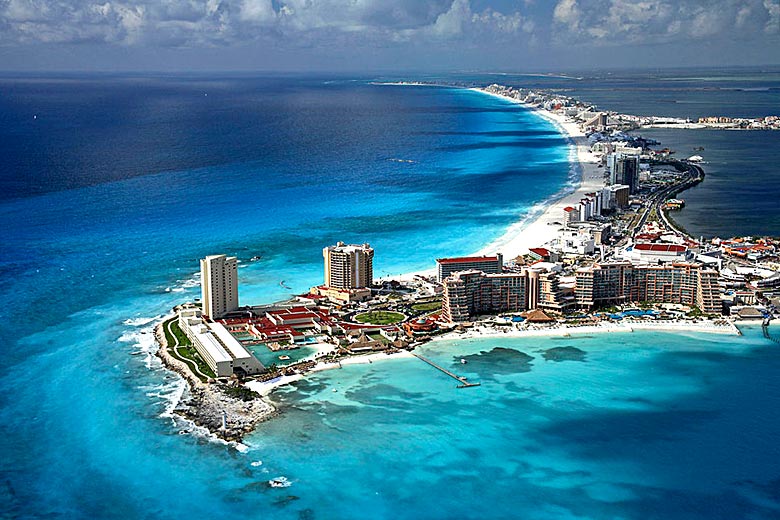 Activity seekers and nature lovers are also in for a treat; you can try every type of water sport off the coast here, as well as golfing, horse-riding, and wildlife encounters, and there are plenty of day trips to places like Isla Mujeres and Isla Holbox.
Puerto Morelos
Lots of famous holiday resorts around the world started life as laid-back fishing villages but Puerto Morelos still feels very much like a quaint and sleepy small town to this day.
Puerto Morelos plays host to a few small hotels and yoga retreats, and is popular with off the beaten track tourists but still within a short drive of all the big resorts along Mexico's Caribbean coast, giving you the best of both worlds - especially if you're here in Mexico for the stunning sea and the white sand as opposed to the shopping.
Playa del Carmen
A perfect option for those who seek the nightlife of Cancun but also crave a hint of the fishing village vibe, Playa (it is always abbreviated) is an ideal middle ground and a classic holiday resort with everything on offer. As well as a bustling pedestrianised main strip called Fifth Avenue with all the souvenir shopping and boutiques you could wish for, there's a long pleasant beach backed by bars and restaurants.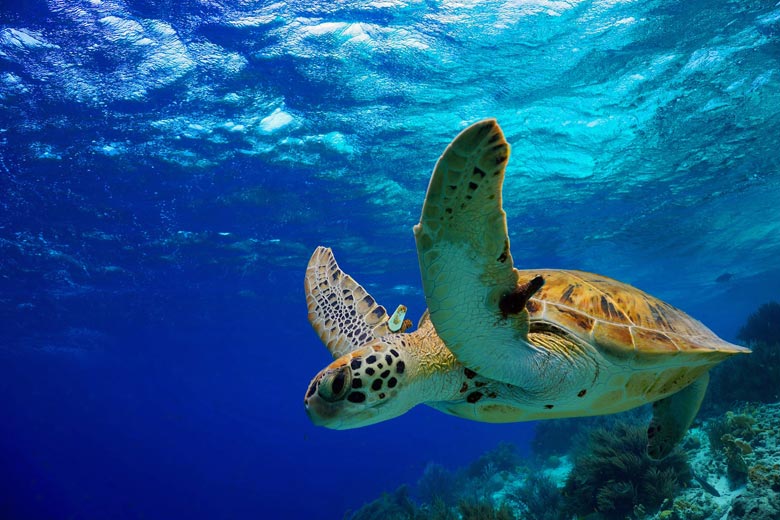 For marine life lovers it is very much worth a look: one of the best places in the world to swim with turtles is at Akumal Beach (it means 'place of the turtles'), which is just outside Playa del Carmen on the way to Tulum.
Tulum
Tulum has carved a special niche for itself when it comes to attracting discerning tourists to the Mayan Riviera. What was once a 2 km stretch of beach famed for its archaeological ruins has become one of the hippest places to holiday in the entire region.
Just because it's cool doesn't mean it has lost the laid-back vibe: if you're reading guides to Mexico's Caribbean coast you'll start to build up a picture of Tulum as the alternative choice for a young and fashionable crowd; think yoga retreats and celebrity visitors who enjoy Tulum's sustainable emphasis.
Tulum's beautiful white powder sands are idyllic but there are stronger currents in the sea so watch out with little ones. Luckily you're never far away from a cenote, these natural lagoons are dotted around Mexico's Caribbean coast and make swimming snorkelling or diving an absolute delight.
Guide to Mexico's Caribbean coast: what you need to know
Flight time from the UK - around 10 hours
Entry, exit & visas - Brits and many other nationalities can buy a Mexican Tourist Card on arrival, which is valid for 180 days
Currency - favourable exchange rates have helped more holidaymakers to venture to Mexico, and while the peso is still the official currency, you can easily use US dollars in many places here
In an emergency - call 911
Voltage - most of the island runs on 110v so many European appliances may need a converter - you should investigate before your trip unless you have dual voltage appliances (110-220v)
Infrastructure - this area has a safe and modern road network, good reliable electricity supply, and excellent phone and internet service meaning you can enjoy a beach holiday but still have all your mod cons.
Guide to Mexico's Caribbean coast: when to visit
Mexico's Yucatan Peninsula has a truly tropical climate, with daytime maximum temperatures ranging from the high twenties in winter to the low thirties in summer, and a sea that is always warm (between 26°C to 29°C). Rainfall is at its highest between June and October, peaking in September, though with temperatures in the low thirties you may be ok with a passing downpour. There is still a lot of sunshine during this period - never less than six hours per day on average, which is partly because much of the rain falls during the night.
Although this part of Mexico makes a wonderful holiday destination all year round, there is a marked difference between winter and summer weatherwise, which is to do with the how heat and humidity levels affects conditions. While there's no great leap in temperature from 28°C in winter and 33°C in summer, when paired with the different levels of heat and humidity (moderate in winter; very high in summer), the picture changes significantly, and has a greater affect on how it feels.
Typically, winters are so popular because they're dry and hot without being too hot, while summer can feel more oppressive and see more rainfall. However, don't be put off visiting in summer, it's just important to know the difference - you can sometimes find the best deals on holidays to Mexico's Caribbean coast during the summer months.
Keep reading: find out more about the weather in Mexico
Mexico's Caribbean coast may not be some great undiscovered secret but it is a vibrant and beautiful stretch of beaches, bays, resorts and facilities that promise to make any holiday a successful one. If you'd like to experience Mexico for yourself, check out the latest online offers and discount codes on holidays to Mexico with TUI, and don't forget to see what the weather is like year round. If you're struggling to decide when to visit, see when we think is the best time to go to Mexico's Caribbean coast, and don't miss our exclusive TUI resort weather guide for even more info.
More about Mexico - Caribbean Coast
Jan Feb Mar Apr May Jun Jul Aug Sep Oct Nov Dec
Be inspired
Get your weekly fix of holiday inspiration from some of the world's best travel writers plus save on your next trip with the latest exclusive offers
We promise not to share your details
Related posts
*affiliate links: find out how we are funded and why this helps us remain free to use.