Making the most of the Main River: Frankfurt to Nuremberg
*affiliate links: find out how we are funded and why this helps us remain free to use.
The Main River offers a real taste of Germany in its many guises as it's the country's longest waterway. Cruising the Main opens up the interior of Germany as you ease by emerald forests, tumbling vineyards, and pretty towns and villages.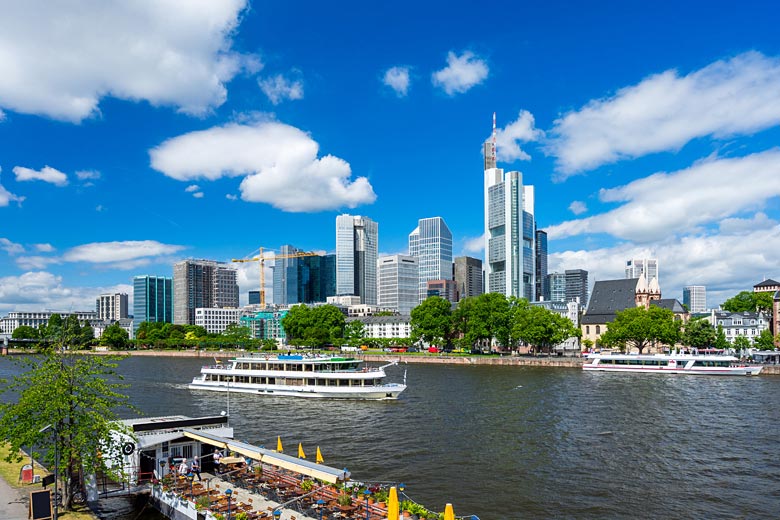 It's tempting just to take it easy on deck and soak it all up. Our advice? Don't. Not when the settlements dotted along the Main are more than worthy of exploration, not least the skyscraper kissed major city of Frankfurt and cute towns peppered with Brothers Grimm-style half-timbered houses.
Each one frames itself as you cruise in like a picture postcard, a postcard that you can gloriously set foot in and experience, whether you want to strike off on your own or enjoy one of the many excursions.
Booking your Main river cruise: choose from one and two-week-long itineraries that focus on the Main and other neighbouring waterways with TUI River Cruises*.
Frankfurt
Frankfurt bustling city is the epicentre of Main cruising. Sometimes it's unfairly known as 'Bankfurt' due to the abundance of financial institutions that have set up shop.
The historic district around the Romerberg, though, is awash with places to celebrate life in a city that boasts some of the liveliest nightlife in Germany.
On the southern bank of the Main is the serious cultural attraction of the famed 'Museum Mile' where you can check out the likes of the Communication Museum, City Art Institute and the Museum of Ancient Sculpture. It's said to be the longest stretch of museums and galleries in Europe - reason alone to embrace Frankfurt am Main.
Weather in Frankfurt
| | Jan | Feb | Mar | Apr | May | Jun | Jul | Aug | Sep | Oct | Nov | Dec |
| --- | --- | --- | --- | --- | --- | --- | --- | --- | --- | --- | --- | --- |
| Maximum daytime temperature °C | | | 9 | | 19 | 22 | 24 | 23 | 20 | | 8 | |
| Hours of sunshine (daily) | | | | | | | | | | | | |
| Days with some rainfall | | 13 | | | | | | | | | | |
Please note: the destinations featured in our Main River guide are relatively close together, which is why we're only showing the climate guides for Frankfurt and Nuremberg.
Miltenberg
Miltenberg is the sort of chocolate-box-pretty, air-of-a-fairytale, treasure you hope to discover when you embark on a river cruise in Germany. Gorgeously tucked between the Spessart and Odenwald ranges, it reclines on a bend of the Main, enjoying a setting that screams Germany.
The narrow strip of land Miltenberg squeezes itself on to is blessed with pavement cafés and welcoming bars, especially around the Alter Marktplatz square where some are set within picturesque half-timbered houses.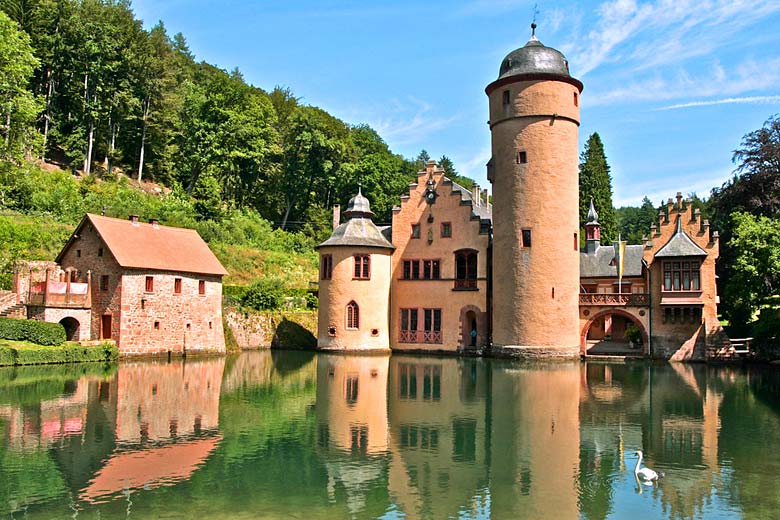 Nearby Hauptstrasse offers boutique shopping and souvenirs, while a superb trip is to famed Mespelbrunn Castle, the renowned 'Water Castle'.
Wertheim
If you are a fan of epic castles and atmospheric medieval old towns you'll love Wertheim. Indeed it's hard not to. This graceful gem sits tucked by the confluence of the Main and Tauber rivers.
Its medieval old core is blessed with cosy wee streets lined with half-timbered houses. It's laced with a sprinkling of dramatic churches too. The highlight, though, undoubtedly is Wertheim's remarkable castle, which strides out from the hilly forest-clad slopes.
The views from up at this rugged bolthole are sweeping too back down towards the town and the river. One unlikely local traditional is afternoon tea - the German variety with Rudesheim coffee and apple strudel. If you want a lasting memento, glassware is a local speciality - don't miss the Glass Museum.
Want to know more about river cruises? Check out our complete guide to river cruises worldwide with the latest deals and savings on itineraries along rivers around the globe.
Würzburg
The Bavarian oasis of Würzburg wears its charms on its historic sleeve with a jaw-dropping collage of architecture - we're talking swathes of baroque and rococo.
You can walk from the Fortress Marienberg, which enjoys an enviable position peering over the rooftops, across the statue-lined medieval bridge and on to Würzburg's graceful Romanesque cathedral.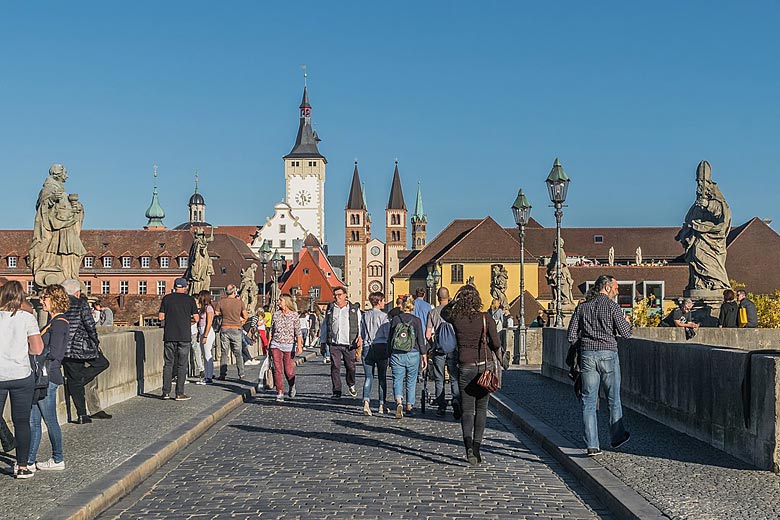 It's easy to see why UNESCO placed the baroque 18th century Wurzburg Residence on its coveted World Heritage list. Don't miss a visit here, worth it alone to savour the sweeping fresco by Venetian master Tiepolo.
Handily, this town, which spreads its tentacles across both banks of the Main, is a major wine hub. Vineyards line the local slopes and myriad venues for trying out the local vintages.
Marktbreit
This old Roman bolthole on the southernmost bend of the Main tempts you to visit with a collage of Baroque wonders, its old town walls and more of those chocolate-box-pretty half-timbered houses.
Three of the most impressive baroque buildings are in Marktbreit the town hall, the St Ludwig Church and the Seinsheimer Castle. Here, you can also visit the home of its most famous citizen, Alois Alzheimer, the man, of course, who first recognised Alzheimer's disease.
Take a tour along the aptly named Romantic Road, which promises some of the most spectacular scenery that Europe offers with castles, vineyards and forest peppering the precipitous slopes before walking around the scenic streets of Rothenberg. The views from Rothenburg Castle over the Tauber Valley will linger long after you've headed home.
Bamberg
This is one of the real stars of Franconia, a little slice of Italy within Germany close to where the Main meets the Regnitz. The influence of Italy is so pronounced here that Bamberg is often hailed as the 'Franconian Rome' and like Rome, it boasts seven hills.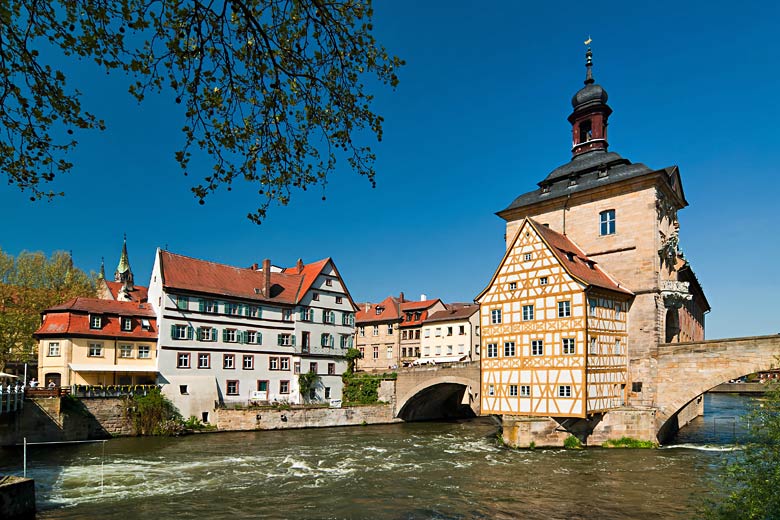 Bamberg's seven hills are each topped with an elegant church. Like Rome, much of the town is enshrined on UNESCO's World Heritage list. The centre is awash with charming half-timbered houses, its highlight a 13th-century cathedral and a town hall, which is spectacularly set on a stone bridge in the river.
The waterways of the Klein-Venedig district continue the Italian theme, earning them the epithet 'Little Venice'. While many other ports of call are famous for their wines, Bamberg is renowned for its beer, so don't miss the chance to sip some of its hallowed amber nectar.
Nuremberg
The surrounds of Bavaria's largest city after Munich appear to be bedecked in dense woodland but delve closer to the centre and you enter a world where gothic styles sit happily alongside ancient houses.
A highlight in Nuremberg has to be its medieval castle that showcases the city's deep historical roots. Food-wise, there are the delicious gingerbread lebkuchen to savour as well as fantastic bratwurst, best washed down with a local beer. For shopping, best head to the Lorenzer Altstadt with its luxury outlets and souvenir shops near the river.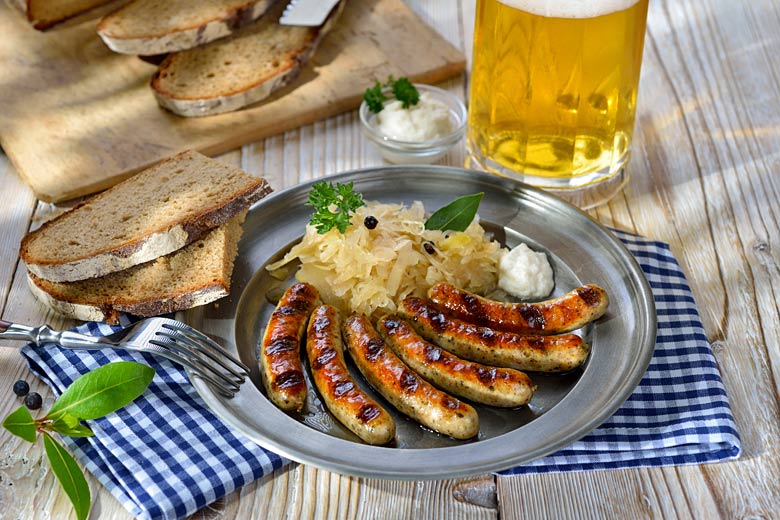 Nuremberg was also, of course, at the centre of Nazi Germany, being home to a number of key mass rallies during the 1930s; you can still tour the Nazi Party Rally Grounds today.
Weather in Nuremberg
| | Jan | Feb | Mar | Apr | May | Jun | Jul | Aug | Sep | Oct | Nov | Dec |
| --- | --- | --- | --- | --- | --- | --- | --- | --- | --- | --- | --- | --- |
| Maximum daytime temperature °C | | | 9 | | 19 | 22 | 24 | 23 | 20 | | | |
| Hours of sunshine (daily) | | | | 6 | | | 8 | | 6 | | | |
| Days with some rainfall | 18 | | | | | | | | | | | 17 |
Interested in cruising the Main? Check out our series of online deals with TUI River Cruises to save on your booking.
Be inspired
Get your weekly fix of holiday inspiration from some of the world's best travel writers plus save on your next trip with the latest exclusive offers
We promise not to share your details
Explore holidays in the sun for less