Tried & Tested: Valamar Dubrovnik President Hotel, Croatia
Please note: travel restrictions remain in place owing to the coronavirus pandemic. Be sure to check the latest travel advice and explore current COVID rules & regulations by country.
If you want to visit the world famous UNESCO site of Dubrovnik but don't fancy the hustle of staying within the Old City, then the five star resort of Valamar Dubrovnik President Hotel is for you.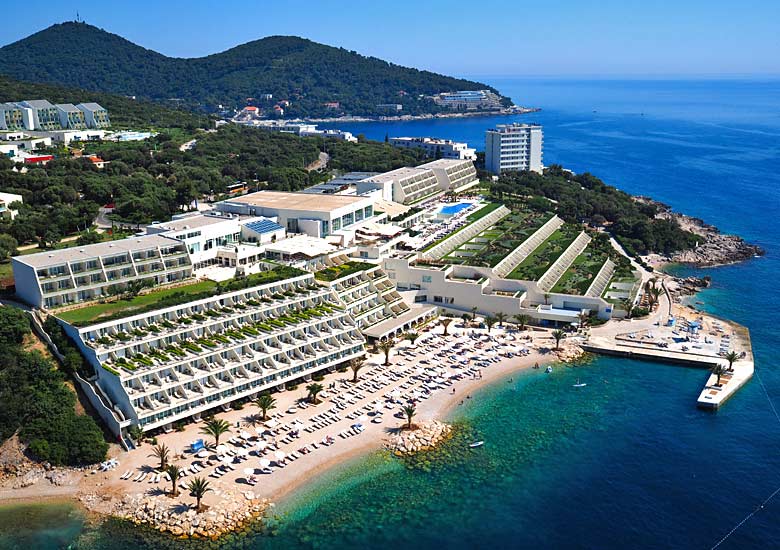 Located within easy reach of Croatia's most popular destination, Valamar Dubrovnik President Hotel is a cool, calm oasis situated close to Dubrovnik with a Blue Flag beach at its feet, inviting swimming pool, water sports aplenty, trendy bars and gourmet restaurants with splendid views across the Adriatic.
We checked in to the recently revamped Valamar Dubrovnik President Hotel* to put these things - and more - to the test, and see if a stay at this seaside retreat is everything it's cracked up to be.
Introducing Valamar Hotels & Resorts
Valamar may not be a name you recognise but it is one of Croatia's leading accommodation providers. The Valamar collection comprises no less than 30 hotels and resorts as well as 15 campsites, all sprinkled along the coastline from Poreč in the north to Dubrovnik in the south.
Valamar prides itself on offering something for everyone, meaning everything from well equipped campsites to comfortable bedrooms and high spec suites. Different resorts lend themselves to different groups too, be it families with all the extras needed to keep little ones entertained or couples and adults, where things are a touch more refined.
In Dubrovnik, Valamar has five different properties to choose from, all within the same vicinity, including the family friendly Valamar Club Dubrovnik, adult focused Valamar Argosy and ultra chic Valamar Dubrovnik President Hotel, which is where we stayed as a guest in May 2018.
The recently upgraded Valamar Dubrovnik President Hotel has benefitted no end from its facelift with modern twists and stylish accents that make it a real classy affair and set it apart from its - albeit well appointed - sibling resorts nearby.
What makes Valamar Dubrovnik President Hotel so special?
If clean lines, white open spaces, a Blue Flag beach to hand and exceptional sea views are the kind of things you look for in a hotel, then the five star Valamar Dubrovnik President Hotel is for you.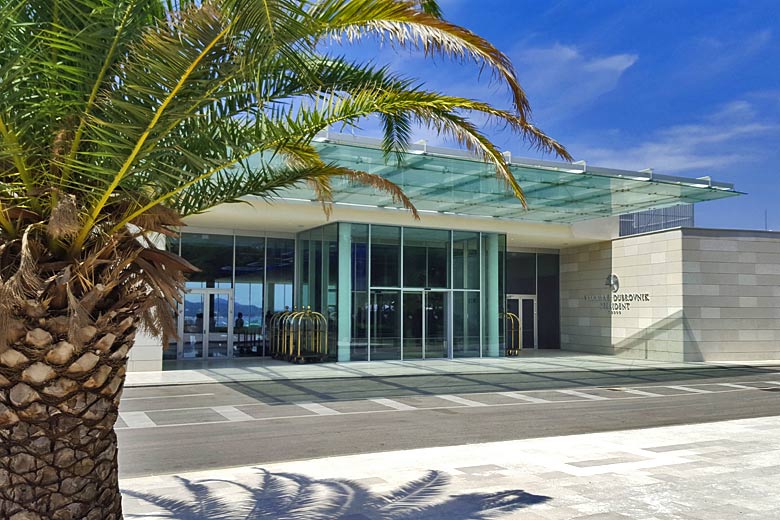 It's not obvious at first sight that it is, in fact, a hotel. The entrance is as understated as it is spacious - there's no brash branding or brightly uniformed staff here. Huge glass windows allow light to flood in, and you can't help notice the high ceiling, natural palette, sinkable leather seats, and long, clutter free reception desks, where you're greeted with a refreshing elderflower fizz on arrival.
Weather in Croatia: Trying to decide when to go to Valamar Dubrovnik President Hotel? Check out our guide to the weather in Dubrovnik and see when we think is the prime time to go on holiday for the best conditions.
This sophisticated start to your Valamar Dubrovnik President Hotel experience is one of the things that makes this luxurious hotel such a charmer. There's a distinct air of calm about the place (only added to by the fragrant spa-like scent in the public areas), which, frankly, is how every holiday should begin.
Of course, one of Valamar Dubrovnik President Hotel's biggest assets is its location on the Lapad peninsula, some 6 km northwest - yet within easy reach - of Dubrovnik's UNESCO Old City. This setting offers you the best of both worlds: come to Dubrovnik for the history, the sights, the views, and the food; stay at Valamar Dubrovnik President Hotel for the peace, the quiet, the swimming pools, the beach, and the great service away from the crowded streets of the Old City.
Add to this the variety of rooms for all shapes of luxury budgets and the selection of on site facilities, and it's easy to see why Valamar Dubrovnik President Hotel pulls in such discerning sun-seekers. The best bit? As a guest of Valamar Dubrovnik President Hotel - the most exclusive Valamar hotel in the collection's Dubrovnik complex - you can also freely use the restaurants, swimming pools and amenities at the other Valamar resorts if you so desire.
Room types
Valamar Dubrovnik President Hotel guarantees certain things from the off: when it comes to the rooms, regardless of the type, you will have a terrace or balcony with a seaview. In this case, that also comes with the promise of incredible sunsets night after night, thanks to its west-facing position.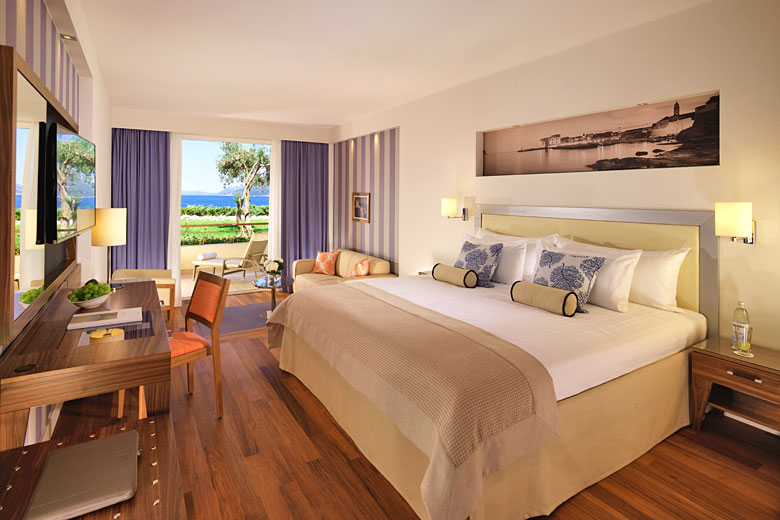 Every room comes with a (seriously comfortable) queen sized bed atop newly fitted hardwood floors, as well as a large mounted TV, hairdryer and all the paraphernalia you need to make your own tea or coffee just the way you like it.
From the beginning, you have classic, superior (think slightly larger than classic), family (two separate bedrooms with interconnecting doors) and so-called romantic rooms to choose from. These starter rooms are compact but by no means small, and include seating areas, baths and, at the very least, a balcony with sun loungers.
The next level up sees premium, deluxe and superior suites (not far off small condos, with a living room and generous terrace fitted with its own private hot tub), each with incremental extras from increased space to fresh fruit and a bottle of fizz.
V Level
You could, of course, up the ante by booking yourself V Level accommodation, which takes your stay at Valamar Dubrovnik President Hotel up a notch. As well as enjoying your pick of the hotel's very best rooms and suites, you will enjoy free transfers to/from Dubrovnik Airport, dedicated check in at the V Level reception, a welcome bottle of champers, and choice of no less than six different pillow types (yes, that's right!).
Other benefits include exclusive use of the V Level lounge, pre-reserved sun loungers in certain pool and beach areas, and use of the concierge service to help arrange bookings and tuition with the likes of a tennis coach or fitness instructor. A V Level stay at Valamar Dubrovnik President Hotel really is about as comprehensive as it gets.
Dining options at Valamar Dubrovnik President Hotel
Whatever kind of mood you're in when it comes to dining, there's a restaurant for you at Valamar Dubrovnik President Hotel. The main buffet restaurant - the name of which does it a bit of a disservice, as it's quite the upmarket affair with an inviting outdoor terrace - is the place for your breakfast with all the choice going. We're talking fresh fruit and yoghurt, eggs every way, sausages, bacon, cereals, cheese, breads, pastries and much more.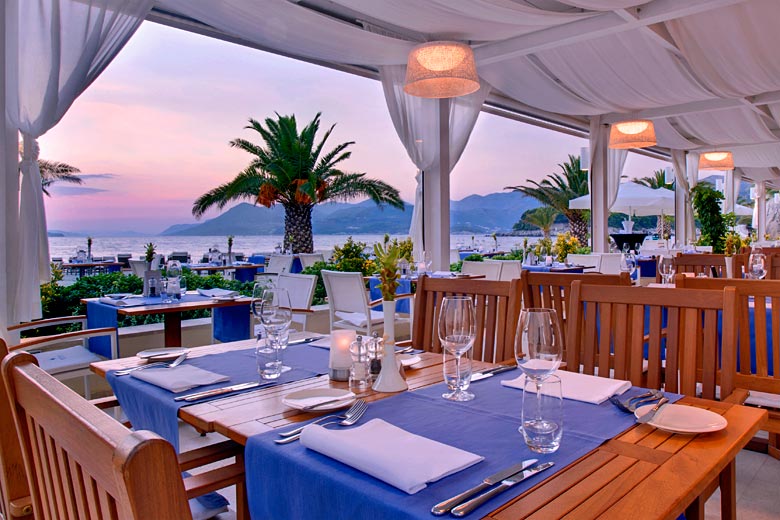 The oceanfront Miramare Restaurant is an excellent lunch spot, and delightfully close to the loungers meaning you don't have to trek too far from the award-winning beach for your midday snack. Soup, salads and fresh seafood are the order of the day here, so settle in and fill up before you flop again.
Meanwhile, the Beach Bar is a more casual, laid back place to grab a bite to eat or a refreshing Aperol spritz by the sea, and the Wellness Bar is one for swimming pool-dwellers, with plenty of light meals and a good selection of drinks.
For a sundowner to remember, the Piano Bar in all of its striped glory is the place to be. Grab a sofa on the terrace and watch as the sun disappears into the Adriatic from your prime position above the sea.
Things to do at Valamar Dubrovnik President Hotel
As you might expect at a five star resort, there's plenty to keep you entertained when staying at Valamar Dubrovnik President Hotel. From simply soaking up the sun by the swimming pool or on the Blue Flag President Beach to tackling water sports like canoeing and water skiing.
Two other beaches lie within easy reach of the hotel: the popular Cava Beach, another Blue Flag babe with all the facilities you could wish for, and Copacabana Beach, one of Dubrovnik's biggest stretches that's also well stocked with amenities.
Did you know? All beaches in Croatia are public. Yet, Valamar Dubrovnik President Hotel has direct access to a well kept stretch of beach with crystal clear water, and plenty of day beds and loungers.
Whether you're a newbie or a pro, the on site Abyss Diving & Water Sport Centre is there to facilitate all your scuba needs. Experts lead underwater excursions to three different dive locations, each suitable for different skill levels.
If it's land based activities you're after, you'll find tennis courts (and equipment you can rent) to hand, as well as small gym. Of course, you may prefer to engage in something a little less taxing: head for the spa, where you'll find yourself in good hands for everything from beauty treatments to massages.
Day trips
If you've chosen to holiday in Dubrovnik, it's likely that you will want to explore the renowned Old City and its many attractions as well as make the most of the glorious weather. Valamar Dubrovnik President Hotel can arrange a host of day trips and tours to help you get the most out of Dubrovnik and the surrounding area.
Excursion options include trips to the nearby Elaphiti Islands, the island of Korčula, and the vineyards of Pelješac, plus further afield into neighbouring Montenegro and Bosnia.
Tried and tested tips
Any stay at Valamar Dubrovnik President Hotel is likely to be an indulgent one owing to its design, sophistication and level of service - we're talking chocolate-on-your-pillow-at-bedtime kind of details.
Beaches in Croatia are typically pebbly, and this is true of the stretches by the hotel also. Take flip flops or - even better - water shoes to avoid any discomfort getting in and out of the sea.
There are two things to note that will help you make the most of your time in Dubrovnik: firstly, hop on the number 6 bus, which departs for the Old City in front of Valamar Dubrovnik President Hotel's reception - just remember to buy your tickets at the hotel shop for a discount on your fare.
Secondly, check Dubrovnik Port Authority's website to see when the cruise ships will be docking. The handy traffic light colour coded chart shows you the best days for exploring the city - i.e. the days when there will be fewer cruise passengers!
One of the best things about staying at Valamar Dubrovnik President Hotel - the five star pick of the bunch when it comes to the collection of Valamar resorts on this peninsula - is that you can also use some of the facilities at neighbouring Valamar properties as well.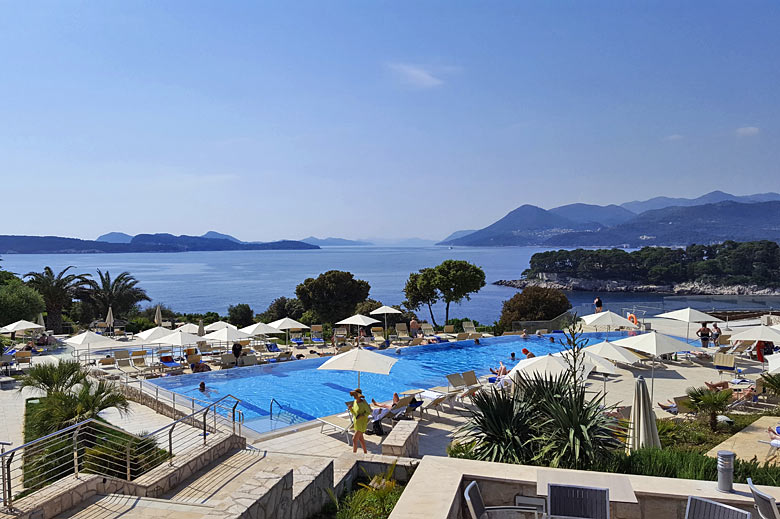 The swimming pool at Valamar Argosy offers a wonderful change of scene, while dinner at the recently renovated and super chic Mezzino Snack Bar promises exceptional views in beautiful surroundings. Don't miss the oysters on offer at the terrace of Langusto Restaurant in Valamar Lacroma Dubrovnik.
Valamar Dubrovnik President Hotel FAQs
Is there free wifi?
Yes, free wifi is provided throughout the hotel. Find out more about the facilities provided by Valamar Dubrovnik President Hotel*.
Is Valamar Dubrovnik President Hotel open all year round?
Valamar Dubrovnik President Hotel is typically open from March to November, subject to availabilty/change.
Where is Valamar Dubrovnik President Hotel located?
Valamar Dubrovnik President Hotel is located at the northwest corner of Babin Kuk on the Lapad peninsula, around 6 km from Dubrovnik's Old City.
Is Dubrovnik within easy reach of Valamar Dubrovnik President Hotel?
Yes. The number 6 bus departs from in front of the hotel and - traffic allowing - will have you in Dubrovnik in around 10 minutes. Purchase your bus tickets in the hotel shop to receive a small discount on your fare. You could choose to walk or get a taxi also.
What is Valamar Dubrovnik President Hotel's address?
You will find Valamar Dubrovnik President Hotel* at Iva Dulčića 142, 20000 Dubrovnik, Croatia. Visit the website for more detailed directions.
Does Valamar Dubrovnik President Hotel sound like your kind of sunshine holiday resort? Check out the latest rates and book your stay online today. You can also check out breaks to Valamar Dubrovnik President Hotel with Jet2holidays, which include flights with ever-friendly Jet2.com, which departs for Dubrovnik from select airports across the UK.
WeatherTravel.com stayed as a guest of Valamar Hotels & Resorts in May 2018. All views expressed are those of the writer.
Be inspired
Get your weekly fix of holiday inspiration from some of the world's best travel writers plus save on your next trip with the latest exclusive offers
We promise not to share your details
*affiliate links: find out how we are funded and why this helps us remain free to use.