9 of the world's spookiest tours to try this Halloween
Please note: travel restrictions remain in place owing to the coronavirus pandemic. Be sure to check the latest travel advice and explore current covid rules and regulations by country.
Take a deep breath and venture into the unknown, the paranormal and the otherworldly. Here are some of the spookiest tours in the world - none for the faint of heart!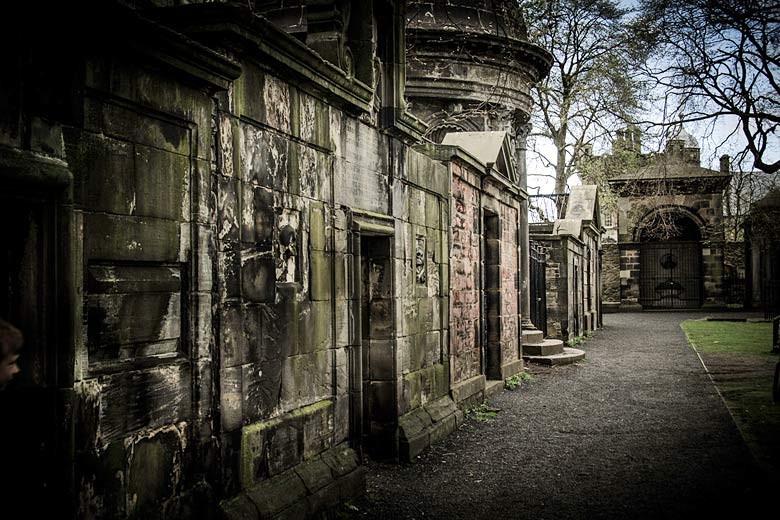 1. Eerie Edinburgh
Historically fascinating, visually arresting, the ancient city of Edinburgh, perched on an enormous outcrop of granite, is a Scottish gem.
But the Old Town reeks with dark and unsavoury places to visit after dark. Blair Street Underground Vaults, a maze of chambers and passages underneath the South Bridge (Edinburgh's first shopping precinct), are full of unexplained sightings.
Construction had been rushed, and the surface never properly sealed so water soon penetrated. Slum dwellers took over this damp underworld and it became a renowned red-light district plagued by crime.
Famed Burke and Hare, who sold corpses to medical schools, hunted for victims here. Above ground, a graveyard stroll through Greyfriars Kirkyard, one of the most haunted places in the United Kingdom, is de rigeur as is a visit to Grassmarket, known for grisly public executions.
Interested in taking a tour to remember? Check out the latest offers on exciting guided tours in destinations around the globe with GetYourGuide*.
2. Dangerous Durango
Founded in 1880, Durango, Colorado served the newly built Denver and Rio Grande Railroad.

Gun battles between the Stockton Gang and Simmons Gang, several lynchings, a fire in 1889, the Spanish Flu epidemic, and killer avalanches in the mountain mining camps have all contributed to countless ghost stories.

The 19th-century Strater Hotel, built directly on the railroad line, is famous for its hauntings. From the adjacent alley, the ghostly figure of a man in a white shirt standing on the railroad tracks has been seen.

Other apparitions are of a railway engineer in period clothing, a barmaid and young girl walking through the hotel lobby. The one hour 15-minute Ghost Walk Durango tour begins at 6.00pm.

.
3. Perilous Paris
Paris exudes charm with its romantic River Seine, intimate cafés and soaring monuments - but its underground Catacombs tell a quite different story from that above ground.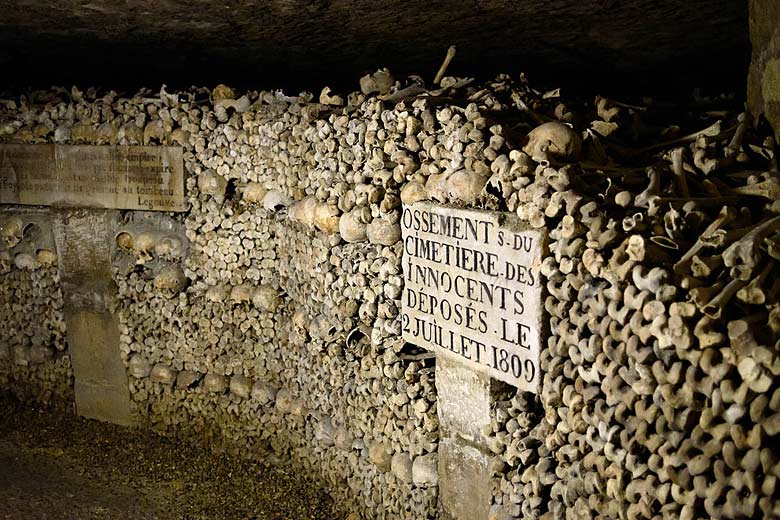 When the 10-centuries old Cemetery of the Innocents was closed due to the spread of infection, it was decided to use an underground quarry as the municipal ossuary.
The new site was consecrated on 7 April 1786 and remains deposited until 1814. Processions of surpliced priests sang the service for the dead as they followed the route taken by carts loaded with skeletons and covered by a black veil.
Particularly gruesome are the walls of bones throughout the 1.5 km-long tunnel. Now open to the public, those of a nervous disposition are not advised to visit.
4. Kreepy Kolmanskop
The abandoned mining town of Kolmanskop is virtually frozen in time, a chilling reminder of Namibia's German colonial past.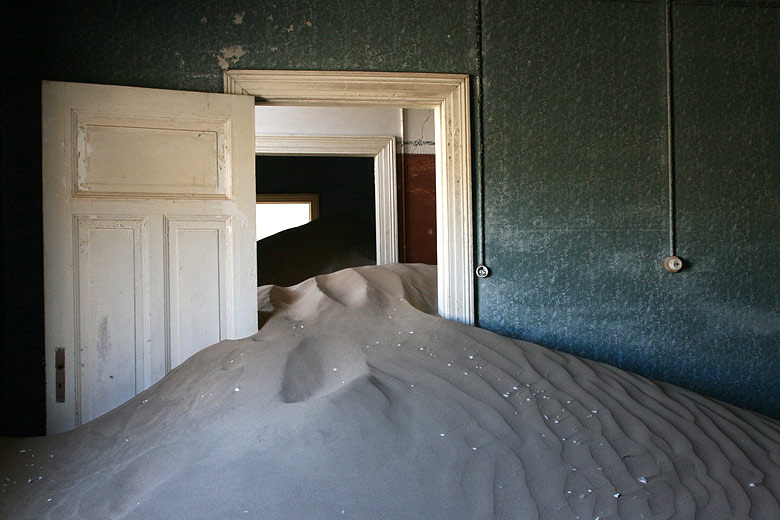 Lying adjacent to the Sperrgebiet (forbidden area), visitors and voyeurs wander among its derelict houses and buildings. Situated near coastal Lüderitz, on the edge of the Namibian desert, it was built in the 19th century for the first diamond miners.
Kolmanskop has stately homes, a hospital, ballroom, the first x-ray-station in the southern hemisphere, plus the first tram in Africa.
But the pressure to uncover more jewels meant townspeople, on hearing of vast discoveries further south, left homes and possessions behind.
Kolmanskop was declared desolate in 1954. Tours run daily at 9.30am and 11.00am, 10.00am on Sunday.
5. Nefarious New Orleans
Officially the most haunted place in the United States, the French Quarter of New Orleans has tales that hark back to colonial times when piracy, yellow fever, and prostitution were rife.
Voodoo was practiced, brought from West Africa, and above ground cemeteries and mausoleums filled up with victims of disease and violence.
The Haunted French Quarter tour visits the LaLaurie Mansion on Royal Street, infamous for slaves being tortured and murdered by their mistress, plus 1113 Rue de Chartre where the spectre of confederate General P.G.T. Beauregard is seen searching for his boot.
The Orleans Hotel on Dauphine Street, is haunted by a Confederate soldier who likely frequented May Bailey's bordello operating at this location. Tours last approximately two hours.
6. Terrifying Transylvania
Deep in the Carpathian Mountains of Transylvania atop a 60-metre-high rock, is the 13th-century fortress, Bran Castle.
Its (albeit mythical) former resident, the infamous Count Dracula, was made famous by the writings of Bram Stoker. Victorian readers were gripped by tales of the Count whose bite condemned victims to existence as one of the undead.
The castle's dimly lit passages and underground compartments hold weapons and torture devices and are full of myths of nocturnal occurrences. The medieval town of Brasov with its Gothic Black Church is part of this 12-hour Transylvanian tour*.
7. Mysterious monasteries
The abandoned and mysterious 15th-century Tash Rabat is a stone caravan serai high in the desolate mountains of the Nyran Province of Kyrgyzstan.
Originally, it may have been a Nestorian or Buddhist monastery explaining the otherwise unusual domed roof room in the middle of the structure.,
Caravan serai is another name for roadside inns that were strategically placed along the Silk Route. These trade routes from China to the Mediterranean passed through the most dangerous and inhospitable regions imaginable.
They were important safe-havens for countless travellers and their animals. Stay and you can rent a yurt overnight, and take guided tours on foot or horseback.
8. Chilling Chernobyl
The horrific explosion that took place at the Chernobyl power plant on 26 April 1986 was the worst nuclear disaster in history.
Now the exclusion zone is open to visitors (minimal time is spent near the fourth reactor) and radiation exposure - equivalent to 0.001 of a hospital X-ray - is deemed safe.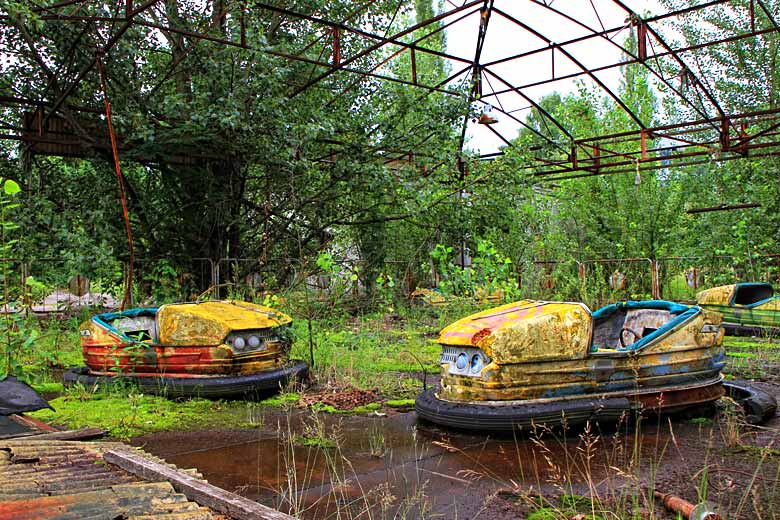 Though nearby villages have been ploughed under, the city built for nuclear plant workers still stands. Pripyat was evacuated the day after the explosion and is an eerily silent ghost town.
Victims of the explosion were buried in Moscow's Mitino Cemetery in concrete coffins. Two-day tours of Chernobyl kick off from Kiev, Ukraine.
9. Notorious Napier Prison
The first aboriginal executed under British rule, Kereopa Te Raum, was exonerated 140 years later but his ghost still haunts Napier Prison.
The oldest goal in New Zealand, built in 1862, was the scene of several hangings. Nowadays, unexplained footsteps, disembodied faces, doors opening and closing unaided, plus an annual visitation by a convicted murderer are some of the recorded occurrences.
The original gallows are in the courtyard and, in a nod to a non-Christian burial, a single prisoner is interred standing up.
Decommissioned in 1993, Napier Prison re-opened for tourists in 2002. Guided tours are twice daily, while audio-tours are also available.
Be inspired
Get your weekly fix of holiday inspiration from some of the world's best travel writers plus save on your next trip with the latest exclusive offers
We promise not to share your details
Related posts
*affiliate links: find out how we are funded and why this helps us remain free to use.