Why Lake Ohrid should be on every holiday wishlist
*affiliate links: find out how we are funded and why this helps us remain free to use.
Tucked into North Macedonia*'s southwestern corner, postcard-perfect Lake Ohrid* is one of the oldest and deepest lakes in Europe.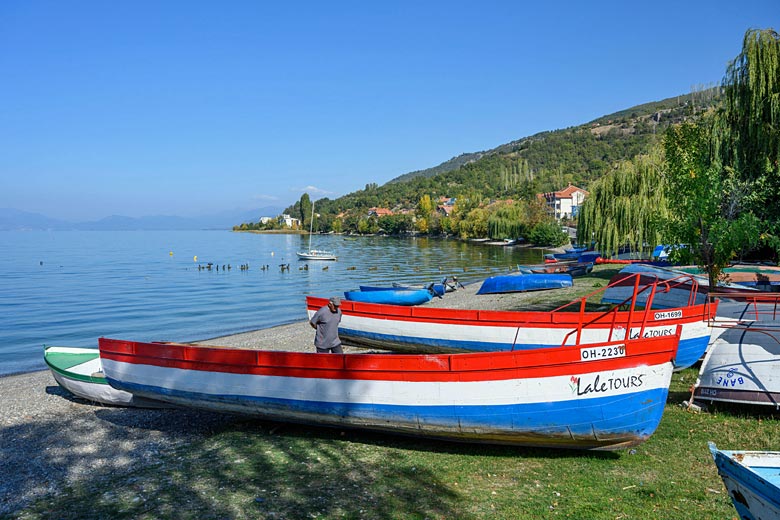 This UNESCO World Heritage site is estimated to be at least four million years old, but as the country's favourite summer getaway, its appeal is decidedly contemporary.
From beaches and boat trips to ancient churches and amphitheatres, Ohrid's title as the "jewel of Macedonia" is well deserved. Read on to discover the region's bounty of adventures and activities, all waiting for you to dip your toes into.
Getting to Lake Ohrid: TUI*'s adventurous arm, TUI Lakes & Mountains*, has launched a range of holidays to Lake Ohrid* from London Luton for summer 2022.
Check out the latest offers on breaks from TUI Lakes & Moutains to book your escape to North Macedonia today.
Ohrid Old Town
Ohrid Old Town is perched on the lake's northeastern shoreline. A picturesque village trimmed by colourful window boxes, artisan workshops and a lakefront promenade, much of the town is pedestrianised.
Instagram-friendly architecture ranges from pre-Roman to Byzantine and Ottoman. The town's ancient amphitheatre dates from 200 BCE, and stages concerts and theatre performances throughout the summer.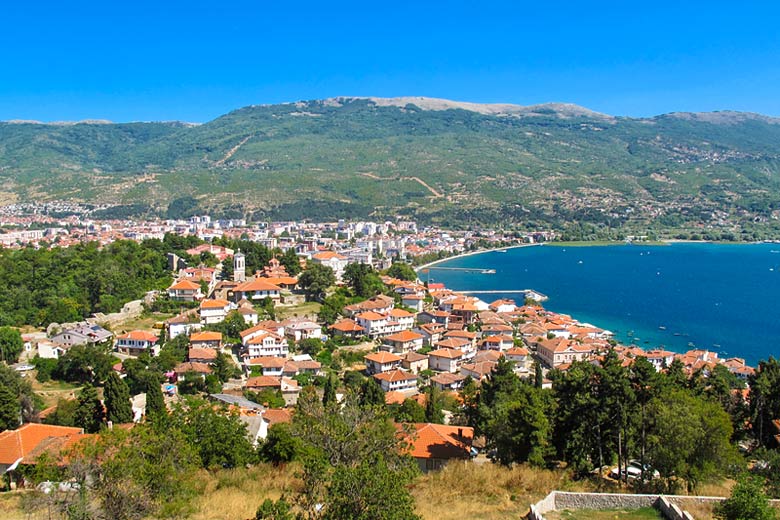 Located within what was formerly the 19th-century home of local family Robev, Orhid's atmospheric National Museum exhibits a mix of archaeological and artistic treasures.
Well worth the climb is 10th-century Tsar Samuel's Fortress. Emperors and regional rulers lived up here until 200 years ago. There are unrivalled vistas over the Old Town and lake from its imposing ramparts and towers. Take a snap.
Explore Lake Ohrid by boat
Lake Ohrid isn't just a beautiful backdrop. UNESCO claims it to be the most biodiverse-rich lake in the world. Get an insider's peek into this watery wonderland courtesy of one of the boat trips that set off from Ohrid's port.
Skim between the Albanian mountains to the west and the rugged landscape of the Galičica National Park to the east, taking in vistas of charming coastal villages.
Boat trips, which can range from a taster at 30 minutes, to a full day's outing of around seven hours, are kid-friendly, and often include a stop for swimming.
The Jerusalem of the Balkans
Ohrid was once known as the Jerusalem of the Balkans. It formerly boasted a whopping 365 churches, and yes, that's one for every day of the year.
Tenth-century Saint Sophia is unmissable, not least for its vibrant Byzantine frescoes. Lively performances throughout Ohrid's annual Summer Festival also take place here.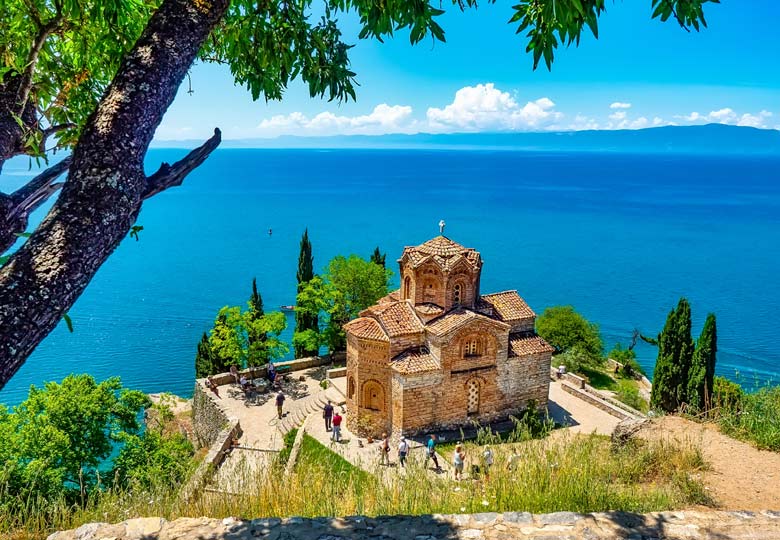 Teetering on a cliff overlooking the lake, the 13th-century Church of Saint John at Kaneo wins the prize for the most stunning location.
While, at the southern end of the lake, the sprawling Byzantine Monastery of Saint Naum is well worth a detour. It's said that if you press your ear to his tomb, you'll hear Saint Naum's heartbeat, still going strong more than a millennium after his death.
Beach days & watery adventures
Lake Ohrid's crystal-clear waters have been favoured by Macedonians for centuries, making it the country's preferred getaway come summertime.
On the eastern side of the lake, Gradishte Beach and its nearby Bay of Bones Museum are a must for history buffs. Created by archaeologists, this unusual museum on stilts is a recreation of an ancient prehistoric settlement.
Scuba divers can even explore the area's subaquatic archaeology at Plocha Michov Grad, where excavations are ongoing.
South of here, laid-back Ljubanista is a golden sweep of sand that's popular with families and holidaying teens.
Back in Ohrid's Old Town, take in each evening's sublime sunset at petite Kaneo, popular with locals and visitors alike.
Discover the world's weirdest pearls
Make like Her Royal Highness Queen Elizabeth II and pick up a strand of Ohrid's unique handmade pearls. Each one is created from an all-natural combination of mother-of-pearl, shells and "special emulsion".
The latter includes scales from Lake Ohrid's plasica fish, although the exact recipe and method remain top secret. Just two local families, Talevi and Filevi, are privy to this century-old method. Each family has their own atelier and shop in Ohrid's Old Town.
If fish pearls aren't your thing, Ohrid prides itself on its handmade craft workshops. Traditional souvenirs include filigree silverwork, authentic artworks, wooden carvings and hand-painted ceramics.
Galičica National Park
Nature lovers should make a beeline for Galičica National Park, also renowned for its rich biodiversity.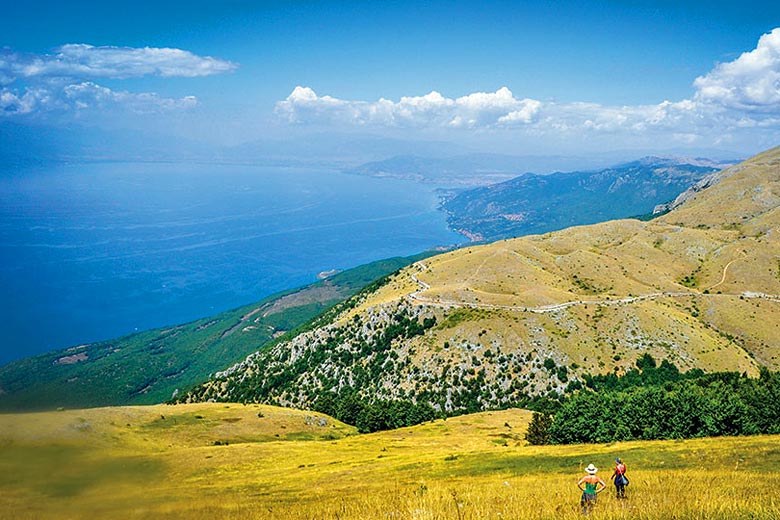 Sandwiched between Lake Ohrid (to its west) and Lake Prespa (to its east), more than 25,000 hectares of parkland are riddled with hiking trails, cycling routes and paragliding platforms.
Galičica was declared a national park in 1958. Since then, it has been a protected habitat for close to 3,300 different species of animals, including brown bears and chamois (a type of European goat-antelope), as well as 480 types of mushrooms and 1,644 butterfly species.
Priyatno yadenye! (Bon appetit!)
Epicureans, rejoice: Macedonians pride themselves on their scrumptious cuisine. Kick off the sampling with savoury spinach and cheese burek pastries. Or try sarma, stuffed grape leaves, filled with beef, pork and rice, served with yoghurt.
Tavce gravce bean stew is a local staple, as is Balkan classic shopska salad, a crunchy medley of cucumbers, tomatoes and a white, feta-like cheese.
Dips like ajvar (roasted red pepper and garlic), as well pinjur (aubergine and red pepper) make the most of summer's seasonal bounty.
Macedonian kebabs, kebapcinja, are a smoky grilled mix of mutton and beef. Finish up with a glass of Ohridsko Crno wine. It's made locally at Mal Sveti Kliment Winery, a boutique vineyard just outside of Ohrid itself. Na zdravje! (Cheers!)
Weather in Ohrid
| | Jan | Feb | Mar | Apr | May | Jun | Jul | Aug | Sep | Oct | Nov | Dec |
| --- | --- | --- | --- | --- | --- | --- | --- | --- | --- | --- | --- | --- |
| Maximum daytime temperature °C | 5 | | 11 | 15 | 21 | 24 | 27 | 27 | 24 | 18 | | |
| Hours of sunshine (daily) | 3 | 4 | 5 | | 8 | | 10 | 10 | 8 | | 4 | 3 |
| Days with some rainfall | 13 | | | 13 | | | | | | | | 14 |
Ready to discover Lake Ohrid? Don't miss the latest online offers on holidays with TUI.
More about North Macedonia
North Macedonia by month
Jan Feb Mar Apr May Jun Jul Aug Sep Oct Nov Dec
Explore holidays in the sun for less
Be inspired
Get your weekly fix of holiday inspiration from some of the world's best travel writers plus save on your next trip with the latest exclusive offers
We promise not to share your details
Related posts