Italy's city of caves: why Matera should be on your radar
*affiliate links: find out how we are funded and why this helps us remain free to use.
Despite being just across the border from the popular southern Italian region of Puglia, Basilicata's fascinating rock-hewn city of Matera has remained relatively off the tourist trail.
The third-oldest continually inhabited city on earth, Matera is a sight to behold: a place characterised by its UNESCO-marked Sassi, an ancient honeycomb of cave dwellings draped dramatically over the flanks of a craggy ravine.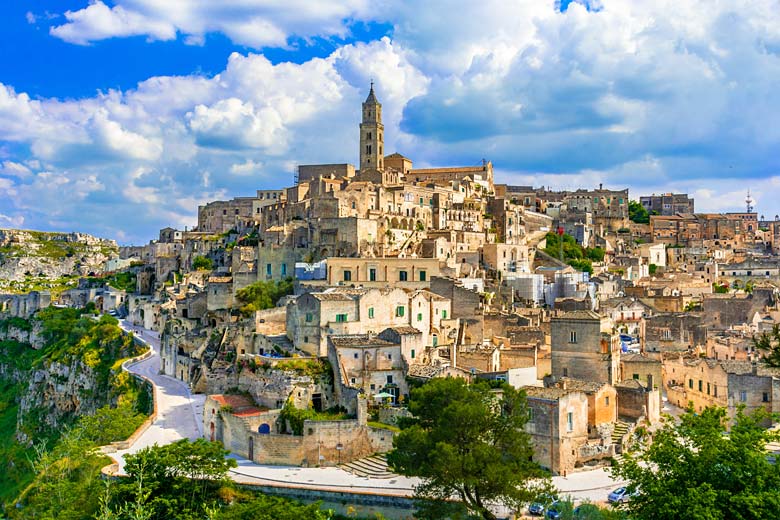 Once overcrowded and crippled by poverty, less than 70 years ago Matera was dubbed "the shame of Italy", but today it's become one of Europe's most gripping stories of rebirth.
As regeneration breathes life back into the Sassi, Matera welcomes a new generation of visitors following its recent stint as the European Capital of Culture and as a backdrop in the latest Bond film, No Time to Die.
Getting to Matera: there are many ways in which you can 'do' Matera. Why not build your own holiday with flights from British Airways* to nearby Bari and car hire from Holiday Autos? Booking.com* also has a fine selection of beguiling accommodation.
There's an ancient neighbourhood of caves
The Sassi, which is divided into the Sassi Barisano and Sassi Caveoso, is the heart of ancient Matera. This network of historic cave dwellings balanced on the edge of the ravine have been inhabited since the Paleolithic era.
By the late 1940s, around 15,000 people still lived in these caves, cramped together in places riddled with disease and without natural light, electricity or water; a desperate situation that led to the evacuation and abandonment of the Sassi.
Today, Matera's ancient centre is lived in again and is a fascinating area to explore on foot; a maze of history-steeped alleyways, small piazzas and breathtaking viewpoints. Amongst the history, there's newness too: many caves have been transformed into art spaces, boutique hotels and restaurants.
For a better understanding of the Sassi, visit Casa Noha, a brilliant museum that tells Matera's story and pays tribute to the hardships endured there.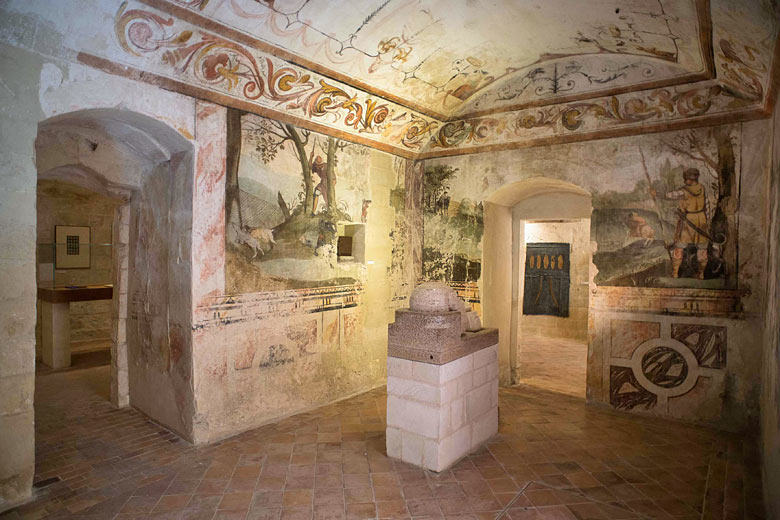 Meanwhile, you'll find the Musea della Scultura Contemporanea Matera (MUSMA), or the Museum of Contemporary Sculpture Matera, inside the Palazzo Pomarici located at the heart of the Sassi.
It showcases a variety of sculptures from the 19th century to the present day as well as ornate frescoes that adorn the cave walls in a select number of the museum's rooms.
You can visit cave churches
Matera's chiese rupestri, small rock churches cloaked in frescoes, are some of the city's most fascinating sights. There are more than 150 rock churches here, both in the city and in the surrounding ravine.
Within the city, the 12th-century San Pietro Barisano, the Sassi's biggest chiese rupestri, makes a good starting point. Its rock-hewn interior is washed in faded frescoes and dotted with statues; underneath the church are a series of underground vaults, which were once used to drain corpses.
The hilltop, rock-chiselled Madonna de Idris, with its wonderful views, is also worth a visit. Another one not to be missed is the Chiesa di Madonna delle Virtù, a monastic complex made up of dozens of limestone chambers that date from the 10th century.
And hike through a ravine
Part of what gives Matera's landscape so much impact is the rocky ravine that the Sassi seemingly crumbles away into. Beyond the Gravina River that rumbles through the base of the ravine lies the Park of Rock Churches, an area pockmarked with cave churches.
Two are worth making a beeline for: San Falcione, which is home to a beautiful fresco and the 12th-century fresco-draped Madonna delle Tre Porte.
Historic churches aside, the ravine is also worth hiking through for the breathtaking views you get looking back across to the hilltop Sassi. The hike starts at the stairs by Monastero di Santa Lucia, from where you can cross one of the rock bridges and then take your pick of the wriggling hillside paths. Alternatively, a number of local guided tours visit the area.
The accommodation is enchanting
Few places are as atmospheric to stay in as Matera. Here, boutique hotels have transformed cave dwellings in the Sassi, creating beautiful spaces out of the rock-hewn architecture.
Locanda di San Martino* is home to a vaulted cave spa and offers a couple of cave rooms set apart from the main hotel, tucked down a backstreet in the heart of the Sassi.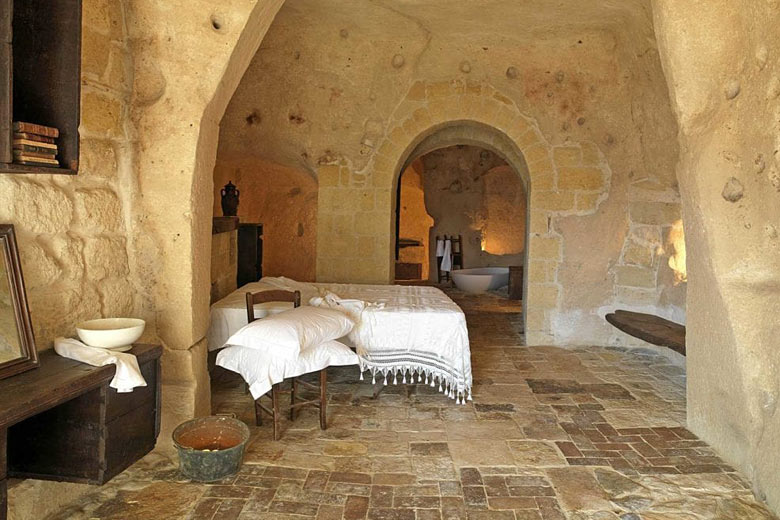 For a blend of grandeur and history, the Palazzo degli Abati* splits its accommodation between cave rooms and an 18th-century palace; one room even features ancient fossils etched into its walls.
For a romantic break, however, the spectacular hilltop Sextantio le Grotte della Civita* cannot be beaten. Its gorgeous sandstone-chiselled rooms boast vaulted ceilings, log fires and freestanding bathtubs.
The food is fantastic, naturally
Like its hotels, Matera's restaurants and bars make the most of the city's distinctive surroundings, with cool new eateries and traditional restaurants housed in atmospheric, ancient caves. It's not just the setting though that makes dining here so special, the food is fantastic too.
Matera's culinary traditions are fed by Basilicata's undulating mountains, fertile pastures and wild coastline. Agriculture has long been at the heart of things here; its wealth of olives, vegetables, grains and pulses heavily shapes Matera's traditional Lucanian cuisine.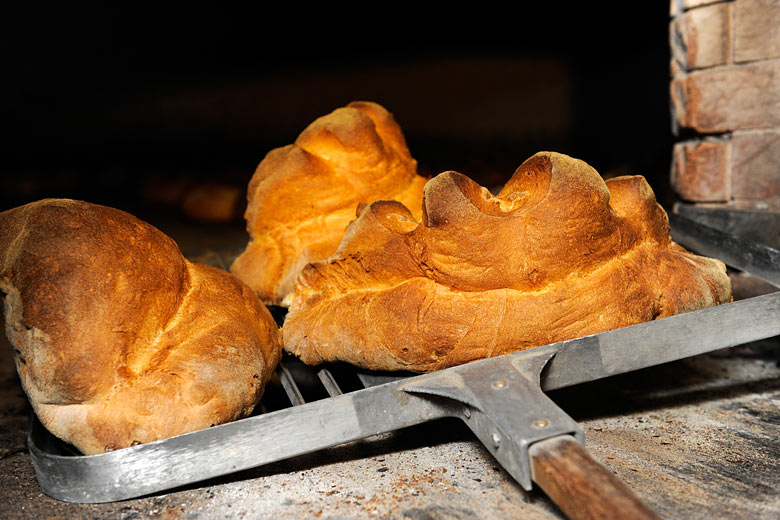 However, it's Matera's bread that steals the show here. Regarded as the best bread in the region, the ancient Pane di Matera is a great hulking beast of a loaf, whose vast rugged shape mirrors the area's rocky terrain.
Still made in the traditional way, Pane di Matera is famed for its crunchy crust and unique taste; no visit to Matera is complete, or frankly possible, without trying it.
Charming Puglia is on the doorstep
Set close to Basilicata's border with Puglia, Matera is perfectly placed for day trips into its neighbouring region.
Sun-bleached Puglia glides down the heel of Italy's boot, a region ringed with coastline and sprinkled with olive groves, vineyards and a necklace of gorgeous, white-washed towns.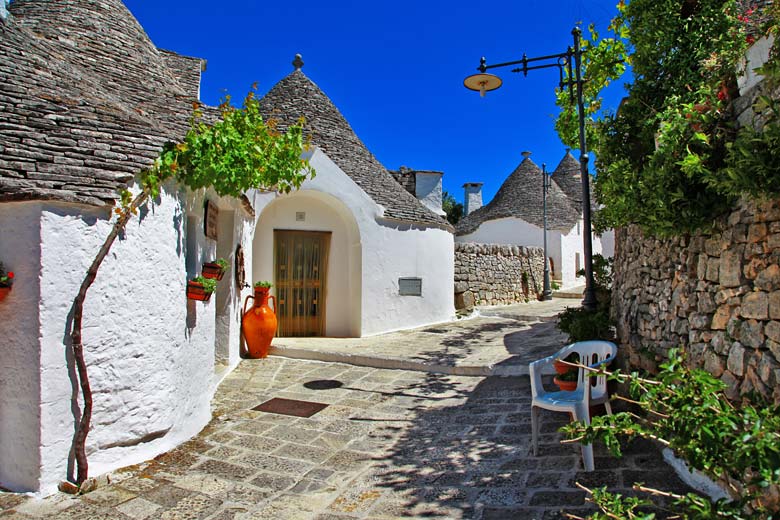 Culture lovers should head to Lecce, Puglia's Baroque jewel, while Alberobello has become a tourist hotspot for its curious landscape of thousands of trulli, strange conical abodes that crowd the town's old centre.
Of Puglia's wonderful white-washed towns, hilltop Ostuni, with its riddle of atmospheric, sun-bleached lanes, is not to be missed; meanwhile, at the coast, the dramatically wave-lashed Polignano a Mare is a beauty to behold.
Weather in Matera
| | Jan | Feb | Mar | Apr | May | Jun | Jul | Aug | Sep | Oct | Nov | Dec |
| --- | --- | --- | --- | --- | --- | --- | --- | --- | --- | --- | --- | --- |
| Maximum daytime temperature °C | | | 14 | 17 | 22 | 26 | 29 | 29 | 26 | 20 | 16 | 12 |
| Hours of sunshine (daily) | | | | 7 | 8 | | | | 8 | 6 | | |
| Days with some rainfall | | | | | 7 | | 3 | | 6 | | | |
Ready to discover Matera? Take an expertly-guided tour with Newmarket Holidays* or, for a super sustainable escape, consider travelling in style with Great Rail Journeys*.
More about Italy
Jan Feb Mar Apr May Jun Jul Aug Sep Oct Nov Dec
Explore holidays in the sun for less
Be inspired
Get your weekly fix of holiday inspiration from some of the world's best travel writers plus save on your next trip with the latest exclusive offers
We promise not to share your details
Related posts