Travel Insider: Expert holiday tips on Fuerteventura
Please note: travel restrictions remain in place owing to the coronavirus pandemic. Be sure to check the latest travel advice and explore current covid rules and regulations by country.
Welcome to the second instalment in our Travel Insider series where we bring together some of the industry's experts to share their personal experiences and tips on popular holiday destinations.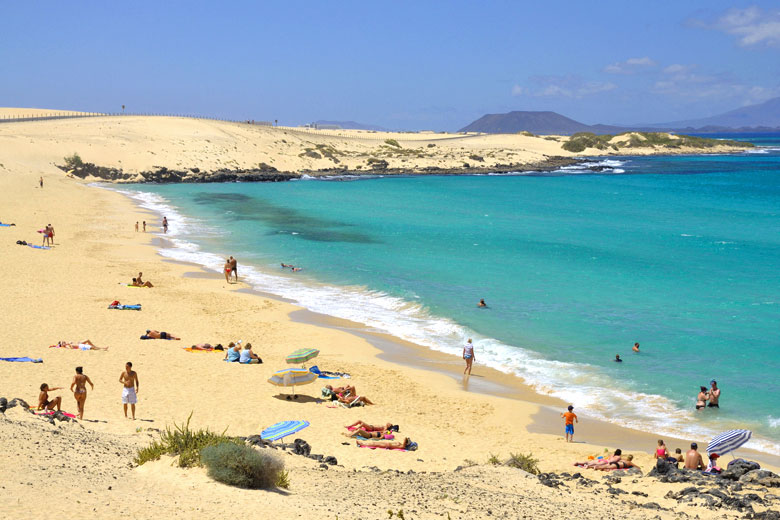 Moving on from the Algarve, we're now looking at Fuerteventura, the second largest Canary Island, and a firm favourite with holidaymakers year-round. We've spoken to those in the know at lastminute.com, ResortHoppa and On the Beach to discover their pick of the best bits in and around Fuerteventura.
Travel Insider: Fuerteventura holidays tips from the experts in travel
From fiery festivals and popular local restaurants, to some of the most secluded and romantic things to do on, read on to discover what our Fuerteventura experts have to say, and why they love this very individual Canary Island.
Top five festivals in Fuerteventura
by Kirsten Beacock, Chief Blogger and Fuerteventura aficionado at lastminute.com
Festivals are huge in Fuerteventura, and the good news is that no matter what time of year you plan to visit, there's bound to be a big party happening somewhere. Five of my favourite festival in Fuerteventura are: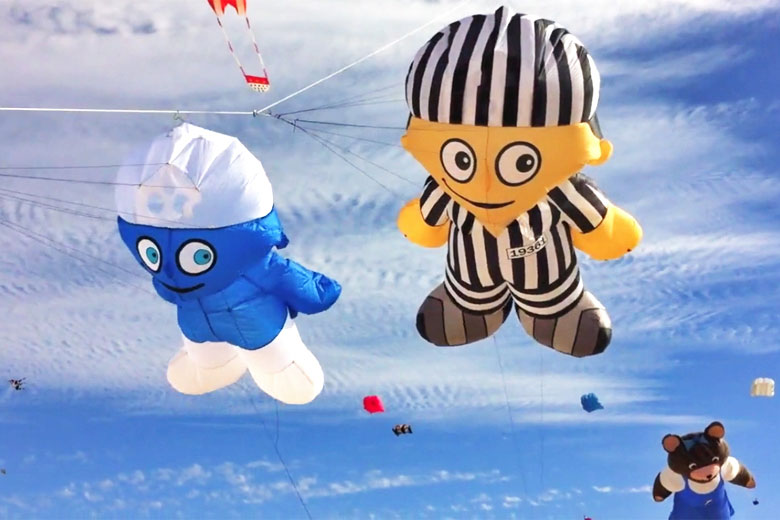 1. Fiesta Fever
From February to March the island hosts a whole range of carnivals. My top tip is to visit the Corralejo Carnival, which combines parades, drag queens and fireworks in a quirky and combustible mix. They close the show with a unique take on the Spanish tradition of 'The burial of the Sardine', by setting fire to a sardine on a beach.
2. Dia de Canarias
Caleta de Fuste's traditional Canarian Day celebrations get going in the central plaza on 30 May. Get stuck into the food tasting - islanders are particularly proud of their tomatoes, potatoes and cheese dishes. Afterwards, pop into my favourite local restaurant, Nestor's, and have a vodka caramello to finish the day in style.
3. A travel tribute in August
Pay homage to the Virgin of Good Travel in El Cotillo. Watch the fishermen arrive back with the Sarpa Salpa (sea bream) and prepare the fish for the celebrations on the harbour front. A religious procession dedicated to the Virgin de Buen Viaje, which begins on the water and ends with a torch and candle-lit procession through the village, is the atmospheric climax.
4. Let's go fly a kite
The Parque Natural de las Dunas de Corralejo is home to the spectacular International Kite Festival. Taking place on the Playa del Burro in November, this is now an international event. It's no exaggeration to say anything goes kite wise, from sharks to cars, and dragons to dogs. Just don't forget your camera.
5. Christmas
Brimming with characters, the giant Nativity Scene in the capital Puerto del Rosario becomes a temporary tourist attraction in its own right. It's also worth sticking around for the Three Kings parade (Cabalgata de los Reyes) on 5 January. Expect boats, floats and even camels.
Top five foodie joints in Fuerteventura
by Charli Hunt, Marketing Manager and gourmet at ResortHoppa
As a hotspot for tourists of every nationality, Fuerteventura is packed full of culinary delights from around the world. Whether it's traditional dishes plucked almost straight out of the sea, or fresh local ingredients with an exotic fusion twist, Fuerteventura is a foodie's paradise. Here are five of my top local joints: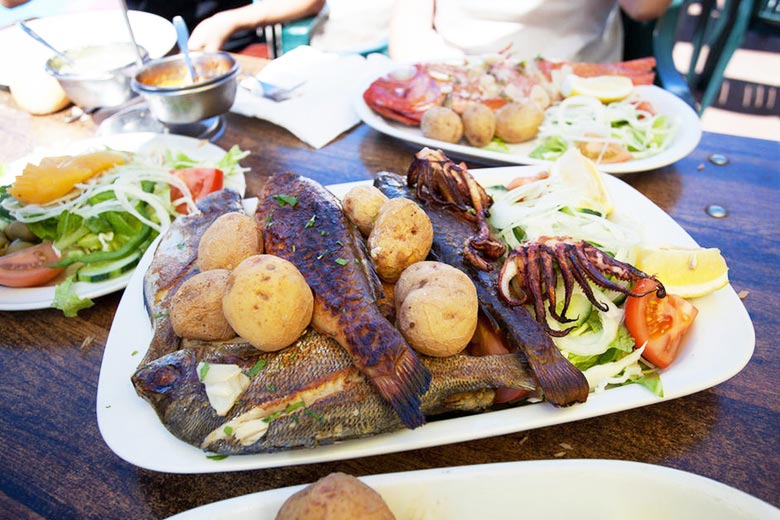 1. Tantaluna, Corralejo
Cheekily self-proclaimed as 'the worst restaurant on the island' this incredible Italian restaurant serves dishes so beautiful you won't want to eat them. Perfect for couples or groups, this is a great restaurant for those who like to share tapas style with a cocktail or two thrown in.
2. Tio Bernabe, Corralejo
Combining delicious food, incredible wine and friendly service all at a great price, the Tio Bernabe restaurant is ideal for foodies on a budget. Here you'll find fresh and expertly prepared no-frills Canarian dishes, perfect if you want to eat and feel like a local.
3. Casa Isaitas, Pajara
This simple, traditional restaurant at Casa Isaitas is packed full of authentic Spanish dishes that will melt in your mouth. The warm friendly atmosphere and serene surroundings make it great for breakfast, lunch and dinner, and guests often find themselves enjoying all their meals here.
4. Bahia La Pared, Pajara
Providing stunning views of the sunset and over the beach, Bahia La Pared is a hotspot for both locals and holidaymakers alike. Serving delicious fish and offering a taste of traditional Spain, this is a definite must for foodies looking for an authentic culinary delight.
5. 15, Caleta de Fuste
Still popular with locals, despite its high ratings with holidaymakers, 15 has kept its quiet charm, friendly atmosphere and - best of all - reasonable prices. The concept is simple: each day a menu of 15 dishes is served, with meals being demoted and replaced if they find themselves too far down the list. It's just a matter of time before this catches on!
Top five activities for couples in Fuerteventura
by Evette Paterson, Customer Services Agent and Fuerteventura pro at On the Beach
My husband and I have visited Fuerteventura many times over the years. It's a beautiful, unspoilt island, providing a more traditional Canarian experience than some of the other big name destinations nearby. If you're thinking of going with your other half, there are so many fun and romantic things to do and see together. Five of my top activities for couples include: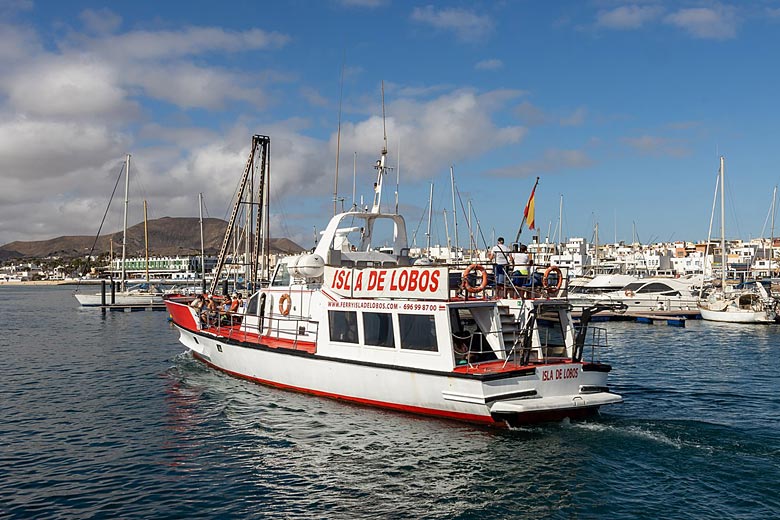 1. Exploring Parque Natural de las Dunas (Dunes Natural Park)
This spectacular park is a tranquil collection of rolling sand dunes running north to south. The five mile ribbon of golden sand is surely one the most charming places to go for a stroll, hand-in-hand. Pack a bottle of bubbly and some snacks for a memorable picnic among the sand.
2. Enjoying the views over Cofete Beach
Head south and embark on a day's hiking around Cofete Beach. This iconic stretch of coast is largely wild and untamed, with strong currents and winds, so not suitable for swimming. It is, however, incredibly picturesque with a mix of long and short trails in the mountains behind, offering many great viewpoints. Take a picnic, find a perch and soak in the scenery together.
3. Visiting El Cotillo
A trip to El Cotillo in the north is a must for couples after a laid back atmosphere in a truly beautiful and traditional fishing village. You'll find plenty of quaint bars and restaurants, as well as some of the region's best beaches. Take the clifftop path to Playa del Castillo (popular with surfers owing to the wind), or enjoy a dip in the calmer waters of the lagoons to the east.
4. Sailing to Lobos Island
Sitting just a mile north of Corralejo harbour, Lobos Island is a designated nature reserve easily access by a short boat ride. The island may be uninhabited but it's hugely popular with tourists keen to take a walk, enjoy a picnic, snorkel or just soak up the sun with great views of Fuerteventura - it's a scenic spot for a touch of romance.
5. Dining in Corralejo
Corralejo is a fantastic base for anyone visiting the island, especially if it's your first time. There's something for everyone, with every need catered to. Come dusk, the beachfront restaurants twinkly into life, offering splendid local dishes of fresh fish, cold beer and views of nearby Lanzarote and Lobos Island.
Tip: It's definitely worth hiring a car if you can. You can then explore every corner of the island, as well as gaze on the rugged scenery of the interior, which is largely untouched and best experienced in isolation on a romantic break. Having your own set of wheels allows you to do this with ease.
Fuerteventura ticks every box as a holiday destination, simply because it offers something for every type of holidaymaker, budget and taste. If you feel like road-testing some of these expert tips, be it a colourful festival, tasty cafe or romantic stroll, check out lastminute.com, ResortHoppa and On the Beach for everything from flights and holidays to transfers. You can also find out more in our Fuerteventura holidays section.
More about Fuerteventura
Jan Feb Mar Apr May Jun Jul Aug Sep Oct Nov Dec
Be inspired
Get your weekly fix of holiday inspiration from some of the world's best travel writers plus save on your next trip with the latest exclusive offers
We promise not to share your details
Related posts
*affiliate links: find out how we are funded and why this helps us remain free to use.