10 watersports & activities you can do on a Mark Warner holiday
*affiliate links: find out how we are funded and why this helps us remain free to use.
Remember when a banana boat ride was the height of holiday fun? Well, things have come a long way since then, and Mark Warner has committed its resorts to offering the very best watersports and activities going - minus the inflatable fruit.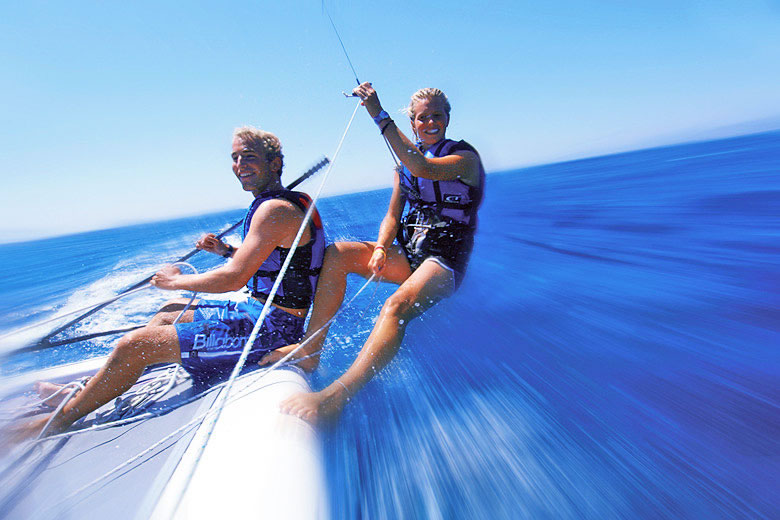 Mark Warner has long attracted those keen to enjoy its select resorts in Greece, Sardinia, and Corsica, as well as the activities on offer, giving families something more to do than just lie by the pool or veg on a lounger - although you can of course do this too.
The best thing about a Mark Warner holiday is that the ball is always in your court - so to speak. You can decide how much or little you want to do, with access to most equipment and intro lessons included. Read on to find out more about the different activities you and your family can do, and choose the right resort for your next watersports-filled Mark Warner holiday.
1. Sailing
Sailing seems to be one of the most popular activities to try on a Mark Warner holiday. Each of the six beach resorts is an accredited Royal Yachting Association (RYA) centres, ensuring that every instructor is also RYA certified. And this is far more than a technicality - for those keen to learn something new on holiday, you can choose from a selection of RYA courses and leave certificate in hand.
You may already be a seasoned sailor just in need of a vessel to bring it all back, and on a Mark Warner holiday you can choose from a variety of sailboat and catamaran models. If, however, you simply want to dabble in sailing, getting to know the basics such as when to duck below the boom and how not to capsize, free lessons are included in your holiday to get you out onto the water to quite literally learn the ropes. Whatever level you start at, the emphasis is on enjoying the sailing, learning and practising as much as you like on you Mark Warner holiday.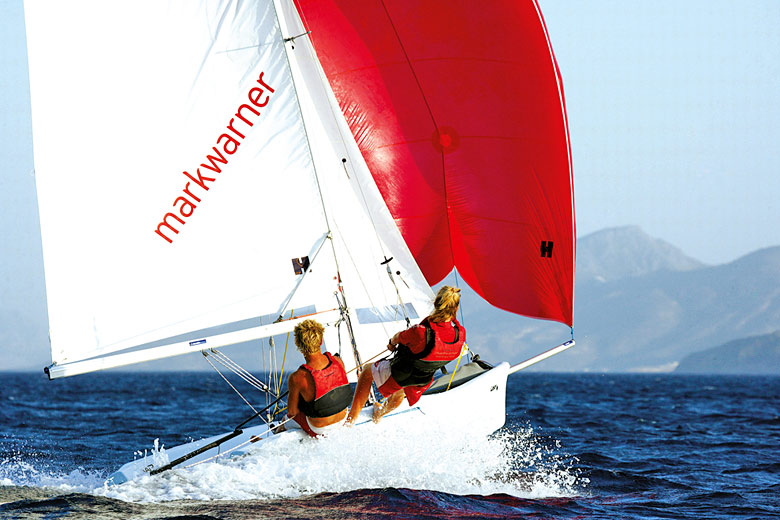 If you want to give sailing a go, it's recommended to book your prefered course in advance to both secure your place and save money. The RYA courses on offer from Mark Warner are considerably cheaper at these resorts compared with learning back home in the UK, which is a huge added bonus. Also check out Mark Warner's Sailing Regatta Week, which occurs annually at Levante Beach Resort, Rhodes, Greece for a little light competition, whatever your expertise.
Where: you can try sailing at any of Mark Warner's six summer beach resorts
Find out more about sailing >>
2. Scuba diving
Scuba diving is an extra special water sport - one that requires all the right gear and the right idea, and when you book your stay at the beach resorts in Greece or Sardinia, a free taster scuba diving lesson is included in your stay. From here, you can opt for further lessons and even go for PADI certification. Courses on offer include an introduction to scuba diving, open water, advanced, and youth options for children aged eight and nine.
If you think this might be of interest to you, it's best to book your PADI course with Mark Warner in advance. Firstly, it guarantees your place, and secondly, it's certain to be cheaper than booking when you arrive. The use of wet suits is included with every scuba diving lesson and course.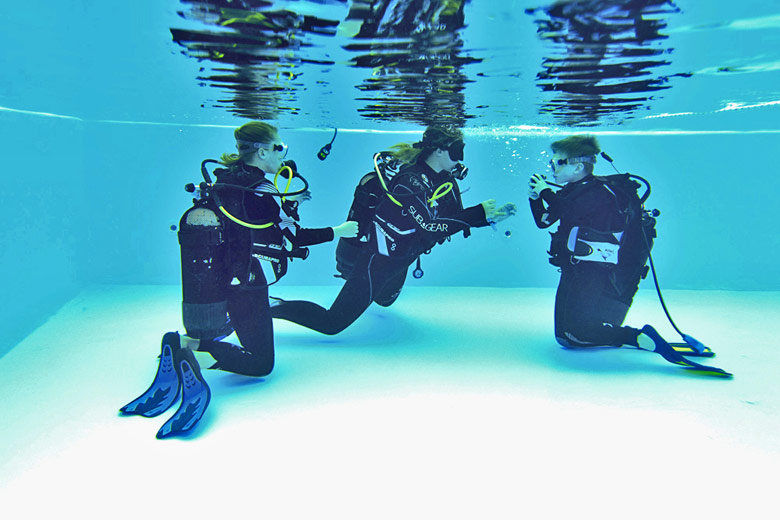 Scuba diving isn't for everyone however, which is where snorkelling comes in. Instructors are on hand to help instil confidence in snorkel-newbies. Full day and half day snorkelling trips can also be booked on arrival at your Mark Warner resort.
Where: you can try scuba diving at Lakitira Beach Resort and Helona Beach Resort in Kos, Levante Beach Resort in Rhodes, and Lemnos Beach Resort on Lemnos Island. You can book scuba diving courses at Perdepera Beach Resort, Sardinia, however these are run by a local company, not Mark Warner directly.
Find out more about scuba diving >>
3. Windsurfing
It's hard to beat the feeling of gliding along, wind in your sail, sun on your face - windsurfing is one of those watersports that you can pick up with a bit of practise and the right help. Whether you're after a refresher lesson or you're starting from scratch, you can choose what level of involvement you want on your break.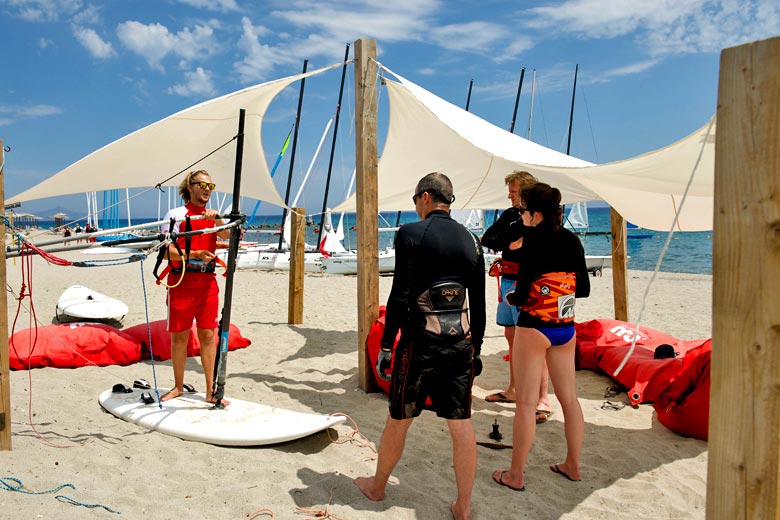 Free basic tuition is included in your Mark Warner holiday, ensuring there's no excuse not to give it a go. You can also book private lessons, and tackle a beginner or intermediate RYA windsurfing course if you fancy going home with more than the satisfaction of merely having stood upright on your board.
If you're more advanced, you may want to look out for Mark Warner's Windsurf Development Week, from 4th October 2017 at Lakitira Beach Resort, Kos, Greece. The aim of the game is to improve your technique over the seven day period; and the best bit is, taking part is free.
Where: you can try windsurfing at any of Mark Warner's six summer beach resorts
Find out more about windsurfing >>
Good to know: floatation vests are compulsory and free to use when you take part in Mark Warner watersports, while helmets are available for free if you wish
4. Kayaking
Hopping in a kayak, paddle in arm, is an invigorating way to kick start the day. When you book a holiday at any of Mark Warner's beach resorts, the use of kayaks and double-ended paddles is included in the price, giving you the freedom to set off when you like. Instructors are, of course, there to guide you and give some helpful advice, but generally kayaking is all about you, your paddle, and testing your arm strength.
Kayaking can be done solo or in a pair, and there are supervised sessions for youngsters included in the various kids' clubs. Tip: the morning is by far the best time for sea kayaking before the wind and waves properly get going, making it that much more hard work!
Where: you can try kayaking at any of Mark Warner's six summer beach resorts
Find out more about kayaking >>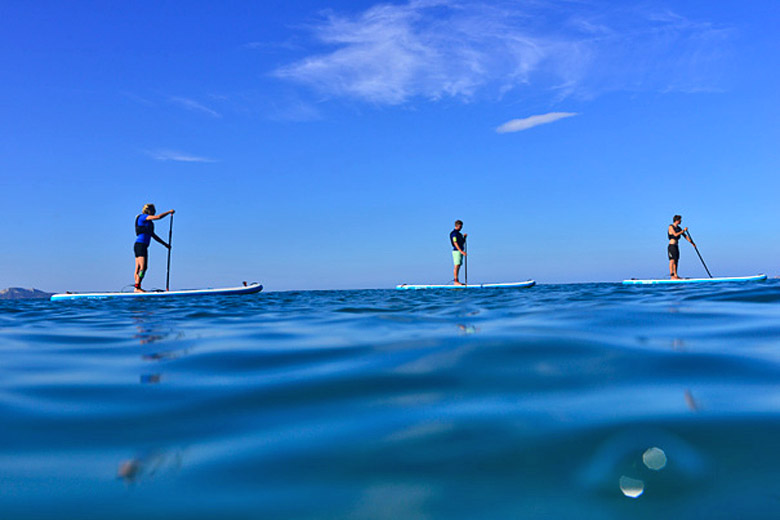 5. SUP boarding
Stand up paddleboarding (or SUP, as it's affectionately called) is one of the most enjoyable, and arguably trendy, ways to get out on the water. To pull off the look of someone who's fully cool on a SUP board, it's all about balance with a touch of core strength required when it comes to actually standing up. When you book your Mark Warner holiday, SUP boards and paddles are included in the price, so you can pole up and test your sea legs at leisure.
Where: you can try SUP boarding at any of Mark Warner's six summer beach resorts
Find out more about SUP boarding >>
6. Waterskiing & wakeboarding
Offering a little something extra, Mark Warner gives you the chance to try waterskiing and wakeboarding at two of its Greek resorts. A free land based introduction to both sports is included with your holiday, ensuring you've nailed the basics before getting out on the water. You can pick from the beginner or improver courses if you want to work on your technique, or use the 'pay-as-you-go' scheme to get out when it suits you.
Where: you can try waterskiing and wakeboarding at Levante Beach Resort in Rhodes, Greece, and at Lemnos Beach Resort on Lemnos Island, Greece.
Find out more about waterskiing & wakeboarding >>
7. Tennis
Tennis tends to bring out the competitor in all of us, and at Mark Warner there's a match for everyone, whether you're after a friendly game or taking part in the Intensive Tennis Week schedule. Mark Warner's Lawn Tennis Association (LTA) accredited coaches are available in every resort to help with anything from one-off tips and the odd lesson to full LTA courses and private tuition.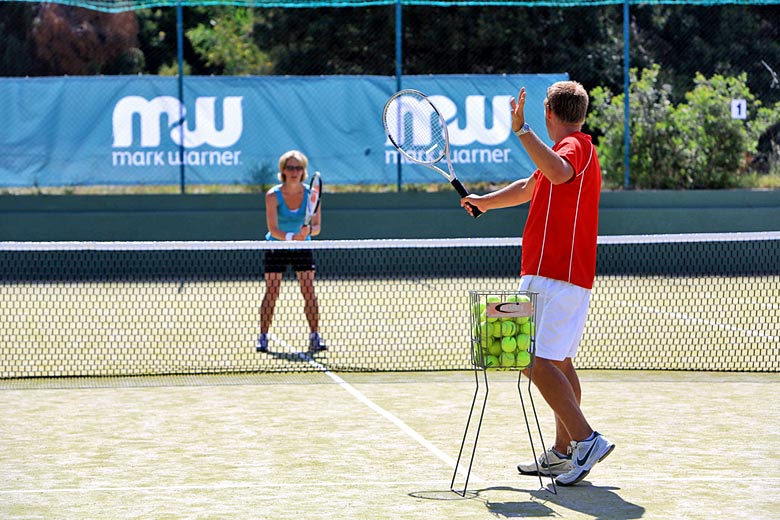 Mark Warner exclusively uses HEAD tennis equipment, and each resort has a varying number of courts, with a maximum of seven astroturf courts at Levante Beach Resort and a minimum of two at Perdepera Beach Resort in Sardinia.
Where: you can play tennis at any of Mark Warner's six summer beach resorts
Find out more about tennis >>
8. Road cycling
One for the big kids, road cycling is a fantastic way of keeping fit (you'll sweat buckets tackling some of the Corsica's steep ascents, for example!) and seeing what the surrounding countryside has to offer. Opt for one of the (free) guided tours that lasts anywhere from one to five hours depending on the level, and you will see a whole different side to your destination. Everything from beginner to challenging routes are available, although you can strike out on your own if you prefer, maps are provided.
Mark Warner uses lightweight Cannondale hybrid and road bikes, with the option to hire one of the carbon fibre models for an extra fee. Naturally, helmets are provided. Children aged 13 can get involved as long as they are confident and fit one of the adult bikes. Whatever level of road cyclist you are, Mark Warner's super friendly guides are on hand to help.
Where: you can try road cycling at Levante Beach Resort, Rhodes, San Lucianu Beach Resort, Corsica, Perdepera Beach Resort, Sardinia, and Lemnos Beach Resort, Lemnos.
Find out more about road cycling >>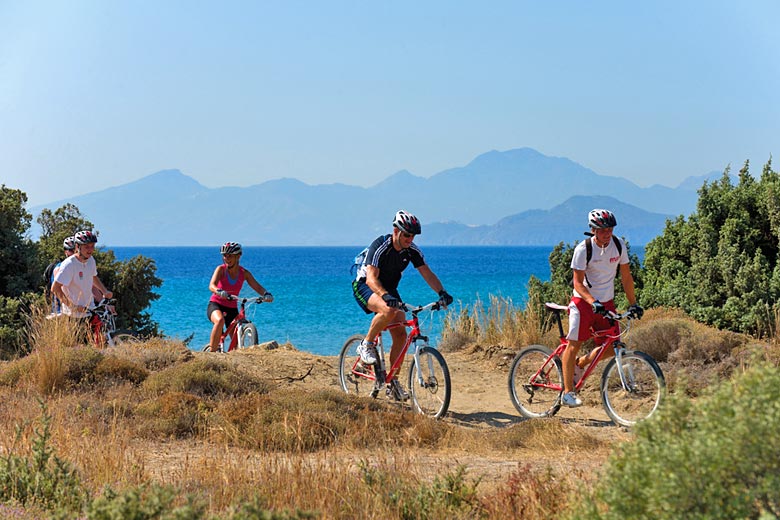 9. Mountain biking
As with road cycling, mountain biking is a great way to get out and about into the countryside surrounding your resort. You'll find top Cannondale mountain bikes ready to go either on your own or part of a guided trip. Choose from various difficulty ratings, such as smooth and scenic coastal routes to more difficult mountain climbs suitable for the pros.
While mountain biking is open to anyone over 18, 13 to 17 year olds can also start peddling as long as they can easily ride one of the adult bikes and remain supervised. Mountain bike hire is included in the price of your Mark Warner holiday, so no need to worry about paying any extra. Just speak to your mountain bike experts at resorts in Greece and Sardinia who will get you set up and ready to go.
Where: you can try mountain biking at all of the summer beach resorts in Greece, and at Perdepera Beach Resort, Sardinia.
Find out more about mountain biking >>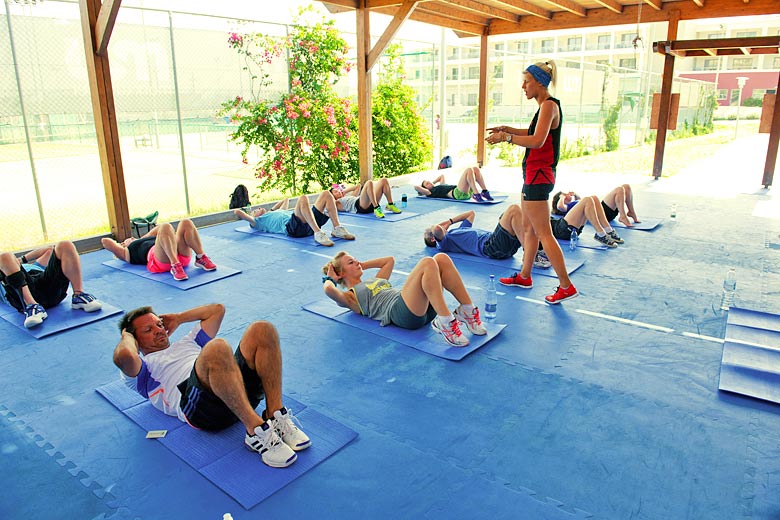 10. Fitness & sport
Mark Warner offers a full and busy schedule of fitness classes across each of its resorts. From aerobics and Pilates, to aquafit, volleyball, and group runs, there's a class to ensure you keep fit between meals - and the endless flow of drinks for all inclusive guests! Footy fans staying might also want to investigate the good natured yet competitive five-a-side matches, which take place at the end of each day in summer.
Where: every Mark Warner resort has a full fitness schedule. The five-a-side football is only available at Levante Beach Resort and Lakitira Beach Resort, Greece.
Find out more about fitness and sport >>
As you can see, there is so much choice when it comes to watersports and activities on your Mark Warner holiday. Whether you're in it for real and learning every day or just trying something new and making the most of the fresh summer air, there's a sport and a level for everyone at Mark Warner. Check out the latest deals on Mark Warner holidays to Greece, Sardinia, and Corsica to see if you could save with an exclusive discount or money saving offer this summer.
Weather2Travel.com tried out these activities as a guest of Mark Warner in summer 2017
Explore holidays in the sun for less
Be inspired
Get your weekly fix of holiday inspiration from some of the world's best travel writers plus save on your next trip with the latest exclusive offers
We promise not to share your details
Related posts