Top 7 things to see & do in Kefalonia, Greece
*affiliate links: find out how we are funded and why this helps us remain free to use.
What do you look for when you're craving a Mediterranean island break? Maybe it's great beaches, an idyllic climate and rich local culture?
Or maybe it's epic natural beauty, superb food, historic towns and villages, and a bit of Hollywood glamour? If you crave all of this and much more besides we've got the perfect Mediterranean island for you.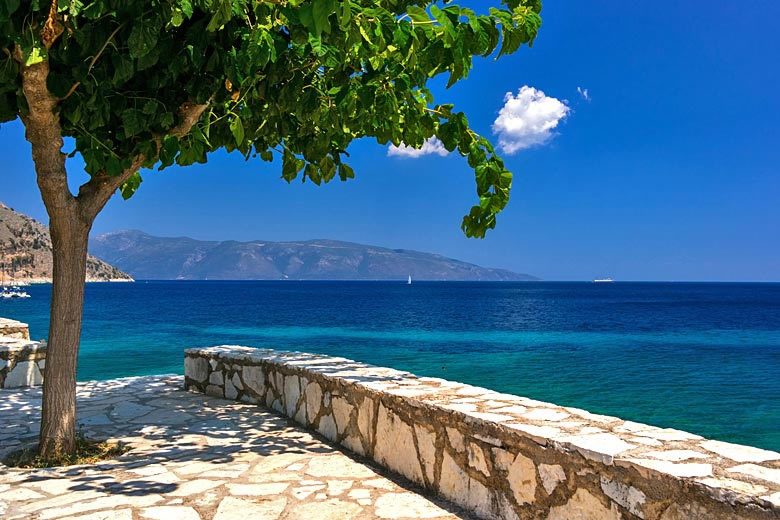 Given its popularity, Kefalonia is well served by companies such as First Choice, which offers all inclusive holidays* to the island. Choose from departure points around the UK, including Birmingham, Manchester and Newcastle, and after a short flight you will find yourself basking in the delightful Grecian sun. Join me now as I steer you off on a tour of the best things to see and do outside of your resort on this most special of Greek island oases.
1. Hit the beach
Kefalonia is renowned as a beach resort island, and unlike some places around the Mediterranean, it does not disappoint. Myrtos is not just the best beach on the island, but one of the finest in Greece.
It may look strangely familiar and that is because it adorns many a holiday brochure and is often the face of Greek beaches abroad. It is a real postcard-perfect gem, with a gloriously starched beach stretching for one and a half miles, easing down to crystal clear waters. Beyond Myrtos other divine beaches await.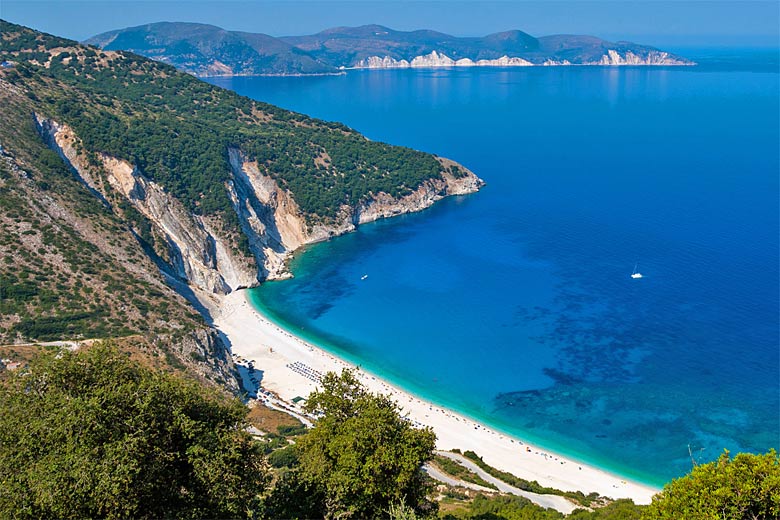 Two of my favourites are Antisamos Beach (a quieter white pebble gem with no sand to get stuck everywhere) and Vatsa Beach, a wee secret with family friendly shallow water tucked away near the sleepy village of Lixouri. I recommend hiring a car so you can slip off in search of your own little stretch of beach paradise.
2. Get out on the water
Kefalonia is a great place for messing about on pedalos and jet skis, with boat trips also a rewarding half-day or full-day trip option. The resorts offer myriad boat trips to cater for all tastes. My favourite boat foray is not to one of the island's secluded coves for a snorkel - which admittedly is a lot of fun! - but to Melissani Lake.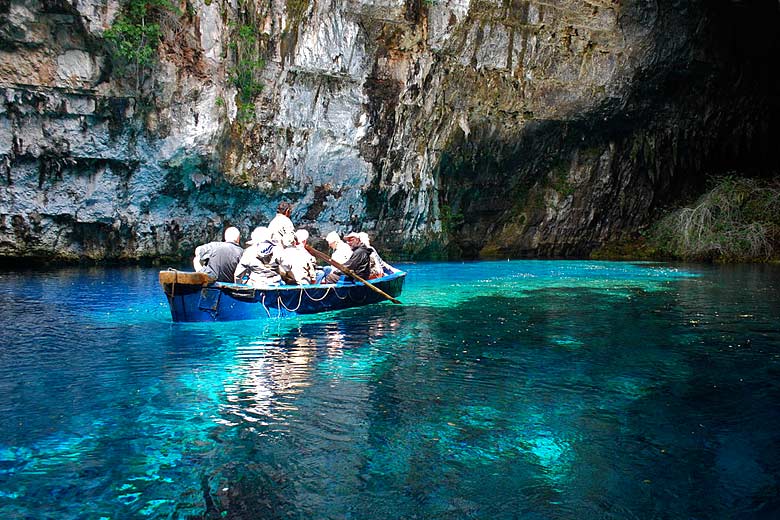 This breathtaking cave, which lies just a few hundred metres inland from the sea, was only 'discovered' in 1951, further adding mystique to a cave named after the nymphs in Greek mythology. You can explore both chambers on a boat excursion. The best time to come is around midday when the sun beats right down into the cave.
3. Assos
One of the great joys of visiting Kefalonia is that there are many charming towns and villages to explore. None more so than picturesque Assos. The ruins of a 16th-century Venetian Castle hint of more illustrious days in Assos' past; indeed the Venetians actually planned at one point to finish a large fortress as a bulwark against local pirates and the Turks.
Today, though, there is little to do other than watch time go by. If you come here with your own car or by bike then you can linger on after most day-trippers slope off for the day.
4. Get high
Mount Aenos is the highest mountain on the island and is the ideal place to head early on your trip as it opens up much of Kefalonia and really helps you appreciate its epic natural drama. It's quite a hike up here, so I advise 'cheating' a little and parking up at the radio masts. From here you just have to drop down a little then continue up a sign-posted path to the top.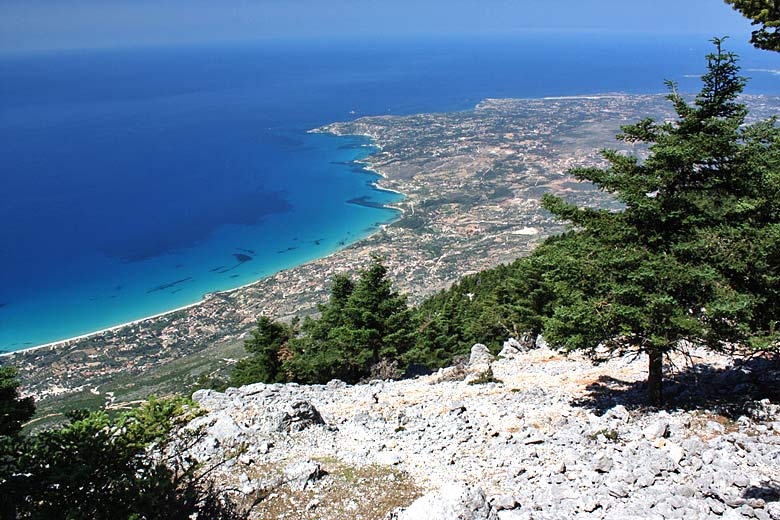 It's worth the effort as the isle unfolds all around with craggy hills, pine shrouded slopes and ripening vineyards. Bear in mind that it often tends to cloud over up here as the afternoon progresses. Peering down over the clouds is itself a thrilling experience, but if it's views of the island you're after I'd advise you to come up in the morning.
5. Cave in
Drogarati's Cave may have come to light 300 years ago following a strong earthquake that opened up access to its mysterious underground world in Hollywood film style, but it only opened to visitors in the 1960s. Delve down here to a depth of 60m (where it's a constant 18°C, a welcome escape from the summer heat) and you enter another world altogether.
Look out for the concerts that they sometimes hold in here, which take advantage not just of the spectacular setting, but also the cave's excellent acoustics. If you're a fan of stalactites and stalagmites (bet you cannot remember which is which without looking it up!) some wonderful examples grace this unforgettable netherworld.
6. Tuck in
Kefalonia is a real foodie treat. Yes, they've got the hearty mainland Greece dishes such as moussaka, but as this is a Mediterranean island extra virgin olive oil and boat-fresh fish are also found in abundance. The local honey is delicious, best served drizzled over Kefalonia sheep yoghurt.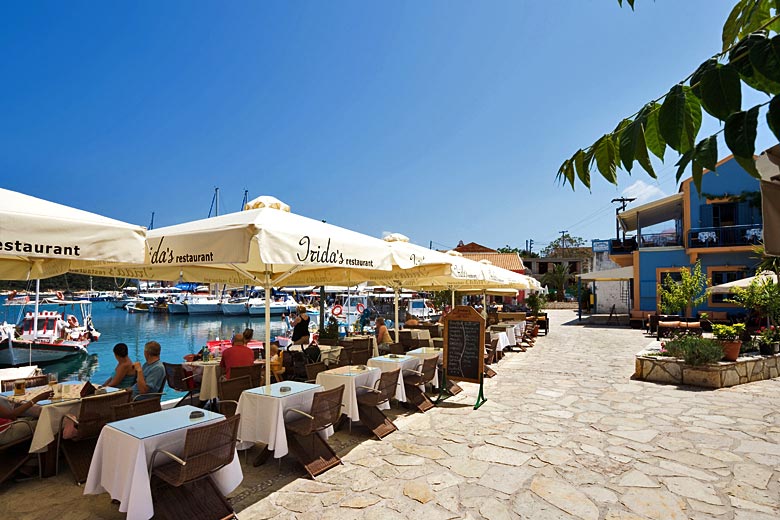 A local favourite is Kreatopita, a baked pastry filled with red meat, onions, garlic, potatoes, rice, tomato and various pungent spices. Fish lovers should check out Argostoli, where fishermen sell their catch on the waterfront. If you're really hungry there are always multi-course mezze feasts - often the food keeps coming until you surrender.
7. Find that mandolin
Time now to check out some locations from the Hollywood film version of Captain Corelli's Mandolin starring Nicolas Cage and Penelope Cruz. Unlike many book adaptations, scenes from the film were actually shot on the island in 2000, giving a huge boost to tourism. You can tour many of the locations today.
Myrtos Beach was the location for the mine explosion scene, the village of Sami also featured as did Antisamos Beach. I recommend reading the original novel by Louis de Bernières as you will recognise a lot more of the island in there too. The book is also a great way to learn more about Kefalonia and its history after you book your holiday.
When it comes to booking your holiday in Kefalonia, look no further than First Choice for an all inclusive option that gives you a great base from which to get out and explore the island. You can also keep an eye on the weather in Kefalonia and see when we think is the best time to go for fabulous island-paradise conditions.
More about Kefalonia
Jan Feb Mar Apr May Jun Jul Aug Sep Oct Nov Dec
Explore holidays in the sun for less
Be inspired
Get your weekly fix of holiday inspiration from some of the world's best travel writers plus save on your next trip with the latest exclusive offers
We promise not to share your details
Related posts