8 things to know about La Graciosa, the newest official Canary Island
Please note: travel restrictions remain in place owing to the coronavirus pandemic. Be sure to check the latest travel advice and explore current covid rules and regulations by country.
Long considered part of Lanzarote, the residents La Graciosa have been on a mission to get the island a whole new title of its own: in summer 2018, this small hunk of volcanic rock in the popular Atlantic archipelago became the eighth of the 13 islands in the Canaries to be officially recognised.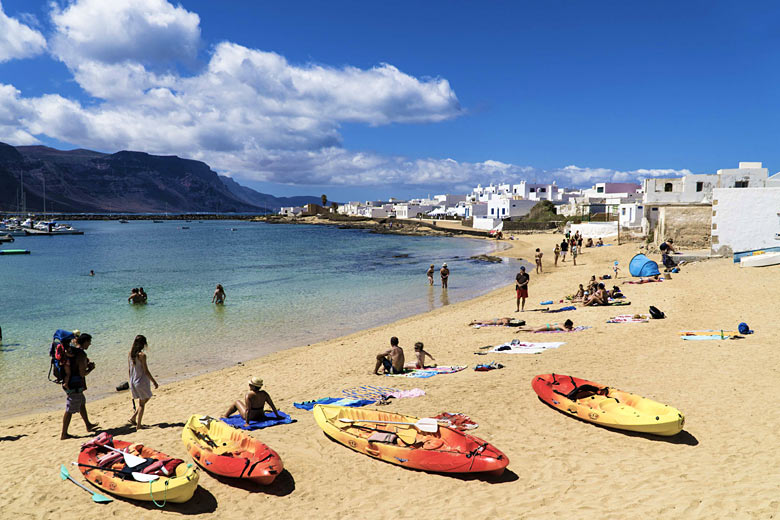 Our resident expert on the ground recently revisited La Graciosa to see what attractions await. Read on to find out what he discovered about this lesser known destination and see why you should add it to your holiday itinerary.
Fancy exploring La Graciosa? Browse the latest deals from TUI on holidays to nearby Lanzarote and the other Canaries*, a hop, skip and short boat trip from La Graciosa.
1. The ferry timetable
Given its size and remoteness, there's not much in the way of accommodation on La Graciosa. Indeed, the island is home to fewer than 750 residents. So, if you don't want to be stranded without a bed to rest your head, a day trip is best.
Lineas Romero, the local ferry line, starts its service from the bijou port of Orzola on the northern tip of Lanzarote from 8.30am.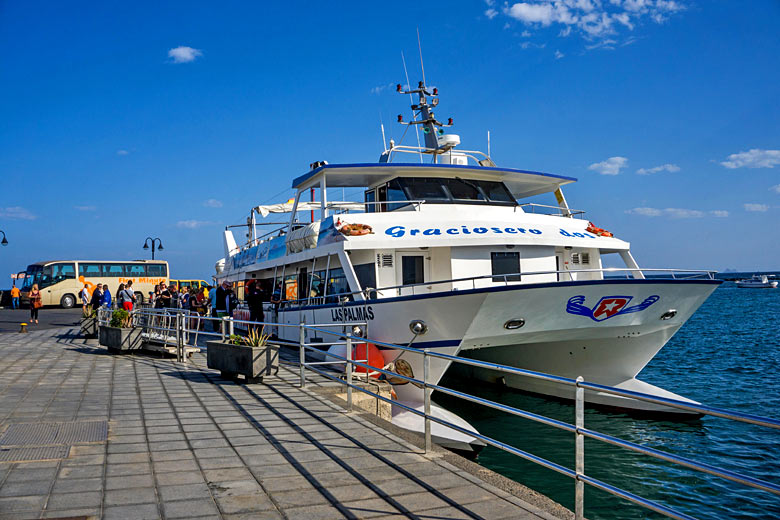 The last return ferry of the day heading out of capital Caleta del Sebo is at 5.00pm (although there are extra 6.00pm and 7.00pm departures between May and July, and in October). The one-hour return journey costs €20.
2. Its streets are paved with sand
La Graciosa is famous for its distinct lack of tarmac roads away from the immediate surroundings of the port. Arrive early and you'll see the surreal scene of residents sweeping away sand deposited outside their front doors.
3. It (possibly) inspired a legend
But there might well be gold in them thar hills you can see beyond Caleta del Sebo. For rumour has it that La Graciosa formed the inspiration for Robert Louis Stevenson's classic 19th-century adventure yarn, Treasure Island.
Legend tells of a British ship pursued by a pirate galleon offloading their soon-to-be booty and burying it in the 1760s, although no one has managed to find anything. Yet.
4. Sample the catch of the day
For a taste of the freshest seafood going, head to El Mesón de la Tierra where the journey from ocean to plate is swiftly completed. Try the seafood platter, highlights of which include sardines, local favourite vieja, and limpets served with a green mojo (coriander sauce).
Vegetarians/vegans visiting would do well to ask for the ensalada sin atun (tuna-free salad) and papas arrugadas con mojo rojo (salty boiled new potatoes accompanied by an altogether fierier sauce).
Work off these delectable dishes with a gentle hike - or even cycle; you can hire bikes in Caleta del Sebo - to the settlement of Pedro Barba. En route, look out for rectangular slabs which served as sun traps previously used by the local fishermen to dry their catches of the day.
La Graciosa weather: planning your visit? Check out the weather in Lanzarote and see when we think is the best time to go to make the most of this isle's attractions.
5. Beautiful beaches
You'll be forgiven for wanting to take a dip straight after arriving. Caleta del Sebo beaches feature sand which looks as inviting as vanilla ice cream, such is the similarity in colour.
There are more stunning beaches to explore around the island, however. Head southwest for the virgin sands and crystal clear waters of Playa Francesca.
In the northwest of the island, Playa de las Conchas appears to have been airlifted in from the Caribbean, resembling as it does the photos within a Jamaican holiday brochure.
La Graciosa your way: while you can explore independently, if you'd like a guided tour of the island, you can choose from a number of excursion providers in Lanzarote, including Eco Insider, which offers a full day to remember.
6. A bit of history
It was Pedro Barba which was intended to be the island's main settlement to house the workers of a fish salting factory. However, when the factory's owner died before his planned business could open, locals moved the capital to Caleta del Sebo, as it was closer to Lanzarote and easier to trade fish for the likes of cheese and oil.
7. The world's smallest museum
Following its independence, La Graciosa is decked in shiny new blue street signs. Look out for the one bearing the name Calle Margarona, for at number 27, you'll find the Museo Chinijo
The Chinijo Archipelago is a UNESCO-protected group of islands and islets. The museum bearing its name is a 70-square-metre mine of information about cetaceans and salt, both endemic to the area. The museum's logo is the distinctive traditional lampshade-resembling hat beloved by locals who use them to keep cool under the strong Canarian sun.
8. Its take on the surf and turf combo
Both Lanzarote and La Graciosa are great places to visit if you love water sports. You can both dive and surf, although the locals seem to prefer the rather less active practice of fishing with a rod.
Meanwhile the turf, so to speak, is ideal if you like to hike and bike. There's a circular route around La Graciosa which is a mere 20 miles in distance. Scaling the heights on the island is child's play with the highest point, Las Agudas, sitting at 266 metres up.
If you want to explore the newest official addition to the Canary Islands, check out the current offers on holidays with TUI. Depart year round from airports across the UK, and add La Graciosa to your itinerary.
More about the Canary Islands
Jan Feb Mar Apr May Jun Jul Aug Sep Oct Nov Dec
Be inspired
Get your weekly fix of holiday inspiration from some of the world's best travel writers plus save on your next trip with the latest exclusive offers
We promise not to share your details
Related posts
*affiliate links: find out how we are funded and why this helps us remain free to use.