9 reasons La Gomera makes a wonderful day trip destination
*affiliate links: find out how we are funded and why this helps us remain free to use.
Little-known La Gomera is the second smallest of the seven Canary Islands*. Located just west of Tenerife, this pristine paradise is graced by misty forests, black sand beaches, and more than 600 km of walking trails. Whether you're seeking ancient traditions, a peek at dolphins and whales, or simply a taster of the island's stellar gastronomy, diminutive La Gomera delivers.
La Gomera sits around 25 miles west of Tenerife and can be easily accessed by ferry within 40 minutes, making it a truly wonderful destination for day trippers*. Check out the latest deals on holidays to Tenerife with First Choice*, before you start planning which of the following activities you will try on your day trip (maybe it'll be trips?) to La Gomera.
1. Trek the Parque Nacional de Garajonay
At the heart of the island, fern-trimmed trails crisscross the lush laurisilva (subtropical laurel) forest that is Gomera's Parque Nacional de Garajonay. A UNESCO World Heritage Site since 1986, the 4,000-hectare national park also encompasses the island's highest point: the rocky peaks of Garajonay teeter at almost 1,500m above sea level.
Pop into the Visitors' Centre Juego de Bolas for an overview of the park's flora and fauna. Then take your pick from the 18 marked footpaths that meander through the Garajonay's misty jungles, cedar forests, and alongside natural springs. Twitchers are advised to keep an eye out for the booted eagles, kestrels and long-eared owls that soar overhead.
2. Learn to whistle El Silbo
The whistled language El Silbo remains utterly unique. It is believed to have first been used by La Gomera's original Stone Age inhabitants, the Guanches, from 1000 BC. For millennia it has been a means to communicate across vast valleys. A revival of El Silbo, which is now UNESCO-protected, means that it is now taught in all of the island's schools. Visitors may learn the basics of this ancient language too - carefully noting how vowels and consonants are replaced by variations in pitch - courtesy of passionate locals. Demonstrations are often held at the island's traditional restaurants and during annual fiestas.
3. Beach hopping
Long sunny summers and mild winters make La Gomera ideal for beach bunnies. Better still, the island's wide variety of sands mean that there are stretches to suit all tastes. Easily accessible San Sebastian's Beach sits alongside the island's main marina. Head to Playa Santa Catalina - a tiny port dedicated to the export of bananas more than a century ago - to splash around in the waves solo.
In Valle Gran Rey, a low key seaside resort, gently lapping waves and black volcanic sands make La Calera the island's best beach for families. Nearby Playa del Inglés has been the island's most popular spot for naturists since hippies arrived in the 1970s.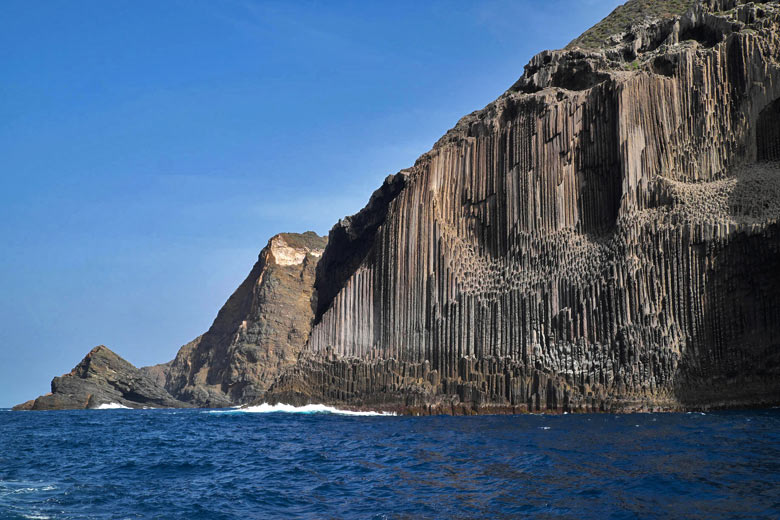 4. Check out the view from the waves
Boat trips around La Gomera abound, each one exploring different aspects of the seas that surround the island. Visit Los Órganos on the northern coastline, a bizarre 200m-wide basalt outcrop that was formed by cooling magma and is said to look like a massive pipe organ. Or try a half day whale watching cruise, departing from Valle Gran Rey or Playa Santiago. These watery escapes often include dolphin and turtle spotting, as well as lunch and a dip in the Atlantic.
5. Scale the Mirador de Abrante skywalk
Steel your nerves. Poking out from the vertiginous Abrante cliff, and complete with the precipitous Mirador de Abrante Restaurant on site, this seven-metre glass 'skywalk' gives visitors the sensation of floating above the Atlantic landscape.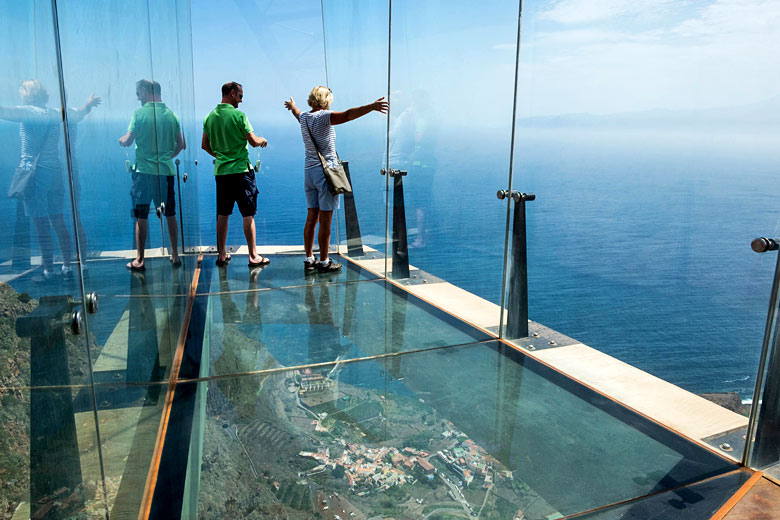 The panoramic platform with transparent floor, designed in 2013 by the Spanish architect José Luis Bermejo and perched 625m above sea level, is nothing if not seriously scary. On a sunny day, vistas may take in both the picturesque town of Agulo, as well as Tenerife's Mount Teide* on the horizon. On a misty day it's atmospherically spectacular.
6. Mountain bike all the way down to the Atlantic
Serious cyclists have their pick of terrain across La Gomera. From the island's capital, San Sebastian de la Gomera, try the steep ascent that climbs uphill to the verdant Hermigua Valley and on to the Garajonay National Park. From here, rippling roads wind ever downwards to the coast, offering views over the island's iconic Roque de Agando rock formations en route.
Not challenging enough? The westward loop to Valle Gran Rey, with a rollercoaster ride down to the island's southern slopes, takes in some 120 km of pedalling.
7. Savour the local flavours
Both seasonal and locally sourced, La Gomera's cuisine offers its visitors a range of fiery flavours. Try the goat's cheese (queso gomero); it's been popular since Columbus packed his own private store and set sail for the New World in 1492.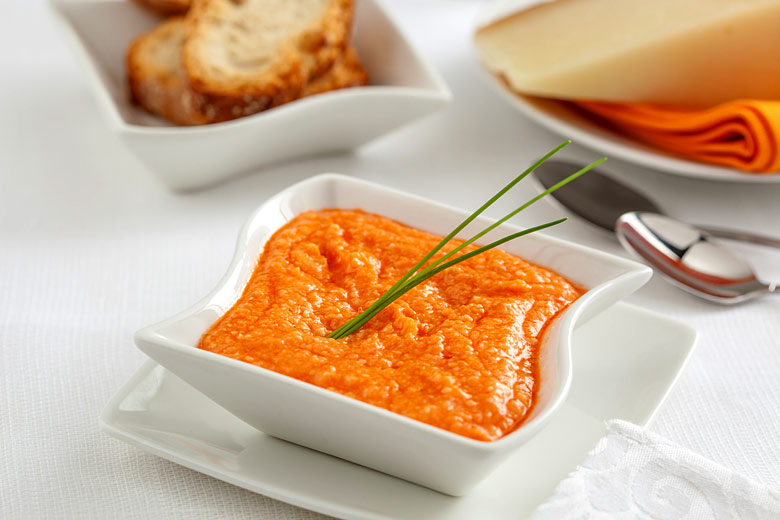 Depending on the season, markets are awash with tropical fruits, including mangos, papayas, and avocados. Piquant watercress soup and rabbit in tomato salmorejo sauce are island favourites. Acquired a taste for La Gomera's gastronomy? Visit a local market to stock up on jars of traditional almogrote (an aged cheese and red pepper spread), mojo dips, and the island's distinctive palm honey.
8. Explore San Sebastian de la Gomera
The island's attractive colonial capital, San Sebastian, cries out for an afternoon meander. Shop its unique boutiques: handicrafts including ceramics, jewellery, and local art are all popular picks, as are boxes of island biscuits from the Dulcería Mendoza bakery.
Pound the streets once frequented by Christopher Columbus and his crew. It's believed he prayed in the Iglesia de la Virgen de la Asunción church before casting off for the Americas. Then select a sunny pavement café in one of the town's pretty plazas to enjoy a café con leche and a leisurely spot of people watching.
9. Lose the crowds in Hermigua
A timeless hiking centre, Hermigua is tucked deep among La Gomera's banana plantations and terraced vineyards. The town is best known for its handwoven rugs and banana leaf baskets. These are showcased in Molino de Gofio and Handicrafts store. Enthusiastic hikers can trek an hour northeast of the sleepy village to the alluring black sands of Playa de la Caleta. Head southwest instead to visit Bosque del Cedro, a lush green forest that houses the enchanting El Cedro waterfall.
You can of course stay on La Gomera but many people choose to weave in a visit to this sleepy Canarian island while holidaying elsewhere in the archipelago. For example, if you book an all inclusive holiday with the likes of First Choice to Tenerife, you will have a great base from which to explore La Gomera on a day trip or two. Remember, you can find out more about the weather in La Gomera, and see when we think is the best time to go to enjoy all of the above activities.
More about La Gomera
Jan Feb Mar Apr May Jun Jul Aug Sep Oct Nov Dec
Explore holidays in the sun for less
Be inspired
Get your weekly fix of holiday inspiration from some of the world's best travel writers plus save on your next trip with the latest exclusive offers
We promise not to share your details
Related posts