10 things to entice you to Tangier
*affiliate links: find out how we are funded and why this helps us remain free to use.
Situated on the north coast of Morocco at the very tip of North Africa, and within spitting distance of mainland Europe, is the ancient city of Tangier.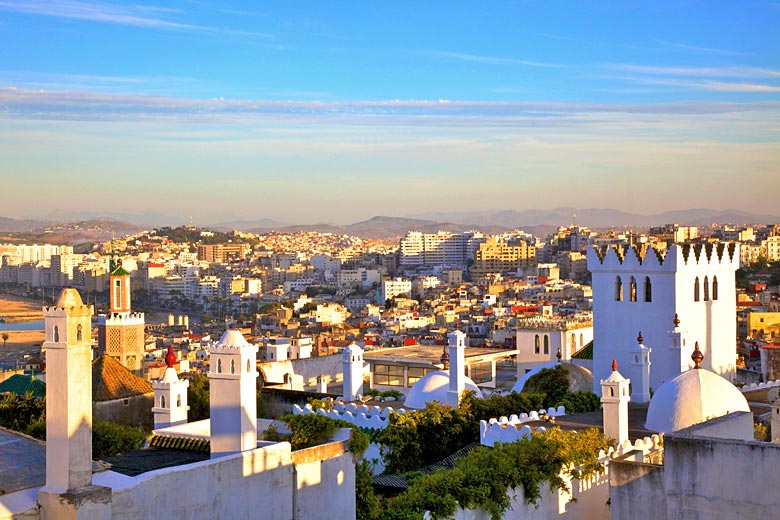 An intriguing mix of Moroccan, European, Berber and Arab cultures, Tangier was an International Free Zone in the recent past, loosely ruled by a European and US consortia for the first half of the 20th century.
During this time, it teetered on the edge of civilisation, with Morocco itself only gaining independence from France in 1957. There was certainly a wild, bohemian quality to Tangier that attracted artists, millionaires, rock stars, spies and anyone trying to hide from the world.
But by the late 1990s, after decades of decay and disrepair under the former king, change was needed. The succession to the throne of Mohammed VI meant that much improved and Tangier is now an enticing city escape.
Getting to Tangier: Air Arabia offers low cost fares direct from London Gatwick to Tangier in just under three hours.
Tangerines
People from Tangier are known as Tangerines (!) and represent many ethnicities including European (French, Spanish, British), Arabic and Berber. This would include the Moors, who conquered the Iberian Peninsula and Malta in the 7th century.
These were a Berber tribe whose land was given the name Mauritania by the Romans. Known as the 'Mauris', this was changed to 'Moors' over time.
In any event, the influence of Andalucía on Tangier and its populace is ongoing, though the effect of French rule in the last century also remains significant. The main religion practised here is Islam though there are still historic synagogues throughout the city as well.
Rock the kasbah
Perched on top of the ancient medina (old town) of Tangier, the walled 'city within a city' is known as the kasbah. These days it is a base for exclusive residences plus several outstanding restaurants, including the El Salon Bleu, which offers views over the ocean.
The famous Porte Verte or Green Door can be found at the kasbah entrance, while, at 3 Rue de la Kasbah, you'll find Laure Welfing's high-end boutique offering handmade clothes.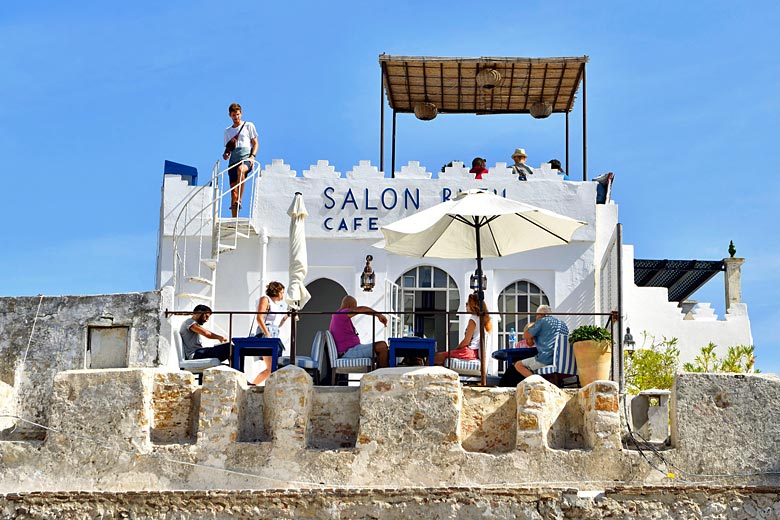 Places to visit in the medina include the Moshe Rossi Synagogue on Rue Cheikh al Harrak, but the real draw are the alleyways filled with shops, patisseries and markets.
Shop 'til you drop
There seems to be an endless number of shops, stalls, markets in Tangier's medina. There is not only fresh produce but also handmade items including soaps, beauty products, leather goods, garments and all manner of souvenirs.
Bartering is pretty much expected though you should be serious about purchasing before starting the process.
The Legation
The former American Embassy is also found in the medina. The Tangier American Legation Institute for Moroccan Studies, known simply as American Legation, it is no longer an official residence but a landmark open to the public.
Morocco was the first foreign country to recognise the fledgeling new nation and in 1821 the Sultan of Morocco gave this historic building to the US. It is the only US historic landmark overseas and has a museum dedicated to famous American musician Paul Bowles who was on a mission to record all types of Moroccan folk music for posterity.
The Blue Pearl
About an hour and a half drive from Tangier is the village of Chefchaouen, also known as The Blue Pearl. Located high in the Rif Mountains, it was originally settled by Andalusíans, though the Rif area is historically a Berber enclave.
Having been fought over for millennia by the Phoenicians, Romans, Vandals, Byzantines, Spanish and Portuguese, it became part of Morocco in 1956. Chefchaouen is painted almost entirely blue, something that began with the arrival of Jewish refugees in the 1930s.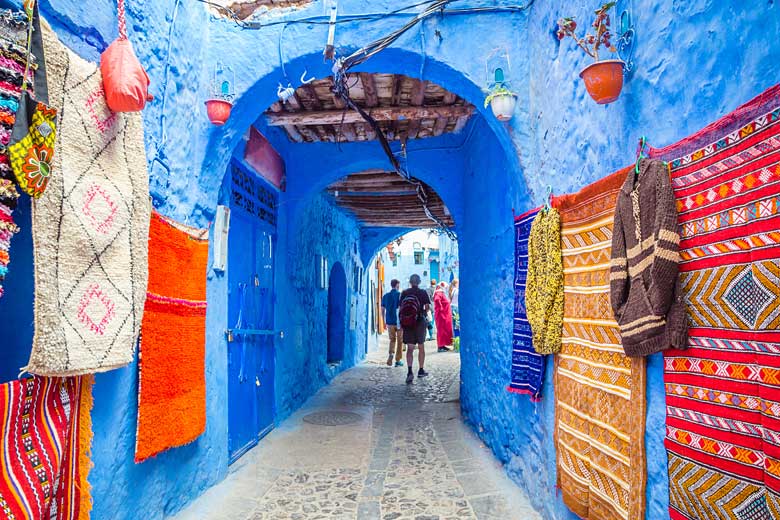 The relative inaccessibility of the area means that its souks are not as hectic as those of other villages and towns in Morocco. It is particularly well known for the production of honey and natural products such as oils and soaps.
Restaurants and cafés serve typical Moroccan dishes, topped off with mint tea. It is an enchanting place to spend time.
The Art City
A small port city, about 31 km south of Tangier, has become known for exceptional murals and art galleries, which lie within its pristine 15th-century medina. That city is Assilah, and this focus came about with the launch by two artists of the International Cultural Moussem of Asilah in 1978.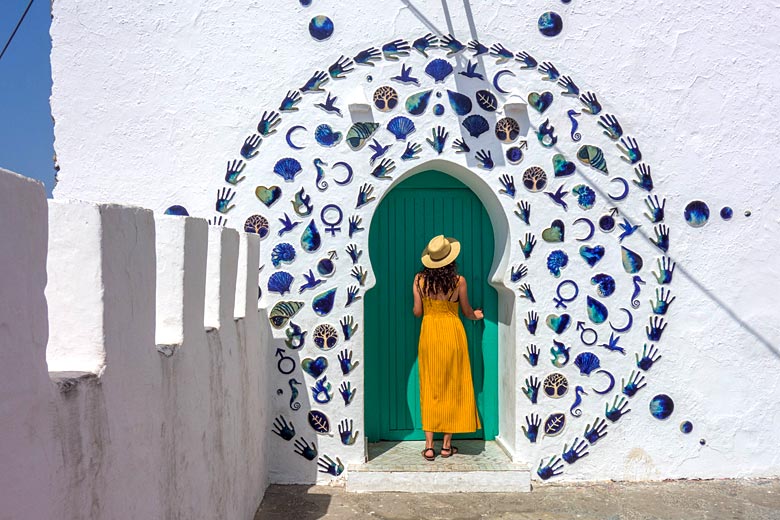 The festival has since morphed into an annual art event held every July. The medina's white walls host graphic designs, modern paintings and 'calligraffiti' - a combination of Arabic calligraphy, typography and graffiti. The home and studio of the internationally known calligrapher, Sadik Haddari, is also tucked inside the old town.
Tangier's nightlife
Even though Morocco is a Muslim country, alcohol, nightclubs and bars are not illegal, at least not in Tangier. There are considerable opportunities for a great night out. La Bodega on Rue Allal Ben Abdellah next to the Hotel Challah, is an excellent tapas bar.
Meanwhile, the TangerInn is a unique establishment decorated in American 1950s' style as a nod to the beatniks who thrived here during that same time. El Morocco Club, Place du Tabor, is famous for its classy piano bar as well as having an excellent restaurant.
Fine Moroccan cuisine
The cuisine of Tangier is typically Moroccan and dominated by tagine, a slow-cooked casserole. Large round savoury pastries filled with chicken, known as bastilas, are extremely popular.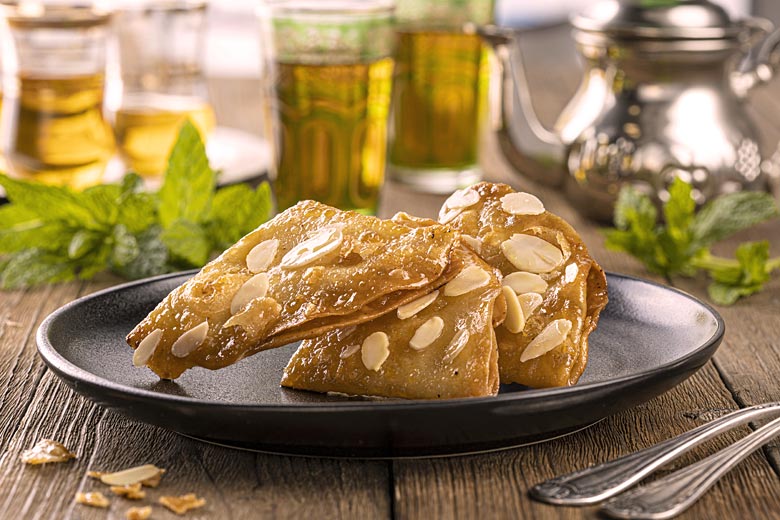 Tasty Moroccan bread is kneaded into a round shape and baked in extremely hot ovens; French baguettes and croissants are a delightful hangover from the days of French colonialism.
Locals adore sweets and the combination of French patisseries and shops with wonderful Moroccan almond treats is a dangerous combination for the waistline. An evening meal is frequently topped off with traditional mint tea.
Variety of activities
Horse riding is immensely popular and a hack on the beach at sunset is sublime. For purists, there are Arabian horses for hire at the Hilton Tangier Al Houara Resort & Spa*, about 20 km from the centre.
Beaches near Tangier are often wild and infrequently used so perfect for quiet sunbathing and swimming. Camel rides are available for those that fancy it. Yoga is gaining in popularity and classes are often offered at hotels.
Then there's hiking and trekking in the nearby Rif Mountains and national parks, which makes it a dream for outdoor lovers keen to visit in the shoulder seasons (autumn and spring) as the summers tend to be very hot.
Cape Spartel
The most northwesterly point of mainland Africa, Cape Spartel rises to 326 m and is the place to appreciate the stunning views of the coastline.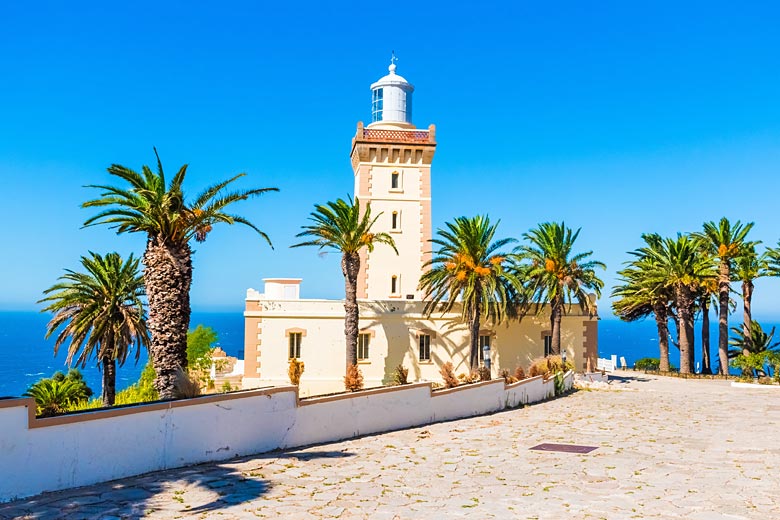 Here, you'll also find a lighthouse and, nearby, the Caves of Hercules which even featured in Greek mythology. Although part of the complex is natural, some of it's man-made from when Berbers cut chunks of rock from within the caves to make millstones.
Weather in Tangier
| | Jan | Feb | Mar | Apr | May | Jun | Jul | Aug | Sep | Oct | Nov | Dec |
| --- | --- | --- | --- | --- | --- | --- | --- | --- | --- | --- | --- | --- |
| Maximum daytime temperature °C | | | | | | 24 | 27 | 28 | 26 | 23 | | |
| Hours of sunshine (daily) | 5 | | 7 | 8 | | | | | | 7 | | 5 |
| Days with some rainfall | | | | | | 4 | 1 | 1 | 3 | 8 | | 12 |
| Sea temperature °C | | | | | 18 | 20 | | 22 | | 20 | | |
Unlike further south in the interior of Morocco, the sea influences the weather in Tangier. It's typically warm and sunny in summer and cool but still reasonably sunny in winter. Find out more in our guide and see when we think is the very best time to go.
Tempted to explore Tangier? Check out the direct flights with Air Arabia and see the latest Hilton offers to book your stay at the Hilton Tangier Al Houara Resort & Spa.
More about Morocco
Morocco by month
Jan Feb Mar Apr May Jun Jul Aug Sep Oct Nov Dec
Explore holidays in the sun for less
Be inspired
Get your weekly fix of holiday inspiration from some of the world's best travel writers plus save on your next trip with the latest exclusive offers
We promise not to share your details
Related posts