Stylish Sao Paulo vs relaxed Rio
Check the latest travel advice and current Covid-19 rules and restrictions by country.
City breakers heading to South America tend to have their sights set on Rio's world-famous beaches and scenic mountains as the backdrop to their urban adventures. In doing so, the vibrant metropolis of Sao Paulo is often overlooked.
Despite being the continent's biggest and most populated city, Sampa, as it's affectionately known, and its cosmopolitan side remains a well-kept secret for many Brazil-bound tourists.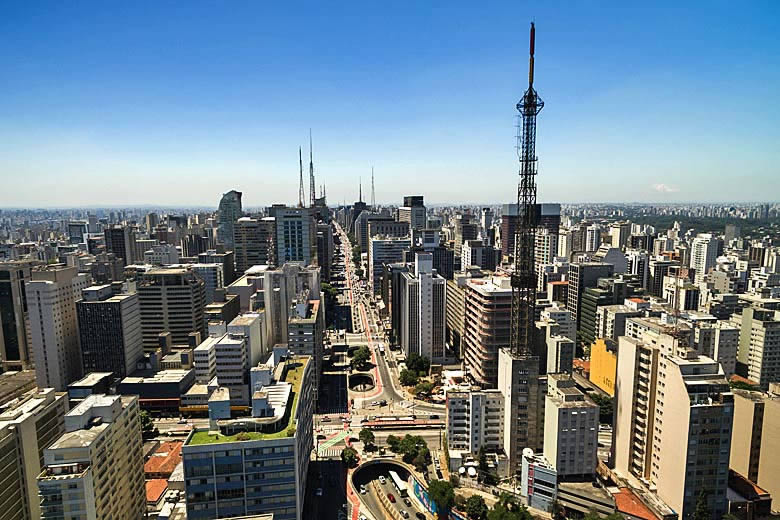 Even the most stylish Sao Paulo dwellers or paulistanos (not to be confused with paulistas, meaning those from the State of Sao Paulo rather than the city) can be the subject of a little friendly rivalry and ribbing from their Rio counterparts.
Rio is the San Francisco to Sao Paulo's Big Apple; the sand-covered flip-flop to Sao Paulo's polished stiletto party shoe; but as the city that never stops, Sao Paulo lives up to the hype.
The best bit: you can fly straight to the heart of the action with British Airways direct from London Heathrow*.
Where to dine, drink, sightsee & stay
A staggering 11 million people (20 million if you include greater Sao Paulo) live in the city. Here is just a small selection of the places where you might bump into the most stylish Sao Paulo residents.
Sao Paulo suppers
Sao Paulo's population is served by well over 12,500 restaurants, making this a powerhouse culinary destination.
As home to the largest concentration of Japanese nationals outside Japan, as well as a vast number of Italian, Lebanese and African descendants, international foodie forays are high on the agenda for holidaymakers here.
The 'wow' factor - Figueira Rubaiyat
If you're going to go all-out Brazilian, get your steak dinner at a real Sao Paulo legend, Figueira Rubaiyat. This romantic restaurant is housed in an architecturally impressive glass dining room set around a sprawling 150-year-old fig tree, and the food lives up to the stunning setting.
The traditional Italian cantina - Famiglia Mancini
Sao Paulo has more pizzerias than any city in the world, so it's hard to know which one to pick. Try Famiglia Mancini, one of the most traditional cantinas in Sao Paulo and a popular choice with the Italian community, as well as discerning locals.
You'll need to make a reservation before you can sit at the classic red and white chequered tablecloths.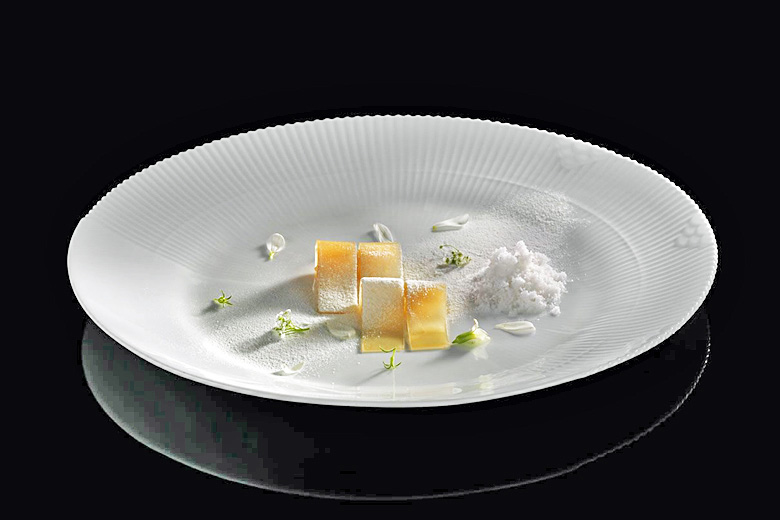 The award-winner - D.O.M.
No guide to chic Sao Paulo would be complete without mention of local dining legend D.O.M.. The restaurant has been consistently featured by Restaurant Magazine as one of the world's best eateries.
Internationally renowned head chef and Paulistano favourite, Alex Atala, runs this as well as newer venture Dalva & Dito - equally pricey but equally worth it.
The hidden gem - Condessa
Local secret Condessa is a laidback but stylish Sao Paulo secret - a cute, crazy and colourfully eclectic café with a small number of tables that's best at weekends or for an intimate get together with friends.
Stylish Sao Paulo sipping spots
Bar with a view - Panorama
Panorama is all about dining, drinking and dancing under one bejewelled roof. There's a full Italian menu, an extensive cocktail list, and if you are ready to party Paulistano-style, you can do it right here on the trendy outdoor terrace.
Subterranean star - SubAstor
Underneath a restaurant called Astor in the hip Vila Madalena area, you'll find one of the best bars in the city, named, quite literally SubAstor.
This is a popular spot with the after-work crowd, and a great place to head come Happy Hour to see the legendary workaholics of the big city let off some steam in a classy setting.
Dinner and a show - Baretto at Fasano Hotel
If you'd like your soirées in Sao Paulo to be super stylish and set to the sounds of world-famous Jazz performers, Fasano's New York Style drinking den Baretto in the basement of the uber classy Fasano Hotel is the place to be.
See modern art in the park
The Manhattan of the Southern Hemisphere has its very own Museum of Modern Art - modelled on its New York namesake (though here it's known as MAM rather than MOMA), the Sao Paulo Museum of Modern Art is home to a large collection of pieces by Latin American artists and well-known names from Miro to Picasso.
You can take in even more stylish sculpture and painting in the scenic setting of Ibirapuera Park, which is also home to the Museum of Contemporary Art.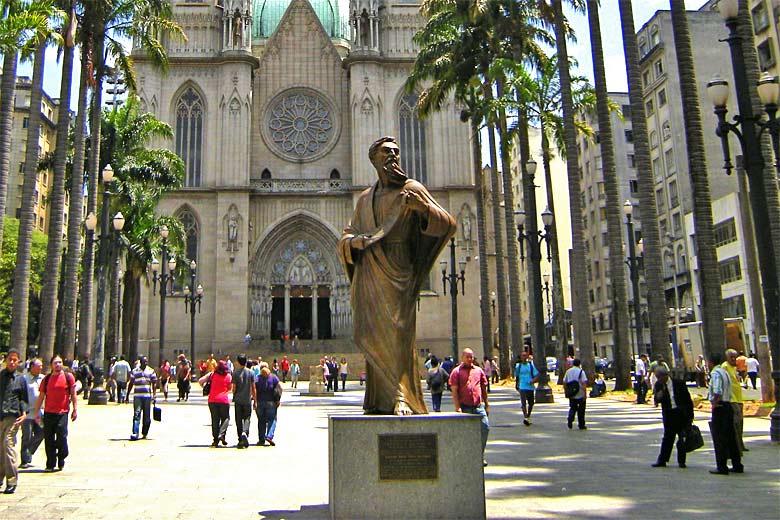 Stay for one of Sao Paulo's signature events
Sao Paulo is the leading destination for high-end Brazilian events, and the country is synonymous with the excitement of the Grand Prix - Sao Paulo has been hosting Formula One since 1973.
Sao Paulo also hosts Latin America's leading Fashion Week twice a year, in spring and autumn. It's also revered as a major world art hub with a Biennial, which has been running since 1952, making it the longest standing Biennial in the world after the original Venice event.
Shop on Rua Oscar Freire
The great and the good of stylish Sao Paulo residents head for the city's best boutiques and luxury stores on Rue Oscar Freire when they want to indulge in retail therapy.
Here on Sao Paulo's equivalent of 5th Avenue you can buy everything from the ubiquitous Brazilian Havaianas to lesser-known local brands such as Guarana and high-class fashion from the likes of Dior and Armani.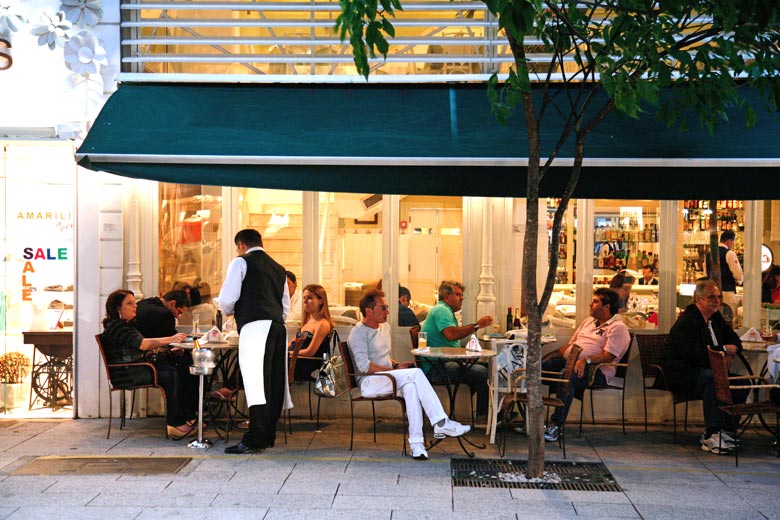 You can also pay a visit to the most expensive real estate in Latin America - Avenida Paulista, which happens to be the longest street on the continent too, known for decades as the most prestigious address in Sao Paulo.
Stylish Sao Paulo stays - Hotel Unique
For a stylish stay in Sao Paulo there is one option that stands head and shoulders above the rest. Despite the undoubted luxury of the olde world, dark wood charm on offer over at the city's other luxury hotel, the Fasano Hotel, this longstanding member of Design Hotels has it all sewn up in the style stakes.
The startling ship-shaped form of the Hotel Unique, complete with portholes for windows and oversized double doors in the lobby, lives up to its title, as you are ushered into a trendy world complete with every urban luxury.
There's a red-hued rooftop pool nestled amongst the skyscrapers and the hotel's Skye Bar, with its own views of the sprawling skyline is an iconic and stylish Sao Paulo destination in its own right.
Like so much of stylish Sao Paulo, the Unique is located in the upscale Jardins neighbourhood, meaning many of the shops, bars and restaurants you'll want to visit during your time exploring Sao Paulo are just moments away - so save yourself the trouble of negotiating the city's infamous traffic and stay right here.
Tempted to try these stylish Sao Paulo haunts for yourself? Check out the latest sale offers from British Airways, which will whisk you to this megacity in around 11 and a half hours from London.
You can also see what the weather in Sao Paulo is like, and when we think is the best time to go.
More about Sao Paulo
Jan Feb Mar Apr May Jun Jul Aug Sep Oct Nov Dec
Be inspired
Get your weekly fix of holiday inspiration from some of the world's best travel writers plus save on your next trip with the latest exclusive offers
We promise not to share your details
Related posts
*affiliate links: find out how we are funded and why this helps us remain free to use.