Discover Neringa: 8 reasons to explore the Curonian Spit, Lithuania
*affiliate links: find out how we are funded and why this helps us remain free to use.
The Curonian Spit is a 98 km-long ribbon of rugged wilderness separating the lively Baltic Sea from the sheltered waters of the Curonian Lagoon. Shared by Lithuania (52 km) and Russia (46 km), it has a distinct and ancient heritage, home to incredible sandscapes, wildlife, attractions and historic towns.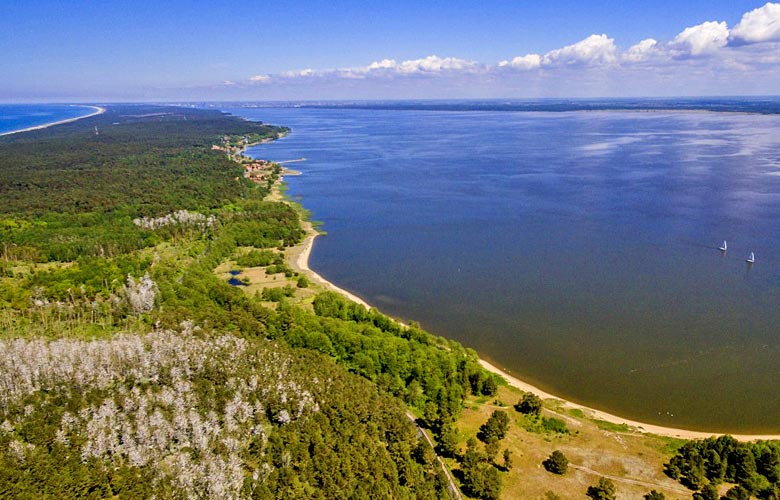 The northern Lithuanian portion of the Curonian Spit is part of the Neringa province in Klaipeda County, a region steeped in tradition and folklore with a strong sense of identity that continues to set the people who live there apart.
For visitors, it offers not only memorable activities in the great outdoors but also the chance to hear the many stories the Spit has to tell about life past and present on this natural frontier. All of this makes it a truly enchanting place to explore.
1. Tick off a UNESCO World Heritage site
The Curonian Spit became a UNESCO World Heritage site in its entirety (that is to say, the status is shared by both Lithuania and Russia) in 2000. It's recognised for its cultural heritage, which, owing to its vulnerable location, encapsulates endless tales of endurance, survival and ingenuity.
This waif-like peninsula of sand dunes and woodlands, which measures between 0.5 km and 4 km wide, is constantly battling the elements. Whipped by winds, lashed by waves, erosion is an ever-present concern.
Yet, the Spit has been shaped by more than just the weather. Dedicated locals and experts have been working to reforest the Spit since the 19th century, and it's this connection between the people and the land that UNESCO wanted to highlight and preserve.
The Curonian Spit National Park is in charge of protecting the Lithuanian share of the land, plus it's a mine of information if you're planning a trip.
2. Climb spectacular sand dunes
As a living, breathing mass of sand, it's not surprising that the Spit has many unmissable vantage points for making the most of these high, moving dunes. However, there are two must-see sandscapes that stand out within the Curonian Spit National Park: the Nagliai Nature Reserve and the Parnidis Dune.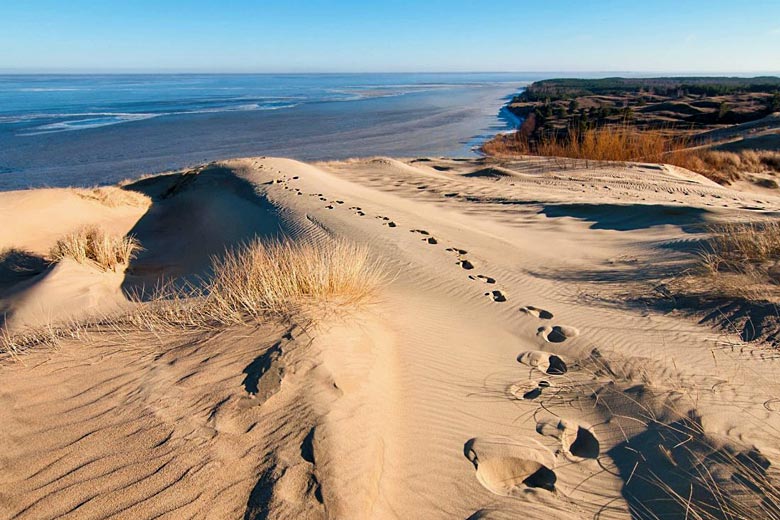 At Nagliai Nature Reserve, weave through the pine forest before following the duckboards up the sandy gradient with the promise of incredible views across both sides of the Spit. It's wonderfully wild, giving you a splendid sense of the Spit's position.
Meanwhile, at the nearby Parnidis Dune, mere kilometres from the Russian border, take the gentle stroll to the sundial and gaze over the shifting white sands that blur the line between Lithuania and its neighbour - just be sure to clamber where clearly marked, as the majority of is off-limits.
3. Get to know historic Nida
Nida is the Spit's largest town, loved for its laid-back, traditional seaside resort feel. Much like the region, it has a complex history from the prehistoric and medieval to its growth as a vital fishing town and place in the Prussian, later German, Empire, annexation to Lithuania, and fall into the hands of the Nazis during World War Two, with so much more in between.
It was here that a burgeoning art scene developed in the late 19th century, with painters flocking to capture the land's dramatic scapes and wildlife. Indeed, Nida's most famous temporary resident, the writer Thomas Mann, fell so in love with the region that he built his very own summer house here.
Today, Nida's a peaceful place with every amenity including the Spit's main supermarket, the famed Gardumelis Bakery, and a handful of small bars and restaurants. It's also where you'll find plenty of history on offer.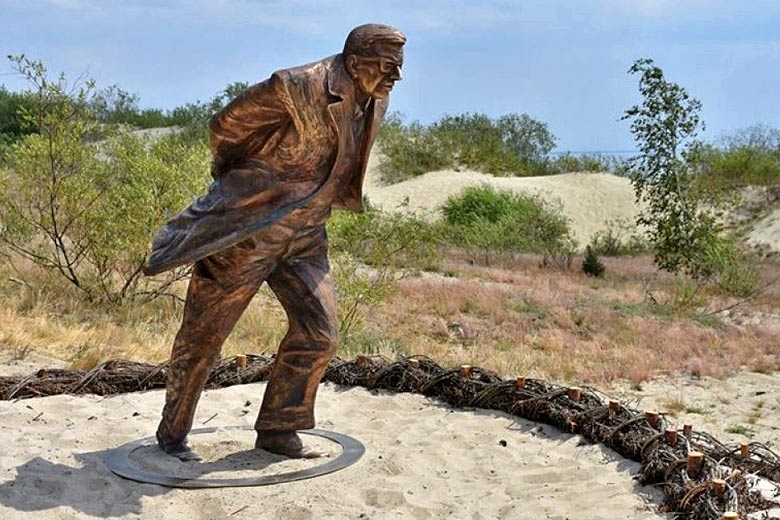 The small but cleverly put together Fisherman's Homestead museum paints a hardy, if somewhat bleak, picture of the harsh reality of life for fishermen and their families at the turn of the 20th century. Also, look out for the pretty weather vanes that line the adjacent promenade.
A broader look at the area's past can be found at the Neringa Museum of History, while sculpture hunters will be kept busy ticking off the town's countless creations, from life-like bronze statues to abstract wooden carvings.
Whatever takes you to Nida, it makes a wonderful base from which you can explore the Spit, whether you're hiking up sand dunes, digging around the museums or cycling along forest trails.
4. Wander sweeping beaches
A trip to the beach isn't necessarily the first thing that springs to mind when planning travels in Lithuania. However, you'll find just under 100 km of Baltic Sea coastline, around half of which line Lithuania's share of the Curonian Spit.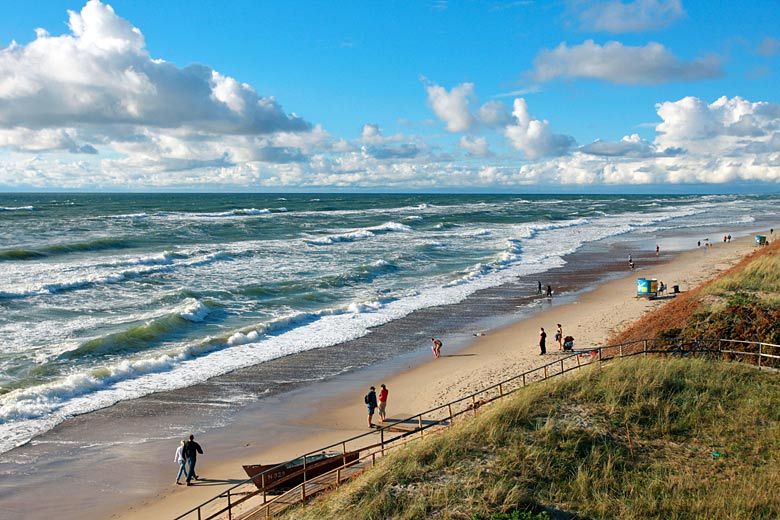 Beaches here are long, wide and invitingly open, not to mention well-equipped and beautifully clean. They're often sectioned into areas for all, women-only, nudists and pets, and when the sun shines, these glorious swathes of sand bustle.
You'll find changing areas, cafés, and lifeguard stations at the main beaches in Neringa, even WiFi and solar-powered mobile charging spots, such as at Preila Beach. Two - Nida Beach and Juodkrante Beach - boast Blue Flag status.
5. Go wildlife spotting & bird watching
The Curonian Spit is home to far more wildlife than humans. Some are easier to catch a glimpse of than others: the largest local resident - and symbol of the Spit - the elk, can often be seen roaming the land while mammals of all sizes creep about the woodlands such as red squirrels, wild boar, foxes, moose, deer, and otters among many others.
Look for seals and dolphins in the water, while a huge array of migratory birds soar through the sky in spring and autumn. Everything from ospreys, peregrines, and flocks of geese to tiny tits, finches, sparrows, and cranes can be spied at different times of year - pack the binos!
6. Brave Witches' Hill
Woodlands play a vital role in Neringa, with their very roots securing the future of the Curonian Spit. For an immersive experience that's sure to spook young and old, test your nerve on a hike over myth-laden Witches' Hill.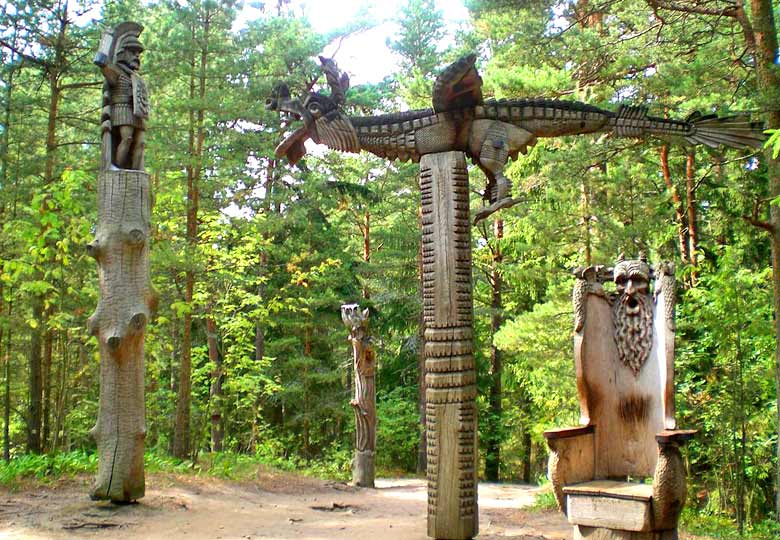 True to form, folklore and sculptures take centre stage, as you pass pleasant and playful wooden creations while ascending the 'light side' before descending the 'dark side', notably more dense and darker in every sense, dotted with grotesque carvings. This thrilling round route from the Spit's second town of Juodkrante is easily completed in about an hour.
7. Watersports & activities
Whether you're a go-getting thrill-seeker or one who likes to keep their feet firmly on the ground, there's an activity for you in Neringa. Thanks to its shallow, windswept waters, the Curonian Lagoon is a haven for kitesurfers, attracting countless enthusiasts all year round.
Sailors are also welcome in Neringa, with yacht clubs in both Nida and Smiltyne, where you can moor privately or rent fully crewed vessels. There's also the annual Curonian Lagoon Regatta, which is open to all.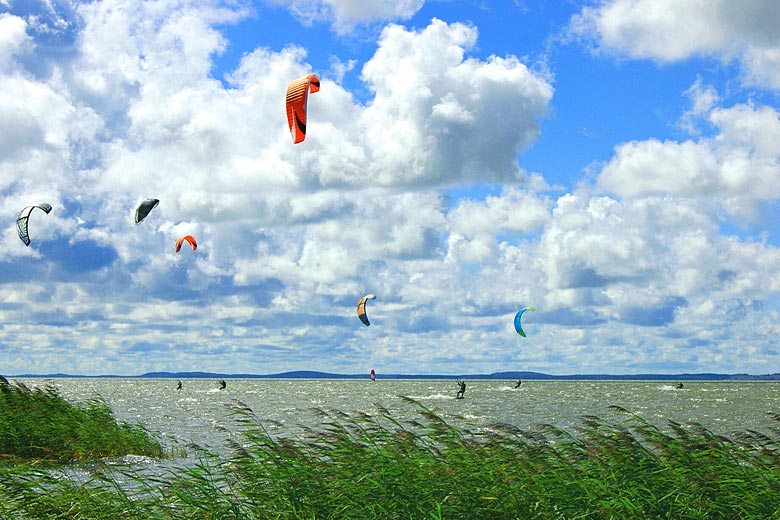 Back on dry land, the spine of the Curonian Spit is crisscrossed with a network of leisurely walking and cycling trails that meander through woodlands, towns and along shorelines, perfect for exploring on two feet or two wheels.
8. For some summer sunshine
Summer is, without doubt, the best time to go to Neringa to make the most of everything this natural playground has to offer. Days are long with nine to 10 hours of sunshine and comfortable with temperatures rising to 19°C to 20°C.
| | Jan | Feb | Mar | Apr | May | Jun | Jul | Aug | Sep | Oct | Nov | Dec |
| --- | --- | --- | --- | --- | --- | --- | --- | --- | --- | --- | --- | --- |
| Maximum daytime temperature °C | -0 | -1 | | | | | | | | 11 | | |
| Hours of sunshine (daily) | | | 4 | | | 10 | | 8 | | | | |
| Days with some rainfall | | | | | | 11 | 13 | 14 | | | | |
| Sea temperature °C | | | | 4 | 8 | 14 | 18 | | | | | 5 |
It's also a great time to experience the beaches: the Baltic Sea may not be for everyone as the average sea temperature in August is the same as Tenerife in February - but don't let this put you off. Even if you're not in the sea, the golden sand that hems the Curonian Spit is an invigorating attraction all of its own.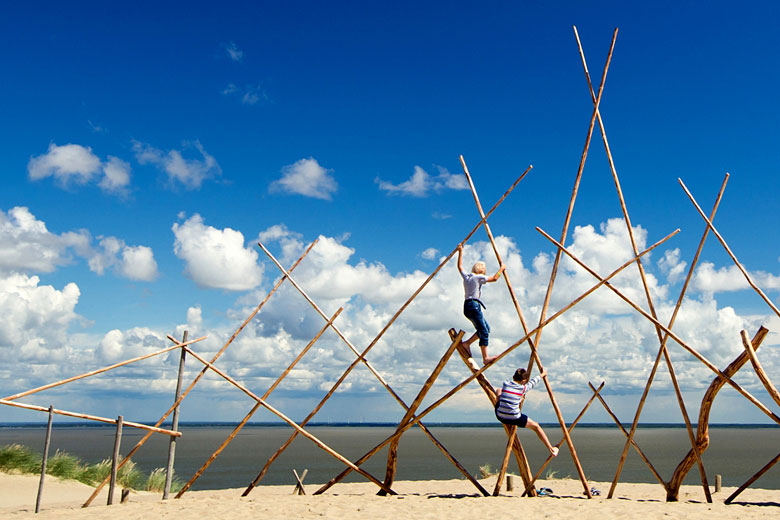 That said, spring and autumn are also pleasant times to visit the area, not to mention a little quieter. Pack layers, walking boots, and hit the ground running on this stunningly beautiful Baltic sliver.
More about the weather in Neringa >>

Please note: Weather2Travel.com experienced the Curonian Spit with Visit Neringa in September 2018. All views expressed are those of the writer.
More about Lithuania
Jan Feb Mar Apr May Jun Jul Aug Sep Oct Nov Dec
Explore holidays in the sun for less
Be inspired
Get your weekly fix of holiday inspiration from some of the world's best travel writers plus save on your next trip with the latest exclusive offers
We promise not to share your details
Related posts