Places to explore in ancient Messinia, Greece
*affiliate links: find out how we are funded and why this helps us remain free to use.
Where the highest mountain of the southern Peloponnese region of Greece, Mount Taygetos, reaches the Ionian Sea, lies the enchanting region of Messinia, just waiting to be explored. With its idyllic seaside location and historic ruins at every turn, Messinia oozes culture, tradition, old castles, and wonderful coastline, plus one or two surprises along the way.
It's also an area that's well served by holiday giant TUI*, with hotels and resorts to suit every party and budget. So, let's explore this relatively unknown part of Greece's mainland and see why you should add it to your summer wish list for 2019.
Kalamata
Kalamata*, the capital of Messinia and namesake of the tasty dark olive, is enviably located right on the coast, offering a mix of urban and beach vibes. It also boasts a small international airport with regular flights from Europe, which means getting there is easy peasy. For a breath of fresh sea air, stroll along the taverna-lined promenade that runs the length of Kalamata's 4 km Blue Flag beach. Alternatively, head to the old town, or Palia Poli as it's known, to wander among hidden Orthodox churches and pretty terracotta-topped houses.
The city's pedestrianised area is great for shopping and sipping on strong coffee after a visit to one of the many museums, such as the Modern Greek Art Gallery or the National Archaeological Museum. For exceptional views of the town and bay, make your way up to the hilltop 13th-century Castle of Isabeau (or, Isabel). The castle also hosts numerous outdoor events, including the International Kalamata Dance Festival, which takes place each July. Outwith the city, you can take a tour and tasting session at one of the many olive groves that surround Kalamata.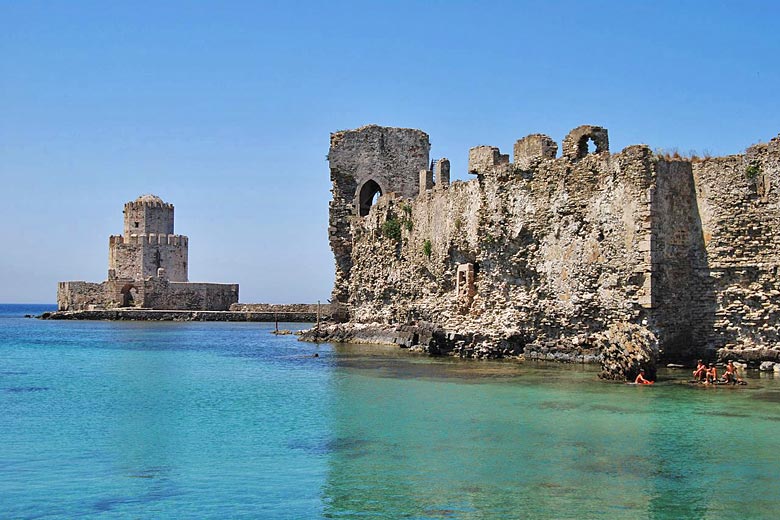 Methoni
Speaking of castles, the Castle of Methoni, located in the Messinia town of the same name around 21 km southwest of Kalamata, is another must for history buffs. Built by the Venetians in the 13th century, it's one of the largest in the Mediterranean with the fortress jutting out to sea, connected to the mainland by an impressive 14-arch stone bridge - not the wooden walkway one usually sees in castles of this period.
The south side of the castle houses the Bourtzi, or prison, built in 1500 and used by the Turkish invaders. It's a magnificent place to be at sunset, and as the castle is open on three sides to the sea, you can easily take a dip from the beach before dining in one of the many tavernas in town. Methoni Castle also featured as a backdrop in the film Before Midnight, which starred Ethan Hawke and was filmed in various spots across Messinia in 2013.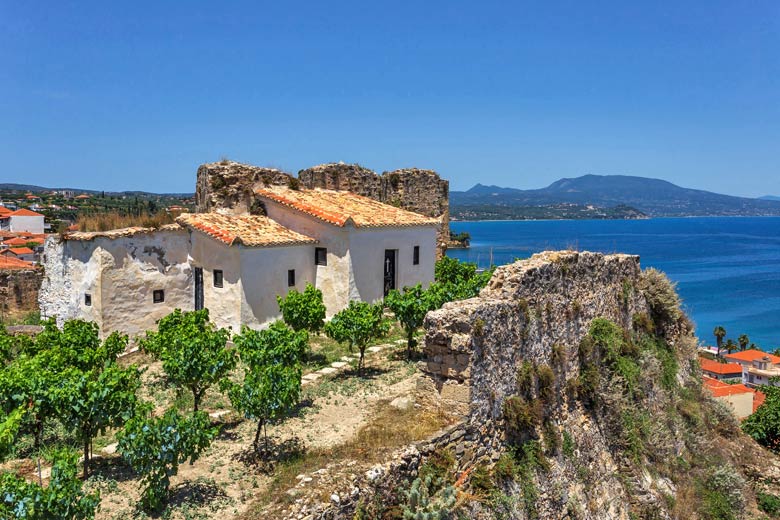 Koroni
Take a drive to the small town of Koroni* on southern edge of the Messinian Gulf, some 52 km from Kalamata, and you'll find yet another magnificent 13th century Venetian castle sitting atop Cape Akritas. Imposing Koroni Castle guards all those around including nearby coves and beaches. It has narrow passageways leading up to its gate and, once inside, you'll find hidden tombs, tunnels, and, unlike many other old castles, small churches and houses, some still inhabited. A living piece of history, if you will.
Costa Navarino
If you're looking for a little luxury, you can't go wrong with the semi eco-resort (more like village) of Costa Navarino*. Located on the Messinia peninsula, Costa Navarino extends over some 2,470 acres, and is home to deluxe hotels (such as The Westin), world-renowned golf courses, and signature spas, as well as private residences. Various wellness holidays and courses such as cookery classes are offered throughout the year; it's truly 'inclusive' in the sense of utilising both the surroundings and environment, making a trip to Costa Navarino an experience of a lifetime.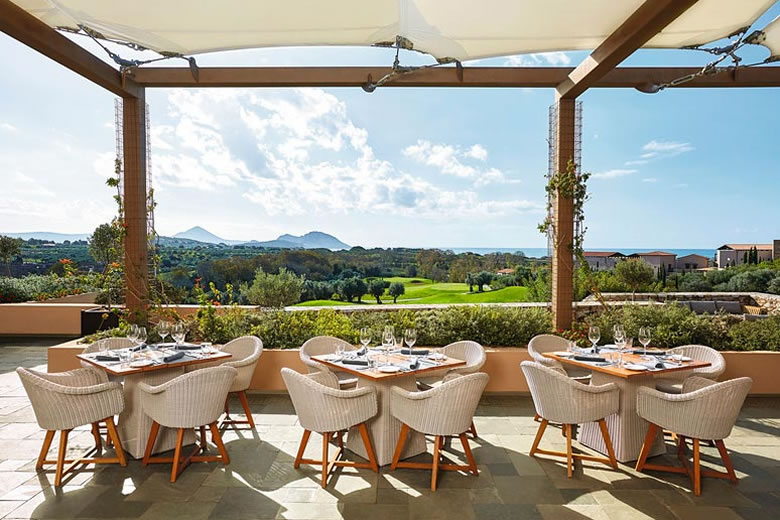 Pavlopetri
After something a little different? Although three hours from Messinia, it's highly worth taking a trip to the 'third prong' of the Peloponnese finger to visit the submerged city of Pavlopetri, thought to be the inspiration behind 'Atlantis', and the oldest in the world, established in the Bronze Age over 5,000 years ago.
As you snorkel or scuba dive over the ruins you can expect to find remnants of old walkways, ancient walls, archaeological artifacts, and Grecian columns. With normally excellent visibility, and at a depth of only three to four metres below the surface, it's a memorable experience and really special activity.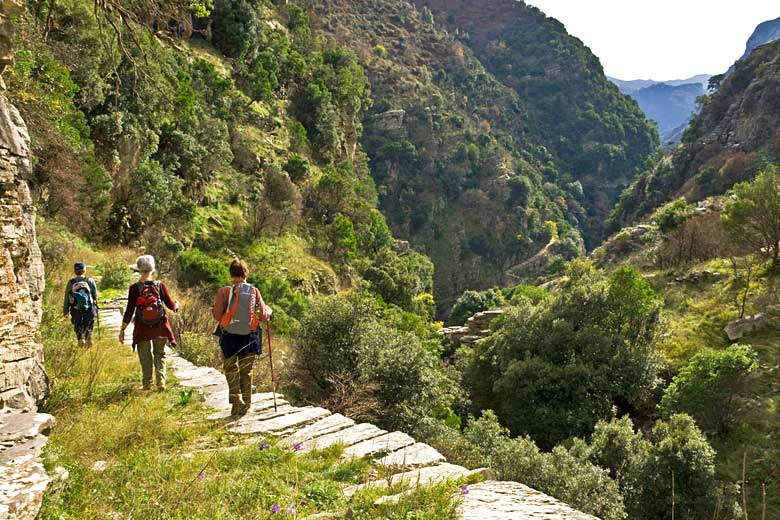 Outdoors in Messinia
Messinia lies at the foot of Mount Taygetos, which makes it a wonderful place for the active to get outdoors. As well as the various spots for swimming and snorkelling, there are plenty of hiking opportunities, both relaxed and strenuous. Choose from dramatic gorges, such as the Viros and Rindomo, which wind their way through local villages and offer spectacular views of this Mani region of Messinia. Keep an eye out for old kalderimis - stone paths built in ancient times to lead mules and donkeys along, which are specific to this region. Be sure to wear sturdy walking shoes or trainers as the paths are uneven.
Whatever you want to take away from your next Greek holiday, the Messinia region has it all: from some of the country's finest olives to bucket loads of history and plenty of opportunities to kick back and relax. If you're planning your summer escape to the Peloponnese region, do check out the latest deals on holidays to Greece with TUI, and remember, you can also find out more about the weather in Messinia, and see when we think is the best time to go to make the most of these many attractions.
More about the Kalamata
Jan Feb Mar Apr May Jun Jul Aug Sep Oct Nov Dec
Explore holidays in the sun for less
Be inspired
Get your weekly fix of holiday inspiration from some of the world's best travel writers plus save on your next trip with the latest exclusive offers
We promise not to share your details
Related posts