Northern Cyprus travel guide: Discover the Turkish half
Please note: travel restrictions remain in place owing to the coronavirus pandemic. Be sure to check the latest travel advice and explore current covid rules and regulations by country.
In this Northern Cyprus travel guide we'll introduce you to the region's beaches, history, activities and cuisine, and show how its becoming increasingly popular, quietly establishing itself as an excellent holiday destination. For many, Northern Cyprus's relaxing blend of the familiar and the foreign is ideal for that well-deserved break.
We'll show you why, instead of defaulting to the more traditional Mediterranean destinations, you should consider putting Northern Cyprus at the top of your list when on the hunt for a bargain sunshine break. Prices are good, so read our travel guide to Northern Cyprus to really whet your appetite...
Northern Cyprus travel guide: Five of its best bits
Any travel guide to Northern Cyprus ought to begin with the weather. Most of us love the sun, and Northern Cyprus has loads of it. April, May, September and October are excellent months for north European visitors, avoiding the searing heat of June, July and August - sometimes in excess of 45°C (ouch!). Clear Mediterranean waters beckon swimmers for eight months of the year, with only the winter months (November to February) being too chilly for a dip.
1. The great outdoors
Beautiful beaches are, of course, a virtual holiday necessity, and Northern Cyprus certainly ticks this box. The sandy attractions on offer vary from those fully-equipped with sun loungers, umbrellas and beach bars through to quiet, turtle-friendly beaches, and the long stretch of dazzling sands which run for miles north of Gazimagusa.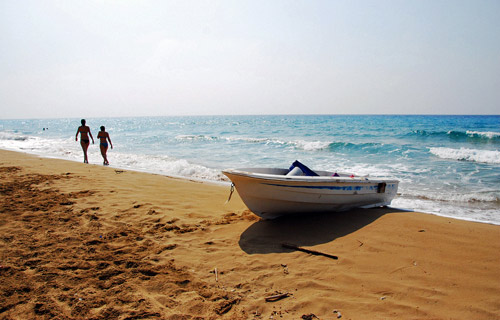 Finally, the remote Karpas peninsula is fringed to the south by Golden Sands, a beach whose name is appropriate but which barely does justice to its sheer size or slightly backpacker, alternative feel.
Scuba-diving and paragliding top the bill for adrenalin-junkies, while more sedate boat cruises, snorkelling, turtle-watching or excellent walking in the spectacular Kyrenia Mountain range are also popular.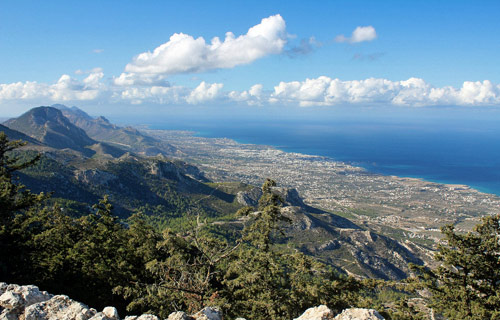 There is only one golf-course, located at Esentepe, but it is an excellent one, with superb facilities and even a golf academy. A day-trip to Lefkosa (Nicosia) will let you see where the Greek and Turkish cultures meet, and this travel guide to Northern Cyprus would recommend a walking-tour of the historic town, easily organised from the tourist office at the Kyrenia Gate which welcomes you to Lefkosa.
2. History
No travel guide to Northern Cyprus can ignore this compact region's troubled history, both ancient and recent, but the continued division of the island into Greek and Turkish sectors has no impact on holidaymakers' enjoyment. It has meant that the Turkish sector remains, in parts, comparatively underdeveloped, and as a bonus, English is very widely spoken here and hospitality is second-nature.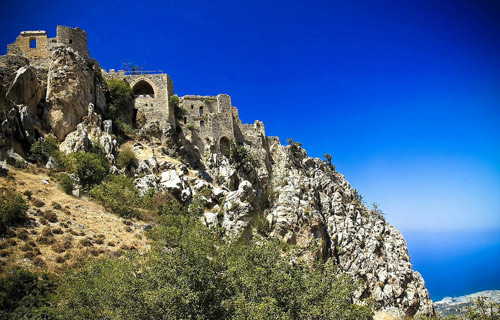 A stepping-stone in the mid-Med, Cyprus has been 'stepped on' more often than it would have liked: in short, it's had too much history! From Phoenicians to Romans, Crusaders to Lusignans, Genoese, Venetians, Turks and British... too many invaders have had their evil way with this beautiful island.
On a more positive note, this travel guide to Northern Cyprus is happy to report that the many traces left behind make it popular for history-loving holidaymakers keen to visit a few museums and spectacular towering castles, such as St Hilarion or Kantara. Salamis, on the east coast is the premier historic site, a sprawling mass of atmospheric ruins.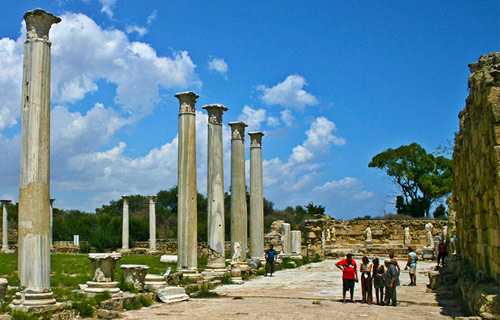 3. Cuisine
The freshness of the cuisine in Northern Cyprus is quite exceptional. Fish and meat of the highest-quality are usually cooked simply on a mangal (barbecue) - delicious. Salads are also a true delight, but no-one should leave Northern Cyprus without trying a full mezze: with seemingly endless small dishes arriving one after the other, be prepared to raise the surrender flag, or risk exploding.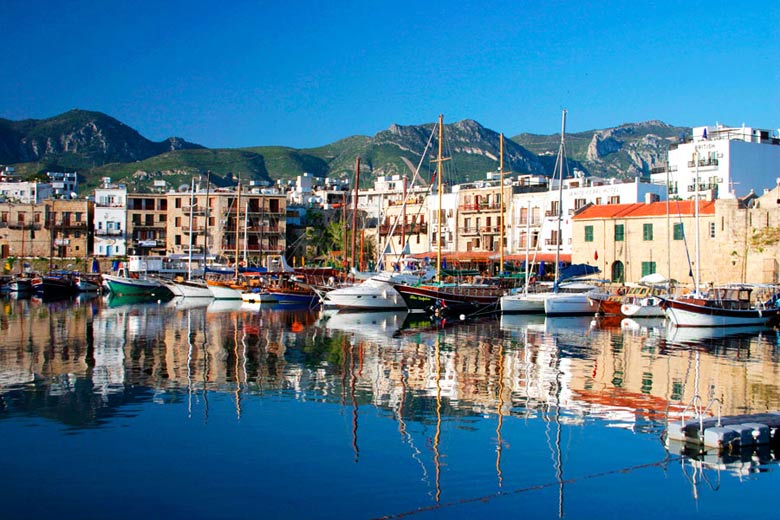 One of the best settings for enjoying such a feast, and certainly one which this travel guide to Northern Cyprus would recommend, is the perfect, horseshoe-harbour front of Kyrenia. Here you'll find a crescent of excellent, alfresco restaurants, atmospheric lights and ancient buildings, all combining to make Northern Cyprus's main resort-town one of the Mediterranean's most photogenic locations.
4. Accommodation
Although not the capital of Northern Cyprus, Kyrenia town is indeed the top tourist attraction, with loads of accommodation, a castle, a Shipwreck Museum, the best shops and finest eating options.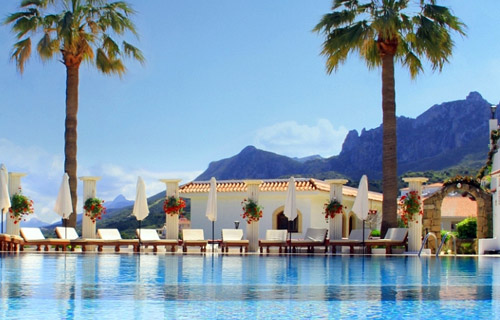 For families, a few nearby resort-style hotels are equipped with water-slides and children's pools; for couples, swish boutique accommodation offers a more 'adult' atmosphere; and for high rollers, the top-end hotels almost always have their own casinos! Whichever option you choose, make sure you have a pool to help you escape the heat of the day.
5. Nightlife
While certainly not matching Greek Cyprus for nightlife, those in search of some after-hours action will find enough to satisfy them in the north. Some of Kyrenia's lively discos head outdoors in summer, relocating to nearby beaches to make the most of the balmy weather and the fresh air. A great experience!
Hopefully this Northern Cyprus travel guide has convinced you to visit soon. A warm welcome, in every sense, awaits you. If a trip to Northern Cyprus sounds like your kind of holiday, check out Mercury Holidays which offers deals to the area.
More about Cyprus
Jan Feb Mar Apr May Jun Jul Aug Sep Oct Nov Dec
Be inspired
Get your weekly fix of holiday inspiration from some of the world's best travel writers plus save on your next trip with the latest exclusive offers
We promise not to share your details
Related posts
*affiliate links: find out how we are funded and why this helps us remain free to use.