Things to do in Mykonos away from the beach
*affiliate links: find out how we are funded and why this helps us remain free to use.
Drawing neck and neck with Santorini, Mykonos is the Greek island most people will have visited, or at least have heard of.
It's where the rich and famous come to party, and is famed for its hedonistic nightlife, endless stretches of beaches, and Petros the Pelican, usually found strutting his stuff through Mykonos Town.
If you're keen to take some time away from the beach crowds, however, let's take a look at some of the hidden gems of Mykonos.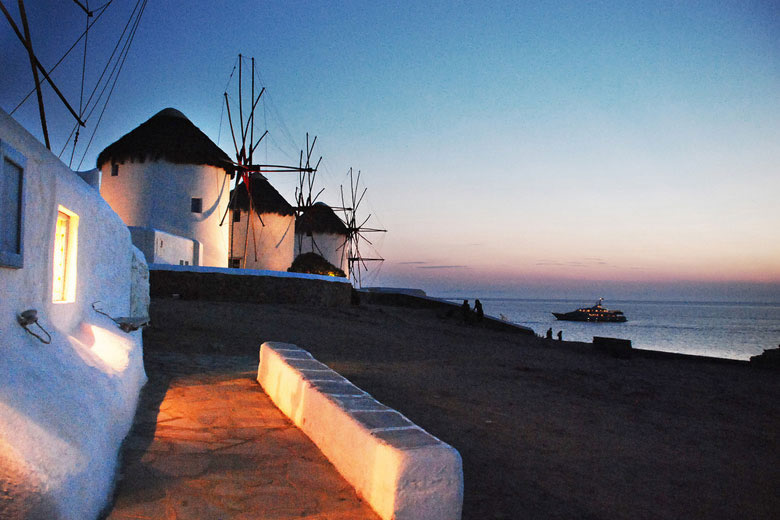 Is Mykonos calling you this summer? Remember to check out the latest deals from the likes of Olympic Holidays and TUI*, which has some fantastic savings on summer holidays to this alluring Greek island.
For the view
It goes without saying that Little Venice is one of the most famous places on Mykonos. The first landmarks visible on this Cycladic island are the windmills dotted along the headland. From here, look back down to the houses and cafés that seem to rise out of the sea, such as you'd find along the canal streets of Venice (hence the name).
A visit to Mykonos isn't complete without a stroll through the labyrinthine streets of the port to Little Venice. Once there, while away your time, no rush, in one of the many cafés, drinking the staple of summer such as the Greek frappe iced coffee, and watch the sunset.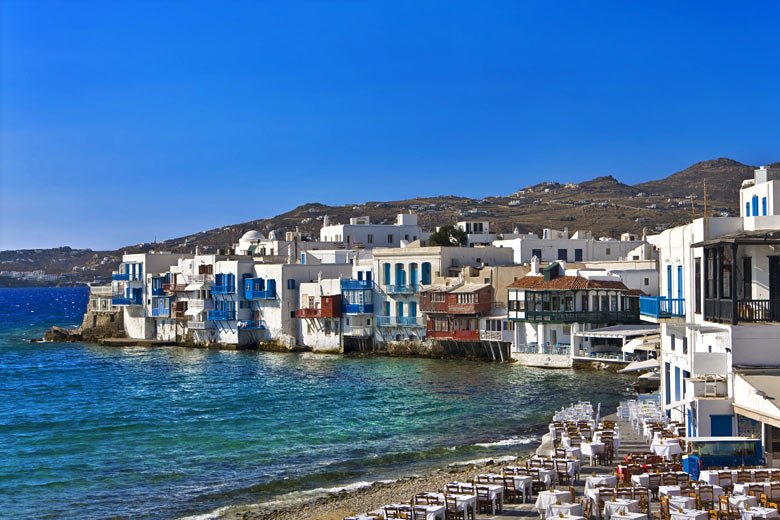 For history buffs
History enthusiasts and those keen to unearth, explore, and learn more about Mykonos's past will enjoy a visit to the Agricultural, Aegean Maritime and Folklore museums in Mykonos Town, near the windmills.
Artefacts on display include an old wine press, bread oven, traditional musical instruments and Cycladic costumes of past eras. In the garden of the Maritime Museum, the largest lighthouse of the Aegean can be found, along with an assortment of anchors from different fleets of ships.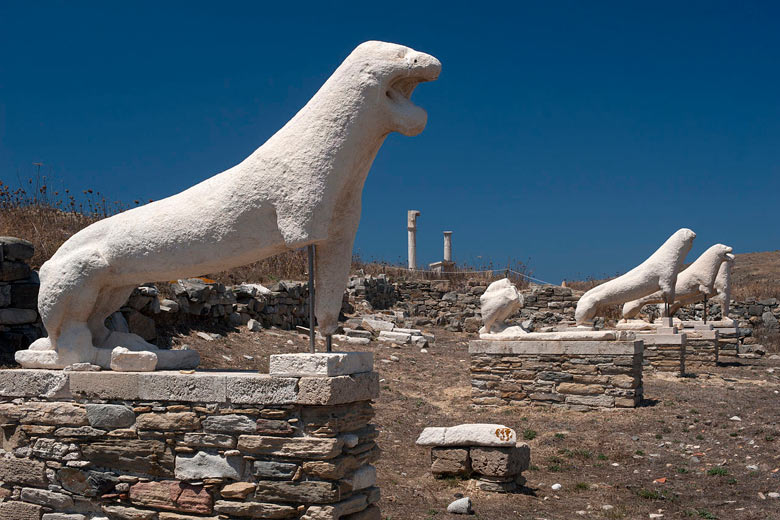 If Greek mythology is your thing, you must visit the ancient UNESCO World Heritage island of Delos. About a 45-minute boat ride from Mykonos, the ancient ruins here were originally built purely as a testament to the Gods, as Delos is the birthplace of Apollo and Artemis, the children of Zeus.
Wander down the Avenue of the Lions, relax on the stone steps of the amphitheatre, visit the museum brimming with ancient artefacts, and admire the windswept view. Delos is a truly magical place. Even if mythology and the Gods aren't your things, the sheer beauty of Delos is worth a visit in itself.
For a touch of culture
If you're a film lover, Greece has something very special to offer you. From May until October, the outdoor cinemas dust off their winter gloom and throw open their doors to all. Mykonos is no exception.
Cine Manto, near the port, is a garden cinema with tables and chairs, offering both new and classic films. There's nothing more enjoyable on a warm summer's evening than sipping a beer or glass of wine whilst watching 'Casablanca'.
The cinema also has a garden restaurant open all day offering a variety of traditional Greek cuisine. Why not have dinner then watch the latest showing?
Continuing along the art and culture theme, if you visit Mykonos in June or July, you'll get to experience the Mykonos Biennale. Conceived in 2013, the Biennale is a yearly festival whereby small churches, museums, and even one of the windmills on the headland are transformed into cultural hotspots.
They stage theatrical performances and display local and international works of art. It's the perfect opportunity to tap into Mykonos's artistic scene.
For bike lovers
Now for something a little different: are you a keen cyclist? Mykonos has some beautiful churches, small villages, old mines, and derelict farmhouses only accessible on foot or by bike, just waiting to be explored.
Take a tour through the countryside with local guides Yummy Pedals, and after your round trip to/from their Mykonos Vioma farm, finish off with a sampling of wine from their vineyard and a tasting of the local produce such as spicy Kopanisti cheese and pork sausage.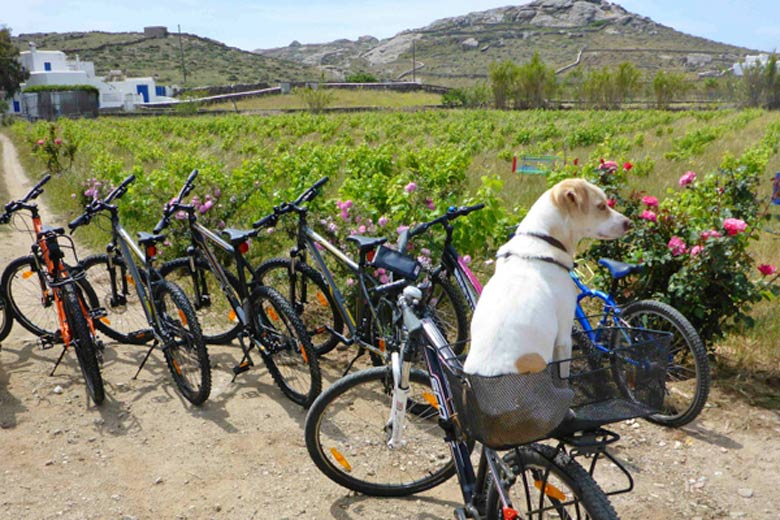 For the explorers
If cycling sounds too much like hard work, you can spend the day at the farm in the village of Ano Mera sampling the organic red and white wines regardless. The farm-to-table experience really is all that; salads made from vegetables and herbs grown in their fields and eggs laid by their own chickens.
Visiting in September? Then you'll have the opportunity to harvest grapes in the traditional way, that's by crushing them with your feet, ready for the winemaking season.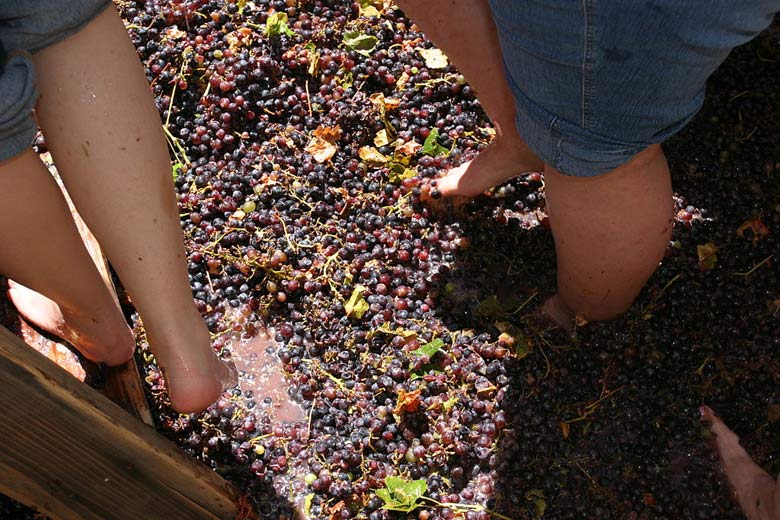 If, however, you don't want to completely escape a beach experience, yet still want to avoid the crowds, a sea-kayaking trip is recommended. Although no experience required, a reasonable level of fitness is required.
Mykonos Kayak offers day trips in small groups, paddling the local waters to less accessible beaches where you'll eat a simple lunch and have the chance to snorkel the crystal clear waters. You may get lucky and spot the odd dolphin, monk seal or Mediterranean shag, a type of cormorant.
So there you have it. Apart from the pull of the beaches and nightlife, which alone are good enough reasons to visit this beautiful Cycladic island, you'll find there are plenty of Mykonos activities to keep you busy, as well as opportunities to learn more about the island too.
Weather in Mykonos, Greece
Don't forget, you can check the weather in Mykonos below and see when to go for the best weather via our guides.
Keen to try these activities for yourself? Check out the latest deals on holidays to Mykonos with TUI and Greece experts Olympic Holidays.
More about Mykonos
Jan Feb Mar Apr May Jun Jul Aug Sep Oct Nov Dec
Explore holidays in the sun for less
Be inspired
Get your weekly fix of holiday inspiration from some of the world's best travel writers plus save on your next trip with the latest exclusive offers
We promise not to share your details
Related posts