Tried & Tested: Mark Warner's Chalet Hotel Aiguille Percée, Tignes
Please note: travel restrictions remain in place owing to the coronavirus pandemic. Be sure to check the latest travel advice and explore current covid rules and regulations by country.
Set in a snowy basin in the French Alps, Chalet Hotel Aiguille Percée is one of Mark Warner's two chalet hotels in Tignes*.
This alpine bolthole is both traditional in style yet filled with newly refurbed bedrooms, a tempting Elemis Spa, and so much more. Ski and snowboard opportunities dominate with some of the best, most rewarding slopes in Europe found mere minutes from the door.
In this tried and tested review, we share details of the hotel plus what you have to look forward to on a Mark Warner holiday to Tignes in 2018/2019.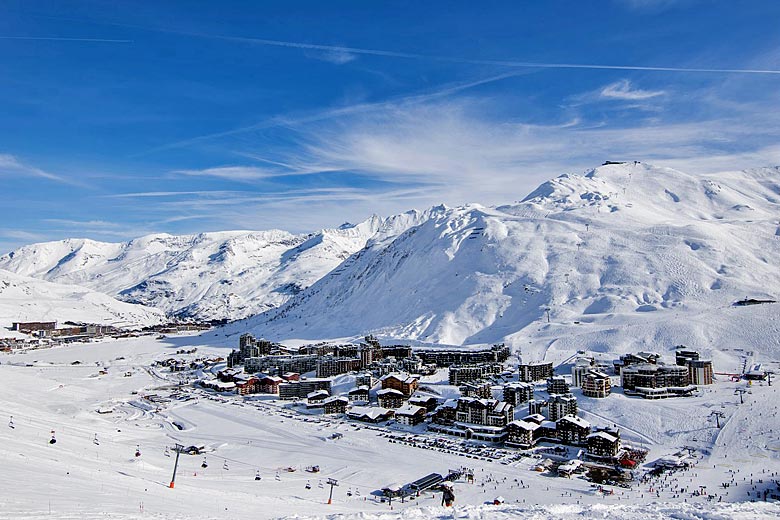 Introducing Tignes
Tignes is one of France's most iconic ski resorts. Given its high altitude, sitting some 2,100 metres above sea level, it's famed for its reliable snow cover, and our visit early in the season (mid December) provided fantastic skiing in great snow conditions. In addition, the Grand Motte Glacier at 3,500 metres, which sits to the southwest of the resort, enables skiing all year round.
Tignes has a very interesting history too; in a bid to secure hydroelectric power after World War II, it was decided that a dam was needed. Sadly, the original village of Tignes was in the way and later submerged during the dam's creation in 1952. The new, 'modern' village of Tignes was built higher up the mountain, and development of the area as an international ski resort commenced with gusto from the 1960s.
Today, there are five separate small villages that collectively make up the resort of Tignes: Tignes Le Lac (home to Mark Warner's Chalet Hotel Aiguille Percée*), Val Claret (where you'll find Mark Warner's Chalet Hotel L'Ecrin*), Le Lavachet, Tignes les Boisses, and Tignes-les-Brévières. Of the five villages, Tignes Le Lac and Val Claret are absolutely the best destinations from a skiing and amenities point of view.
Tignes snow report:: did you know that Tignes has some of the most reliable snow cover for skiing in Europe? Find out more in our Tignes snow report.
It's fair to say that Tignes has been a victim of some brutalist architecture over the decades with high rise apartments and hotels towering over the more traditional alpine chalets, and it doesn't have quite the same quaint feel that you find in the likes of neighbouring Val d'Isère* or Méribel*. That said, it does have incredible facilities with plenty of restaurants and bars, ideal for a spot of après ski, close to Chalet Hotel Aiguille Percée. It's a compact and cosy place with a good atmosphere that's hard to fault.
Crucially, Tignes is also surrounded by some of the most exceptional ski slopes - no less than 154 of them with something for everyone - all within easy access of Mark Warner's two chalet hotels. Plus, the high altitude makes for fantastic skiing not to mention expansive views over rippling pistes on clear days. A downside to the location is that when the weather turns, it can really settle in, lowering visibility, however, good days in Tignes far outnumber the bad ones.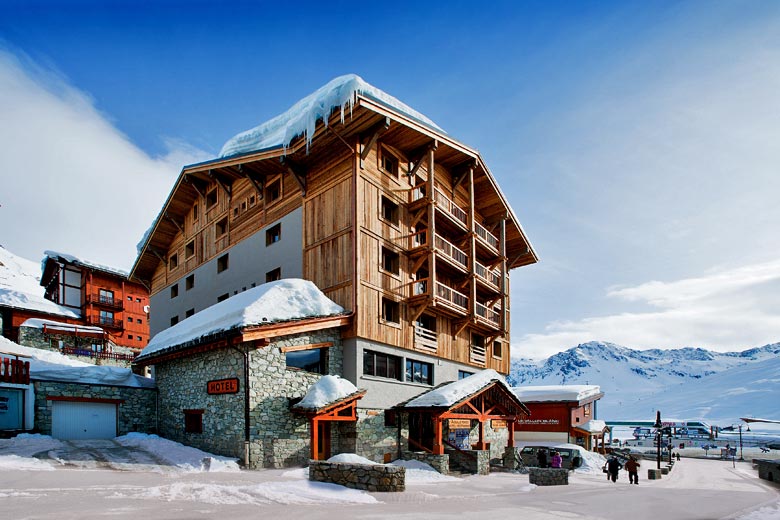 What makes Chalet Hotel Aiguille Percée special?
The beautiful Chalet Hotel Aiguille Percée* makes for a wonderful home in the centre of Tignes Le Lac. The traditional alpine look and feel of this stone and wood-clad chalet is only added to by the warm and friendly welcome you receive on arrival. There's always someone around and willing to help, whether it's behind the bar or sorting your lift passes.
With skiing and snowboarding taking priority, another of Chalet Hotel Aiguille Percée's good points is its fabulous location close to the lifts in Tignes Le Lac. Just across the road from the hotel, you'll find the main square with the ski school and guided tour meeting point - here you are also surrounded by slope and lift options, a fantastic starting point for exploring the Espace Killy (the name given to the skiing area of Tignes and Val d'Isère).
Intersport, which Mark Warner uses for equipment rental, is a short 10-minute walk from the hotel, which makes collecting your hired skis and boots super simple. Pre-book your equipment with Mark Warner*, and all you have to do is to try everything on for size and take your equipment back to the hotel, where there is a large and secure ski store room, including boot warmers. Importantly, Mark Warner really knows how to host a ski break, having done so for more than 40 years in multiple destinations.
Childcare
Mark Warner stands head and shoulders above many other holiday providers when it comes to childcare. It knows that both children and parents often enjoy time doing their own activities, and Chalet Hotel Aiguille Percée* is no exception. It has a variety of childcare options, provided by qualified nannies with a minimum of two years' experience, for you to choose from on top of the optional free evening care from 7.30pm to 10.30pm. In addition, there's the parents' kitchen with everything you need for late night feeds.
Did you know?: while Mark Warner's other resorts offer childcare for babies aged four months' old and up, in Tignes, childcare is offered from one year old and up, owing to the altitude.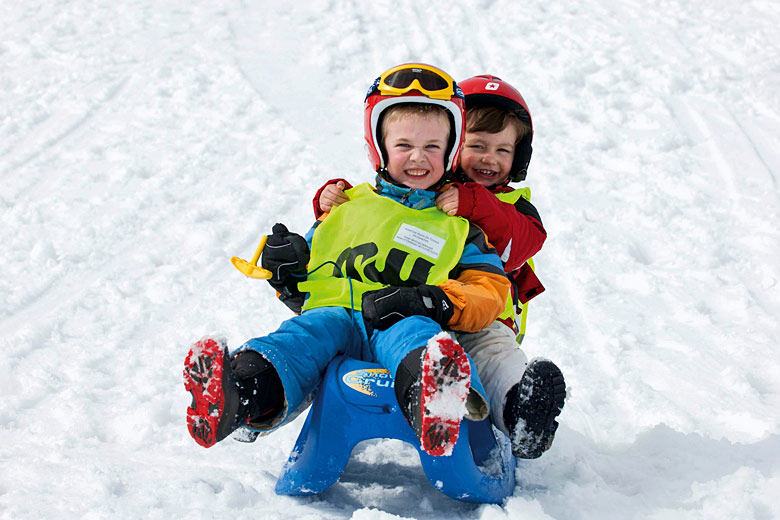 Chalet Hotel Aiguille Percée has a selection of daytime kids' clubs: Toddler Club (for one to two year olds), Mini Club (for three to five year olds), and Kidz Club (for six to 12 year olds). Clubs are open from 9.00am to 5.00pm, and lunch is provided. If you pre-book ski lessons for your child (available for kids aged four and up) with Mark Warner's official partner ski school, Evolution2, they will be taken to and from the slopes by a member of the childcare team. Children also have access to their own ski and boot room, which is connected to the day care centre.
Tip: if you plan on using any of the kids' clubs at Chalet Hotel Aiguille Percée, do remember to book your little one's place in advance, as there's no guarantee there will be space on arrival.
What's included on a Mark Warner ski holiday to Chalet Hotel Aiguille Percée?
As with any Mark Warner booking, your holiday includes return charter flights (from London Gatwick, London Heathrow, Manchester or Birmingham), coach transfers to and from the resort (which in Tignes, is a three-hour drive from Grenoble International Airport), and accommodation. Access to the chalet's bijou spa, with its heated indoor pool, steam room and sauna, is also included, and every booking is made on a chalet board basis.
Chalet board
Chalet board is the all encompassing ski holiday board basis, which is included as standard when you book your stay at Chalet Hotel Aiguille Percée* with Mark Warner. You can look forward to breakfast, afternoon tea, and a three course dinner complete with wine (for six of every seven nights). Complimentary evening childcare is also included.
This basis feels like a sensible and flexible option that fits more naturally with a ski break, especially when you consider the afternoon tea instead of lunch, as most people are out enjoying the slopes at this time.
What are the rooms like?
As a busy resort with a steady turnover of guests throughout the ski season, Chalet Hotel Aiguille Percée's rooms are put through their paces, and more than stand up to the test. Now's an especially great time to visit, as the rooms have recently been refurbished. Bedrooms are modern with a fresh, stylish look and feel, while remaining functional with plenty of space to accommodate all of your skiing bits-and-bobs - essential for families and groups. The setup of the beds depends on the room type you choose, but all are comfortable and cosy. Bathrooms, meanwhile, are clean and bright with either a bath or rain shower, the latter being powerful and hot - a must for any skier.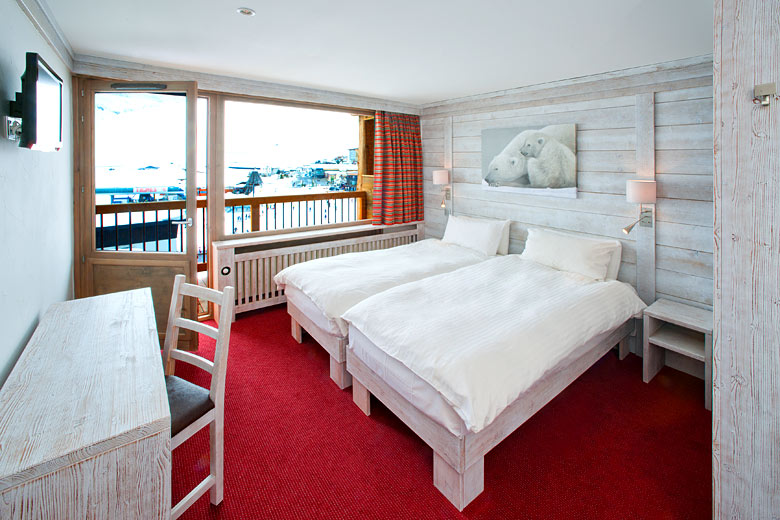 Ultimately, you don't come on a Mark Warner ski holiday* to stay in your room, so, as a place to catch up on well earned sleep after a day on the slopes, the rooms are more than adequate.
Room types
There are rooms for every budget and party size at Chalet Hotel Aiguille Percée*. Starting with the standard double and twin ensuite rooms, which come with a TV, the options steadily increase with superior doubles and twins featuring a balcony and scenic view, until you reach the superior mezzanine room (which sleeps up to four adults plus one infant) and the superior apartment (which sleeps up to six adults plus one infant).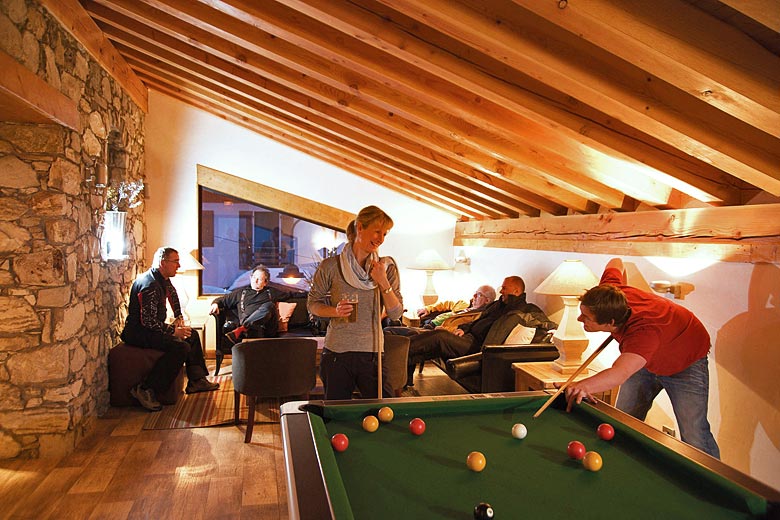 The latter two rooms include homely extras such as a lounge with sofa and a dining table. Families and groups can also request interconnecting rooms, which can accommodate up to eight people. Amenities* including hairdryers, toiletries, and free wifi are also included in all rooms.
What's the food like at Chalet Hotel Aiguille Percée?
Any skier will tell you that food is your fuel when it comes to making the most of a ski holiday - it's all about carbs, carbs, carbs! Mark Warner* doesn't disappoint on this front with a good selection of energy inducing fare that will keep you going all day long. Starting with breakfast, there's a complete hot buffet to choose from with the usual eggs, bacon, and sausages to warm you up. Porridge, cereals, fresh bread, fruit, yoghurt, and pastries are also on hand for those after a lighter start.
In keeping with the chalet board offer, lunchtime doesn't occur in the traditional sense; what Mark Warner does offer is a tempting afternoon tea for all the family, served from 4.30pm, which includes a generous mix of hot soup with fresh bread, cakes, tea and coffee. A special high tea for children aged 12 and under is available daily between 5.30pm and 6.30pm, ideal for young sleepy heads ready for an early night.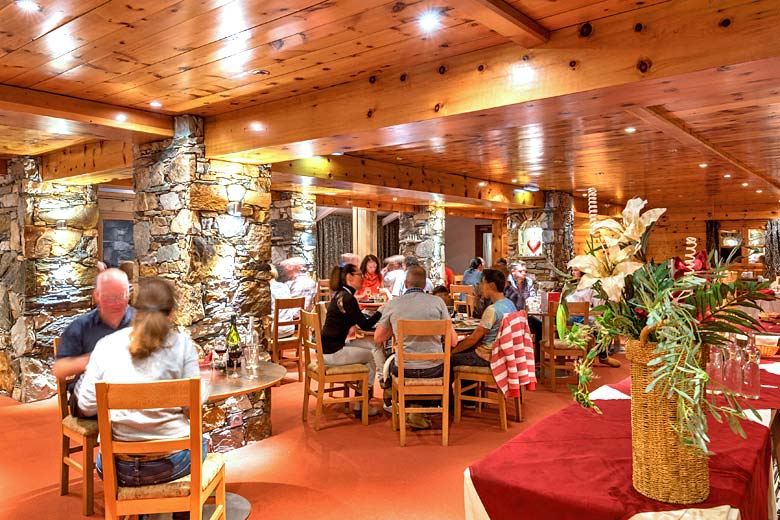 Dinner is a social affair, when the dining room fills up with everyone buzzing after what's typically an exhilarating day. On the day you arrive, you're offered a buffet with a filling carvery and all the trimmings, as well as fish and vegetarian dishes to choose from. From your second day onwards, you can take your pick from the daily set menu, which includes three options for your starter, main, and dessert. Your chalet board dinner also includes house wine with your meal.
Meanwhile, Thursdays at Chalet Hotel Aiguille Percée see the kitchen close for dinner, and you have the chance to dine out elsewhere in Tignes, giving you the opportunity to experience other eateries within the resort.
In summary: the dining options at Chalet Hotel Aiguille Percée* are plentiful, and you're sure to feel full and ready to go. Is it gourmet? Perhaps not. However, dishes are cooked fresh on site, and served by friendly staff in a warm and cosy restaurant at the foot of steep, snow covered mountains. Overall, dining at Chalet Hotel Aiguille Percée is a pleasant experience with ample quantities available at every seating.
What activities are on offer at Mark Warner's Chalet Hotel Aiguille Percée?
Top of the list is - surprise, surprise - skiing and/or snowboarding! Tignes* is arguably one of the best resorts in the French Alps for reliable snow cover, with a little bit of something for everyone. There's a variety of runs to suit all levels, and when you book your lift pass with Mark Warner*, you're automatically given access to nearby slopes and facilities (more about this below).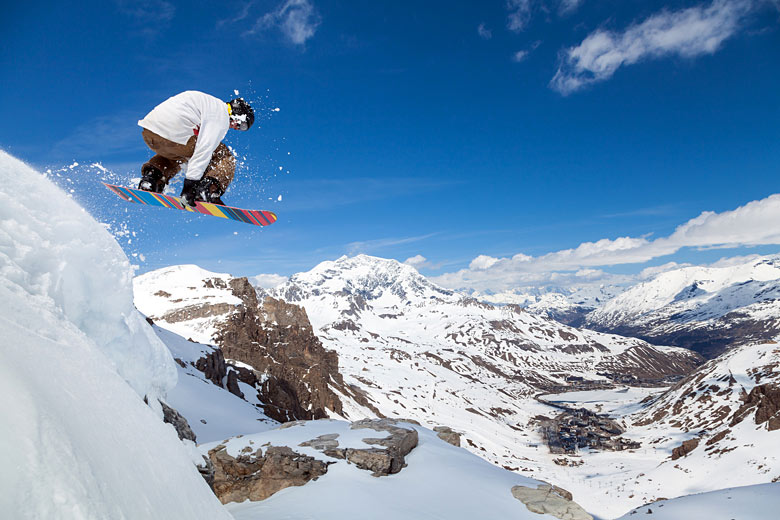 The great thing about a ski holiday at Chalet Hotel Aiguille Percée* is that it doesn't matter if it's your first day on skis - there are lessons for every age and ability, whether you need full instruction and teaching or just a little refresher course. Mark Warner also offers guided ski tours, which take the worry out of getting lost among Tignes' 300 km of slopes.
Back at basecamp, Chalet Hotel Aiguille Percée's Elemis Spa is a great spot for easing tired muscles. Opt for a rejuvenating Elemis treatment (for a fee) or simply swim in the heated pool and make the most of the sauna and steam room.
As for Tignes Le Lac, there's a whole variety of other activities you can try around the resort, from winter sports to après ski. Book with Evolution2, Mark Warner's snowsports partner in Tignes, and you could take a helicopter ride among the stunning scenery, tackle a snow shoe walk, snow tubing, dog sledding, or the terrifying Bun-J-Ride, suitable for pro-thrillseekers only!
The Tignes & Val d'Isère Pass
When booking your lift pass for your stay at Chalet Hotel Aiguille Percée*, your only option is the thorough Tignes & Val d'Isère Pass, which is valid for all lifts in Tignes and neighboring Val d'Isère. It also includes a day's skiing in La Plagne, The 3 Valleys, and Les Arcs. Finally, it includes free entry to the Lagoon Leisure Centre in Tignes Le Lac, which has a swimming pool and fitness centre. Your ski pass also gives you free use of the bus service that runs between the villages in Tignes.
Tried and tested tips
Firstly, we have some top tips for skiers: don't miss the chance to ski past or - even better - climb up to the L'Aiguille Percée (Eye of the Needle), the famous rock formation from which the hotel takes its name. It's an iconic viewpoint and can be accessed from the Palafour chair lift from Tignes Le Lac. From the L'Aiguille Percée, you can also access one of the longest black runs in Europe - La Sache - 10 km down to Tignes-les-Brévières.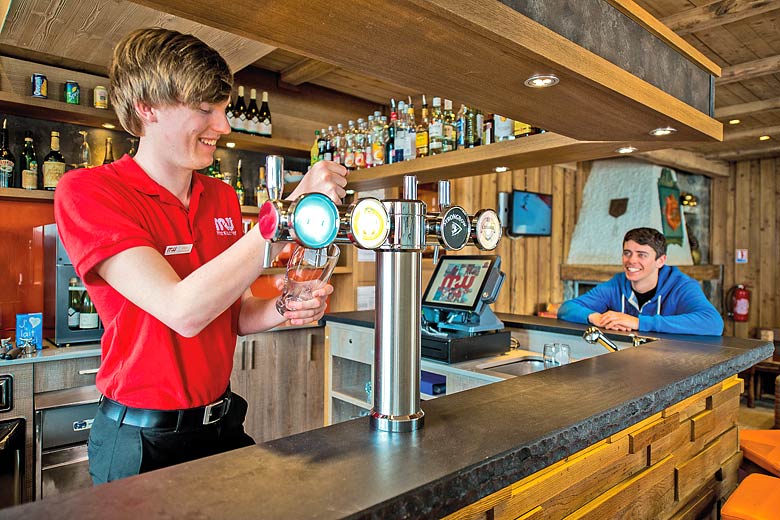 Back in the hotel, the wifi is strongest in the bedrooms. You will also find hairdryers in each room, however, they're wall mounted and not that powerful, so if you like to get your hair just so, we recommend taking your own hairdryer, not to mention your own toiletries. If you have any valuables, or want to keep your passport stored somewhere safe during your stay, best use the hotel safe in reception.
Chalet Hotel Aiguille Percée FAQs
Where is Chalet Hotel Aiguille Percée?
Chalet Hotel Aiguille Percée* is located in Tignes Le Lac, one of the five villages which make up the resort of Tignes high in the French Alps. Tignes is close to Val d'Isère, and in the heart of southeast France's Vanoise National Park. The chalet is in an excellent location in the middle of Tignes Le Lac, which in turn is three hours' drive from Grenoble International Airport (GNB).
Yes, free wifi is available at Chalet Hotel Aiguille Percée*. However, the signal is not consistently strong throughout the chalet - you'll find wifi is strongest in the bedrooms.
What should I book in advance?
Save money and guarantee availability by booking certain items in advance. These include lift passes, which the hotel will have waiting for you on arrival, equipment, including skis or snowboard, boots, and kids' packs, which you simply need to get measured up for and collect nearby.
Also, ski or snowboard lessons with options for all ages and abilities need to be booked ahead to secure your place. Finally, daytime childcare such as a relevant kids' club should also be booked in advance.
Is Chalet Hotel Aiguille Percée just for families?
Chalet Hotel Aiguille Perceée is certainly well set up for families. The excellent childcare options, lessons, and family rooms demonstrate this. However, what's interesting is that while Chalet Hotel Aiguille Percée* is hugely popular with families during school holidays, the chalet takes on another persona in term time, with adults ruling the roost and making the most of the facilities.
It's a great place for families, yes, but also especially good for adult groups and couples when kiddies are back at school and the ski season rumbles on.
Is this the only Mark Warner resort in Tignes?
No, Mark Warner has two resorts in Tignes: Chalet Hotel Aiguille Percée* in Tignes Le Lac and Chalet Hotel L'Ecrin* in Val Claret.
Itching to hit the slopes and stay at Chalet Hotel Aiguille Percée? We don't blame you. Check out the latest deals on Mark Warner's ski holidays today, and you could be making the most of the incredible snow cover in Tignes and slaloming your way into afternoon tea before you know it.
Weather2Travel.com stayed as a guest of Mark Warner at Chalet Hotel Aiguille Percée in December 2017. All opinions are those of the writer.
More about France
Jan Feb Mar Apr May Jun Jul Aug Sep Oct Nov Dec
Be inspired
Get your weekly fix of holiday inspiration from some of the world's best travel writers plus save on your next trip with the latest exclusive offers
We promise not to share your details
Related posts
*affiliate links: find out how we are funded and why this helps us remain free to use.