Flying is worse than ever? 5 reasons why you're so wrong
Please note: travel restrictions remain in place owing to the coronavirus pandemic. Be sure to check the latest travel advice and explore current covid rules and regulations by country.
Virgin Atlantic recently launched an innovative 'three new ways to fly*' pricing structure for economy passengers.
It's an ambitious new form of intercontinental travel, which could see you hopping across the pond to NYC with nothing more than an overnight bag and a toothbrush (pretty cool, if you ask us).
Yet, it's also another example of just how much our consumer behaviour is transforming commercial air travel.
As more and more of us take to the skies, demand for low cost and convenience pushes airlines to find leaner and, sometimes, meaner ways to meet our expectations.
The mythical 'golden age' of air travel
Some of these concepts, such as this new one by Virgin Atlantic, do so by offering more choice to the consumer, which is always well-received by the public.
Other ways of passing cost savings onto customers have been a much tougher sell. Standing-room-only cabins, pay-loos and the much-mooted pilotless planes are a few that spring to mind.
Even so, it's causing some travellers to lament the long-lost days, or 'Golden Age', of air travel.
Find out more: Discover everything you need to know about Virgin Atlantic's new economy cabin in our ultimate guide to the changes.
Older passengers go misty eyed remembering these fabled days of glamour and style, but how much has really changed over the years? And has it changed for the better or for the worse?
With that in mind, we thought we'd check out our top five key considerations when booking flights, and compare today's customer experience with the 1950s, 60s and 70s; that fabled Golden Age when merely stepping on an aeroplane made you more attractive. Supposedly.
1. Cost of air travel
Cost is the biggest factor when booking flights, so let's have a look at the difference between then and now.
During the Golden Age, a ticket from London to New York would cost an average person the best part of their annual salary. As such, you didn't really see many 'average' people on a flight to NYC.
Today, you can fly there for less than 1% of an average salary (that's based on a median UK salary of £28,000). There's no doubt that low cost air travel has opened the skies to millions of people worldwide.
2. Safer air travel
Aviation is the safest form of transport today, bar none. Just 1.25 accidents occur for every million flights. It's even five times safer than it was just 20 years ago.
Back in the Golden Age, air travel was a far riskier affair. Throughout the 1950s and 60s there were around half a dozen fatal crashes each year in the US alone.
In the 1970s it was even common to see flight insurance kiosks at your local airport - arguably one step away from a Wills & Probate Office.
There's no doubt that despite the huge rise in passenger numbers, it's far safer getting on a plane today than it ever was in the past.
"Cost is the biggest factor when booking flights."
3. Comfort onboard
This one is a bit of a trade-off. In many ways the Golden Age was miles ahead when it came to comfort, with some first class cabins looking more like luxury hotel rooms. Although economy class was officially approved by IATA in 1952, it still included more space and luxuries than you find today.
Even if you were flying 'coach' you could expect between three to six inches of extra legroom compared with today.
The flights tended to be boozy, involving three-hour lunches, including roast-beef carved at your seat and a limitless supply of alcohol.
On the other hand, almost everyone smoked, and the cabins were famed for being so thick with tobacco clouds you could barely breathe.
The other main issue with comfort was the lack of pressurised cabins. Until the early 1950s, the majority of aircraft were propeller driven, bumpy, and prone to being forced to land during bad weather.
Coupled with all the drink, rich food and tobacco smoke, it's no wonder sick bags were never far from passengers' hands.
Finally, there was the boredom. These were long flights with nothing to do but talk, drink and smoke. When you got tired of that it was a case of staring straight ahead and twiddling your thumbs.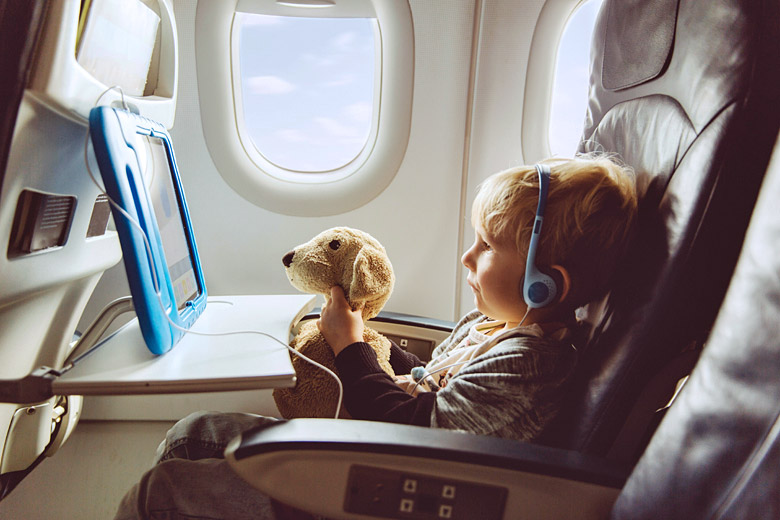 By comparison, today's long haul flights are packed full of entertainment such as WIFI, USB charging points for your smartphone, and literally hundreds of hours of films, music, and entertainment all via your own personal 9-inch TV screen.
"Everything about air travel today is vastly superior to the Golden Age - except, perhaps, the clothes we wear to travel in."
4. Speed of air travel
You can now fly non-stop from London to Perth* in 17 hours. Back in the day, a flight from Brisbane to London could take up to 60 hours and include no less than eight to nine stops.
Furthermore, we are approaching an age of hypersonic air travel, when you'll be able to fly from London to NYC in 30 minutes, and travel from London to Sydney faster than it currently takes to fly from Gatwick to Malaga. There's really no contest here at all.
5. Glamour, style and sophistication
This is where the Golden Age really earned its name. When people flew in the past they wore their best outfits. It wasn't uncommon to see dogs with their own seats.
It's a far cry from today's cabins, packed full of tracksuits, trainers and tank-tops. These days, travellers dress for comfort, not as much for style.
So perhaps that's all it is. Everything about air travel today is vastly superior to the Golden Age - except, perhaps, the clothes we wear to travel in, which is a pretty easy one to remedy if you ask us!
Looking for great value fares for a memorable getaway in 2019? Check out the latest selection of deals on flights worldwide from leading airlines, including Virgin Atlantic, BA, Emirates, and many more.
Be inspired
Get your weekly fix of holiday inspiration from some of the world's best travel writers plus save on your next trip with the latest exclusive offers
We promise not to share your details
Related posts
*affiliate links: find out how we are funded and why this helps us remain free to use.