How to get free Wi-Fi abroad: Top 10 tips to stay connected
*affiliate links: find out how we are funded and why this helps us remain free to use.
Free Wi-Fi abroad is one of the most desired facilities in this busy, ever-connected world of ours. According to a recent survey, finding free Wi-Fi abroad is right at the top of today's holidaymakers' wish lists.
In fact, when asked, hotel guests named a lack of free Wi-Fi abroad as their number one complaint while away from home, and we all know that not being able to get online can be seriously frustrating.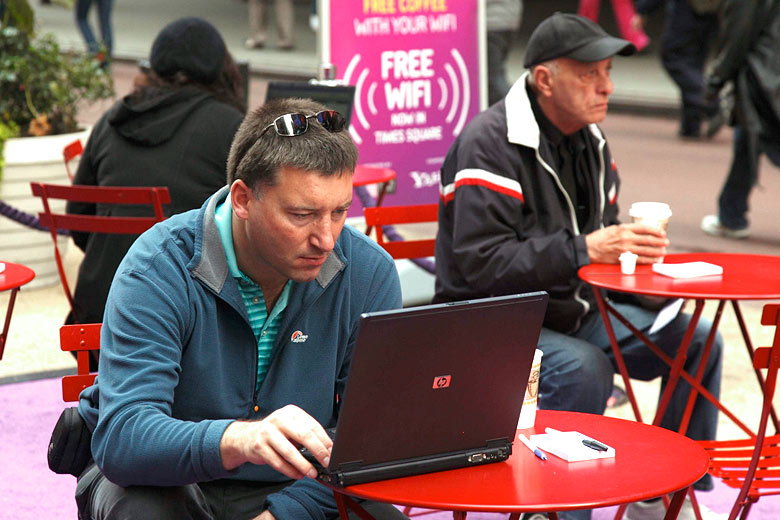 However, if your accommodation doesn't offer free internet access, don't reach for your data plan, try these tips first and you could say goodbye to a choice between the frustrations of being offline while travelling and running up a large bill.
1. Research public Wi-Fi options before you go
Many destinations are wising up to the fact that internet access is a big deal for travellers, and are actively promoting their free local Wi-Fi services.
For example, Germany's tourist board has an app to help you find Wi-Fi, called Youth HotSpot (available on Android and iOS free of charge), while cities such as Perth, Hong Kong, Helsinki and Taipei offer widespread public Wi-Fi options. In the US public libraries always have internet available, and 57 cities across the States have some kind of municipal Wi-Fi.
It's worth doing a quick Google check before you go to see if your destination offers free public Wi-Fi so you can be prepared and either pre-register or download any apps if necessary while you're using your own reliable internet connection at home.
2. Get online on the move
Airports, trains, coaches and buses - even petrol stations and garages - often have free Wi-Fi abroad so you can probably get connected while travelling to your destination even if you don't know what the Wi-Fi options will be when you arrive.
Unsurprisingly service levels vary widely between companies and countries, so, for example, Virgin Trains in the UK offers free Wi-Fi to First Class passengers, VIA Rail in Canada gives the service to all travellers as does Amtrak in the USA while Hong Kong's MTR offers Wi-Fi at every station.
Even in less developed countries Wi-Fi is becoming the latest must-have service on offer to travellers. In Cambodia for example, the newest bus company ferrying tourists from Phnom Penh to the beach resort of Sihanoukville and the temples at Angkor Wat, Giant Ibis, gives passengers free Wi-Fi abroad - something that would have been unthinkable just a couple of years ago proving that if the demand is there transport companies will take notice.
3. Search FourSquare
If you've found a password protected Wi-Fi network it's worth searching the location-based social network FourSquare as helpful folk who've already been given the password will often share it for you to use here.
4. Use cable company Wi-Fi
Cable companies often offer their customers use of their Wi-Fi hotspots and will let users add multiple email accounts to the service. For example, Shaw cable customers in Canada can have 10 users on one account at no extra charge, and Time Warner offers a similar service in the USA, so ask your friends in the destination if their cable company offers this option.
5. Get the app
If you have a free Wi-Fi finder app installed this will do a lot of the hard work for you in terms of finding free Wi-Fi while travelling. For iPhone try the Free Wi-Fi Finder app and for Android users there's Wi-Fi Finder amongst others.
6. Go shopping
Many shopping malls and larger stores offer their own Wi-Fi connections for customers, and increasing numbers of smaller stores are getting in on the act. Urban Outfitters, Topshop, Target, J.C. Penney, Saks Fifth Avenue, Nordstrom and Office Depot are examples of stores that have free Wi-Fi. Of course you don't necessarily need to go inside and make a purchase, you can always linger in the parking lot or hang around the aisles so you can use the free Wi-Fi abroad.
7. Join loyalty schemes
Registering for loyalty programmes that offer free Wi-Fi abroad is a great way of having a go-to place anywhere that you know you can get online. International hotel chains are a good place to start, for example, if you're a member of the Fairmont Hotels' preferred guest programme, the President's Club (which is free for anyone to join) you can use the Wi-Fi in their hotels all over the world free of charge, and it's a similar story with Carlson Rezidor* and Swissotel.
It isn't just hotels as stores like Chapters and Indigo give free Wi-Fi to members of their plum and irewards loyalty schemes, as does London's Heathrow Airport, offering 90 minutes of free Wi-Fi to its Heathrow Rewards members.
8. Fast food = fast Wi-Fi
Probably the most obvious places to find free Wi-Fi abroad and the easiest to take advantage of are the slew of fast food chains and cafes which offer reliable internet at every outlet - McDonald's and Starbucks each have over 10,000 branches offering free Wi-Fi in the US alone and plenty of other well-known brands have embraced connectivity for their customers, from Burger King to Dunkin' Donuts.
9. Wi-Fi maps
You can go straight to the main Wi-Fi provider for many of the fast food's internet services, Free Hotspot and search by location and there are other location-based Wi-Fi finders such as wifi-free.mobi and WeFi.com.
10. Buddy up with a local friend
If all else fails, try asking friends who have a local data plan if they can turn their phone into a hotspot for you to connect to. Tethering from someone else's phone is a bit of big favour to ask, but if you're not downloading large files and just want to check an email or look something up online it shouldn't break their data bank.
If you have any other tips on finding free Wi-Fi abroad let us know in the comments section below.
Explore holidays in the sun for less
Be inspired
Get your weekly fix of holiday inspiration from some of the world's best travel writers plus save on your next trip with the latest exclusive offers
We promise not to share your details
Related posts