8 Google Maps hacks every traveller needs to know
*affiliate links: find out how we are funded and why this helps us remain free to use.
A lifeline for the modern traveller, Google Maps is an essential app for navigating unfamiliar places. It has changed the way we travel abroad and at home drastically, allowing us to navigate otherwise baffling public transport systems and find shortcuts and detours on road trips all over the world.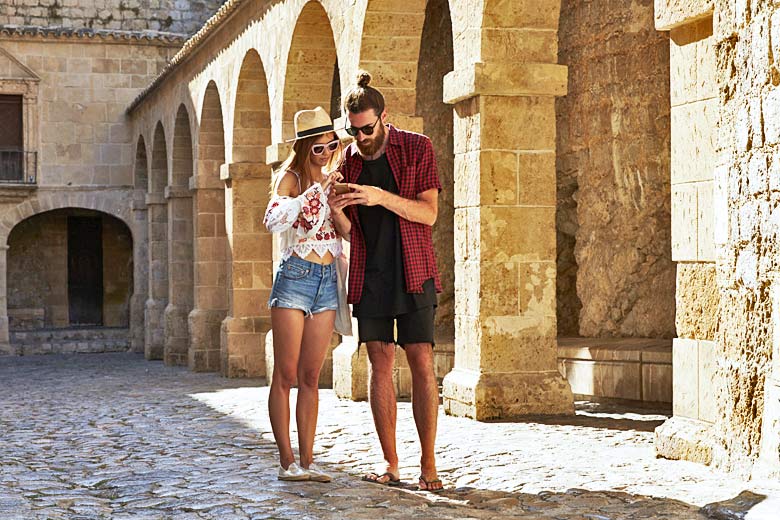 Whether you're planning a road trip or exploring a new city, there are tonnes of useful, intuitive functionalities to utilise beyond just looking up your hotel's proximity to the beach or planning that route from the airport.
As Google turns 20 years old this September, here are eight essential Google Maps tips for savvy travellers.
1. For the planner: saved places & my maps
It's all very well having a list of places you want to visit on this year's big trip, but how viable are all those activities? Can you fit them all into one day? And how can you make best use of your time in one particular area? Thankfully, Google Maps has the answer.
The saved places and list function is the unsung hero of this app. It allows you to find things on the map - restaurants, bars, hotels, tourist attractions - and save them in lists using the 'save' button that appears once you click on the right place.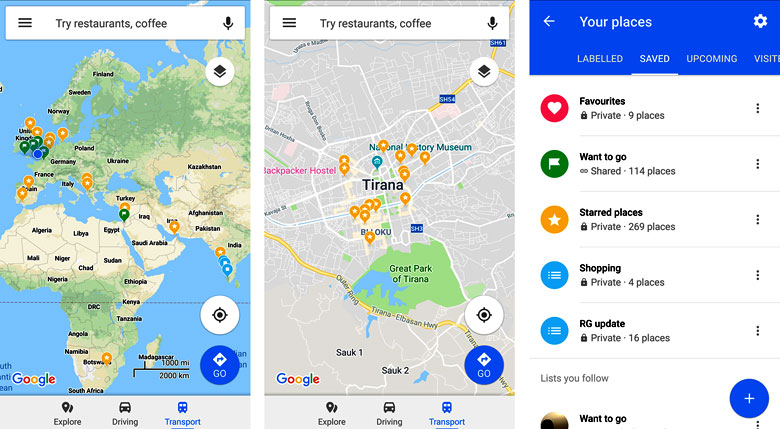 There are three default lists: starred, favourites and want to go. But you can also create your own custom lists - "summer holiday" or "honeymoon", for example - and pin your desired destinations to the map. This makes planning your days much simpler, as you can choose what to do in an afternoon or evening based on what's in a single area.
It's also helpful on the ground when you want to see what's nearby that you might have earmarked as a place to visit. You can share these lists with fellow travellers, too, so you don't have to be solely responsible for planning the trip.
2. For the frugal traveller: offline maps
If you're from the UK and travelling within Europe your telecoms provider likely won't charge for using data abroad. But head beyond the continent and you could face hefty phone bills if you're not careful.
Thankfully, most cities on Google Maps are available to download offline, meaning you can still use it to navigate on foot and see all your saved places. GPS doesn't use up data, either, so you can still see that little blue dot indicating where you are on the map at all times.
3. For the ultra-organised: my maps
Take your trip planning one step further and use the my maps service - an online tool by Google that allows you to add different 'layers' and assign custom icons on your pinned places. Best used on desktop, it's great for categorisation.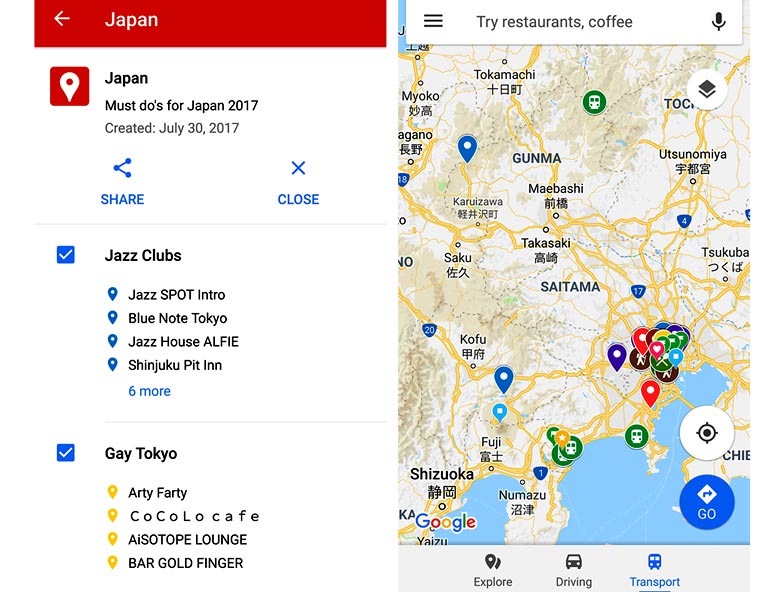 For example, you might want to use the layers function to split out your days so all the activities for day one, for example, are the same colour. Or you could use it to differentiate between places, such as restaurants and museums and even photo opportunities.
As with most Google services, you can share your maps with others, and you'll be able to access them through the Google Maps app in the 'Your places' section.
4. For on-the-ground assistance: search 'near me'
A simpler, more direct way to find what you're after is to type it in the search box with "near me" after. Whether you're after an ATM, a supermarket or a pharmacy, Google Maps will show you the nearest one.
The search algorithms and natural language processing in the app is so sophisticated, you can even type in things like "tacos near me" and you'll see nearby Mexican restaurants, or "things to do near me" and it'll throw up all sorts of activities to explore.
5. For those on-the-go: route planning options
While it might seem like an all-knowing app, Google Maps doesn't always know the best way for you to travel. When you're lugging that suitcase across a new city, for example, hopping on and off five different trains for the quickest journey isn't exactly ideal. This is where route options come into it.
Once you've put in your start point and destination and the results show up, you can use the 'options' to make adjustments based on your preferences. Choose 'fewest transfers' if you want to avoid bus and train hopping on public transport, and in the driving directions area use the three dots in the top right corner to avoid toll roads, ferries or motorways.
6. For inspiration: the 'explore' function
Google's explore function is supremely useful when you're in an unfamiliar area and need tips on the best places nearby. Collated using intel from locals who have answered questions about nearby establishments, it pulls together the best places to eat, have coffee or shop wherever you are.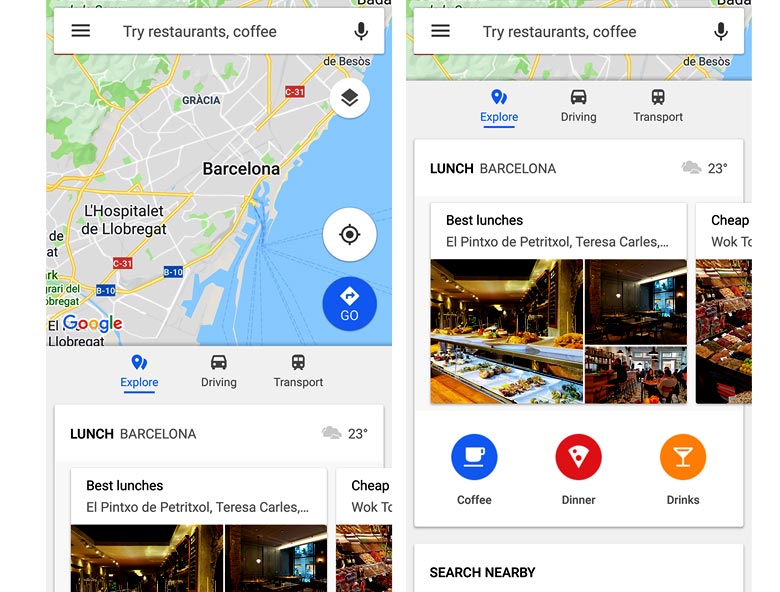 If you're looking for a lunch spot, for example, it'll offer up different kinds of places, such as 'where the locals eat' or 'quick bites'. It also offers more practical information on ATMs, pharmacies or petrol stations nearby.
7. For the forgetful: use 'your timeline' to track where you've been
Remember that gorgeous little trattoria you stopped off in for dinner on your first night in Rome? Or that smoky Japanese yakitori joint you discovered on your last evening in Tokyo? You might recall the experience, but can you remember the name of it?
We've all stumbled across brilliant coffee shops or boutiques on our travels but often forget to take down the name of the place. This is where the Google Maps timeline functionality comes into its own.
While many might find the idea of Google tracking your every move creepy, it can be extremely helpful on the road. Keep your location services on and give Google Maps permission to track your movements and you'll soon build up a nice timeline of places you've visited, including shops, restaurants, attractions and destinations.
The timeline will even hazard a guess at how you travelled between places based on your speed - it's not always right, but you can correct it when it thinks you've been running when you were really just on that Segway tour. It'll also add any pictures you've taken to the location they were taken in.
This also comes in handy if you get lost in a city and want to find your way back to where you started. Just look at the map of your activity and you'll spot where it all began.
8. For extra details: indoor maps
These days, airports, malls and museums can be so huge you need a map to navigate around the inside. Rather brilliantly, in select locations around the world Google Maps has this level of detail built into its app.
For example, zoom in over Westfield Shopping Centre in London and you'll see the individual shops marked on the map. Or do the same over JFK International Airport in New York and you'll be able to see all the lounges, gates and restaurants on each floor.
Looking to put your newly acquired Google Maps skills to the test? Give our destination finders a whirl and book that break, be it a city escape or beach holiday.
Explore holidays in the sun for less
Be inspired
Get your weekly fix of holiday inspiration from some of the world's best travel writers plus save on your next trip with the latest exclusive offers
We promise not to share your details
Related posts