Easy day trips from Hikkaduwa, Sri Lanka
*affiliate links: find out how we are funded and why this helps us remain free to use.
Hikkaduwa is one of Sri Lanka's most famed beaches resorts thanks to its long, wide swathes of sand, and ample selection of facilities.
While your sun lounger and swimming pool make great holiday companions, it's worth taking a day trip or two to experience some of the other attractions in this corner of the island. From diving wrecks and forest treks to watching the sunset from Galle Fort, and spying blue whales at sea, there's so much to do in and around Hikkaduwa.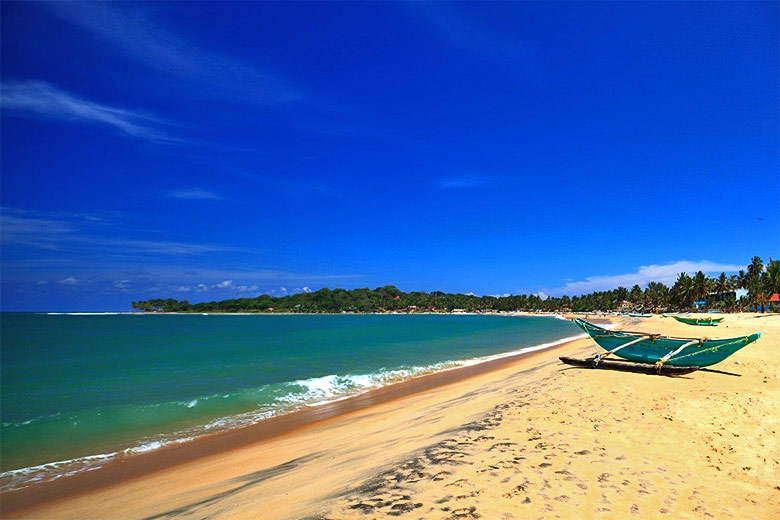 Easy day trips from Hikkaduwa: beaches, forests & more
There's no shortage of places to stay in Hikkaduwa but if you're looking for a great deal then a holiday with TUI* is your way to save on flights and accommodation in Sri Lanka.
Temperature wise, the weather in Hikkaduwa is pretty consistent with plenty of sunshine, however, the rains descend in the summer months, which limit tourist numbers at this time.
It's a top destination for winter sun though, with many choosing to visit between November and April. Read on to find out more about our pick of easy day trips from Hikkaduwa.
Dive into Hikkaduwa Marine National Park
Duration: full day
Time from Hikkaduwa by car: 5 minutes
You can't possibly stay in Hikkaduwa without spending at least one day in the Hikkaduwa Marine National Park. Whether you're a safe snorkeller or an adventurous scuba diver, there's plenty to see below the surface in this natural wonder. The marine park constitutes a coastal coral reef in the warm waters just off the north end of Hikkaduwa Beach.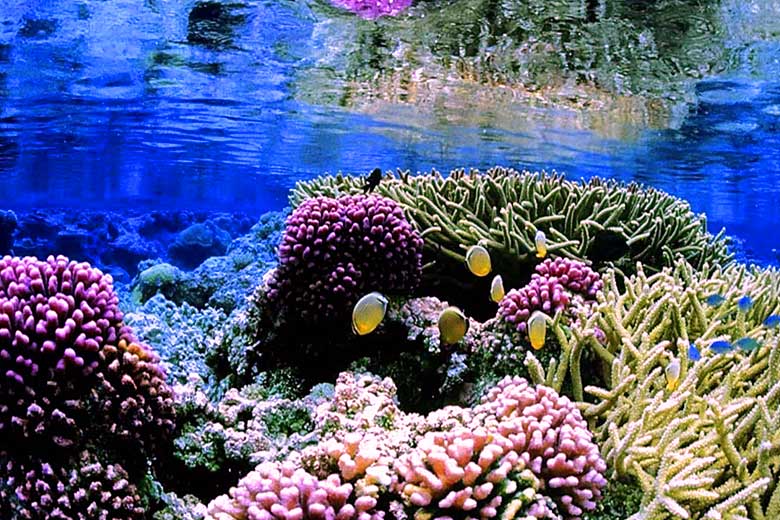 Everything from colourful corals and lobsters to boxfish, pufferfish, sea turtles, and the curious dugong can be found here - passing dolphins have also been known to drop by. For pro divers, the wreck of the Earl of Shaftesbury, a British ship which capsized in 1893, is the ideal place to go fish spotting.
There are three main dive schools in the park offering both lessons and equipment. If you're just looking to snorkel, best bring your own to save time, money and any disappointment. Glass bottom boat trips can be booked as well, although you really can't beat getting into the water.
Explore historic Galle Fort
Duration: half or full day
Time from Hikkaduwa by car: up to 45 minutes
Galle is Sri Lanka's fifth largest city but arguably one of its most prominent owing to its historic seaport. Long before colonialist got their hands on the island, Galle was Sri Lanka's gateway to and from the rest of the world, trading goods with merchants from Italy, Persia, Greece, and India, among others.
The Portuguese were the first to stake a claim on Galle in 1502, which they held onto until the Dutch relieved them of the enviable trading port in 1640. The world famous Galle Fort was constructed by the Dutch in the 1660s and remains the largest fortress in Asia to be built by European colonialists.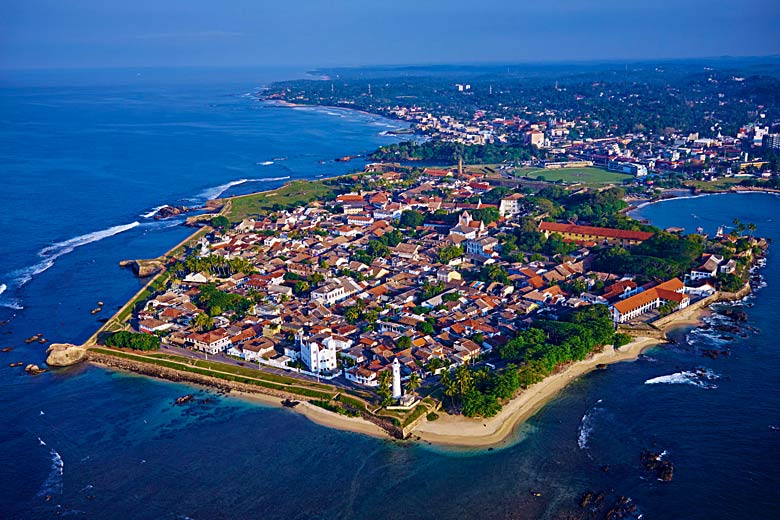 As such, the old town of Galle - a UNESCO World Heritage Site - within the walls of the fort is a must for anyone making a day trip here from Hikkaduwa. It is a special place with a labyrinth of grid-like streets that beg to be wandered.
Head to the pearly white lighthouse at the fort's southern tip for splendid views out to sea, and up onto the northern ramparts at dusk to watch the sunset while looking across Galle International Stadium - surely a must-see for any cricket lover.
Galle has a quirky collection of shops with many modern and traditional options to choose from. For contemporary handmade gifts and interiors, seek out Souk 58, while Stick No Bills lets you indulge in a touch of nostalgia with its impressive collection of vintage travel posters, and Barefoot supplies a stylish range of locally made Sri Lankan goodies.
Finally, no visit to Galle is complete with at least one cocktail on the veranda at the luxurious Amangalla hotel with all its colonial charm, wicker ceiling fans included.
Relax at Jungle Beach, Unawatuna
Duration: half or full day - could combine with a stop in Galle
Time from Hikkaduwa by car: up to an hour
Unawatuna is a laidback, slightly hippyish, retreat, less than 10 km southwest of Galle. There's a very chilled vibe here with beach bars that, thanks to the 2004 tsunami, now sit much closer to the shoreline than previously intended.
The whole area, including Galle, was devastated by the events over a decade ago, and residual damage can still be seen. Unawatuna may have taken a serious hit but it remains a warm and relatively shallow bay free some of the stronger waves that you find in other areas along Sri Lanka's coast. Water sports, shops and cafes can all be found here as well.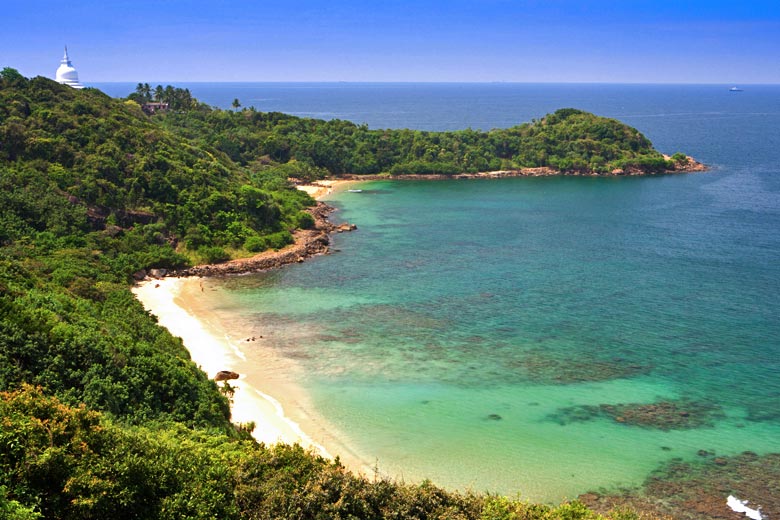 You can't visit Unawatuna without making the trek to secluded Jungle Beach. Less of a secret than it used to be, Jungle Beach still requires some determination to find, and although it can get busy at peak times, it's worth the effort. Make for the hilltop Japanese Peace Pagoda, and you will find stairs leading down the other side of the hill. Here, it should become clear which way to go, however, asking a local is a great way to ensure you don't take a wrong turn.
You could, of course, opt for a tuk-tuk ride there and just walk back. There are limited facilities at Jungle Beach with a small bar serving ice cold Lion Beer and snacks, plus a few loungers.
Trek the Sinharaja Forest Reserve
Duration: full day
Time from Hikkaduwa by car: between 2.5 and 3 hours
Sinharaja Forest Reserve is a vital UNESCO-recognised biosphere zone located in Sri Lanka's southwest. It has been suggested that Sinharaja, which means Lion Kingdom, was the last known hideaway of Sri Lankan lions; whether or not this is true, it is a remarkable and crucial ecosystem, quite different to some of other, dry, low-level national parks such as Yala.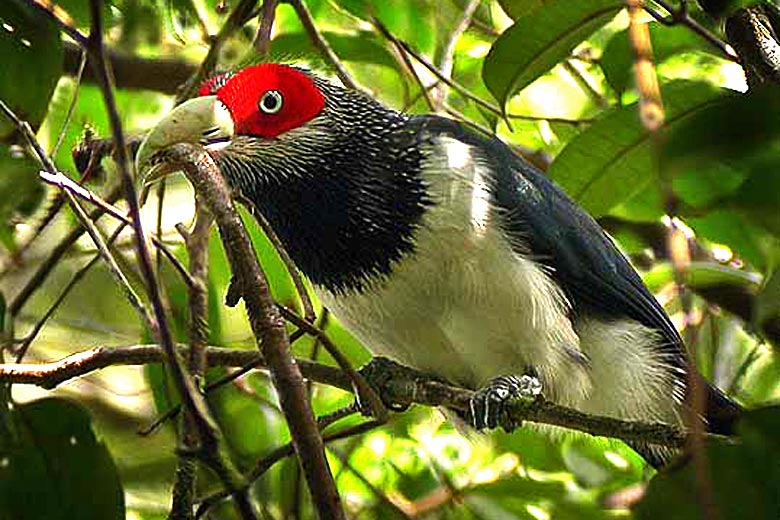 Today, the forest is home to an eclectic mix of wild, bird, and plant life, with a select few elephants, leopards and the rusty-spotted cat just some its inhabitants that live under the extensive canopy of trees.
While the big names often keep out of the spotlight, you can expect to see playful groups of langur monkeys, wild boar, and striped squirrels, not to mention frogs, butterflies, and any number of Sri Lanka's endemic bird species.
If you're there at dusk you won't be able to miss the swarm of beautiful bats. You can only see the park on foot, and there are expert guides just waiting to show you round on arrival.
Set sail to find the blue whale
Duration: half or full day
The southern coast of Sri Lanka welcomes a host of migrating whales between November and April each year. From humpback and sperm whales to the majestic blue whale - the largest animal known to exist on earth - a chance to go whale watching in Sri Lanka should not be missed.
You will also likely see pods of dolphins and, depending on the trip you book, be able to take a dip in the deep blue sea with a swimming stop. Both full and half day trips can be arranged easily from Hikkaduwa, although Mirissa, some 60 km to the southwest, is the most popular departure point for whale watching expeditions.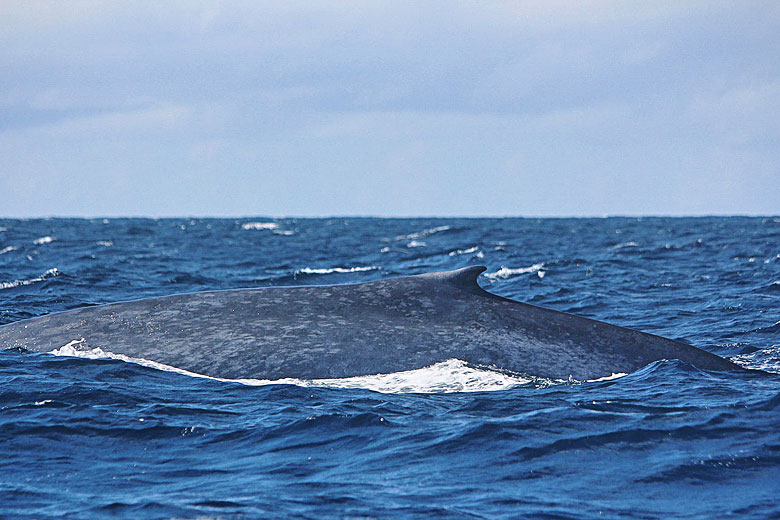 If you're planning a trip to Sri Lanka for some winter sun, don't miss the latest online offers and discounts from TUI, which has a number of resorts across the island, including one in Hikkaduwa, that can be accessed direct from London Gatwick.
Don't forget to check out our Hikkaduwa weather guide, and see our pick of when to go for the best weather.
More about Hikkaduwa
Jan Feb Mar Apr May Jun Jul Aug Sep Oct Nov Dec
Explore holidays in the sun for less
Be inspired
Get your weekly fix of holiday inspiration from some of the world's best travel writers plus save on your next trip with the latest exclusive offers
We promise not to share your details
Related posts