7 of the best wildlife tours for 2023/2024
*affiliate links: find out how we are funded and why this helps us remain free to use.
"It seems to me that the natural world is the greatest source of excitement", and Sir David Attenborough should know. Travelling taps into this, giving us a sense of discovery, and taking an expert-led tour is a great way of making the most of any trip.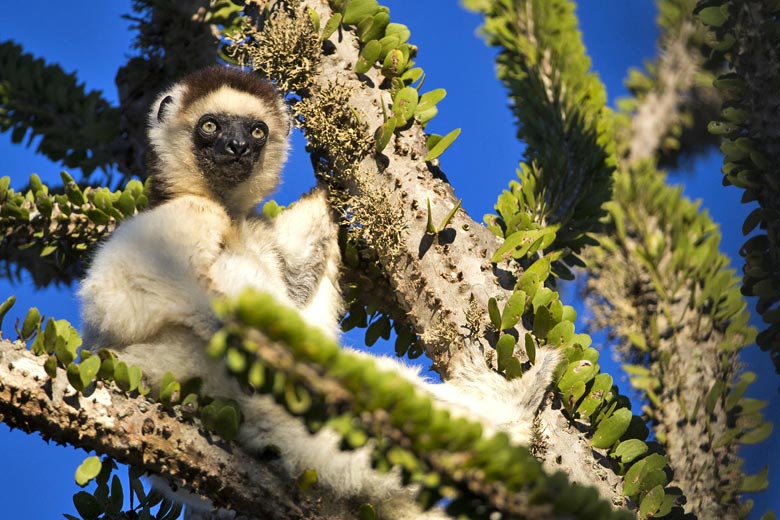 There are so many niche options out there, from railway and foodie itineraries to cycling breaks, but surely an adventure that focuses on a country's wildlife is the most rewarding.
From learning about current threats and conservation efforts to simply seeing some of the world's most remarkable creatures up close in their natural habitat, a wildlife tour is one to cherish.
Here we share our pick of the nine best wildlife tours you can take in 2018, which combine a little history and heritage with animal magic in destinations around the globe.
1. Tigers in India
The striking Bengal tiger is, without doubt, one of the finest looking creatures on the planet - even watching tigers on TV elicits an audible 'aww' for their size, agility, and elegance, let alone their beautiful coats and adorable cubs.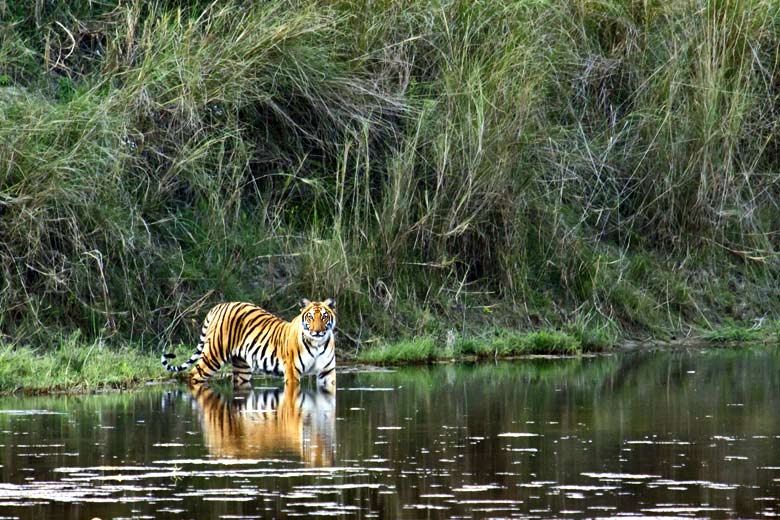 The national animal of India (and neighbouring Bangladesh, for that matter), Bengal tigers are, sadly, endangered due to loss of habitat and cruel poaching. This makes seeing these pantherine giants in their natural environment so very special.
Explore! runs an action-packed Indian Wildlife Adventure* tour, which takes in the cities of Mumbai and Bhopal, historic UNESCO sites, and four national parks. Everything from guided treks and canoeing trips to Jeep safaris are included to help you track down these elusive big cats in the central Indian highlands.
2. Lemurs in Madagascar
Lemurs are the celebrities of Madagascar. People come from all over the world to spy these playful primates, of which there are more than 100 different species (when divided into various sub-species and families) spread across the national parks.
From the iconic ring-tailed lemurs and large, noisy indri indri to leaping sifakas, the tiny Berthe's mouse lemur, and everything in between, you won't be disappointed.
Throw in countless colourful birds and reptiles at every turn (think bright turquoise geckos, lazy chameleons, Nile crocs, and curious frogs), and it's easy to see why Madagascar is a wildlife lover's dream.
For an escorted tour with a difference, consider Madagascar: Hike & Bike* from the team at Intrepid Travel. See this majestic country on two wheels and two feet over 14 nights. The tour includes a wide selection of activities including trekking, canoeing and swimming, all promising a holiday like no other.
3. Orangutans in Malaysia
Orangutans and Borneo go hand-in-hand, mainly because it is one of only two regions where the dwindling numbers of great apes can now be found (Sumatra in Indonesia being the other).
The orangutan is another victim of deforestation (typically giving way to devastating palm oil plantations) and a legacy of hunting, which has them firmly on the critically endangered list. Intelligent, feeling, and creative, they are tree-dwellers, usually found chewing on fresh fruit and lounging on branches.
Exodus Travels runs a thrilling 13-night tour, Borneo Wildlife Discoverer, to Malaysia, which promises plenty of opportunities to see these enchanting apes in their natural habitat.
4. The Big Five in South Africa
South Africa needs very little introduction when it comes to wildlife. The secret has long been out that some of the earth's most fascinating, awe-inspiring creatures can be found in this enormous country at the tip of Africa.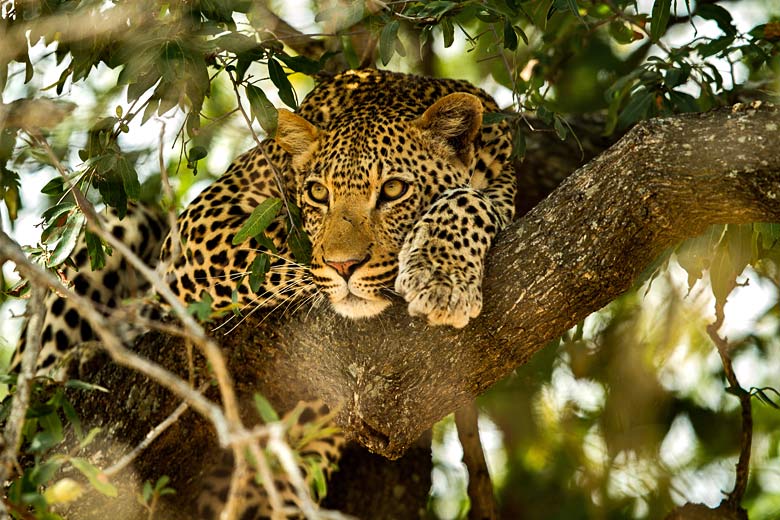 Of the country's 19 main national parks, the Kruger is the largest game reserve, not to mention one of the most diverse. You can see everything from leopards, zebras and giraffes to eagles, vultures and crocodiles if you (or your experienced guide) know where to look.
TUI Tours runs its Into the Wild* trip, a seven-night foray into the countryside of South Africa. You'll enjoy safaris, visit Kruger National Park and find yourself delving into the South African bush to see beasties of all shapes and size.
5. Gorillas in Uganda
One of the most privileged experiences in the world has to be seeing the majestic mountain gorillas in their natural habitat. Another incredible mammal on the critically endangered list, gorilla numbers are low, estimated at fewer than 900, found only in protected forest areas of Uganda, Rwanda, and the Democratic Republic of Congo.
These enormous primates are highly sociable and a trip to see a family nestled in the bamboo forests of Uganda is one you'll treasure.
Titan Travel operates a once-in-a-lifetime tour, Great Apes of Uganda*, with visits to four national parks, including the rich Queen Elizabeth National Park, known for its diverse wildlife and landscapes.
As well as seeing the gorillas, you will encounter other creatures of the rainforest and bamboo forest, such as cheeky chimpanzees, as well as birds, butterflies and reptiles. Activities include guided hikes and 4X4 safaris, ensuring you make the most of your time in this central African nation.
6. Giant tortoises in the Galapagos Islands, Ecuador
The Mecca of wildlife destinations has to be the Galapagos Islands. The volcanic archipelago, which lies some 560 miles off the west coast of Ecuador, is home to an incredible array of endemic species.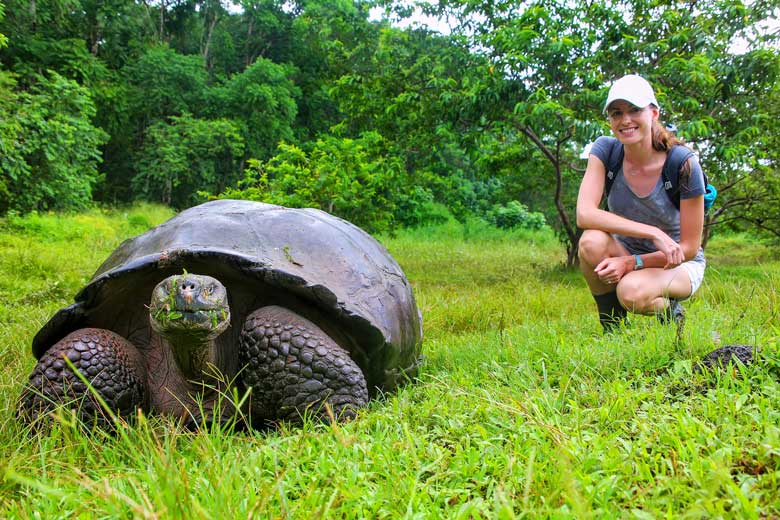 Cemented in history forever by the exploits of Charles Darwin, the Galapagos Islands host those keen to see its plethora of flora and fauna - in particular, the giant tortoise. While speedy iguanas, varieties of seabird, and stealthy sea lions all have their appeal, the giant tortoises are the real draw.
Travelsphere runs a wonderful introductory break to the islands with its Galapagos Island Hopping* tour.
On top of the promise of giant tortoises, you will experience a frog symphony, go looking for hummingbirds in the Mindo Cloud Forest, swim with sea turtles, and visit the Charles Darwin Research Station, among many other mind-blowing activities.
7. Pandas in China
No trip to China would be complete without seeing loveable giant pandas chewing on their trademark bamboo. Although classified as vulnerable, thankfully conservation efforts appear to be paying off with a slow increase in the number of pandas reported.
While not the official symbol of China (that would be the dragon), the adorable black and white panda bear is certainly a close second. Their sleek monochrome coats and cutesy cubs (think sneezing panda of YouTube fame), have nurtured worldwide adoration.
Conveniently, China expert Wendy Wu Tours has just the thing in the form of its In Pursuit of Pandas* trip.
As well as seeing wonders such as the Great Wall and Xian terracotta warriors, you'll spend time at the Panda Conservation Centre in Chengdu. Here, you'll learn all about giant pandas, and see first hand the efforts being made to safeguard their future.
Has our pick of the best wildlife tours got you digging out your binos? Check out the latest deals on adventure tours worldwide from these companies and more to see if you could come face-to-face with a Bengal tiger or hear the cries of indri indri lemurs for less than you might expect.
Please note: Weather2Travel.com advocates responsible wildlife viewing only and, to the best of our knowledge, the companies featured here adhere to the same principles. Do your research to ensure you only experience the very best that nature has to offer with sustainable, reputable guides.
Explore holidays in the sun for less
Be inspired
Get your weekly fix of holiday inspiration from some of the world's best travel writers plus save on your next trip with the latest exclusive offers
We promise not to share your details
Related posts