7 reasons to leave your resort in Ahungalla, Sri Lanka
Check the latest travel advice and current Covid-19 rules and restrictions by country.
Let's face it, it's easy to let time fly when you're relaxing by the pool or propping up the bar in your all inclusive resort. But Sri Lanka has far more to offer, and the area around Ahungalla is far less developed than other resorts.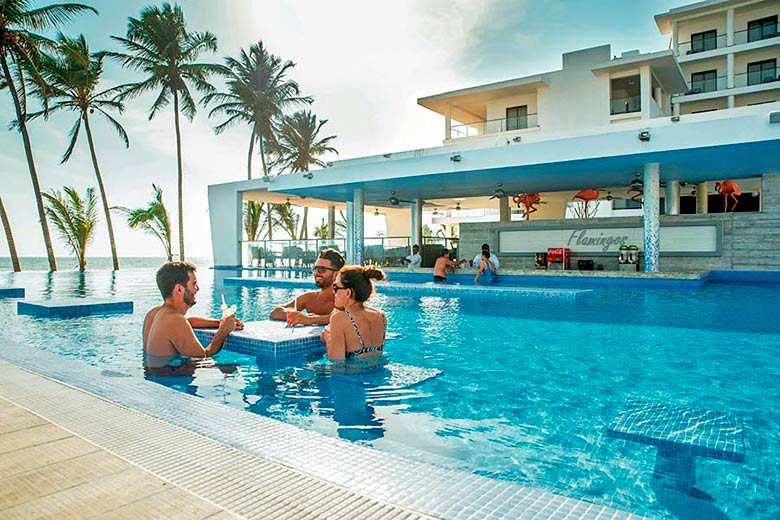 It's rewarding to explore, and you could do worse than starting at the two-mile sandy beach. Close by you'll find a turtle hatchery, mask museums, and the longest reclining Buddha in Sri Lanka. Cruise along the river where crocodiles, monitor lizards, and monkeys will be your companions.
Further afield is the historic town of Galle, with its colonial fort, and if you get up early you can go whale watching near Mirissa before rejuvenating yourself with a healthy Ayurvedic massage.
The good news is that Ahungalla is easier than ever to get to, thanks to great value deals on holidays to Sri Lanka from First Choice*. Book an all inclusive break and you can choose to fly direct from London Gatwick, London Heathrow, Glasgow, Manchester, Newcastle or Birmingham - you'll be making the most of the following attractions in and around Ahungalla before you know it.
1. Hatching a plan
Duration: a couple of hours or an evening
Time from Ahungalla by car: 10 minutes
Turtles lay their eggs on nearby Kosgoda Beach, and a cluster of turtle hatcheries line the road. Staffed by volunteers, and funded by tourist donations, they buy the turtles' eggs from local fishermen and rebury them in safe locations.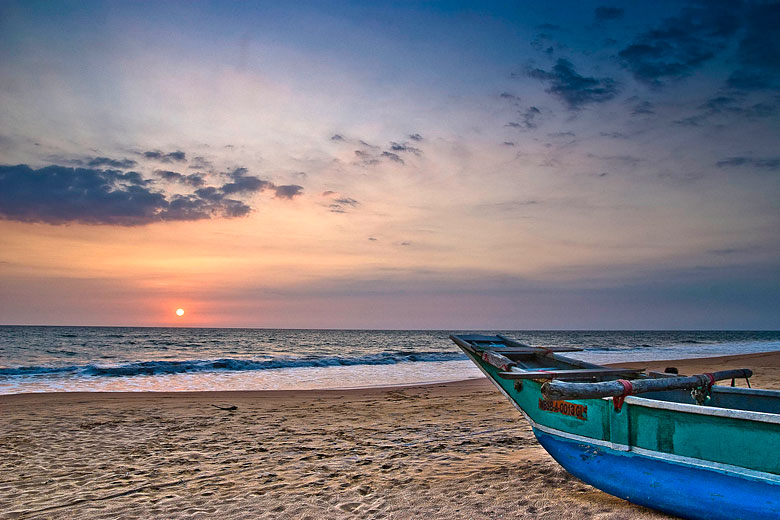 When they hatch, the babies are kept in concrete tubs for a few days before being released into the sea. This usually happens shortly after sunset, and it's a rewarding sight to see them waddling off into their new life. During breeding season, there are evening beach patrols where, if you're lucky you see females coming ashore to lay their eggs in the sand.
2. Heal your body
Duration: a couple of hours
Time from Ahungalla by car: 10 minutes
Ayurvedic treatments are big in Sri Lanka, and you can find them in hotels, as well as specialist centres, all along the west coast. The technique dates back thousands of years, and the idea is to achieve balance in the body. It's more than just a way of treating illnesses, combining herbs, spices and oils as well as yoga and meditation.
A genuine course can take at least a week but most places offer a slimmed down version. You'll get a herbal and steam bath followed by some sort of massage. Perfect after a hard day's sightseeing.
3. Up the lazy river
Duration: half a day
Time from Ahungalla by car: 10 minutes
Take a boat trip on the Madu River, a complex coastal ecosystem of mangroves, packed with hundreds of species of plants and animals. Two species of crocodiles lurk in the shadows, purple-faced langur monkeys eat fruit in the trees, water monitor lizards glide slowly through the water, and herons, cormorants, egrets and kingfishers wait patiently on the banks.
Boat operators gather around Balapitiya Bridge and offer one-to-three hour trips. It's best to go early in the morning when prawn fishermen are busy dropping reed baskets into the water and birdlife is at its best. Most tours stop at Madhuwa Island which contains two temples including one dedicated to the goddess Pattini.
Ahungalla vital stats
Distance from Colombo
59 miles / 95 km
Peak season in Ahungalla
December to March
Best time to go to Ahungalla
March
Maximum daytime temperature
29-31°C
Daily hours of bright sunshine
6-9 hours
View Ahungalla climate guide >>

4. Behind the masks
Duration: half a day or an evening
Time from Ahungalla by car: 30 minutes
Mask and puppet making are local folk crafts in Ambalangoda. The town has two museums, both run by active mask makers. Most are made from kaduru, a light, pliable wood similar to balsa, making them light enough to be worn through long dance performances.
They're garishly painted with symbols to frighten away the demons, particularly important during exorcisms. They feature in traditional dances, dramas and comedies, as well as large pageants and processions, and have even been said to cure illnesses.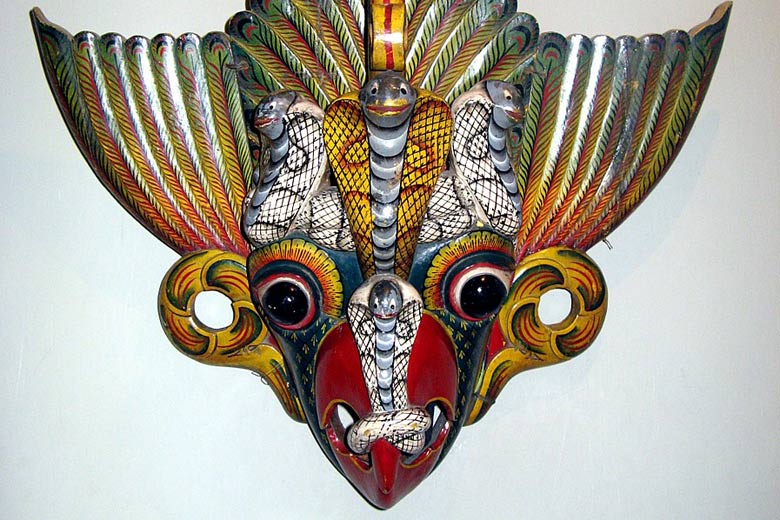 The two museums stand opposite each other so it's easy to visit both. Ariyapala & Sons is the largest and also contains several four-footed puppets, made from the same wood and manipulated with strings.
You can even buy small keepsake masks to take home so you can scare your own devils. Traditional dance performances are rare but there are occasional shows at the nearby Bandu Wijesooriya School of Dance.
5. Long sleeping Buddha
Duration: half a day or an evening
Time from Ahungalla by car: 30 minutes
Four kilometres outside Ambalangoda, high on a hill towering over cinnamon plantations, is the Sailathalaramaya Temple. The big attraction here is the reclining Buddha, at 35m the longest in South Asia, and painted bright orange and yellow.
Apparently, it's over 800 years old and is remarkably lifelike with wide eyes and an aquiline nose. In the outer chamber is a line of standing Buddhas, surrounded by statues of kings Dutugemunu and Elara riding elephants, with their soldiers running alongside.
Did you know: First Choice offers holidays to three different resorts in Sri Lanka?
6. Hold the fort
Duration: whole day
Time from Ahungalla: 1 hour
Galle is the capital of the south, and the wonderful colonial buildings of the historic fort area reflect Portuguese, Dutch, and British rule. Wander the narrow streets, packed with quirky shops, cafés and hotels, and marvel at the colonial architecture.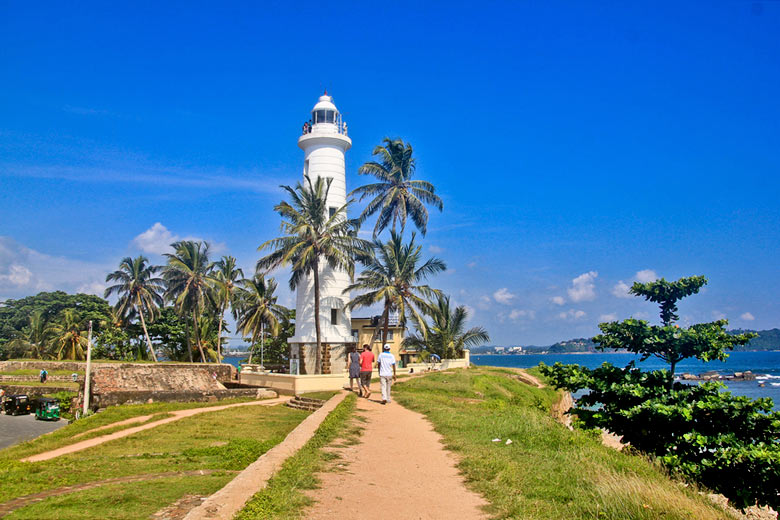 A couple of maritime museums are worth a visit and don't miss the white Dutch Reformed Church dating from 1752. Then climb up on the walls, surrounding the city on three sides, and watch crazy local boys jumping off the bastion into the crashing waves below.
Suck on a fresh coconut and tour the ramparts - a full circuit will take around three hours. And make sure you're there in the late afternoon, as the sunsets are spectacular.
7. A whale of a time
Duration: a day
Time from Ahungalla: 90 minutes
Sri Lanka has become one of the world's best whale watching destinations with Mirissa the prime spot, because of its deep waters. Peak season is between December and April when you're almost guaranteed to see Blue Whales. They're the world's largest living mammals, 30 metres long and weighing over at 170 tonnes.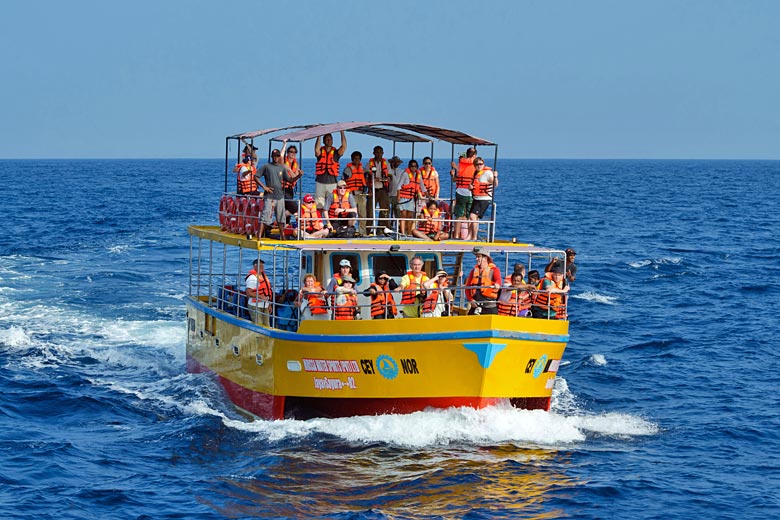 Boat tours depart from the harbour at around 6.30am, so you'll have to get up early. Count on a trip of between three to five hours, depending how many whales are around. There's also the added bonus of sighting sperm whales and dolphins but make sure you pack your sun lotion and a hat.
Ahungalla offers a beautiful blend of beach and attractions. There's plenty of ways to make the most of staying at the likes of First Choice's all-inclusive RIU Sri Lanka resort*, as well as opportunities to get out and about exploring the surrounding area and further afield.
Don't forget, you can also find out more about the weather in Ahungalla, and see when we think is the best time to go for wonderful weather.
More about Ahungalla
Jan Feb Mar Apr May Jun Jul Aug Sep Oct Nov Dec
Be inspired
Get your weekly fix of holiday inspiration from some of the world's best travel writers plus save on your next trip with the latest exclusive offers
We promise not to share your details
Related posts
*affiliate links: find out how we are funded and why this helps us remain free to use.