The best beaches and bays in Crete, Greece
*affiliate links: find out how we are funded and why this helps us remain free to use.
Many people visit the Greek islands primarily for their sunshine and beaches, and the largest - Crete - is no exception. With a coastline stretching some 650 miles, Crete offers hundreds of beaches to choose from. Take your pick from sandy or pebbly, secluded or well equipped, busy or peaceful... the list is a long one.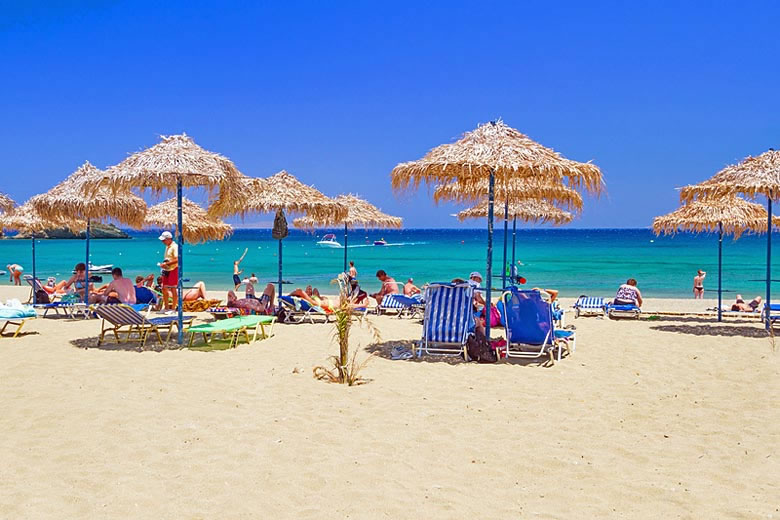 Unlike many of Greece's smaller islands where everything is within easy reach, Crete is considerably larger, although you can still expect to travel its length on breadth over the course of a holiday. Find an all inclusive base in Crete with First Choice*, and set about exploring the various beaches and bays in every corner of the island.
Best beaches in Crete, Greece
Below you'll find just some of the island's best beaches for you to add to your holiday tick-list. We have used Heraklion and Chania as reference points to give you an idea of distances from the island's two main hubs depending on the beach's location. Read on to discover everything from famous hot spots to secluded bays in Crete.
Vai Beach
Type: sandy
Vibe: traditional; popular with locals
Facilities: sunbeds, umbrellas, food and drink
Location: northeastern edge of Crete; approximately 95 miles from Heraklion
Vai Beach is unusual in that it's surrounded by a luscious palm forest - the largest in Europe - with species of plants and animals such as the Cretan marten (a small mammal like a stoat) indigenous to Crete, and it has no village or houses nearby. The car park in the summer season does fill up with temporary food vans and the like, so you'll not be short of something to eat or drink. If traditional Greek food is more to your taste, the nearby monastery runs a small restaurant on the beach during the summer months. Vai is the place to head for a truly traditional experience.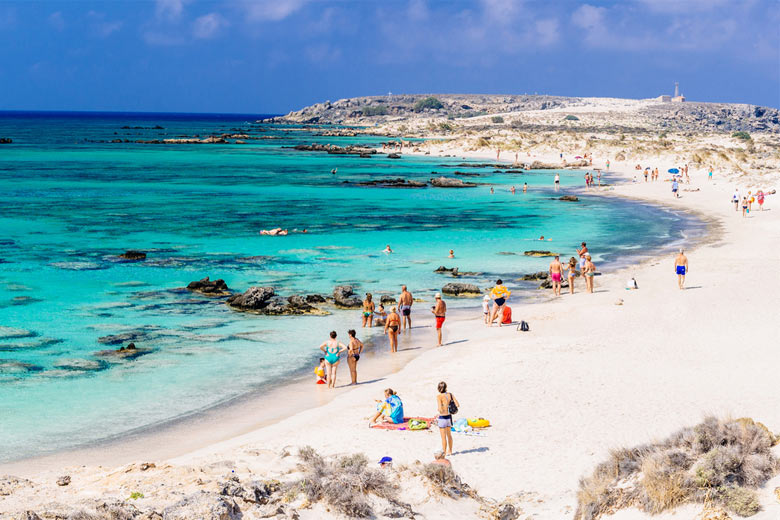 Elafonissi Beach
Type: sandy, shallow waters
Vibe: beautiful but busy in summer - go early!
Facilities: sunbeds, umbrellas, toilets, food and drink
Location: southwestern edge of Crete; approximately 45 miles from Chania
Head to the far west of the island and you'll find this stunning, protected stretch. Elafonissi Beach and the adjacent Elafonissi Island, which can easily be reached at low tide or by boat, remain pretty much untouched. Famous for its white sand, which glows pink in certain lights due to the coral, here you can swim in the Libyan Sea or take a walk across to the island where smaller alcoves can be found. Keep your eyes peeled for wildlife, including the many birds that use this as a migratory stopping off point.
Kedrodasos
Type: rocky and sandy
Vibe: secluded and a little wild
Facilities: none - bring what you need!
Location: far southwest of Crete; 56 miles from Chania
A few miles east of Elafonissi Beach lies Kedrodasos, which means 'cedar forest' in Greek. This scenic beach is surrounded by more than a hundred acres of cedar trees, so it's easy to see how the area derived its name. It's a mixture of mainly flat rocks and white sand in some places, interspersed with the occasional nosy goat emerging from the forest to see what's going on. It makes a great secluded spot to swim, and don't be surprised if you see the odd nudist making the most of the seclusion as well.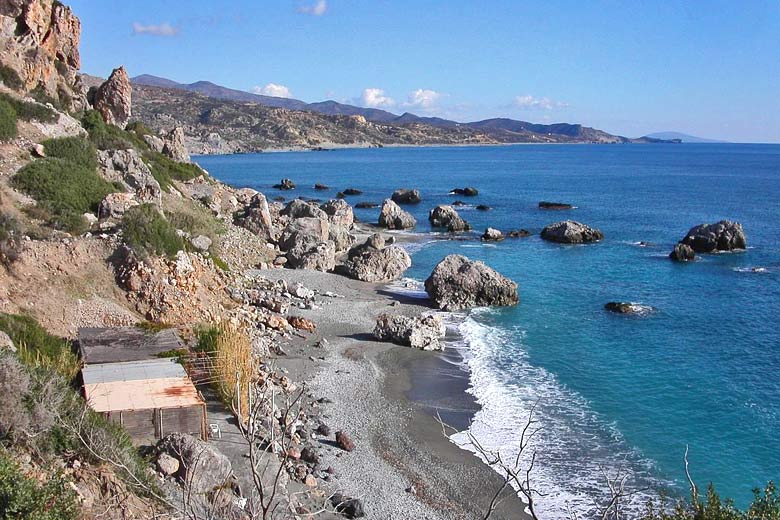 Agia Fotini
Type: pebbly
Vibe: laidback, traditional
Facilities: sunbeds, tavernas
Location: southwestern coast of Crete; 67 miles from Heraklion
The petite bay of Agia Fotini has little pebbly coves that are ideal for swimming and snorkelling. A small taverna is on hand offering food, drink, sunbeds and a shower to make your visit more comfortable. You'll notice a stream flowing into sea here - follow it north and you'll find yourself walking through a small forest and up to the now abandoned town of Kionia. The whole area is reminiscent of Greece in the 1960s, and wholly Instagrammable.
Balos Beach
Type: sandy, shallow lagoon
Vibe: popular, can be very busy
Facilities: limited; small taverna plus umbrellas
Location: northwestern tip of Crete; 37 miles from Chania
Reputed to be one of the best sandy beaches not only in Crete, but in Greece, Balos offers a sheltered and shallow lagoon with white sand and Caribbean-like waters plus good snorkelling opportunities further out. The track down to it is rough, therefore a four-wheel drive vehicle is recommended. Alternatively, you can get to Balos by one of the many boats that offer trips from the nearby village of Kissamos.
Long Beach, Koutsounari
Type: grey sand and pebbly
Vibe: laidback, peaceful, well equipped
Facilities: plenty of hotels, tavernas, and sunbeds to rent
Location: southern coast of Crete; approximately 62 miles from Heraklion
As the name suggests, this is one of the longest single stretches of beach in Crete. Surrounded by olive groves and pine trees, its length means there's a mixture of secluded spots and more organised areas. Many of the hotels offer sunbeds to rent as do the numerous mini markets and tavernas. The beach itself is pebbly, yet once you're in the water it turns into grey sand, which makes getting out that bit easier!
Dia
Type: mix of sandy and rocky options
Vibe: rocky landscape, secluded, quiet
Facilities: none except taverna by the port
Location: island north of Crete; approximately 12 miles north of Heraklion
Sitting north of the island's capital, Heraklion, you'll find the small, uninhabited island of Dia. It's a popular destination in summer, with boats offering trips to the island for a day's swimming and relaxing. There are a few beach spots to choose from: four main bays in the south of the island, including St. George's Bay, where the boats typically arrive. Here, there's a sheltered sandy spot to sit and soak up the sun plus a taverna with umbrellas and views over the Bay of Heraklion. There is a small chapel on Dia, Church of Analipsis, as well as the Church of the Ascension. Near to both, you'll find tiny beach coves offering crystal clear waters.
Kaminaki Beach
Type: pebbly
Vibe: hidden, natural, peaceful, quiet
Facilities: none - bring what you need!
Location: southern coast of Crete; around 40 miles south of Heraklion
This is a rare find, and a gem, in that Kaminaki is located near the Asterousia mountain range and the beach sits at the mouth of the wild Perivolia Gorge. This pebbly beach is only accessible if you hike through the gorge, unless you take a boat from the town of Treis Ekklisies, a few miles west of Kaminaki. Many locals come here to either relax or fish. Trips can be organised but be sure to take everything with you as there's no sunbeds, umbrellas or tavernas nearby.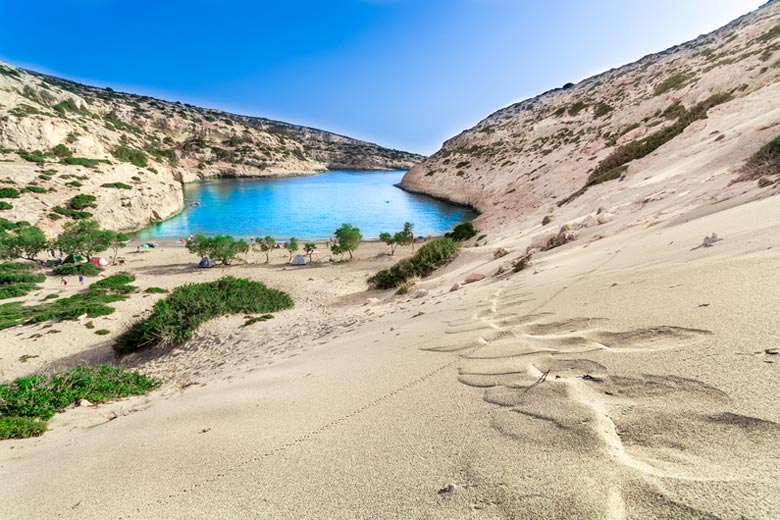 Vathi Beach
Type: mainly sandy
Vibe: laidback, quiet
Facilities: limited; small taverna, no sunbeds or umbrellas
Location: southern tip of Crete; approximately 50 miles from Heraklion
Once used by pirates who used to anchor here, Vathi is not far from the southernmost tip of the island in a natural bay, making it a gorgeous wind-free location. The cliffs and walls of the nearby gorge spill into the sea, making small caves under the water. Both sandy and a little pebbly with a small canteen on the beach, and a handful of tamarisk trees which you can shelter under, Vathi is an ideal location for all the family. It's not too deep, it's accessible by boat from the nearby towns of Matala, Kokkinos Pirgos and Agia Galini or, if you're interested in also visiting the monastery of Odigitria and don't mind driving over rugged dirt tracks, you can also get to Vathi by car.
Packing your beach towel yet? If Crete's beaches have you dreaming of a late break or even thinking ahead to summer 2018, don't miss the latest deals on all inclusive holidays from First Choice. Departing from airports across the UK - everywhere from Glasgow and Newcastle to Bristol, Cardiff, London Gatwick and more - it's never been easier or more affordable to book a sunny beach break to Crete. Remember to see what the weather in Crete is like, and when we think is the best time to go for ultimate beach break conditions.
More about Crete
Jan Feb Mar Apr May Jun Jul Aug Sep Oct Nov Dec
Explore holidays in the sun for less
Be inspired
Get your weekly fix of holiday inspiration from some of the world's best travel writers plus save on your next trip with the latest exclusive offers
We promise not to share your details
Related posts