Airport delays: 10 things to do while you wait
Please note: travel restrictions remain in place owing to the coronavirus pandemic. Be sure to check the latest travel advice and explore current covid rules and regulations by country.
So your flight is delayed and you have no other option but to wait at the airport, but that doesn't have to mean mind-numbing boredom.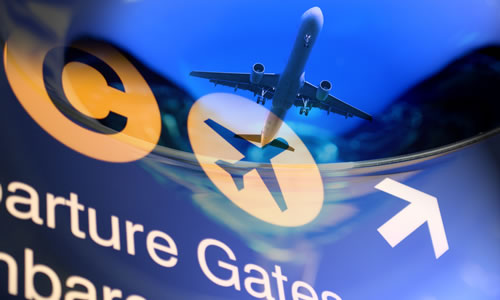 Airport delays: 10 things to do while you wait
What can you do to fill your time whilst waiting for your plane? Here are our top suggestions for things to do when faced with airport delays:
1. Take a stroll
Depending on your flight time, you are about to be stuck in a seat for a few hours so why sit down whilst you are waiting? Instead, explore the shops or just have a wander and see what you find. That way you will be more than ready for a sit down when your plane arrives.
2. Eat & drink
Depending on which airline you are flying with, the level of culinary excellence on-board may be limited. In a recent television programme Heston Blumenthal struggled to improve the dining experience on British Airways flights!
So whilst the airport food choices may not be that inspiring, it's always worth checking out the options, even if it's just to buy a sandwich to take on board.
3. Think about you
When was the last time you had a chance to sit down on your own and have a think about YOU?! Busy lifestyles, work, families, kids can all be factors in severely limiting any quality "me time" these days, so why not take advantage of your flight delay and find a quiet corner. Maybe write a list of things you want to do or even just sit and do some quiet self-reflection.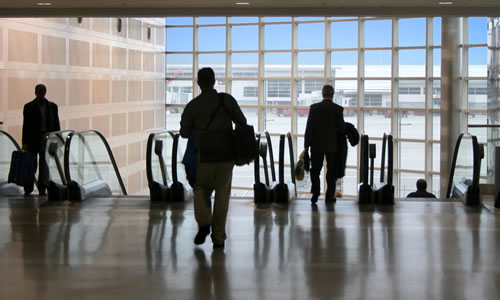 4. Make a call
There still aren't many airlines allowing in-flight phone calls, so why not use the flight delay to make some calls. Start with your Mum (mine would want me to say that!) and then work your way down the list of people you should have called recently but haven't.
5. Read a book or magazine
There are only so many times you can re-read the over thumbed in-flight magazine and, although your airline might give you a free newspaper on board, you probably won't have room to read it. So why not treat yourself to a magazine or a book to while away the time. If you are travelling with kids, you may want to skip this and move on to the next suggestion.
6. Surf the web
Most airports now have wi-fi hotspots so you can surf the web on your laptop, tablet or smart phone. It's the perfect opportunity to answer any last-minute travel questions you have about your holiday destination. Some airports even offer free wi-fi access.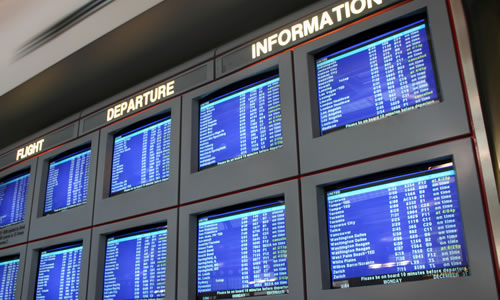 Keep an eye on your battery levels though, as you don't want to get on board for an 8 hour flight to find you have a dead device.
7. Organise travel money
Have you got all the foreign currency you need? Do you have that Euro or Quarter you might need for a trolley when you arrive? Also even if you plan on putting everything on plastic, it's a good idea to let your credit card company know about your travel plans. This can avoid your legitimate overseas transactions ringing alarm bells and triggering a block on your card.
8. Find the observation area
Post 9/11, many airport observation areas have been closed. However, if your airport still has one, watching take-offs and landings can be a great way to spend some time waiting for your flight especially if you are travelling with kids.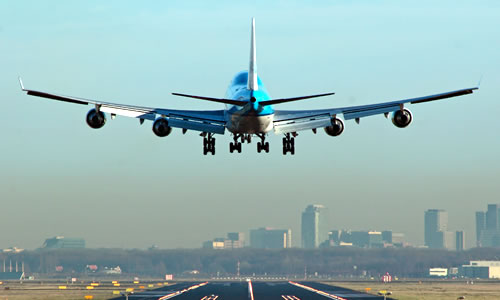 Observation areas at Innsbruck and Lanzarote let you get close to the action but, if you are leaving Kefalonia and are delayed, check-in, leave your bags behind and then take a short stroll to the roof terrace taverna next to airport.
Eat, drink and sunbathe with fantastic views of the airport's runway. When you see your plane land (there are only a few landings every day) it's time to walk back to the airport.
9. Charge your laptop, mobile and other devices
Many UK airports now have 240V power outlets in waiting areas, so why not take the time to make sure all the things you'll want to use on board are fully charged. There's nothing more frustrating than putting on your headphones for your iPod or looking forward to watching that movie on your iPad to find out you only have 30 minutes of juice left.
10. Keep your other half happy
Travelling alone? Left your loved one at home? Airports are more like shopping malls than transportation hubs, so you've got no excuse for not buying something special for your other half, particularly if they find out you had a 6 hour delay!
What do you do when you face airport delays? Share your tips for beating the boredom of delayed flights. Let us know below and join the conversation.
Be inspired
Get your weekly fix of holiday inspiration from some of the world's best travel writers plus save on your next trip with the latest exclusive offers
We promise not to share your details
Related posts
*affiliate links: find out how we are funded and why this helps us remain free to use.