Royal Brunei sale offers 2019/2020: Latest flight deals
See the latest Royal Brunei sale offers for 2019/2020 plus find out more about the national airline, where you can fly to, and what it's like on the 787 Dreamliner from London Heathrow. Royal Brunei is a leading airline in Asia, with codeshares and routes to destinations far and wide including China, Australia and more.

Royal Brunei sale offers 2019/2020: latest online deals & fare sales
Check out the latest Royal Brunei sale offers for 2019/2020, and see if you can find a the ideal fare to take you to Dubai or further afield. Not quite ready to book? Do visit us again as online deals and sale offers from Royal Brunei can change.
Why fly with Royal Brunei Airlines?
Royal Brunei Airlines is the national flag carrier of Brunei, the independent state on the island of Borneo in southeast Asia. Its hub can be found at Brunei International Airport on the outskirts of Bandar Seri Begawan, the nation's capital.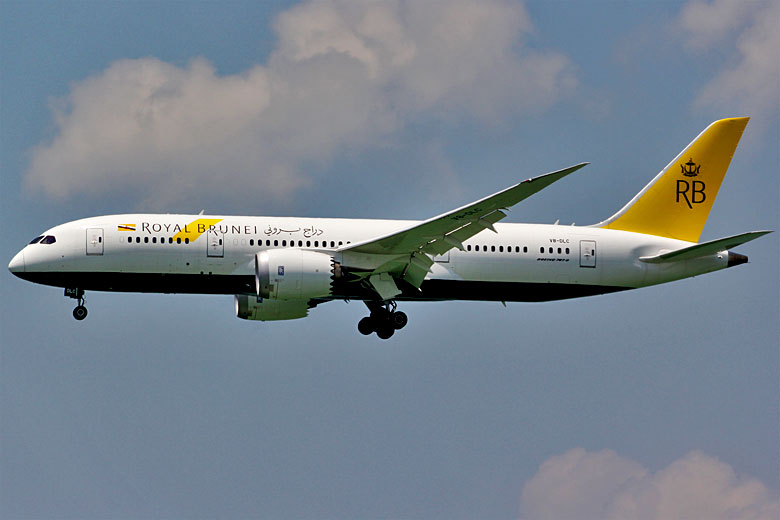 Royal Brunei operates a fleet* of three different types of aircraft: the Boeing 787 Dreamliner is, naturally, its centrepiece, notably for long haul flights, while the A320 and - as of 2018 - the new A320 take up most of the airline's short haul routes in and around southeast Asia. From its value fares to its excellent Skype customer service* facility Royal Brunei knows how to treat its passengers, and aims to deliver a flawless experience both before and during your trip.
As Royal Brunei Airline represents a Muslim nation, it is a dry airline; you cannot purchase alcohol on board or consume alcohol bought at the airport during your flight. Do not let this put you off: flying with Royal Brunei Airlines is more than great value; you can look forward to comfortable cabins in both economy and business, great service, plenty of films to choose from, and enjoyable food and snacks.
Royal Brunei from London Heathrow
Royal Brunei has been making waves with UK passengers since launching its direct route to Dubai from London Heathrow in 2013, and there are many offers and online deals to help you find a fare for less in 2019/2020. This route, which is operated by the airline's Boeing 787 Dreamliner aircraft, has proved hugely popular with those heading to the Middle East, and further afield, thanks to the airline's affordability and modern fleet.
Royal Brunei Airlines flies daily from London Heathrow to Dubai, with various onward connections to the likes of Brunei, Singapore, Australia, and more all possible.
Search flights from London Heathrow >>

Flying long haul with Royal Brunei Airlines
Thanks to its youthful fleet, long haul journeys with Royal Brunei are thoroughly enjoyable. Recline in either class in comfort, enjoy fine food, and the best entertainment before arriving at your destination. Read on to find out more about flying in both economy and business class when you book with Royal Brunei online for 2019/2020.
Royal Brunei economy class
Royal Brunei's economy class offers a pleasant journey for those flying on the 787 Dreamliner from London Heathrow. Expect spacious reclining seats fully equipped with the latest inflight entertainment system, plus big windows and plenty of legroom.
Meals, snacks and soft drinks are included, as well as 23kg luggage allowance and one carry on cabin bag up to 7kg. You can purchase excess baggage with Royal Brunei, and if so, it's best to do it online before you fly, as rates at the airport are more expensive. A seat will be assigned to you at check in, or you can book your prefered seat in advance for a fee.
Royal Brunei business class
The business class cabin on board Royal Brunei's fleet of 787 Dreamliners includes generous seating that reclines into a fully flat bed complete with pillows and a duvet. Those hard at work can make use of the at-seat power point or simply relax in front of the large touchscreen monitor showing the latest films and TV shows.
Dining is a personalised affair with expertly cooked meals elegantly served. If you're flying business class, you can also count on a maximum luggage allowance of 40kg (although no single item can weigh more than 32kg, so you can spread this across two pieces of luggage). You will also be able to take up to 12kg of cabin luggage, including a briefcase (weighing no more than 7kg) and another personal bag. When it comes to seating, you will be able to pick the seat of choice at the time of purchasing your ticket.
Royal Brunei upgrades
Changed your mind about flying economy? Royal Brunei's RB Upgrades is an online service whereby economy passengers enter their ticket number to see if they're eligible for an upgrade. If selected, you simply pay the upgrade fee and go on to enjoy all of the facilities open to business class travellers.
Royal Brunei luggage allowances
Royal Brunei fares include checked luggage as standard for both Economy and Business class passengers. If you want to find out more about pre-paying for extra luggage, visit the Royal Brunei website*. Standard luggage allowances for both classes can be found below:
| Class | Cabin luggage allowance | Hold luggage allowance |
| --- | --- | --- |
| Economy | 1x bag max 7kg | 23kg |
| Business | 1x briefcase max 7kg + 1x personal bag or 1x rucksack - combined total weight of cabin luggage can be no more than 12kg | 40kg - up to 2x cases - no one item can weigh more than 32kg |
More about luggage allowances >>

Royal Brunei destinations
Thanks to Royal Brunei's London Heathrow connection, you can easily hop onboard a Royal Brunei Airlines flight to the east. Whether you're heading for the beaches of Dubai or bright lights of Singapore, Royal Brunei offers low fares via Dubai and Brunei. Just some of the places you can visit with Royal Brunei include the following popular destinations*, among others.
Royal Brunei to Dubai, UAE
Dubai is a big hit with both holidaymakers, keen to bask in its hot and sunny rays, and business travellers, eager to get in on the action in this Middle East powerhouse. From luxury hotels and expansive malls to some of the world's finest theme parks and water parks, Dubai is a haven for those after some serious fun in the sun.
If you like the flexibility of booking your own flights with a safe and reputable airline, then don't miss the latest offers on deals to Dubai with Royal Brunei from London Heathrow.
More about flights to Dubai >>

Royal Brunei to Melbourne, Australia
Melbourne is Australia's unofficial capital of cool, increasingly popular with those looking to sample its chic restaurants, eclectic museums, hipster bars, and artistic endeavours. It's also well placed to experience natural delights such as the Great Ocean Road, which leads to the magnificent 12 Apostles.
Whether you're planning a trip for business or pleasure, Royal Brunei offers a comfortable journey via Dubai and Brunei to this side of the world.
More about flights to Melbourne >>

Royal Brunei to Kuala Lumpur, Malaysia
Kuala Lumpur, often affectionately known simply as just KL, is a hit with business travellers as well as those launching themselves into southeast Asia. It's a throbbing city full of history, art, and tasty cuisine at every turn.
Whether you're avoiding catching the eye of a macaque at the Batu Caves or ascending the Kuala Lumpur Tower for impeccable views, the hive of Kuala Lumpur offers a little something for everyone. You can also fly with Royal Brunei to Kota Kinabalu* in Borneo, Malaysia.
More about flights to Kuala Lumpur >>

Royal Brunei to Borneo
Borneo is a destination like no other. The largest island in Asia, it is home to three separate nations: that of Brunei in its entirety, part of Malaysia, and part of Indonesia. It is a truly beautiful place, no matter which country you're visiting.
Malaysia's slice of Borneo is renowned for its beautiful beaches, rainforest reserves, and orangutans at the Sepilok Rehabilitation Centre, while Mount Kinabalu dominates as the country's - and island's - highest peak.
In Brunei itself, referred to as the Abode of Peace, you will find everything from stunning mosques and the scenic water village to the Ulu-Ulu National Park and bird watching opportunities aplenty.
More about flights to Borneo >>

Royal Brunei to Bali, Indonesia
A surfer's' paradise and centre for holistic spa therapies, Bali is beloved by holidaymakers who want to relax, unwind, and soak up the island's laidback vibes. It is also an incredibly beautiful destination with accommodation and activities for every budget.
Search destinations with Royal Brunei >>

From Dubai to Shanghai and Jakarta, Royal Brunei* offers affordable air fares to the east from London Heathrow. Check back regularly to see the latest Royal Brunei sale offers and online deals for 2019/2020. If you can't find what you're looking for, head to our complete flight deals section for even more flight sales from leading airlines.
Get FREE travel offers
Sign up to receive the latest deals and exclusive discounts on holidays, flights, hotels and more, plus inspiration on where to go when
We promise not to share your details
Related travel brands