Tenerife Weather
By Colin Carter
Tenerife weather is controlled by trade winds and has a warm climate year-round making it the perfect holiday destination in any month of the year. The weather guide shown below is for Playa de las Americas. Read more
Usually
Current
Outlook

in November

Now

Tomorrow

View Tenerife
Weather by Month
View Tenerife
Weather Today
View Tenerife
5-day Forecast
Barcelo: up to 25% discount on Canaries in 2015

Book your holiday accommodation for summer 2015 to the Canaries early and get up to 25% off with Barcelo Hotels & Resorts. Hotels available in Fuerteventura, Gran Canaria, Lanzarote and Tenerife. The Barcelo deal expires at 23:59 on Saturday 30th April 2016.
An overview of Tenerife weather
Tenerife is the largest of the Canary Islands, part of Spain, lying in the Atlantic Ocean just over 300 kilometres off the coast of Morocco. As with most of the other islands in the group, Tenerife has some of the best weather in the world with plenty of sunshine. Summers are very dry and quite hot, while winters are slightly cooler, with some rain.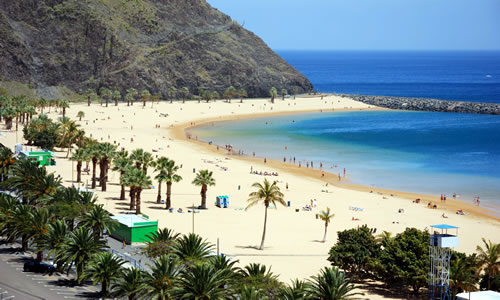 Tenerife Beach © Manfred Steinbach
Weather conditions in this part of the Atlantic are governed by gentle trade winds that blow year-round from the north-east, and by the temperature of the ocean waters surrounding the island. The trade winds help to provide a high degree of protection against unsettled weather while the temperature of the water prevents the island from becoming too hot in summer or too cold in winter.
Locally temperatures are also governed by altitude above sea level. The summit of Mount Teide in the centre of Tenerife is over 3,700 metres (12,000 ft), making it the highest point of any island in the Atlantic Ocean and also Spain's tallest mountain, usually snow-capped in winter. The air temperature at the summit can be as much as 20°C cooler than at sea level. Cloud and rainfall are also generally greater at higher elevations and, because of the prevailing north-easterlies more rain falls on north facing slopes than in the south of the island.
The warmest time of year in Tenerife is from May to November when daytime temperatures reach the mid to high 20s Celsius. August is definitely the hottest month and July has the most sunshine with an average of 10 hours a day. In winter from December to March it is cooler and some rain can be expected as low pressure systems pass through occasionally bringing storms. However even in winter night-time temperatures rarely fall below 10°C at sea-level. The temperature of the surrounding sea only varies by about 4°C from its maximum of 23°C in summer and this helps to prevent temperature extremes.
During any month dust can blow up off the Sahara Desert into the Atlantic; the worst time of year for this is between January and March when Tenerife is prone to fog-like conditions when red dust descends on the island cutting visibility for a few days.
Tenerife's reputation as a great holiday destination is well deserved. Put simply the weather is never too hot or too cold, and it is mostly sunny.
What to pack for Tenerife weather
Light clothing is suitable from June to October. Between April and June and an extra layer may be required after sunset. In winter warmer clothes are recommended especially for the evening. If venturing up to the summit definitely take some extra layers.
Map of Tenerife
Select a destination from the Tenerife Map to view the holiday weather guide. Alternatively, select from the list of destinations below the map. Can't find the Tenerife weather destination you are after? Try the Destination Search.
Adeje Arona Callao Salvaje Costa Adeje Costa del Silencio El Medano El Sauzal Garachico Golf del Sur Guia de Isora La Caleta Las Caletillas Los Cristianos Los Gigantes Orotava Playa de Fanabe Playa de la Arena Playa de las Americas Playa Paraiso Puerto de la Cruz Puerto de Santiago San Isidro San Miguel Santa Cruz de Tenerife Santa Ursula Vilaflor
Tenerife weather by month
Check the weather for a particular month in Tenerife by selecting a month from the list below. Alternatively check which month usually has the Best Weather in Tenerife. If you are not sure where to go, why not try our Holiday Planner.
Colin Carter on Google+
comments powered by

Disqus