Why is Mount Sinabung erupting?
Indonesia's volcanoes have been hitting the headlines over the past few months thanks to a series of eruptions across the archipelago. On Monday 19th February 2018, Mount Sinabung - one of three volcanoes currently erupting in the area - experienced its largest eruption this year, spewing thick ash and rock some 16,000ft into the air. Ash clouds soon descended on the communities below, spreading volcanic dust and dangerous particles for approximately three miles.
"Dangerous volcanoes can lie dormant for hundreds, thousands, even millions of years, and then erupt again."
Thankfully there's been no report of any injuries or fatalities, however eruptions such as this are very dangerous. Mount Sinabung revved back into life in 2010 after lying dormant for more than 400 years. It might sound unusual, but really this is quite normal behaviour: dangerous volcanoes can lie dormant for hundreds, thousands, even millions of years, and then erupt again.
Mount Sinabung later erupted in 2014 killing 16 people, and again in 2016, when seven people died. It's easy to see this forming some sort of pattern, but really there is no regular cycle for the behaviour of volcanoes.
How will this affect travellers?
Flights operating in and around the region have been warned with a 'red notice' regarding the ash cloud from Mount Sinabung. If you are travelling this week, do check to see if your flight has been affected, especially if you are travelling to Penang or Kuala Lumpur While Medan in Sumatra remains unaffected, it could be a different picture if the wind changes direction.
Can we expect more eruptions from Mount Sinabung?
Honestly? No one really knows. While precautions are being taken, the problem is a lot of people live right under the volcano. This is typical in Indonesia because the valleys are very fertile (simply because of previous eruptions). Only the mountains to the northwest of the volcano are unpopulated.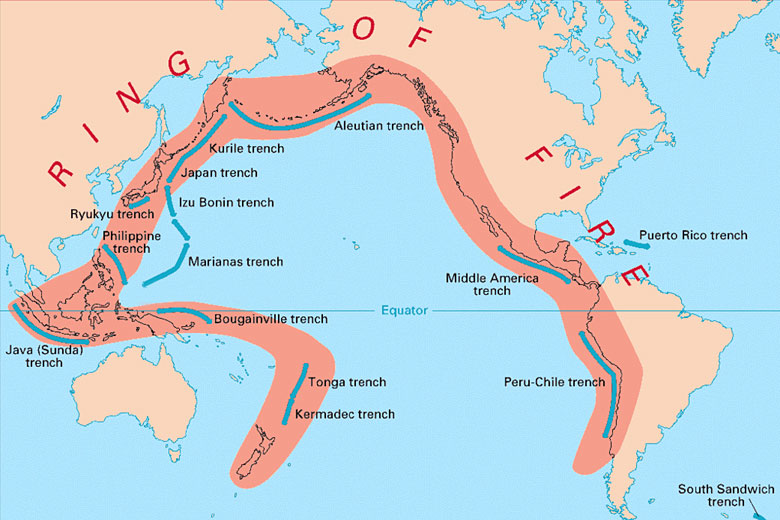 There are more than 130 volcanoes in Indonesia, owing to its positions on the 'Ring of Fire'. This is a lively horseshoe-shaped belt of volcanic matter in the Pacific Ocean where plate movement regularly occurs triggering eruptions and earthquakes. There has been a noticeable increase in activity over the past few months, which is what has triggered the multiple eruptions across Indonesia.
"There have only been six major eruptions worldwide since 1815."
Should we be worried about the increase in activity from the Ring of Fire?
Eruptions and earthquakes are generally impossible to predict but they are more likely around the Ring of Fire than anywhere else in the world - 90% of the world's earthquakes occur in the Ring of Fire, and it's home to 75% of the world's active volcanoes. It just so happens that there have been a number of new eruptions recently:
Mt Sinabung (Indonesia) - 2010 - continuing
Mt Agung (Indonesia) - 2017 - continuing
Mt Kadovar (Papua New Guinea) - Jan 2018 - continuing
Kusatsu-Shirane (Japan) - Jan 2018 - continuing
Mt Mayon (Philippines) - Jan 2018 - continuing
Whether an increase in volcanism and earthquakes over a short period of time is a predictor of more to come, who knows. In some respects, it could signal the opposite: if pressures have been vented (volcanically) or released in an earthquake, this can mean that potentially mega events are averted.
But we'll keep you posted...
Get FREE travel offers
Sign up to receive the latest deals and exclusive discounts on holidays, flights, hotels and more, plus inspiration on where to go when
We promise not to share your details
Back to #W2TSays