Where to go on holiday in June 2018 for the best weather
Deciding where to go on holiday in June 2018 for the best weather is relatively simple, as your options open up much closer to home than in the previous months of spring. Many people like going away in June as you can beat the school holiday crowds and, in some places, the scorching heat of later months. Technically speaking, June marks the peak of summer in the Northern Hemisphere. This means that days are at their longest and likely to be full of bright sunshine too.
Where to go on holiday in June 2018: top five destinations
If you're thinking about where to go on holiday in June for the best weather, take a peek at our pick of five fabulous destinations. You'll see they're all based around the Mediterranean, and that's because, aside from a few passing thunderstorms, you're almost certainly guaranteed great weather thanks to the region's dry season at this time of year. Read on to find out more and feel inspired to choose somewhere to go on holiday in June 2018: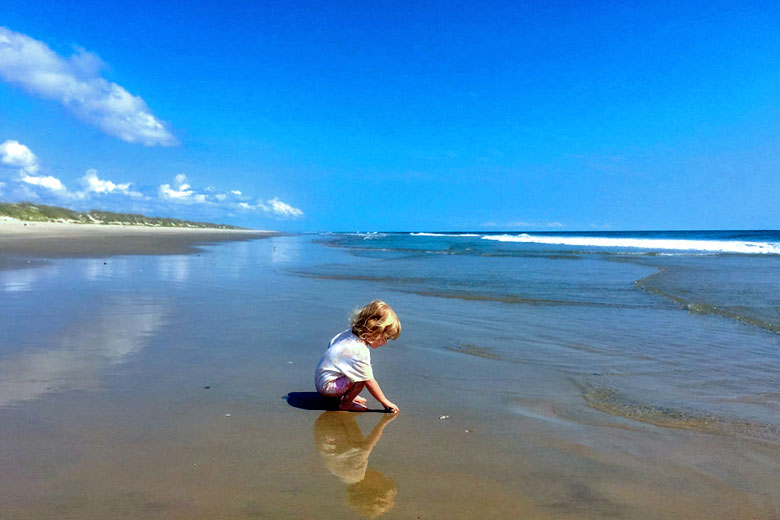 1. Cyprus
Flight time: 5 hours
Daily high: 31°C
Daily hours of sunshine: 12
Sea temperature: 24°C
The eastern Mediterranean is normally the warmest and sunniest region of Europe in June. Although it's a little further away than some other popular European destinations such as southern Spain or Portugal, the heat and cloudless sky more than make up for it. As do the generously warm sea temperatures around the likes of Paphos and Larnaca, which are the warmest in the Med at this time of year.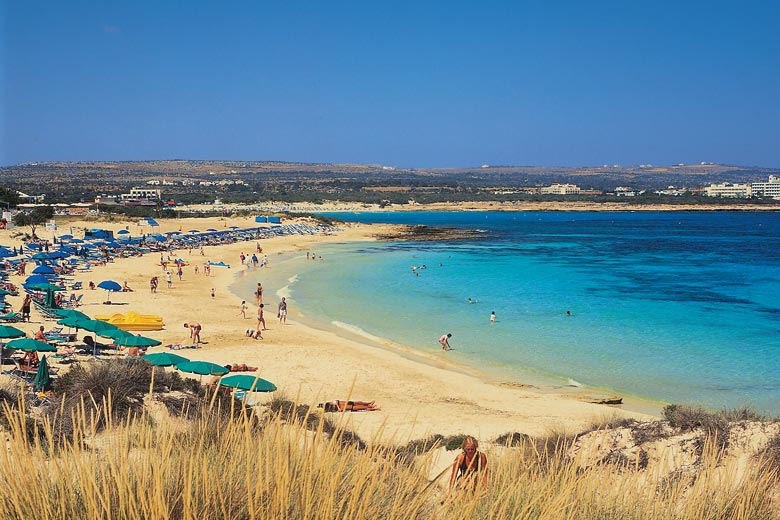 The following months see temperatures continue to rise throughout Cyprus, which some holidaymakers may find too hot, especially for very young children. June therefore, is a great month to travel to Cyprus, making it a serious contender when deciding where to go on holiday in June for the best weather.
Search Cyprus holidays with First Choice >>

Read more: Where to eat in Cyprus & Things to do in Cyprus away from the beach
2. Marmaris, Turkey
Flight time: 4 hours
Daily high: 30°C
Daily hours of sunshine: 13
Sea temperature: 23°C
Much like Cyprus, Marmaris is a brilliant option for those after somewhere to go on holiday in June that's easy to get to but also lovely and hot. Daily highs in the thirties and moderate heat and humidity combine with lengthy spells of sunshine to offer truly perfect beach holiday conditions. Don't forget the SPF as the very high UV is threatening if you don't protect yourself.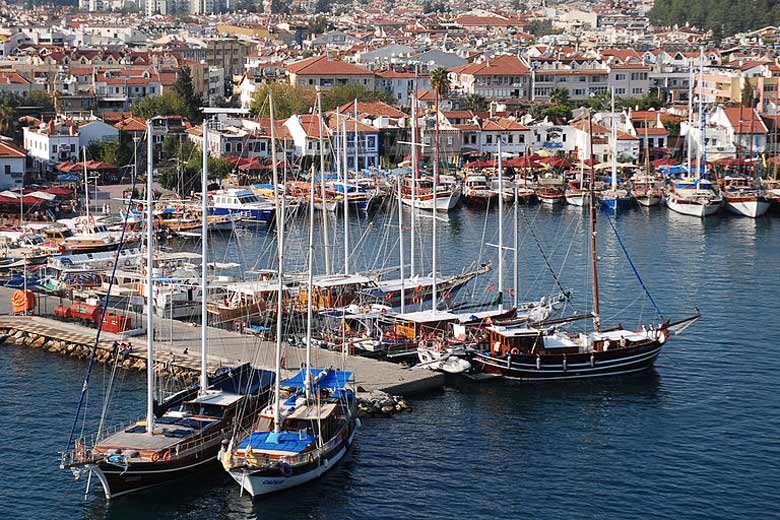 Marmaris, and the resorts along its surrounding coastline, have attracted holidaymakers for decades thanks to not only its glorious summer weather, but also its beautiful stretches of turquoise sea and array of things to do. From water sports and beach clubs to historic ruins and museums for culture vultures, the region is well positioned to serve the needs of everyone, from families to groups and couples.
Browse Marmaris holidays from TUI >>

Read more: Things to do in Marmaris & Day trips from Marmaris
3. Crete, Greece
Flight time: 4.5 hours
Daily high: 28°C
Daily hours of sunshine: 12
Sea temperature: 22°C
Sticking with the Eastern Med, Crete, by far the largest of the Greek islands, is another favourite with those considering where to go on holiday in June for the best weather. Iraklion is just as sunny as Cyprus, although perhaps a degree or two cooler.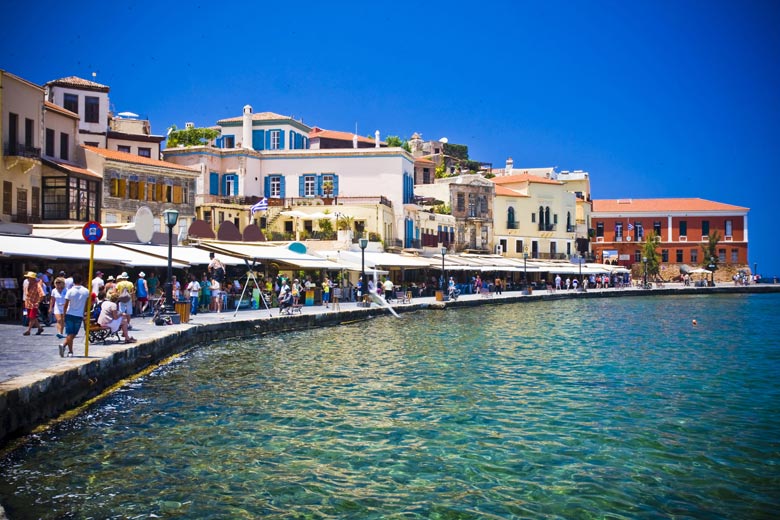 There's no chance of rain, but with low to moderate heat and humidity in June, you might find it a touch sticky. A great way to cool off is with a dip in the sea, and temperatures, while refreshing, are warm enough to enjoy for a break from the baking sun. The added bonus of choosing Crete when deciding where to go on holiday in June is that it's ever-so-slightly closer to the UK.
Find Crete holidays with Thomas Cook >>

Read more: Top five things to see and do in Crete
4. Costa del Sol, Spain
Flight time: 3 hours
Daily high: 26°C
Daily hours of sunshine: 11
Sea temperature: 20°C
When contemplating where to go on holiday in June for the best weather, know that you will find warm conditions closer to home, however, they just won't be quite as hot as further east. A good choice is Spain's Costa del Sol with comfortable temperatures and the added benefit of being only a short flight away.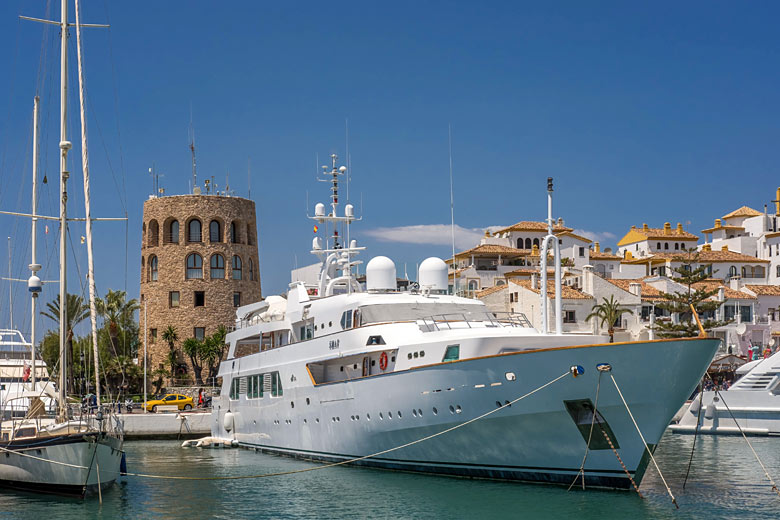 From Manilva and Marbella to Malaga and Nerja, there's a great selection of well equipped resorts to choose from. Temperatures in June are very pleasant, but the sea is still a little chilly for water sports and swimming.
If you don't fancy the beach, June is an excellent month to explore the history of southern Spain and soak up grand Moorish architecture found in the likes of Seville, Cordoba and Granada. Head inland to these historic centres, and you'll find it's roughly five degrees warmer than the coast and just as sunny during the day.
Find Costa del Sol holidays with Jet2holidays >>

5. Menorca, Spain
Flight time: 2.5 hours
Daily high: 25°C
Daily hours of sunshine: 10
Sea temperature: 21°C
The Balearic Islands are fabulous almost all year round, and in June things are warming up nicely for the summer season on Menorca. Days are delightful with loads of sunshine and only low heat and humidity. Evenings can be cool so pack an extra layer for after dusk.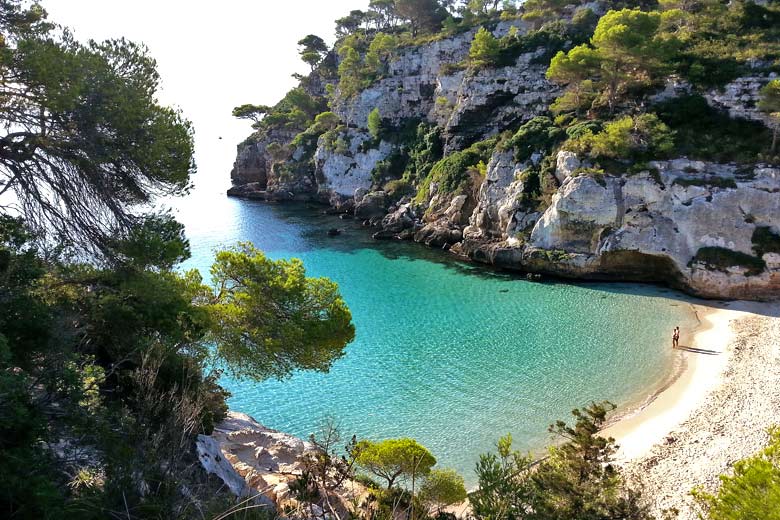 Menorca, the second largest island after Majorca, has countless pretty old towns and harbours as well as beautiful beaches with plenty of activities in, on, and away from the water. On top of things such as boat trips, windsurfing, and kayaking, you can also head inland to go hiking, cycling, or horse riding. As a UNESCO Biosphere Reserve, the entire island is both beautiful and protected, making it a winner for those looking for somewhere to go on holiday in June that's teeming with natural wonders.
Search Menorca holidays with On the Beach >>

June really is a fantastic month to go on holiday. Many destinations are still relatively quiet and there are some great deals to be had. It's fair to say that for real heat you'll want to look to the Eastern Med, but if you're content with warm and comfortable conditions, you won't have to travel too far either.
Where to go on holiday in June 2018: alternative destinations
If, however, you're not tempted by any of our top five destinations, we have a couple of extra places stashed away to help you decide where to go holiday in June for the best weather.
Sticking with Europe, the weather in Capri, Italy merely completes the already pretty perfect picture. The characteristically colourful coastline comes alive during the summer months when, in June, temperatures hit 25°C, there's no less than nine hours of sunshine and only low heat and humidity. There's a slim possibility of seeing a passing shower but that's very unlikely and certainly won't interfere with your plans. Book a lush suite at one of the swanky clifftop resorts and soak in the sun while gazing over the Neapolitan Riviera. Bliss.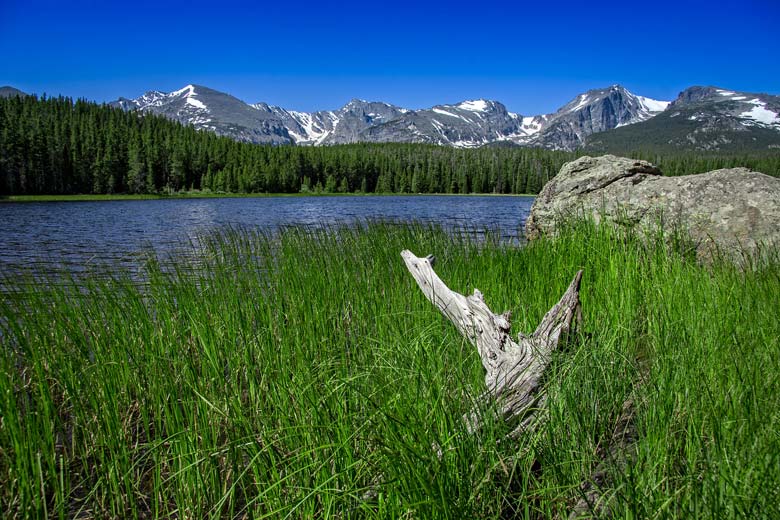 For a holiday with a difference, consider the US state of Colorado. June is a wonderful time to go as temperatures are reliably high at around 27°C in Denver, up to 10°C cooler in the mountains. There's also ample sunshine, with 10 to 11 hours across the state, yet with only low heat and humidity, and thanks in part to areas of high elevation, Colorado never feels too hot or sticky. It's a refreshing change with dramatic landscape and scenery on offer. While towns such as Aspen and Vail are well known winter favourites for skiers, there's so much to do and see throughout the year. Denver and Colorado Springs offer big city vibes, yet with four national parks, including the Rocky Mountains and Mesa Verde, there's no excuse not to get your walking boots on and hit the trails for some hiking.
If a more exotic beach break is your ideal of the perfect holiday in June, the African island of Zanzibar is hard to beat. Days are hot at 29°C with eight hours of sunshine and moderate heat and humidity, which can make it feel even hotter. The incredibly clear sea is spot on at 27°C, making it a real treat for swimming or other water sports. Evenings also remain warm, rarely falling much below 21°C. Find a glamorous resort with beachside waiter service, and you'll rarely leave your lounger.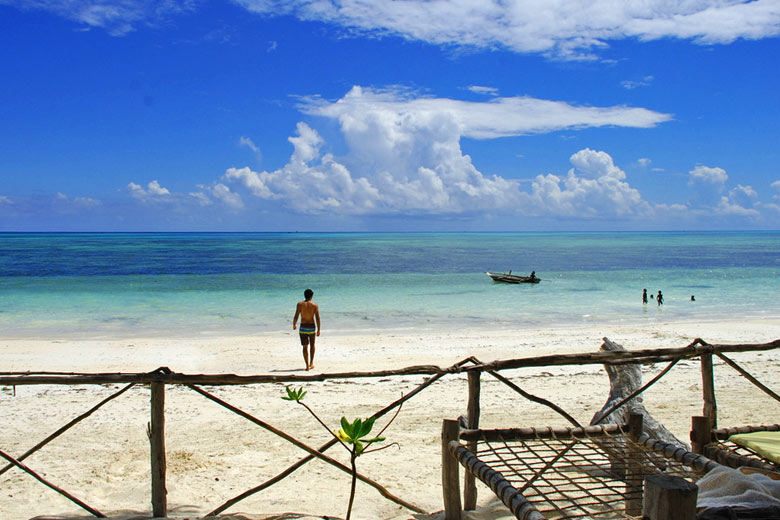 Finally, Bali is entering a period when it sees some of the finest weather of the year. Conditions are actually very similar to Zanzibar with temperatures reaching 30°C and nine hours of sunshine, however, the high heat and humidity does make it feel that bit hotter. The sea is equally as inviting at 28°C and nighttimes remain warm at 23°C - idyllic if you're after somewhere to go on holiday in June that's got a real taste of the tropics.
So whether you fancy lounging by the pool in Turkey, strolling through the dense forest of the Rocky Mountain National Park or delving into the culture and history of southern Spain, we hope you're now armed with all the information to help you confidently decide where to go on holiday in June for the best weather.
Don't forget to check out our latest collection of travel deals and discounts from big name providers, while you can read more about where to go on holiday in June 2018 on our weather in June page.
Destination ideas for June 2019
Month: June
Daytime temperature: 22 - 28°C [remove]
Sunshine hours: 8 hours or more [remove]
Sea temperature: 25°C or warmer [remove]
| Rank | Rating | Score | Destination |
| --- | --- | --- | --- |
| 1 | | 100% | Antalya Coast, Turkey |
| | | 100% | Comoros |
| | | 100% | Guadeloupe |
| | | 100% | Hawaii, United States |
| | | 100% | Indonesia |
| | | 100% | Israel |
| | | 100% | Kenya |
| | | 100% | Lebanon |
| | | 100% | Madagascar |
| | | 100% | Mayotte |
| | | 100% | Mozambique |
| | | 100% | North Carolina, United States |
| | | 100% | Queensland, Australia |
| | | 100% | Seychelles |
| | | 100% | St Helena, Ascension and Tristan da Cunha |
| | | 100% | Western Australia, Australia |
| 17 | | 97% | French Polynesia |
| | | 97% | Mauritius |
| 19 | | 96% | Bermuda |
| | | 96% | Cyprus |
| | | 96% | Tunisia |
| 22 | | 94% | Bali, Indonesia |
| | | 94% | East Timor |
| | | 94% | Montserrat |
| | | 94% | Puerto Rico |
| | | 94% | Samoa |
| | | 94% | St Vincent and the Grenadines |
| | | 94% | Tanzania |
| 29 | | 92% | Brazil |
| | | 92% | Fiji |
| | | 92% | Jamaica |
| | | 92% | Martinique |
| | | 92% | Panama |
| | | 92% | Papua New Guinea |
| | | 92% | Reunion |
| | | 92% | Vanuatu |
| 37 | | 90% | Egypt |
| 38 | | 89% | Antigua |
| | | 89% | Bahamas |
| | | 89% | Barbados |
| | | 89% | British Virgin Islands |
| | | 89% | Florida, United States |
| | | 89% | Georgia, United States |
| | | 89% | Lombok, Indonesia |
| | | 89% | Senegal |
| | | 89% | South Carolina, United States |
| | | 89% | St Lucia |
| | | 89% | Texas, United States |
| | | 89% | Virgin Islands |
| 50 | | 88% | Dalaman and Marmaris Coast, Turkey |
| | | 88% | Halkidiki, Greece |
| | | 88% | Peloponnese, Greece |
| | | 88% | Sicily, Italy |
| | | 88% | South Africa |
| 55 | | 86% | China |
| | | 86% | Costa Rica |
| | | 86% | Grenada |
| | | 86% | Japan |
| | | 86% | Malaysia |
| | | 86% | Maldives |
| | | 86% | Marshall Islands |
| | | 86% | New Caledonia |
| | | 86% | Nicaragua |
| | | 86% | Philippines |
| | | 86% | Solomon Islands |
| | | 86% | Sri Lanka |
| | | 86% | Taiwan |
| | | 86% | Trinidad and Tobago |
| 69 | | 85% | Angola |
| | | 85% | Cape Verde |
| 71 | | 83% | Alabama, United States |
| | | 83% | Anguilla |
| | | 83% | Bonaire |
| | | 83% | Cuba |
| | | 83% | Curacao |
| | | 83% | Dominica |
| | | 83% | Dominican Republic |
| | | 83% | Honduras |
| | | 83% | Mexico |
| | | 83% | Mississippi, United States |
| | | 83% | Northern Territory, Australia |
| | | 83% | Saba |
| | | 83% | Sint Eustatius |
| | | 83% | Sint Maarten |
| | | 83% | St Barthelemy |
| | | 83% | St Kitts and Nevis |
| | | 83% | St Martin |
| | | 83% | Wake Island |
| 89 | | 82% | Greece |
| 90 | | 81% | Belize |
| | | 81% | Benin |
| | | 81% | Burma |
| | | 81% | Cameroon |
| | | 81% | Colombia |
| | | 81% | Equatorial Guinea |
| | | 81% | Gabon |
| | | 81% | Ghana |
| | | 81% | Guyana |
| | | 81% | Hong Kong |
| | | 81% | Kerala, India |
| | | 81% | Macau |
| | | 81% | Northern Mariana Islands |
| | | 81% | Sao Tome and Principe |
| | | 81% | Sierra Leone |
| | | 81% | Suriname |
| | | 81% | Togo |
| | | 81% | Turks and Caicos |
| 108 | | 80% | Albania |
| | | 80% | Bodrum and Izmir Coast, Turkey |
| | | 80% | Corfu, Greece |
| | | 80% | Costa Blanca, Spain |
| | | 80% | Crete, Greece |
| | | 80% | Croatia |
| | | 80% | Formentera, Balearic Islands, Spain |
| | | 80% | Ibiza, Balearic Islands, Spain |
| | | 80% | Italy |
| | | 80% | Kefalonia, Greece |
| | | 80% | Lefkas, Greece |
| | | 80% | Lesbos, Greece |
| | | 80% | Majorca, Balearic Islands, Spain |
| | | 80% | Malta |
| | | 80% | Montenegro |
| | | 80% | Neapolitan Riviera, Italy |
| | | 80% | Paros, Greece |
| | | 80% | Paxos, Greece |
| | | 80% | Rhodes, Greece |
| | | 80% | Santorini, Greece |
| | | 80% | Skiathos, Greece |
| | | 80% | Skopelos, Greece |
| | | 80% | Skyros, Greece |
| | | 80% | Slovenia |
| | | 80% | Spain |
| | | 80% | Syros, Greece |
| | | 80% | Thassos, Greece |
| | | 80% | Turkey |
| | | 80% | Venetian Riviera, Italy |
| | | 80% | Zante, Greece |
| 138 | | 79% | Ecuador |
| 139 | | 78% | Cayman Islands |
| | | 78% | Guatemala |
| | | 78% | Haiti |
| 142 | | 75% | American Samoa |
| | | 75% | Brunei |
| | | 75% | Cambodia |
| | | 75% | Cancun and Riviera Maya, Mexico |
| | | 75% | El Salvador |
| | | 75% | Federated States of Micronesia |
| | | 75% | French Guiana |
| | | 75% | Goa, India |
| | | 75% | Guam |
| | | 75% | Guinea |
| | | 75% | Guinea-Bissau |
| | | 75% | India |
| | | 75% | Liberia |
| | | 75% | Nigeria |
| | | 75% | Palau |
| | | 75% | Singapore |
| | | 75% | Thailand |
| | | 75% | Venezuela |
| | | 75% | Vietnam |
| 161 | | 74% | Congo-Brazzaville |
| | | 74% | Hierro, Canary Islands, Spain |
| | | 74% | Kos, Greece |
| | | 74% | La Palma, Canary Islands, Spain |
| | | 74% | Samos, Greece |
| | | 74% | Virginia, United States |
| 167 | | 72% | Aruba |
| | | 72% | Azerbaijan |
| | | 72% | Bulgaria |
| | | 72% | Corsica, France |
| | | 72% | Costa Almeria, Spain |
| | | 72% | Costa Dorada, Spain |
| | | 72% | Fuerteventura, Canary Islands, Spain |
| | | 72% | Gambia |
| | | 72% | Georgia |
| | | 72% | Gran Canaria, Canary Islands, Spain |
| | | 72% | Italian Riviera, Italy |
| | | 72% | La Gomera, Canary Islands, Spain |
| | | 72% | Menorca, Balearic Islands, Spain |
| | | 72% | Morocco |
| | | 72% | Mykonos, Greece |
| | | 72% | Naxos, Greece |
| | | 72% | Russia (Europe) |
| | | 72% | Sardinia, Italy |
| | | 72% | Tenerife, Canary Islands, Spain |
| | | 72% | Tuscany, Italy |
| 187 | | 70% | Oman |
| 188 | | 67% | Algarve, Portugal |
| | | 67% | Bahrain |
| | | 67% | California, United States |
| | | 67% | Cocos (Keeling) Islands |
| | | 67% | Connecticut, United States |
| | | 67% | Cook Islands |
| | | 67% | Costa Brava, Spain |
| | | 67% | Costa de la Luz, Spain |
| | | 67% | Costa del Sol, Spain |
| | | 67% | Delaware, United States |
| | | 67% | Djibouti |
| | | 67% | France |
| | | 67% | Gibraltar |
| | | 67% | Illinois, United States |
| | | 67% | Indiana, United States |
| | | 67% | Jordan |
| | | 67% | Kuwait |
| | | 67% | Lanzarote, Canary Islands, Spain |
| | | 67% | Maine, United States |
| | | 67% | Maryland, United States |
| | | 67% | Massachusetts, United States |
| | | 67% | Michigan, United States |
| | | 67% | Minnesota, United States |
| | | 67% | New Hampshire, United States |
| | | 67% | New Jersey, United States |
| | | 67% | New York, United States |
| | | 67% | Niue |
| | | 67% | Ohio, United States |
| | | 67% | Ontario, Canada |
| | | 67% | Pakistan |
| | | 67% | Pennsylvania, United States |
| | | 67% | Portugal |
| | | 67% | Qatar |
| | | 67% | Rhode Island, United States |
| | | 67% | Romania |
| | | 67% | Saudi Arabia |
| | | 67% | Sharm el Sheikh, Egypt |
| | | 67% | Sudan |
| | | 67% | Tonga |
| | | 67% | UAE |
| | | 67% | Ukraine |
| | | 67% | Wisconsin, United States |
| 230 | | 66% | New South Wales, Australia |
| 231 | | 64% | Bangladesh |
| | | 64% | South Korea |
| 233 | | 63% | Midway Island |
| | | 63% | Peru |
| | | 63% | Pitcairn Island |
| 236 | | 61% | British Indian Ocean Territory |
| | | 61% | Kazakhstan |
| | | 61% | Monaco |
| | | 61% | Namibia |
| | | 61% | New Brunswick, Canada |
| | | 61% | Wallis and Futuna |
Metric (°C / mm) | Imperial (°F / inches)
Where to go on holiday for the best weather
Get FREE travel offers
Sign up to receive the latest deals and exclusive discounts on holidays, flights, hotels and more, plus inspiration on where to go when
We promise not to share your details