California Weather
Check on the weather in California before you book your holiday. Whatever kind of trip you are planning, take a look at today's temperature, the outlook for tomorrow and what the weather is usually like at this time of year. The weather guide shown below is for Los Angeles. Read more
Usually
Current
Outlook

in March

Now

Tomorrow

View California
Weather by Month
View California
Weather Today
View California
5-day Forecast




Flights to Los Angeles (LAX) from London Heathrow (LHR)
Prices from £504 return per person
No Air New Zealand promo code required
An overview of California weather
California has an unusual Mediterranean climate which gets warmer and drier the further south you go. The state's extreme southeast witnesses hardly any rainfall and conditions are semi-desert with temperatures soaring in the summer months: the aptly named Death Valley records some of the highest temperatures in the world!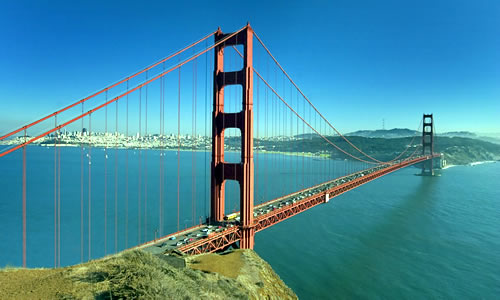 The Golden Gate Bridge, San Francisco, California, USA © John Arnold
The coast, where San Diego, San Francisco and Los Angeles are situated, has coolish summers with frequent fog and mild, rainy winters. Rain also falls heavily in the Sierra Nevada range and the mountains which back the coast; this turns to snow on the higher peaks and gives California its reputation as a place where you can ski in the morning and sunbathe in the afternoon.
You should, however, take care in the mountains as sudden, heavy snowstorms can occur. Another climatic hazard is urban smog around Los Angeles which is a mixture of fog and pollution trapped by a blanket of coastal warm air. However, overall, California is a delightful place to visit and deserves its nickname 'the sunshine state'.
What to pack for California weather
Take light clothes for visiting southern California in the summer, add a few wraps if you are going to the coast and much warmer clothes for trips to the mountains. Take fairly warm clothing in the winter when you should be prepared for the occasional cold snap, and rain. Be aware that different parts of California often register America's hottest and coldest temperatures within a single day - over 55°C (120°F) in Death Valley, close to freezing in the Sierra Nevada Mountains - so pack appropriately for where you are going.
Map of California
Select a destination from the California Map to view the holiday weather guide. Alternatively, select from the list of destinations below the map. Can't find the California weather destination you are after? Try the Destination Search.
Anaheim Bakersfield Beverly Hills Big Sur Crescent City Death Valley Fresno Huntington Beach Kings Canyon Laguna Beach Long Beach Los Angeles Mammoth Lakes Napa Needles Newport Beach Northstar Palm Springs Redding Sacramento San Diego San Francisco Santa Barbara Santa Cruz Santa Monica South Lake Tahoe Tahoe City Yosemite
California weather by month
Check the weather for a particular month in California by selecting a month from the list below. Alternatively check which month usually has the Best Weather in California. If you are not sure where to go, why not try our Holiday Planner.