United Arab Emirates Weather
Check on the weather in the United Arab Emirates before you book your holiday. Whatever kind of trip you are planning, take a look at today's temperature, the outlook for tomorrow and what the weather is usually like at this time of year. The weather guide shown below is for Dubai. Read more
Usually
Current
Outlook

in March

Now

Tomorrow

View United Arab Emirates
Weather by Month
View United Arab Emirates
Weather Today
View United Arab Emirates
5-day Forecast




Explore the best prices available for Emirates
Latest low fares for business & economy in the coming months
Fly to Dubai from £359 & Bangkok from £459 - return fares
An overview of United Arab Emirates weather
The seven Sheikdoms which comprise the United Arab Emirates lie on the southern coastline of the Arabian Gulf. Much of the UAE consists of barren, rocky desert and unless you would enjoy living in a sauna, you should avoid visiting between mid- May and September. At this time, the fierce sun is at its most unforgiving and there is a serious risk of heatstroke for the unwary, particularly on the coast.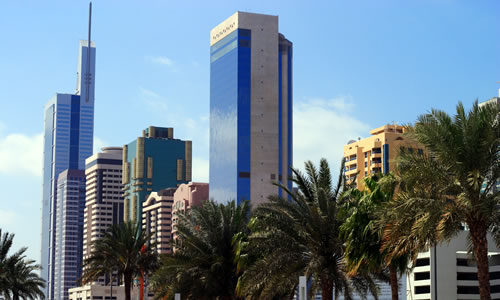 Dubai, United Arab Emirates © Hugo Neto
During the rest of the year, a visit to the UAE can be a great pleasure: from mid-October to April, the climate is warm and sunny with sparse and sporadic rainfall.
What to pack for United Arab Emirates weather
Take light clothes, whatever the time of year, and warmer wraps to combat the winter weather, summer air-conditioning and evenings in the inland desert which can grow chilly.
Map of United Arab Emirates
Select a destination from the United Arab Emirates Map to view the holiday weather guide. Alternatively, select from the list of destinations below the map. Can't find the United Arab Emirates weather destination you are after? Try the Destination Search.
Abu Dhabi Ajman Al Ain Dubai Fujairah Jebel Ali Beach Jumeirah Ras Al Khaymah Sharjah
United Arab Emirates weather by month
Check the weather for a particular month in the United Arab Emirates by selecting a month from the list below. Alternatively check which month usually has the Best Weather in the United Arab Emirates. If you are not sure where to go, why not try our Holiday Planner.