Bodrum Weather and Izmir Coast
Bodrum weather is perfect for beach holidays in the summer, but it can also be a superb antidote to cold dark Northern European winters, with its average of 5 hours of sunshine a day in December and January. The weather guide shown below is for Bodrum. Read more
Usually
Current
Outlook

in February

Now

Tomorrow

View Bodrum and Izmir Coast
Weather by Month
View Bodrum and Izmir Coast
Weather Today
View Bodrum and Izmir Coast
5-day Forecast




Book online and get 10% off all inclusive holidays with First Choice. Travel between 1st May and 31st October 2015. Savings based on First Choice brochure prices. No First Choice discount code required.
An overview of Bodrum and Izmir Coast weather
The Bodrum and Izmir Coast in southwest Turkey, also known as the Aegean Coast, runs from Izmir in the north to the Gulf of Gokova in the south, where Bodrum and the popular nearby holiday resort areas of Gumbet, Ortakent, Turgutreis, Gumusluk, and Yalikavak are all located. The whole coast faces southwest on to the Aegean Sea.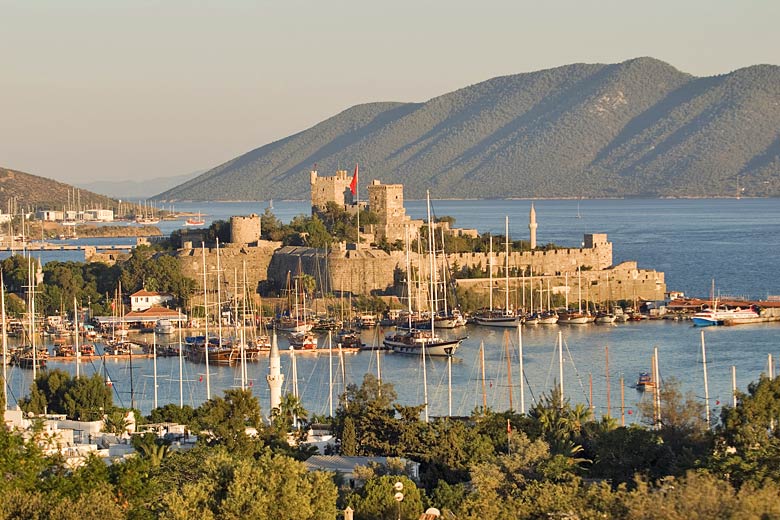 Bodrum Castle at sunset, Bodrum and Izmir Coast, Turkey © anemone
Bodrum has a lot of sunshine in the summer - over 12 hours a day on average in June, July and August, and it is also fairly hot. Daytime temperatures can easily reach well into the thirties Celsius in the hottest months from June to September, and have been known to exceed 40°C in July. Heat and humidity are also high in July and August which some people may find uncomfortably hot.
There is also little chance of any rain from the middle of April to mid October, so like many other holiday destinations in the Mediterranean during summer the vegetation and landscape become quite parched.
One of the main attractions in this whole area is the beautifully indented coastline and crystal clear waters. The beaches are not noted for their fine sand but there are many small, often shallow coves that provide excellent opportunities for swimming and other kinds of water sports especially windsurfing. Sea temperatures between July and September reach a maximum of about 24°C, a refreshing contrast to often baking afternoon air temperatures.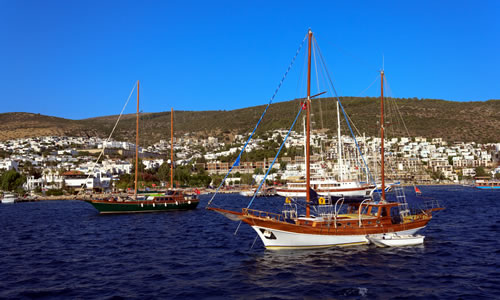 Yachts moored near Bodrum, Turkey © RVC5Pogod
In the summer, particularly during July and August, Bodrum also benefits from the cooling effect of Meltemi winds that blow up during the afternoon from the north or northwest. These winds help to dispel some of the heat and humidity, and are much loved by windsurfers as well.
Summer ends at the end of September and from the middle of October daytime maximum temperatures rise only into the mid twenties Celsius. There is a greater chance of rain as every autumn day passes however sunshine still dominates the Bodrum weather with 72% of daylight hours being sunny usually in October and 60% in November.
By the end of November temperatures overnight begin to fall below 10°C and during December and January there is more rain than in any of the other months. In fact 75% of Bodrum's annual rainfall occurs from the beginning of November to the end of February. But the sun still shines a lot; in December and January there are 5 hours of sunshine a day on average. At the same time maximum daytime temperatures hover around the mid teens Celsius.
By the middle of March there is noticeable less rain and more hours of sunshine. April and May are beautiful months especially if you enjoy trekking or cycling; daytime temperatures typically are in the low to mid twenties Celsius. However it is a bit early for swimming. Sea temperatures do not rise above 20°C before the end of May.
Bodrum has something for everyone in every month of the year. Some visit during the winter to escape from northern Europe. Others like the spring and autumn because it is less crowded and not so hot. But there is also something to be said for cloudless days and lazing by the beach in summer.
What to pack for Bodrum and Izmir Coast weather
Light cotton clothes are ideal for the summer in Bodrum from the beginning of June to the end of September, even for evenings. At the height of summer from June to August the UV is very high and precautions must be taken against sunburn. From September an extra layer may be required after dark, and by the middle of November it might be an idea to have an umbrella to hand. From the beginning of December to the end of March on days when the sun is not shining you will probably be glad of a sweater. Bodrum weather can be cold at times.
Map of Bodrum and Izmir Coast
Select a destination from the Bodrum and Izmir Coast Map to view the holiday weather guide. Alternatively, select from the list of destinations below the map. Can't find the Bodrum and Izmir Coast weather destination you are after? Try the Destination Search.
Akyaka Akyarlar Altinkum Aydin Bitez Bodrum Cesme Derekoy Gokcebel Gokova Gulluk Gumbet Gumusluk Gundogan Izmir Kadikalesi Konacik Kusadasi Mazi Mugla Ortakent Ozdere Torba Turgutreis Turkbuku Yaliciflik Yalikavak
Bodrum and Izmir Coast weather by month
Check the weather for a particular month in the Bodrum and Izmir Coast by selecting a month from the list below. Alternatively check which month usually has the Best Weather in the Bodrum and Izmir Coast. If you are not sure where to go, why not try our Holiday Planner.