Majorca Weather - Ideal for Warm Summer Holidays and Winter Sunshine in the Balearics
Majorca weather is a very good reason for visiting this ever-popular Mediterranean island, one of the nearest foreign destinations to offer the guarantee of a sunnier holiday than can usually be expected in the UK. The weather guide shown below is for Cala d'Or. Read more
Usually
Current
Outlook

in March

Now

Tomorrow

View Majorca
Weather by Month
View Majorca
Weather Today
View Majorca
5-day Forecast




Save 10% on holidays to Majorca when you book online with Thomson Holidays. Save an extra £60 with the Thomson discount code '49386'. £900 minimum spend.
An overview of Majorca weather
Majorca, part of the Spanish Balearic group, is a beautiful island in the western Mediterranean with some very fine beaches and summer weather to match. Since the 1950s it has been a popular holiday destination for visitors from Northern Europe.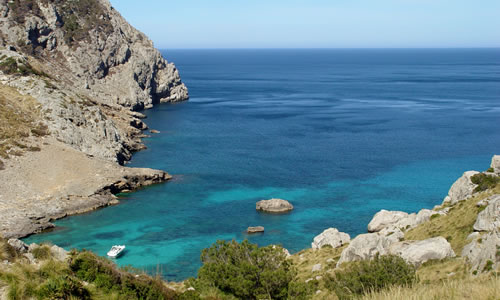 Majorca, Balearic Islands © Rafael Martin-Gaitero
With its typically Mediterranean climate Majorca has hot dry summers and cooler winters when there is some rain, most of which falls between the end of September and the end of December.
In winter the surrounding sea generally helps to protect Majorca from very low temperatures such as experienced on the Spanish mainland. However very occasionally cold weather systems move in from the north bringing freezing temperatures and even snow.
There is also the possibility in clear conditions of persistent strong winds blowing from the north. These mistral-like winds may last for days on end and in the mountains can be amplified as they are funnelled down valleys. Except in such exceptional circumstances, winter temperatures range from 15°C during the day to around 6°C at night, with at least 4 to 5 hours of sunshine on most days.
From the middle of February temperatures start to rise and by June there is plenty of warmth and sunshine. During the height of summer coastal regions benefit from afternoon onshore sea breezes that help to moderate high daytime temperatures. However temperatures do generally rise above 30°C in July and August.
Expect a good 10 to 11 hours of daily sunshine during the main summer months between June and August. Sea temperatures are not as warm as they are in the eastern Mediterranean but you can expect 25°C at the height of summer.
What to pack for Majorca weather
In summer light clothes are all that is required, while winters definitely call for warmer clothing especially after sundown.
Map of Majorca
Select a destination from the Majorca Map to view the holiday weather guide. Alternatively, select from the list of destinations below the map. Can't find the Majorca weather destination you are after? Try the Destination Search.
Alcudia Arta Cabo Blanco Cala Bona Cala d'Or Cala de San Vincente Cala Mandia Cala Mayor Cala Mesquida Cala Millor Cala Ratjada Cala Santanyi Cala Vinas Calas de Mallorca Camp de Mar Can Pastilla Can Picafort Canyamel Ciudad Jardin Colonia Sant Jordi Deia El Arenal El Toro Illetes Llucmajor Magalluf Orient Paguera Palma Palma Nova Playa de Muro Playa de Palma Port d'Andratx Port de Pollensa Portals Nous Porto Colom Porto Cristo Porto Petro Puerto Alcudia S'Illot Sa Coma Sa Pobla Santa Ponsa Santanyi Soller Son Caliu Son Servera Valldermossa
Majorca weather by month
Check the weather for a particular month in Majorca by selecting a month from the list below. Alternatively check which month usually has the Best Weather in Majorca. If you are not sure where to go, why not try our Holiday Planner.
Jonathan Nigel on Google+
comments powered by

Disqus