Majorca Weather - Ideal for Warm Summer Holidays and Winter Sunshine in the Balearics
Majorca weather is a very good reason for visiting this ever-popular Mediterranean island, one of the nearest foreign destinations to offer the guarantee of a sunnier holiday than can usually be expected in the UK. The Weather Guide shown below is for Cala d'Or. Read more
Usually
Current
Outlook

in April

Now

Tomorrow

View Majorca
Weather by Month
View Majorca
Weather Today
View Majorca
5-day Forecast
Majorca Weather Overview
In winter months, with more hours of daylight, northern Europeans are attracted to Majorca's sunshine and pleasant temperatures. In summer, with warmer air and sea temperatures and negligible rainfall, the island's climate represents for many the perfect holiday weather.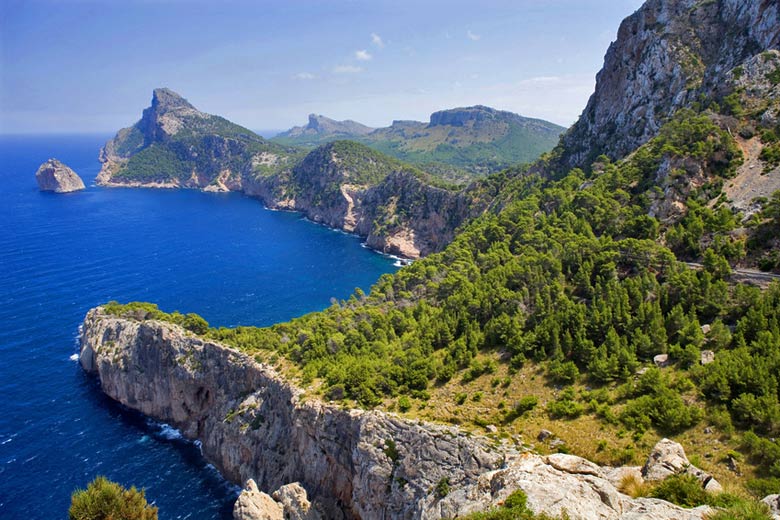 Majorca Weather over the Cap de Formentor © Rui Vale de Sousa - Fotolia.com
Majorca, which is about the size of Suffolk, is the largest of the Balearic Islands and situated just over 100 miles south of Barcelona. It is easily accessible from the UK with direct flights from over 20 airports including Exeter, Southend, Humberside and Norwich. Flight time typically is a little over 2 hours from London and 3 hours from Aberdeen.
What to expect of Majorca weather?
In summary, generally, hot dry summers with daytime maximums in the high twenties Celsius from mid-June to mid-Sept and milder, wetter winters with daytime maximums only reaching the mid teens Celsius from December to February.
Like similar Mediterranean islands and Spanish Costa destinations, Majorca weather is beautifully sunny and warm in summer months and offers significant amounts of sunshine throughout most of the winter, albeit with cooler temperatures, some rain and occasional stormy 'blows'.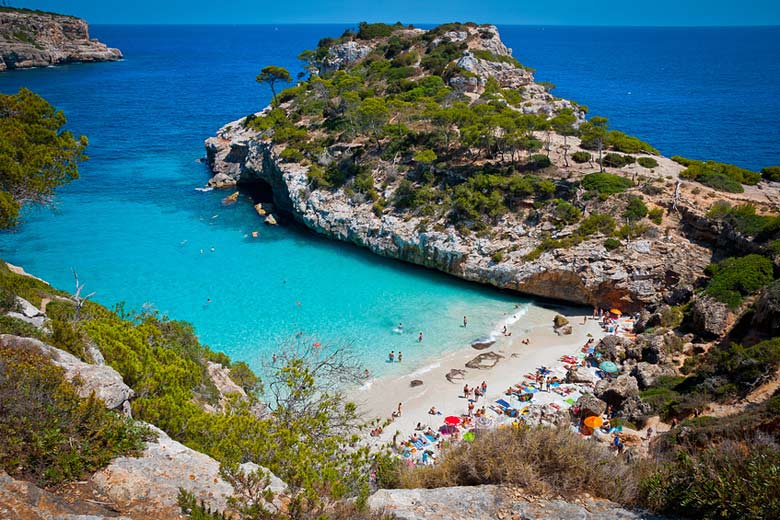 Calo des Moro, a typical cove in Majorca © MarkusBeck - Fotolia.com
Rainfall is a rarity throughout the summer months of June, July and August but can be expected at other times, with October the month producing the most rain (around 100mm), although it rains more frequently but with less precipitation in December and January. Thunderstorms are most likely in September and October.
Winds can be experienced from autumn through winter into spring. The dry 'Mistral' wind habitually blows from the north or north-west for approximately 10% of the time during these months, usually for about 3 days at a time (although 10 days has been known!) - it is strongest in January and February. The mistral is a strong wind but typically brings clear skies.
Less frequently in autumn and spring, the warm to hot 'Sirocco' wind (sometimes called 'Leveche' in Spain) blows up from the Sahara Desert to the south-east bringing rough seas and unsettled conditions. And when cold Atlantic low pressure systems move in over the relatively warm Mediterranean Sea they can produce strong storms. These ocasionally occur between September and January, with 60kph winds and flash flooding being a possibility.
But despite all this, through all the winter months Majorca weather is most often fine and sunny with an average of at least 5 hours of sunshine a day. As a guide, winter temperatures in Majorca are very similar to those of late April and early October in southern England. And there is generally always much more sunshine in Majorca in winter than in the UK in late April and early October.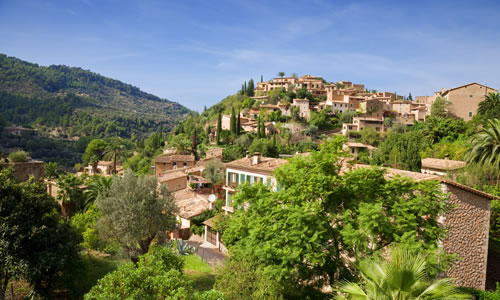 The town of Deia in Majorca © antbphotos - Fotolia.com
In summer, Majorca weather is very settled and the daily sea breeze that blows on-shore most afternoons can bring welcome relief from high temperatures and humidity especially in July and August. For cooling off in the water, average sea temperatures build up from a winter low of 14°C to a pleasant 24-25°C between July and September.
Since Majorca is nearer the equator than the UK it has an extra hour of daylight in mid-winter compared with London and 2 hours more than Edinburgh. With sunshine available for 65-70% of the months of June-August, and with a creditable 5 hours per day in the least sunny months, it is easy to see why the Majorca weather makes the island an all-year holiday destination.
Suggesting the best time to visit the island is, therefore, really a matter of personal choice. Hot, sunny summer months and bright, sunny winters are delightfully punctuated in spring by a mass of wild flowers and the fragrant scent of orange blossom wafting across sheltered valleys. Equally, the opportunity to swim in the sea until October when the olives are gathered is just one of the seasonal pleasures available for autumn visitors.
What to Pack for Majorca
Although temperatures can reach 40°C or more at the height of summer, and fall below 0°C in winter months (with snow not uncommon on northern peaks), generally cool summer clothing (as you would wear on a very hot day in the UK) will be a good choice, with the addition of a light sweater or jacket for spring, early summer or autumn evenings.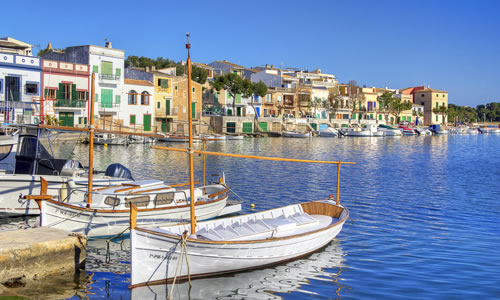 The picturesque harbour of Porto Colom, Majorca © antbphotos - Fotolia.com
At beach resorts, informality is the norm in hotels, bars and clubs. However, if visiting some of the smarter hotels, restaurants and bars in Palma, be advised that many require you observe a dress code, so packing a stylish outfit could save you potential embarrassment.
During winter months, even if the sun is shining during daylight hours, a warm cover should be an essential item, just in case. Better to have it there to take off than shiver on account of its absence! Also, from September to March when rain is forecast, it is always advisable to have a waterproof item to hand.
Another essential should be sunglasses and suncream: in comparison with the UK, Majorca weather produces UV levels which are high and, particularly from the middle of May to the beginning of September, there is a danger of getting sunburnt.
Save up to £300 on Holidays in March 2014

Save £300 per couple on all-inclusive holidays departing in March 2014 with First Choice.
Map of Majorca
Select a destination from the Majorca Map to view the holiday weather guide. Alternatively, select from the list of destinations below the map. Can't find the Majorca weather destination you are after? Try the Destination Search.
Alcudia Arta Cabo Blanco Cala Bona Cala d'Or Cala de San Vincente Cala Mandia Cala Mayor Cala Mesquida Cala Millor Cala Ratjada Cala Santanyi Cala Vinas Calas de Mallorca Camp de Mar Can Pastilla Can Picafort Canyamel Ciudad Jardin Colonia Sant Jordi Deia El Arenal El Toro Illetes Llucmajor Magalluf Orient Paguera Palma Palma Nova Playa de Muro Playa de Palma Port d'Andratx Port de Pollensa Portals Nous Porto Colom Porto Cristo Porto Petro Puerto Alcudia S'Illot Sa Coma Sa Pobla Santa Ponsa Santanyi Soller Son Caliu Son Servera Valldermossa
Majorca weather by month
Check the weather for a particular month in Majorca by selecting a month from the list below. Alternatively check which month usually has the Best Weather in Majorca. If you are not sure where to go, why not try our Holiday Planner.
Jonathan Nigel on Google+
comments powered by

Disqus